New Year is around the corner and you all must be eagerly waiting to know the long-weekends holiday list of 2019 as long weekends are great as you get to take a break from work, get out of your comfort zone and explore the wonderful places too. Unlike 2018, next year, 2019 is not likely to be so kind as it has only 14 long weekends and one needs to take a few leaves to plan a perfect vacation. So to ease your worries we have presented here the list of long weekends falling in 2019 without having to take any/many leaves. To help you plan along, check here the quick list of long weekends along with the incredible destinations that you can visit in 2019 as part of our Tour Packages.
January
January 12th – 14th January (Pongal / Sankranthi / Uttarayan)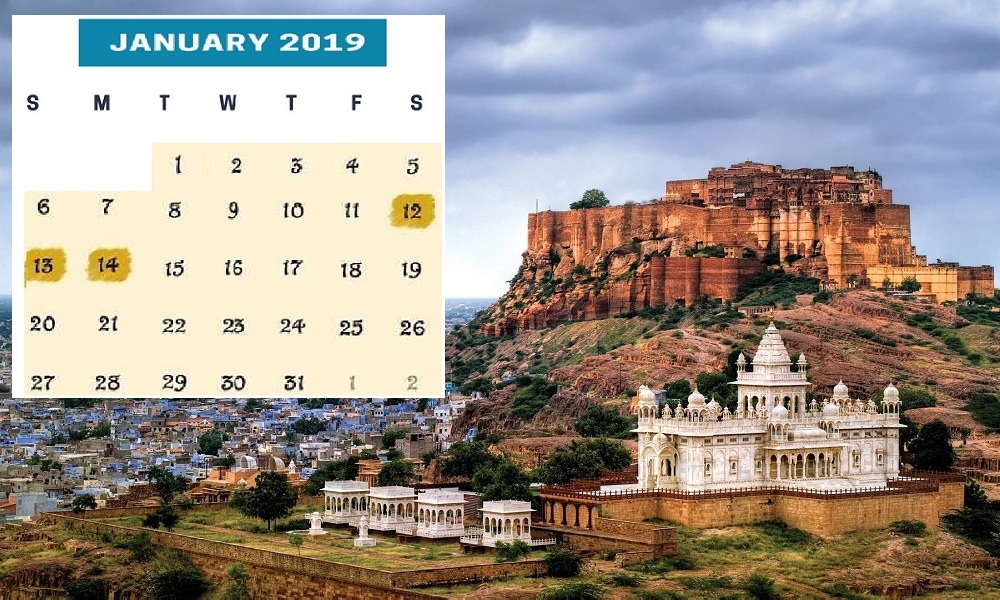 January has one long weekend on account of Pongal or Makar Sankranti. Makar Sankranti is an off in most states of India, and even if it's not in yours, you can take one to make a 3-day weekend. Due to its extremely pleasant weather, January is the best time to visit Goa, Rajasthan, Kerala, and Gujarat. It is also the perfect time to enjoy snow in North Indian states of Jammu & Kashmir, Himachal Pradesh, and Uttarakhand. One can also experience the three-month-long celebrations of Rann Utsav in Gujarat and colourful International Kite Festival in Ahmedabad during this time. Besides, one can do some shopping at Dubai shopping Festival during this time as part of Dubai Tour Packages. So, start planning your first trip as it can be the perfect start to enjoy the long weekends in 2019.
Where to go in January 2019: Rajasthan, Kerala, Himachal, Andaman, Rann of Kutch and Goa
---
March
March 2nd – 4th March (Mahashivratri)
March 21st – 24th March (Holi)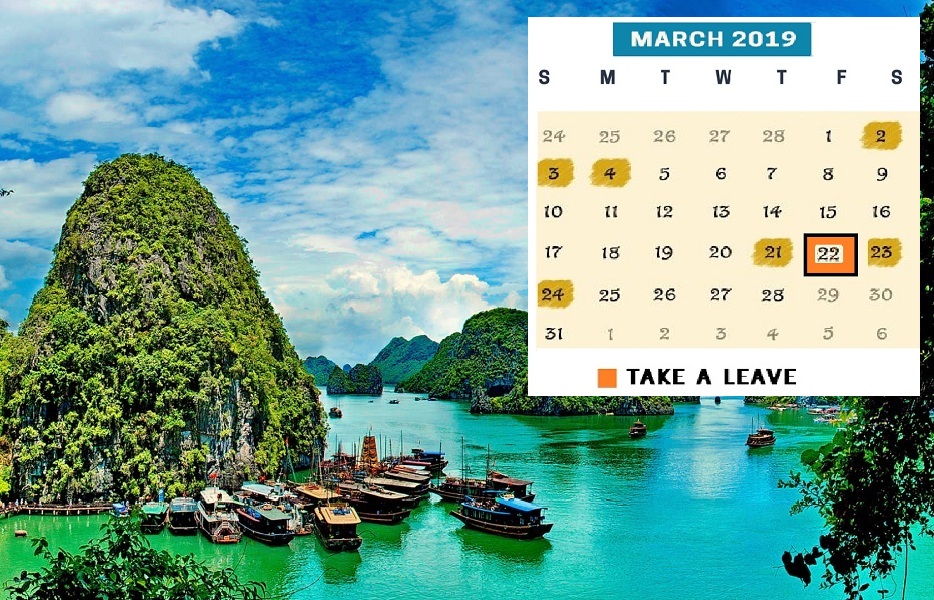 With two weekends spread across the month, March is the most promising month for holidaying with your loved ones. The first long weekend is in the beginning of the month on account of Mahashivratri and one towards the end on account of Holi. Vrindavan and Mathura are the top places for the people who are fond of Holi celebrations in India. Marks the start of summer season, March is the best time to hit the hill stations like Shimla, Nainital, Ooty, Coonoor, Darjeeling, Gangtok and Shillong. This is also a good time to visit Thailand and go diving in the warm waters of the Bay of Bengal while holidaying in Andaman Islands as part of Andaman Tour Packages.
Where to go in March 2019: Mathura – Vrindavan, Andaman Islands, Shimla, Mount Abu and Alleppey
---
April
April 19th – 21st April (Good Friday)
Finish the month of April with a refreshing long weekend vacation in the Indian hill stations as the sun shines brighter and brings along the summer season. This is the holiday season for kids and also the perfect time to spend some quality time with family. Ooty, Coorg, Munnar, Chikmagalur and Kodaikanal in South India and Shimla, Manali, Mussoorie, Nainital, Dalhousie and Dharamsala in North India will all make for ideal places to visit in April as part of India Tour Packages. This is also the best time to explore wildlife reserves in India like Bandhavgarh, Kaziranga, Jim Corbett, Wayanad, Nagarhole and Ranthambore.
Where to go in April 2019: Ooty, Munnar, Coorg, Chikmagalur, Himachal and Uttarakhand
---
May
May 1st – 5th May (Labour Day)
Start the month of May with a trip as everyone gets leave on May Day. If you will take two days off then you can get 5 day long weekend that is pretty much enough for a holiday trip with your family and friends. There is perhaps no better month to visit the breath-taking Himalayas than May, thanks to the pleasant weather at high altitudes and summer vacations. You have so many places to visit in the region, including famous hill stations like Nainital, Manali, Shimla, Mussoorie, Tawang, Darjeeling, Dalhousie, McLeodganj and Gangtok. Besides, Spain, Germany, Italy, Iceland, Switzerland, Greece are the best suitable destinations in Europe for your quick international trip in May 2019.
Where to go in May 2019: Nainital, Manali, Shimla, Mussoorie, Darjeeling, Gangtok, and Europe
---
June
June 5th – 9th July (Ramadan)
Ramadan or Eid gives you holiday on 5th June in 2019. Just take two more days off either on 3rd & 4th or 6th & 7th and what you have is a 5-day long weekend that can be good enough for a quick international trip perhaps! The month of June is the time when the summer holidays in India reach its end and also the beginning of pleasant monsoon showers. And if you didn't find time to take a break from work up until now, then June becomes the best time for family holidays. Monsoon season is not at its peak during this time and it is a great time to explore hill stations like Ooty as part of Ooty Tour Packages as well as international destinations like Dubai, Malaysia, Singapore and Thailand. In June, Manali – Leh road opens up along with Rohtang Pass and this is also the time for celebrating the vibrant and colourful Hemis Festival in Ladakh.
Where to go in June 2019: Ladakh, Malaysia, Singapore, Thailand, and Bali
---
August
August 10th – 12th August (Bakrid)
August 15th – 18th August (Independence Day)
August 31st – 2nd September (Ganesh Chaturthi)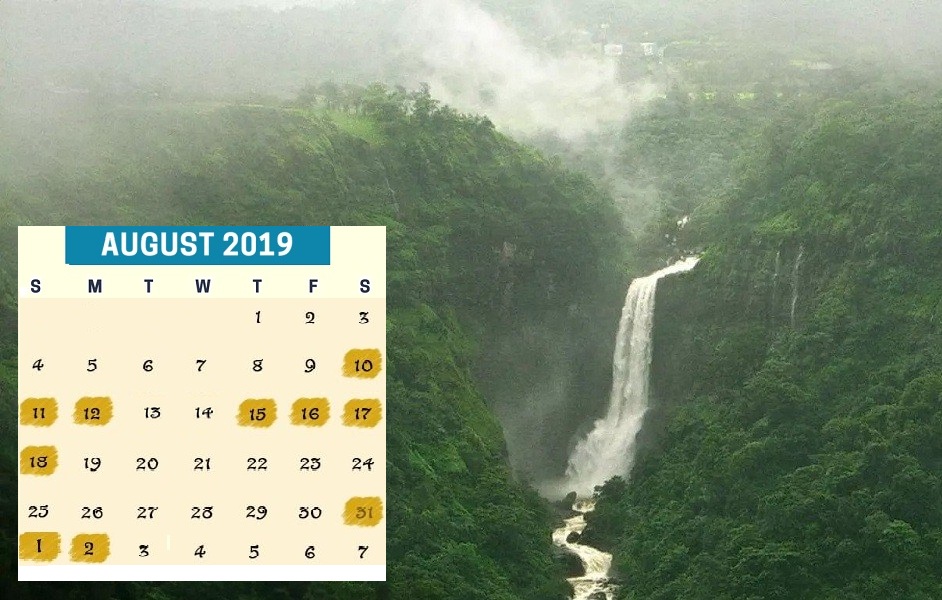 Three joyful long weekends in August makes up for the lack of weekends in July and there is no reason to miss a trip in what is the happiest month of the year. The first weekend comes on account of Bakrid, the second long weekend comes on account of Independence Day while the third one on account of Ganesh Chaturthi. Monsoon is the best season to experience the nature and explore gorgeous waterfalls in India. Experiencing monsoon in Maharashtra is a magical experience as it has many monsoon destinations like Mahabaleshwar, Lonavala & Khandala, Panchgani, Bhandardara and Satara. August is also the best time to visit Ladakh and Lahaul – Spiti in Himachal Pradesh. If you want to witness the extravagant Ganesh Chaturthi celebrations then Mumbai and Pune are the best places for you as part of Mumbai Tour Packages. However, if you are in a mood to enjoy your holidays in abroad then take three leaves on 13th, 14th , 16th of August and head to Europe for a 9 day long weekend.
Where to go in August 2019: Mahabaleshwar, Lonavala, Satara, Hampi, Konark and Shillong
---
September
September 7th – 11th September (Moharram & Onam)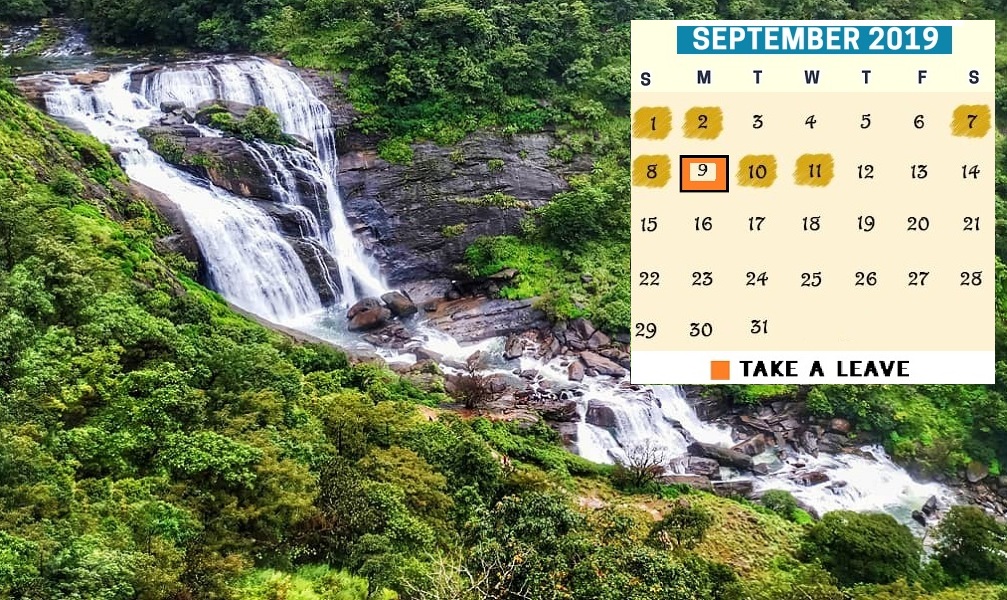 September marks the wet monsoon season of India starts to recede away, making way for clear skies and the arrival of autumn. The weather is just perfect and is the off-season for most tourist places in India. So, one can even get heavy price discounts on flights and hotels. With 4 day long weekend, the idea of planning a vacation in September becomes a tempting one as this is the time when the waterfalls are in full gush. Kerala, Karnataka, Rajasthan and Maharashtra are the top destinations to visit in September in India. If you want to witness the magnificent Onam celebrations, then head to Kerala and enjoy the backwaters as part of Kerala Tour Packages.
Where to go in September 2019: Wayanad, Coorg, Mumbai, Udaipur and Mahabaleshwar
---
October
October 5th – 8th October (Dussehra)
October 26th – 28th October (Diwali)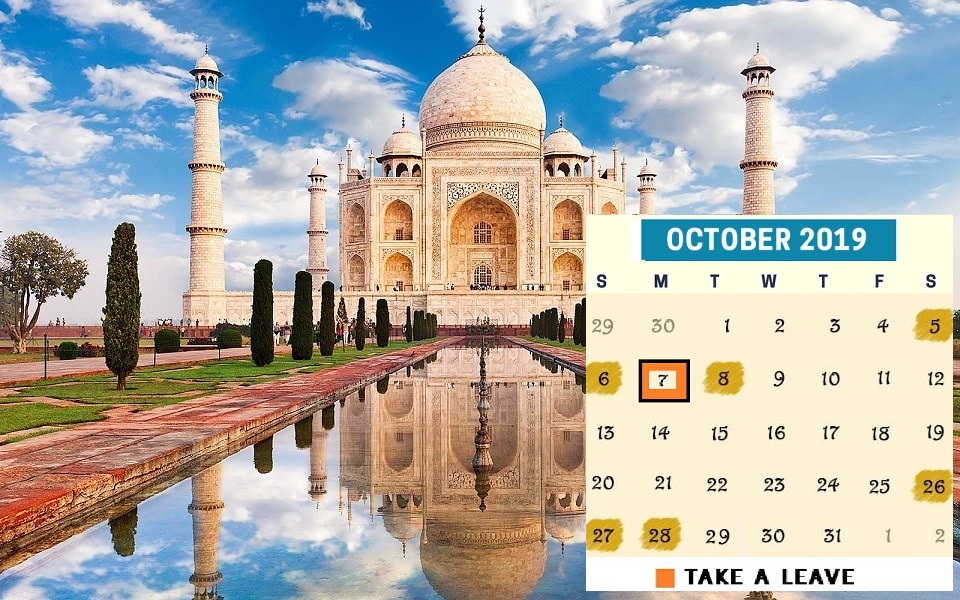 October, fondly called as the month of celebrations, is packed with famous festivals of India Dussehra and Diwali. October is the perfect time to visit any place down South and the Himalayas as it changes a lot of places into paradises that would give you a unique experience. Mysore is the best place to witness the royal Dussehra celebrations as part of Mysore Tour Packages while Delhi is the best place for Diwali celebrations. Besides, Boating in Nainital Lake, walking on Digha beach in West Bengal, or taking a safari in Ranthambore National Park, paragliding in Bir-Billing in Himachal Pradesh and rafting in Rishikesh & Dandeli are some best ways to have a great trip in October. This is the prime season for tourism in India so it is recommended to book your flight tickets and hotels as early as possible.
Where to go in October 2019: Delhi, Rishikesh, Hampi, Mysore and Kolkata
---
November
November 9th – 12th November (Guru Nanak Jayanti)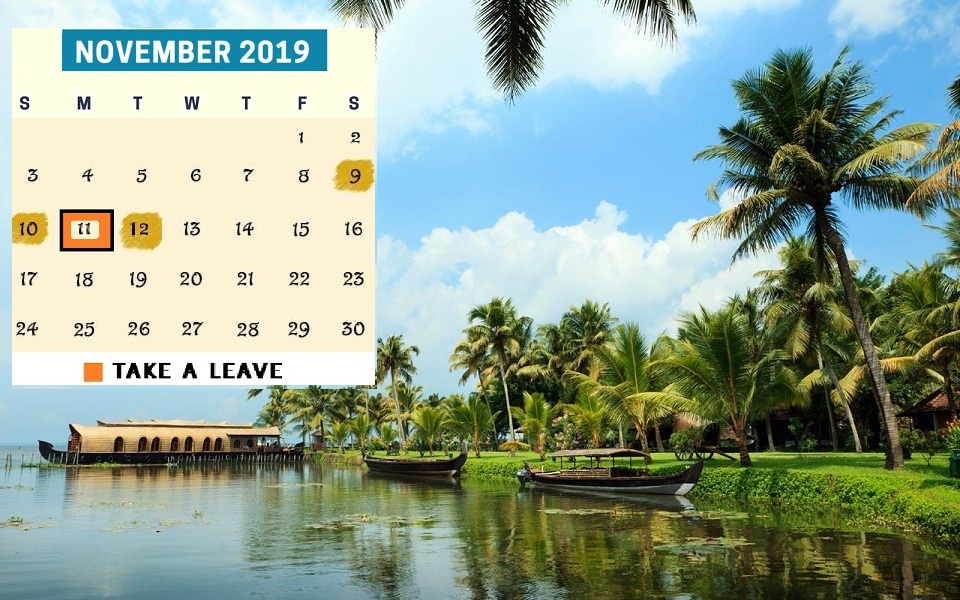 November gifts you a 4 -day long weekend on account of Guru Nanak Jayanthi by just take one more day off. Marks the arrival of winter in India, November is the time to witness the fresh snow fall in the north, birds flying down from the northern countries and fairs and festivals getting marked on its calendars. With its comfortable weather, travellers from all over the globe find November as the suitable time to visit the pristine Goa beaches, Kerala Backwaters and the deserts of Rajasthan. India is dotted with a number of winter destinations like Golden Triangle, Rajasthan, Tamilnadu, Goa, Pondicherry and Mahabalipuram.
Where to go in November 2019: Goa, Tamilnadu, Kerala, Pondicherry, Rajasthan and Khajuraho
---
December
December 25th – 29th December (Christmas)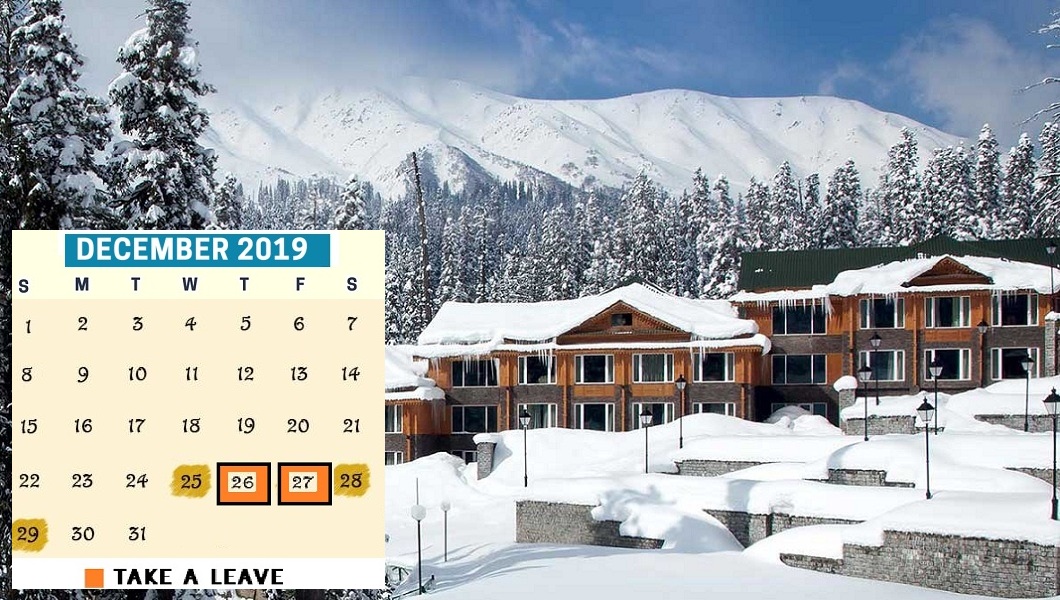 With favorable weather, December marks the peak of the holiday season in India. Christmas gives you holiday on 25th December in 2019. Just take two more days off and what you have is a 5-day long weekend that can be used to travel to anywhere in India.  There is no better combination than Christmas and snow, so better to plan a trip to someplace in the Indian Himalayas. The beaches of the west coast and south, be it Goa or Kovalam offer ideal setting for sunbathing and leisure activities in December. It is also the time for winter snow treks in Himalayas for the adventure enthusiasts. Goa, Shillong, Darjeeling, Pondicherry, Jim Corbett, Kerala, Shimla, and Rajasthan top the list in December. Besides, Sri Lanka is the most preferred international destinations for Indians to visit in December as it is the best time to experience the pleasant weather as well as pristine beauty as part of Sri Lanka Packages.
Where to go in December 2019: Goa, Pondicherry, Kerala, Himachal, and Rajasthan
---
REFERENCE
Santhi is an avid traveler and primary contributor to the blogs at Trawell.in. She has explored most of the states in India and gained vast knowledge on tourist destinations in India and abroad. She also contributes content to other travel websites.
Comments
comments