Maharashtra is one of the top places to visit in India as it holds the pristine beauty of nature as well as the glittering lights of its urban centers. This state is known for its historical forts, stunning hill stations, many age-old caves, and diverse culture. Besides, Maharashtra is wildly popular for its delectable cuisine and is always on the wish list of every foodie soul who traveled to Maharashtra as part of the India tour packages. From the famous vada pav to delicious modak, and sabudana khichdi to Malvani fish curry, Maharashtra Food has a lot to offer. The Maharashtrian cuisine can be recognized by two different styles – Konkan and Varadi which use some essential native spices like Goda Masala, Kokum, Tamarind, and Coconut. Are you confused about what food to taste in Maharashtra? I am here to introduce you to some popular Maharashtrian foods that you must try at least once.
Vada Pav
An Indian version of a burger, Vada Pav is an all-day snack and is extremely popular among Maharashtrians. It is one of the must-try while in Mumbai, one of the must include places in Maharashtra tour packages, as this iconic street food is said to have originated from a street vendor named Ashok Vaidya, who worked near the Dadar train station in the 1960s and 1970s. The name Vada Pav refers to two key ingredients – Vada, a delicious, spicy, deep-fried patty made of potato, and Pav- a thick slice of bread. The vada is squeezed between a thick slice of bread, along with a mix of spice powders. It is best served with sweet & sour sauces called chutney and fried salted green chilies. This all-time favorite snack of Mumbaikars is very economical, filling, and easily available in both restaurants and street-side vendors. One can also visit the famous tourist places in Mumbai including Gateway of India, Elephanta Caves, Siddivinayak Temple, Juhu Beach, Marine Drive, Haji Ali Dargah, and many museums.
                          Book Here : Mumbai Tour Packages
---
Puran Poli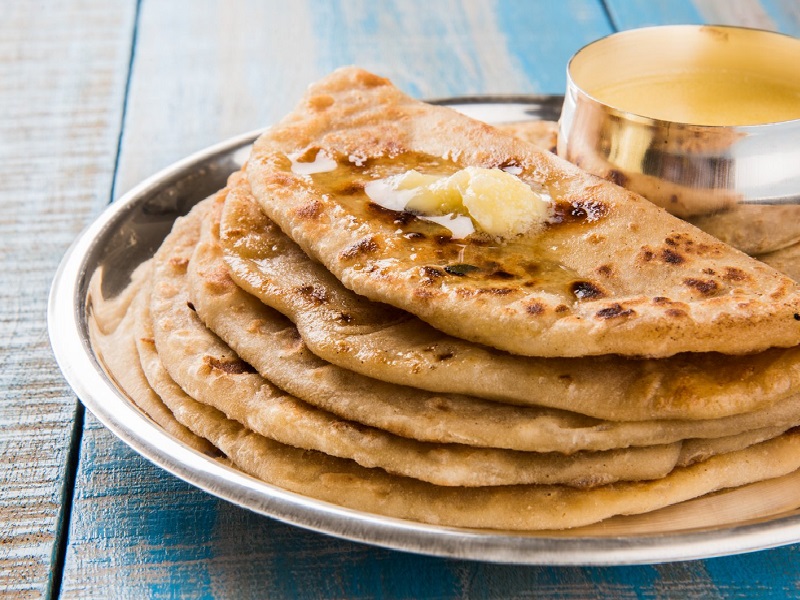 Puran Poli is one of the popular traditional sweet dishes of Maharashtra that one must try during your trip to Maharashtra. In the Marathi language, the sweet filling is called Puran and the outer bread is the Poli. The various names for this dish include Puran Puri or Vedmi in Gujarati, Bobbattu or Baksham or Oliga in Andhra Pradesh, Holige or Obbattu in Kannada, Payasabolli in Malayalam, and Uppittu Tamil. A sweet version of the parantha, this delicious Indian sweet flatbread is made by Maida/Wheat flour with a stuffing made by a mixture of jaggery, yellow gram (chana) dal, cardamom powder, and dry roasted with ghee (clarified butter). Puran Poli is specifically made during Ganesh Chaturthi and other festive occasions like Diwali, adding up to the spirit of celebration.
                          Must Read : Famous Festivals of India
---
Misal Pav
Another popular Maharashtrian delicacy, Misal Pav is an aromatic and spicy curry made from sprouted beans like matki (moth) or mixed sprouted beans and is served with Pav, an Indian bread roll. Garnished with cooked potatoes, chiwda, sev, chopped onions, coriander, green chilies, and a dash of lemon, Misal Pav is irresistibly mouth-watering and is an integral component of the menu of almost all the local restaurants in almost every region of Maharashtra. Puneri Missal (topped with poha), Nagpuri Missal, Kolhapuri Missal, and Mumbai Missal are some of the various types of Misal one can try while in Maharashtra. Misal Pav, a meal that can be had at any time of the day, is quintessentially from Pune. One can also visit some popular places to visit in Pune including Shaniwar Wada, Agakhan Palace, Dagdusheth Halwai Ganapathi Temple, Chaturshringi Temple, Simhagad Fort, etc.
                             Book Here : Pune Tour Packages
---
Modak
Modak is yet another traditional sweet dish of Maharashtra that is savored by everyone in the state. This delicious modak is prepared from grated coconut mixed with jaggery which is then filled into an outer shell made from rice flour. It is prepared especially during Ganesh Chaturthi in almost all Maharashtrian homes as it is considered Lord Ganesha's favorite dish. The other versions of Modak one can try out are Kesari modak, dark chocolate modak, motichoor modak, paneer modak, dry fruit modak, and many more.
                   Also Read : Best Places to Witness Ganesh Chaturthi Celebrations in India
---
Pav Bhaji
The list of popular dishes of Maharashtra is incomplete without mentioning Pav Bhaji. The quintessential street food of Maharashtra was invented in the 1850s as a midnight meal by street vendors of Mumbai who prepared it with all the leftover vegetables from the day. Fresh and thick slices of bread, smothered in butter served with a delicious mix of moderately spiced vegetables (Potatoes, onions, carrots, chilies, peas, bell peppers, and tomatoes). With a rich aroma, the taste of this dish or snack is understood only when the authentic flavors of Pav Bhaji touch the tip of your tongue. This lip-smacking dish is a must in every Maharashtrian wedding and is loved by all. Nowadays, Pav Bhaji has gained national and even global recognition as well. There are a lot of varieties of the basic pav bhaji, with added cheese, paneer, mushrooms, plantains, and even dried fruits thrown in the flavorful curry mix.
---
Rassa
Rassa, also known as Taambde or Pandhra or Varhadi, is a non-vegetarian dish from the authentic Maharashtrian cuisine. This delicacy is straight from the roots of Kolhapur, among the best places of pilgrimage in Maharashtra. This is a soup that is prepared from the broth of chicken or mutton with a base of coconut milk, sliced onion, cashew paste, chilli, and other spices. It has a different sort of flavor that stays put on your tongue for a long time. There are several variations of Rassa available in Maharashtra like Taambda rassa (red curry) – made out of famous Kolhapuri chillies, Pandhra rassa (white curry) – made with yogurt, and Varhadi rassa – a chicken curry recipe originally from the Vidarbha region. It is one of the must-try dishes for non-vegetarians dishes while part of Kolhapur tour packages.
                            Must Visit : Tourist Places in Kolhapur
---
Shrikhand
Shrikhand is a traditional yogurt-based dessert made of hung & strained yogurt flavored with saffron and cardamom. According to folklore, Shrikhand was invented by traveling herders. To carry their yogurt more easily while traveling, they strained out its whey overnight. In the morning, they mixed it with sugar and nuts to add flavor, and shrikhand was born. Also known as Matho, this dish is especially included as the main dessert in marriages. Garnished with toasted nuts and a pinch of saffron, this delicious sweet is served chilled along with meals that provide a refreshing counterpoint to hot and spicy curries. It is also a festive dish that is made for Janmashtami (the birthday of Lord Krishna) in Maharashtra and Gujarat.
                         Must Read : Divine Places to Visit for Memorable Janmastami Celebrations
---
Bharli Vangi
Bharli Vangi (stuffed Eggplant) is yet another traditional Maharashtrian dish that is added as a part of the main course. It is prepared with baby eggplants/ brinjals stuffed with a mixture of coconut, onion, jaggery, and Marathi Goda masala that does wonders to the brinjal. If you are a foodie and brinjal lover, then you should try this dish while in Maharashtra. It is available in all most all the restaurants throughout Maharashtra.
                         Must Visit : Tourist Places near Pune 
---
Aamti
Aamti is a simple and tasteful preparation of lentils that has spicy, sweet, and tangy flavors. It is the Maharashtrian version of dal prepared with yellow gram dal or toor dal. Tempered with chillies, garam masala, curry leaves, and mustard seeds, this dal has a lot of proteins and is good for health. It is one of the few Maharashtrian dishes that emerged from the Vidarbha and spread to Goa and even parts of Karnataka. With more than 51 different versions of Aamti, this dal is ideally served with plain rice, jeera rice for lunch and dinner.
                          Also Read : Best Places to visit near Mumbai
---
Poha
Made out of flattened rice, Poha is a very popular breakfast or snack dish among every Maharashtrian. The most common variant is Kanda poha that is made with onions. But it can be prepared in several ways that include Batata poha (flattened rice mixed with diced potatoes, spices, and fresh herbs), dadpe poha (flattened rice mixed with fresh, shredded coconut, green chillies, ginger, and lime juice), and lastly Kachche poha (flattened rice is tossed in a mix of oil, red chilli powder, salt, and un-sautéd onion). But, all variant of poha is often garnished with fresh coriander, grated coconut, crushed peanuts, or Sev.
                         Must Visit : Charming Summer Getaways near Mumbai & Pune
---
Thalipeeth
Thalipeeth is a traditional Maharashtrian flatbread made from multi-grain flour and some veggies. It is a must-try dish in Maharashtra. The most famous version of Thalipeeth is made by a multigrain meal mix called Bhajani which comprises roasted grains such as rice, wheat, millets, bajra, jowar, and some legumes. The dough is then mixed with chopped onions, herbs, and other vegetables to enhance the taste. Then it is patted flat on a tawa and fried in a little oil. It is best served with ghee, curd, and spicy thecha.
                         Also Visit : Stunning Hill Stations in Maharashtra
---
Malvani Fish Curry
Malvani Fish Curry is a fiery, spicy, tangy, and delectable seafood recipe from the Malvan region that is located on the west coast of Maharashtra. Malvani cuisine is a fusion of Maharashtrian, Konkani, and Goan cuisines, but it has its own unique flavors and distinctive spice profile. This iconic traditional fish curry made with coconut and kokum will delight and wow all seafood lovers. The fish curry uses king fish which gives in a delicious flavour to the curry. It is best served with steamed rice, pomfret fry, pickled onions by the side to make a delicious lunch or dinner.
                          Must Read : Ancient Caves in Maharashtra
---
Pithla Bhakri
Pithla Bhakri is a quintessential rural Maharashtrian dish made with Besan flour as the main ingredient. Also known as Farmer's meal, it is easy to prepare and also easy to digest. It is very nutritious and protein-rich due to the presence of Bengal gram. Seasoned with cumin seeds, ajwain, and other spices, this dish served with rice has a consistency of watery liquid while the semi-liquid or dry pithla goes well with bhakri or roti. The spicy variant of the same dish is called Zunka.
                        Also Read : Breathtaking Waterfalls in Maharashtra
---
Sabudana Khichdi
Made out of sago pearls, Sabudana Khichdi is a delightful breakfast dish and is a favorite among every Maharashtrian. It is a unique recipe spiced with green chillies and seasoned with roasted peanuts and fresh coconut. This delicious dish is consumed when the Maharashtrian women undertake holy fasts or upvaas during some religious rituals.
                                 Also Read : Best Weekend Getaways near Mumbai
---
Sol Kadhi
Sol Kadhi is a refreshing and healthy drink popular in the coastal regions of Maharashtra and Goa. It is a pleasant pink-colored drink made with coconut milk, spiced with green chillies, kokum, and fresh coriander. Sol Kadhi is served as an appetizer and is known for its digestive qualities. A typical Fish thali or Malvani thali is incomplete without Sol Kadhi.
---
Bhelpuri
Bhelpuri is a mouth-watering Indian savory snack and is a popular Mumbai street food. It is made of puffed rice which is tossed with sweet tamarind chutney, spicy green chutney, hot pungent garlic chutney, onions, tomatoes, roasted peanuts, and chaat masala. Finally, it is garnished with coriander leaves, crunchy sev, and crushed papdis. It is mostly available at the beachside eateries and the alleys of Mumbai and relished by locals and visitors alike. Prepared in different ways, this delicious snack is also available throughout the country but is called by different names in different parts of India.
                         Must Visit : Beaches in & around Mumbai
---