Sri Lanka is an island country found in the deep blue waters of the Indian Ocean. Apart from its enchanting ruins, rich history, imposing mountains, colourful festivals and dense wild-life, Sri Lanka is the ultimate beach destination for travellers who are in search of relaxation combined with excitement. Renowned as among the top beach destinations in Asia, the island country offers everything to its visitors right from amazing water sport activities like snorkeling, wind surfing or jet skiing to just basking under the sun along its sandy shores. The delightful sights and sounds of the ocean always surprise people who visit this island as part of Sri Lanka Tour Packages.
Watch Video - Tourist Places in Sri Lanka
Here is the list of 11 stunning beaches of Sri Lanka presented by Trawell.in.
Unawatuna Beach
Unawatuna is a horseshoe-shaped beach situated near the charming colonial town of Galle on the South Coast of Sri Lanka. With a fair stretch of golden sand and secluded by shady palm trees, Unawatuna is among the top beaches in Sri Lanka and one of the top places to visit in Sri Lanka. The beach also offers magical sunsets along with some exciting water sports such as swimming, diving and snorkeling. One can also go for a Whale Watching Cruise from Galle to Mirissa fishery port where you will witness the mighty Blue Whale, Humpback Whale, Sharks and Turtles too.
Must Read: Sri Lanka Visa Guide for Indian Tourists
---
Bentota Beach

Lying half-way between Colombo and Galle, Bentota is a magnificent palm-fringed beach along the west coast of Sri Lanka. It is a perfect getaway for tourists who are looking to spend few days away from the hustle and bustle of the city. Backed by the still waters of River Bentota Ganga and a fine stretch of sandy beach on the front, Bentota is one of premier beach resort destinations in Sri Lanka. Bentota is the place for those looking for a Sri Lankan beach holiday and wish to stay at resorts that specialize in medicine centers and relaxing spa. Known for its calm and clear waters, this beach is also the place to try your hands on water sports such as water skiing, canoeing, sailing and windsurfing. One can visit Kasgoda Turtle Hatchery and also go on a boat cruise on the Bentota River during your Honeymoon trip.
---
Arugam Bay
Arugam Bay is a wide sandy beach on Sri Lanka's east coast. Renowned as one of the best surfing destinations across the world, the bay is famous for its fantastic waves, which attract surfers from all over the world. Crocodile Rock, Pottuvil Point and Main Point are the popular surfing areas here. Besides, the blue waters of the Arugam Bay provide ample opportunities for water sports, fishing and underwater photography. Due to close proximity to Kumana National Park, this is one of the best places for birdwatchers and Lahugala another destination to observe elephants in Sri Lanka during your Sri Lanka Tour.
---
Most Popular Sri Lanka Tours
---
Mirissa Beach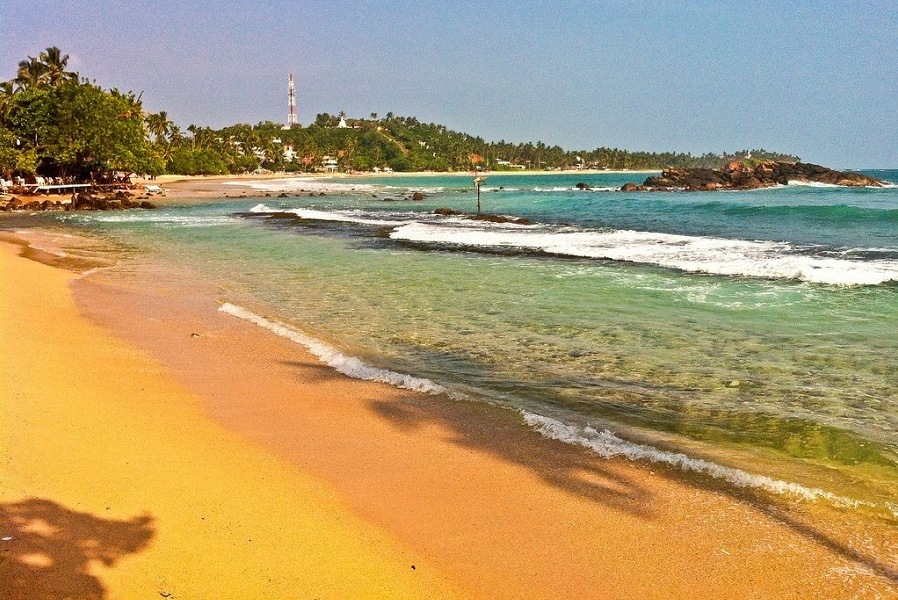 Mirissa Beach is a crescent shaped beach tucked into a small bay on the south coast of Sri Lanka. Situated to the south of Unawatuna and Weligama, Mirissa is one of the most beautiful beaches in the south coast of Sri Lanka. Its headland separates its small fishing harbour from its beautiful curve of sandy beaches with calm and crystal clear waters. Far quieter than Unawatuna or Hikkaduwa, this small picturesque beach has always been popular with surfers and budget travelers. A rock island in the beach provides a unique photo opportunity as well as colorful sunsets. Also, Mirissa Beach is the best place to go on whale-watching excursions between December and March as part of Sri Lanka Packages.
---
Uppuveli Beach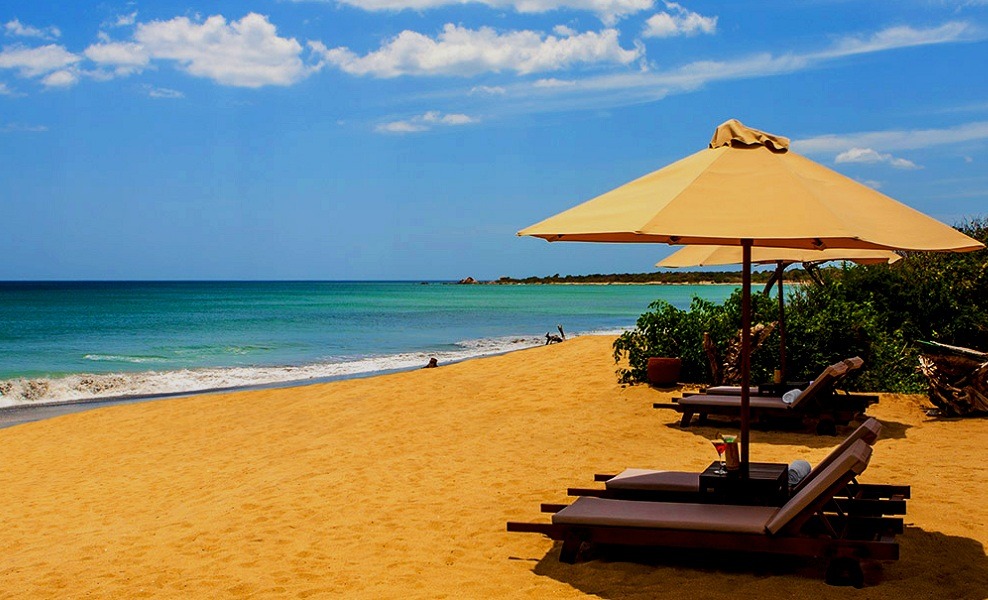 Situated on the outskirts of Trincomalee, Uppuveli Beach is one of the stunning beaches in Sri Lanka. The beach on the east coast has remained blissfully unspoilt due to the decades of civil war that kept visitors and developers out of the region. The golden sand of the beach, sparse population and classic accommodation makes it one of the best hangouts in Sri Lanka. A stroll under the moonlight on this beach is a wonderful experience. If you want some adventure then make a visit to Pigeon Island, a place for diving, snorkeling, Water-skiing, and Wakeboarding. One can also visit Fort Frederick, Swami Rock and Koneswaram temple, one of the Ramayana related places in Sri Lanka.
---
Hikkaduwa Beach
Located north of Galle and Unawatuna, Hikkaduwa is a wide, sandy beach in the south coast of Sri Lanka. Hikkaduwa, one of the lesser spoilt destinations in Sri Lanka, is a place for underwater delights and for those who want to try something off beat. The nearby coral reef is a great spot for snorkeling where one can explore the magical underwater life by taking a glass bottomed boat ride as part of Sri Lanka Tour Packages. Popular with the hippy crowd back in the 1970s,  Hikkaduwa Beach often attracts many overseas tourists as it is characterized by some of the most luxurious hotels and night clubs. The ideal time to visit this beach is during the 3-day long Hikkaduwa beach fest which usually takes place during the month of July and August.
---
Negombo Beach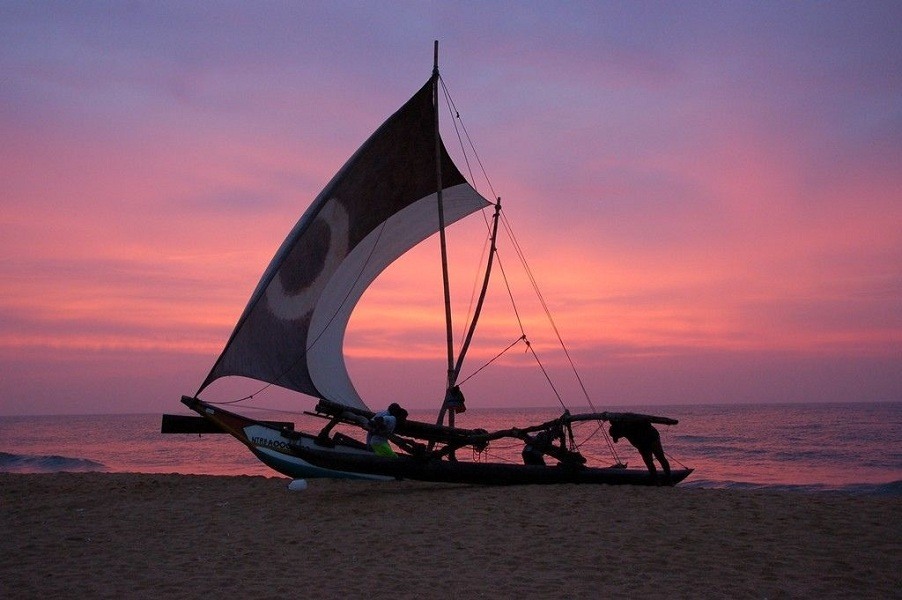 Close to the city of Colombo, the wide sandy beach of Negombo is one of the most famous beaches in Sri Lanka, frequented by international visitors as it is very close to the airport. A characteristic fishing town, Negombo still shows Dutch characteristics in its architectures and is a must visit place while holidaying in Sri Lanka. This is not the beach for people who are looking to soak up the rays all day on the sandy shores but one can experience the scenic boat rides with spectacular views, leisurely strolls along the shore, and even a glimpse of a local fishermen. The nearby blue lagoon is the most appropriate place for bird watching, diving and snorkeling. Besides, this is a gourmet paradise with plenty of fresh sea food.
---
Passikudah & Kalkudah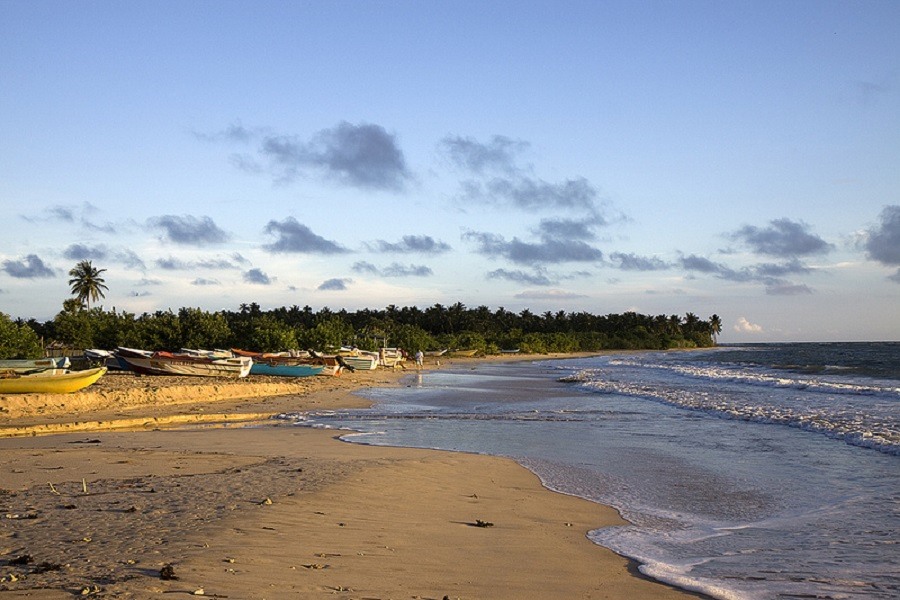 Declared as a National Holiday Resort in 1973, Passikudah & Kalkudah are two very fine beaches in the East Coast of Sri Lanka, one of the affordable international destinations for Indians. Passikudah Beach is 4 km long stretch of shallow coastline and is an ideal bathing site. Popular in the 70s and 80s before the outbreak of civil war, Passekudah Beach now comes under 'Special Economic Zone' with some 14 luxury hotels surrounding it. Located to the north of Passikudah, Kalkudah Bay is a 2 km long wide stretch of beach which remains largely deserted with the vibe of a sleepy backwater and plenty of private spots. Passekudah is best known for swimming while Kalkudah Beach provides the perfect setting for sun bathing, windsurfing, and skiing. The waters that surround the Kalkudah Beach also house a varied number of tropical fish and exotic coral reefs making it the perfect destination for snorkeling in the East coast of Sri Lanka during your Sri Lanka Trip.
---
Nilaveli Beach

Nilaveli is an unspoilt beach situated near Trincomalee in the east coast of Sri Lanka. Renowned for its soft white sand and breathtaking bays, this is a place where most people come to take a break from the hectic city life and relax. The quieter Nilaveli Beach was the venue for the 1985 International Funboard Championships. The beach has ample water sports facilities like fishing, surfing and windsurfing. One can also visit hot water wells, Pigeon Island, an ideal place for scuba diving and a small rocky island as part of Sri Lanka Packages.
---
Tangalle Beach
Marked by rocky outcrops and quiet coves, Tangalle or Tangalla is a series of bays situated along the visually-pleasing south coast of Sri Lanka. Tangalle is one of the nicest beaches in Sri Lanka as it boasts of swaying palms, expansive sands and turquoise waters. Medaketiya Beach, Medilla Beach, Pallikaduwa and Godellawela Beach are the Tangalle's series of bays which are serene and quiet. Tangalle is an ideal place to relax, and also experience the breathtaking view of sunset. The temples of Wewurukannala and Mulkirigala, the Hoo-maniya blowhole, a bird sanctuary and an ancient monastery carved into rock are the other attractions to be visited here during your Sri Lanka Tour. Since the waves here are bit violent, it is not considered an ideal place for swimming but one can indulge in snorkeling which will be both adventurous and exciting.
---
Weligama Beach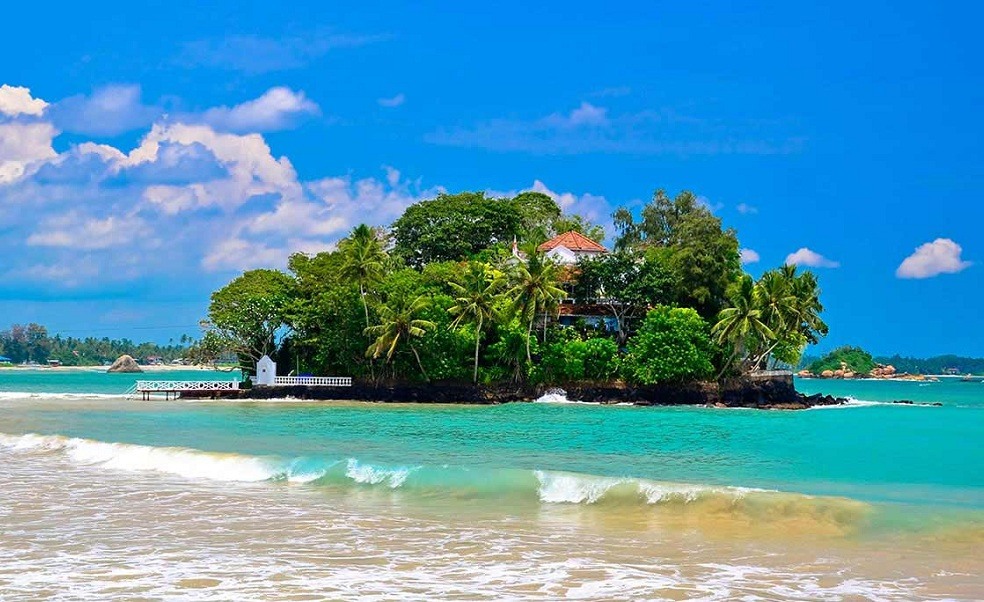 Just north of Mirissa, Weligama, which literally means 'sandy village', is a 2 km long serene beach situated in the south coast of Sri Lanka. This is a favorite spot for surfing beginners as the waves are big, never overwhelming and the virgin sands make for soft landings. Weligama is well known for beeralu lace making which had been introduced by the Portuguese and is also the site for Sri Lanka's famous stilt fishermen, a unique method of fishing. There is also a splendidly isolated Taprobane Island where a French Count built his dream house, makes the bay extra photogenic. It has been a cultural center since, with famous authors, composers, and performers being previous owners of the property. The villa can be rented but only with advance booking.
If you want to visit and know more about Sri Lanka you can easily combine your beach holiday with a guided tour. This way you don't need to bother about organization, you get to know more about the country which is known for its impressive ancient ruins, imposing mountains, rich culture, water sports, dense wild-life and authentic Sri Lankan Cuisine. For a hassle free vacation on the tropical paradise, explore our Sri Lanka Packages offered by Trawell.in.
---
Top International Tour Packages
Santhi is an avid traveler and primary contributor to the blogs at Trawell.in. She has explored most of the states in India and gained vast knowledge on tourist destinations in India and abroad. She also contributes content to other travel websites.