Krishna Janmashtami also known as Krishnashtami, Gokulashtami, Srikrishna Jayanti, Janmashtami, Ashtami Rohini or Saatam Aatham is an annual celebration of the birthday of the Hindu deity Krishna, the eighth avatar of Lord Vishnu. The festival is celebrated on the eighth day (Ashtami) of the Krishna Paksha (dark fortnight) of the month of Bhadrapada (August–September) in the Hindu calendar. Krishna Janmashtami is an important festival which is celebrated with great fervor. The magical festival is celebrated in numerous ways in different parts of India. Young kids are dressed up as Krishna and Radha is also a specialty of the day.
As a child Sri Krishna was very naughty and he was very fond of butter. In states like Maharashtra people enact incidents from Krishna's childhood by placing an earthen pot high above the ground and then forming a human pyramid to try and break it. Many youngsters participate in this activity with great enthusiasm. This ritual of breaking the pot is known as Dahi Handi. The crowds at Dahi Handi, street performances of singing and dancing and night celebrations in the temples are the most exciting activities to be explored during the festival.
Trawell.in features 6 places to visit in India to celebrate Janmashtami in the grandest way. Krishnashtami is the prime festival for these places & temples and the celebrations offer unforgettable experience to visitors. Some of these places are associated with Krishna's life and witness tremendous crowd on this festival day.
Dwarka, Gujarat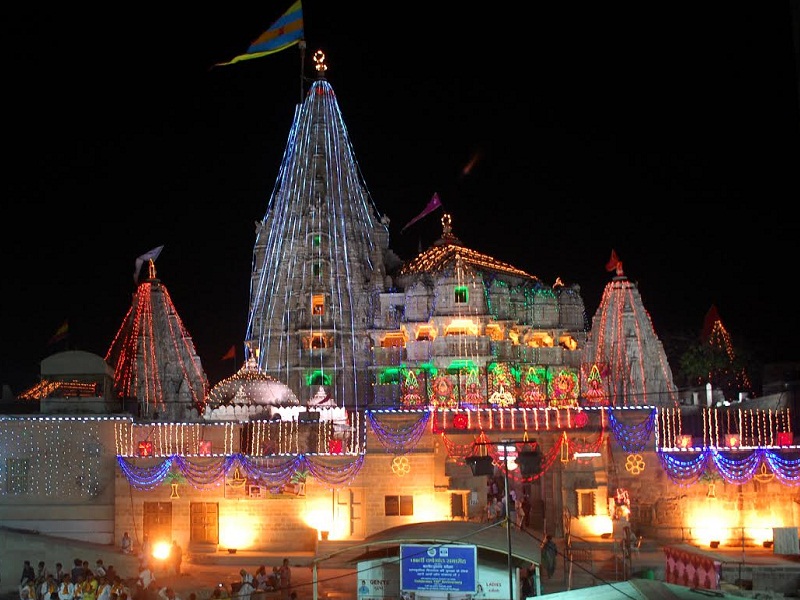 Dwarka is a popular city located on the coast of Kutch in Gujarat. Dwarka, meaning 'Door to Moksha (Salvation)', is one of the four holy cities in India. Also known as Golden City, Dwarka was established by Lord Krishna with his elder brother Balram. As per Hindu mythology, the city was built in two days by Viswakarma as per the instructions of Lord Krishna. The city is said to have been made up of diamonds and crystal, with palaces made of gold, emeralds and other precious stones. It was the abode of Lord Krishna for nearly 100 years. After Lord Krishna's death, the city is believed to have been submerged into the sea. It is among most visited tourist places in Gujarat.
The Dwarkadheesh Temple is known for its Krishnashtami celebrations. Devotees from all over India throng the city of Dwarka during Janamashtami. Lord Dwarkadheesh is adorned with lot of gold jewellery and other precious stones such as Diamonds and Topaz. Utsav Bhog is offered to Lord around 11:30 PM. Hindus celebrate Janmashtami by fasting and staying up until midnight, the time when Krishna is believed to have been born. The devotees welcome the Lord at 12 midnight with immense enthusiasm and joy. After nearly two hour celebrations, the temple closes at 2 AM after the Maha Bhog offerings to Lord Krishna. Explore Dwarka tour packages offered by Trawell.in.
Nearest City : Rajkot (225 km)
Also Read: 15 Best Places to visit in Dwarka
---
Mathura, Uttar Pradesh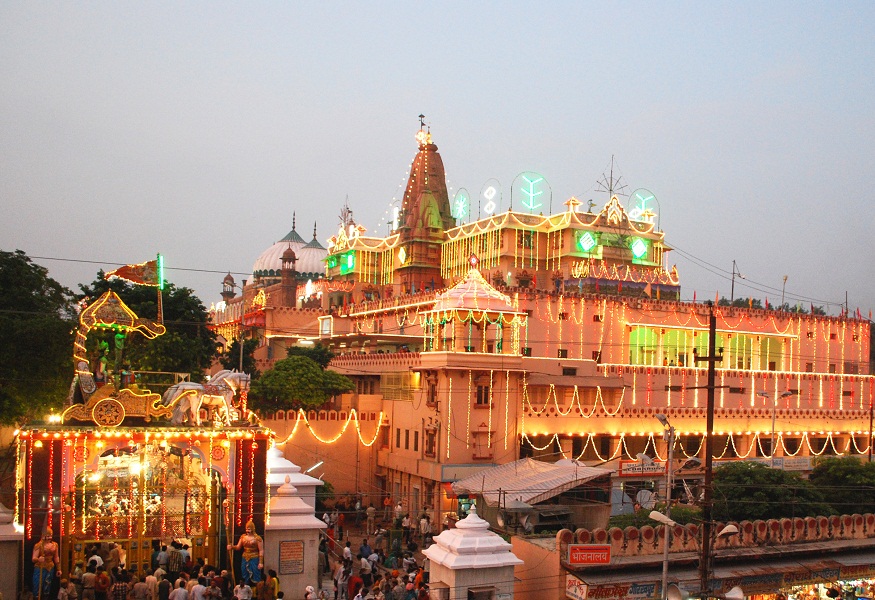 Mathura is an ancient city situated on the banks of River Yamuna in Uttar Pradesh. It is one of the seven cities (Sapta Puri) considered holy by Hindus; the other six are Ayodhya, Haridwar, Varanasi, Kanchipuram, Ujjain and Dwarka. It is popularly known as the Brajbhoomi, the sacred land of Lord Krishna. The Sri Krishna Janmabhoomi Temple is home to a prison cell called Garbha Griha that is believed to be the exact birthplace of Krishna. The festival of Janmashtami is celebrated in Mathura with great devotion. All the Krishna temples in the city wear a festive look but the main celebration occurs at the Sri Krishna Janmabhoomi Temple. It is also one of the best tourist places to visit near Delhi.
The celebration goes on for two days, in which the people celebrate their first day by keeping day-long fast, celebrations and feast at midnight after the birth time of Lord Krishna. The second day is also the day of celebrations and feast. The entire city of Mathura is immersed in the devotion of Lord Krishna by singing, dancing and chanting in the names of Lord Krishna. Rasleela, a dance drama that narrates the story of Lord Krishna, is played in all the temples and midnight celebrations are also organised in these temples that mark the time when the Lord was born. The devotees participate in decorations in temples and Ghatas with enthusiasm. It is expected that every year about 8 lakhs devotees turn up in Mathura on this occasion. Explore Mathura tour packages offered by Trawell.in.
Nearest City: Agra (59 km)
---
Vrindavan, Uttar Pradesh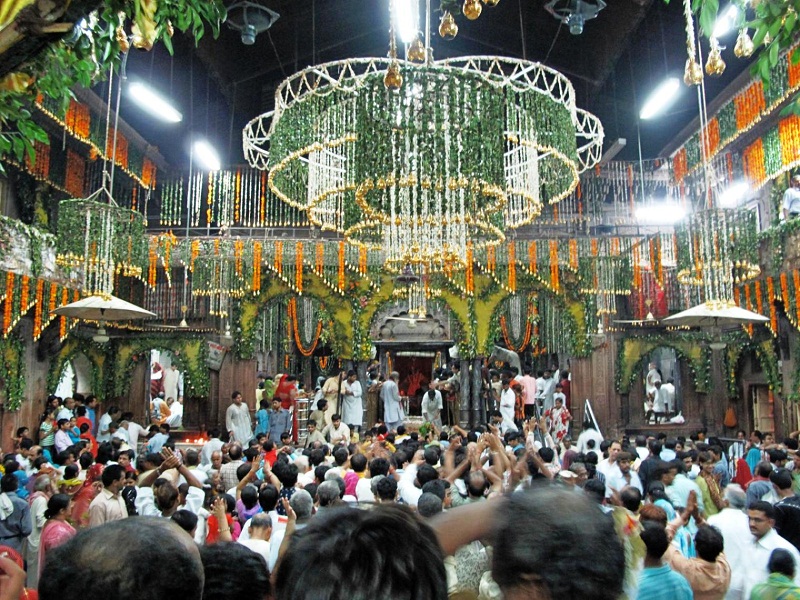 Vrindavan is a town in Mathura district of Uttar Pradesh, where Lord Krishna is believed to have spent his mischievous childhood. Situated on the banks of the River Yamuna, Vrindavan is where Krishna performed the famous Rasleelas with his Gopis. Vrindavan is one among the popular places where Janmashtami is celebrated. There are over 4000 temples in Vrindavan of which Ranganathji Temple, ISCKON Temple, Radharaman Temple and Banke Bihari Temple are the main temples where people flock for their ceremonies and ritualistic events that takes place throughout the day of Janmashtami; especially the 'Abhishek' which is the grand ritualistic bath of Lord Krishna before the ceremonies begin. It is among popular places to visit near Agra.
The Janmashtami celebration starts 10 days prior to the actual day of Krishnastami. The temples celebrate festival in their own ways throughout the day. Rasleelas and plays on the life of Krishna and scenes from the epic Mahabharata associated with Lord Krishna are performed by professional artists on the occasion of Janmashtami. Madhuban, an area near the Yamuna River is believed to be the exact place where Lord Krishna was said to have performed Rasleelas with his beloved Gopis. A local folklore says that even till this date, Lord Krishna descends at this place to perform Rasleelas with the Gopis. Hence, no locals set foot in the area after dusk. Though, Madhuban is brightly lit and decorated during Janmashtami as Rasleelas and plays are performed here but only during daytime. Large numbers of tourists visit this place to enjoy the festival. Explore Vrindavan tour packages offered by Trawell.in.
Nearest City: Agra (71 km)
---
Udupi, Karnataka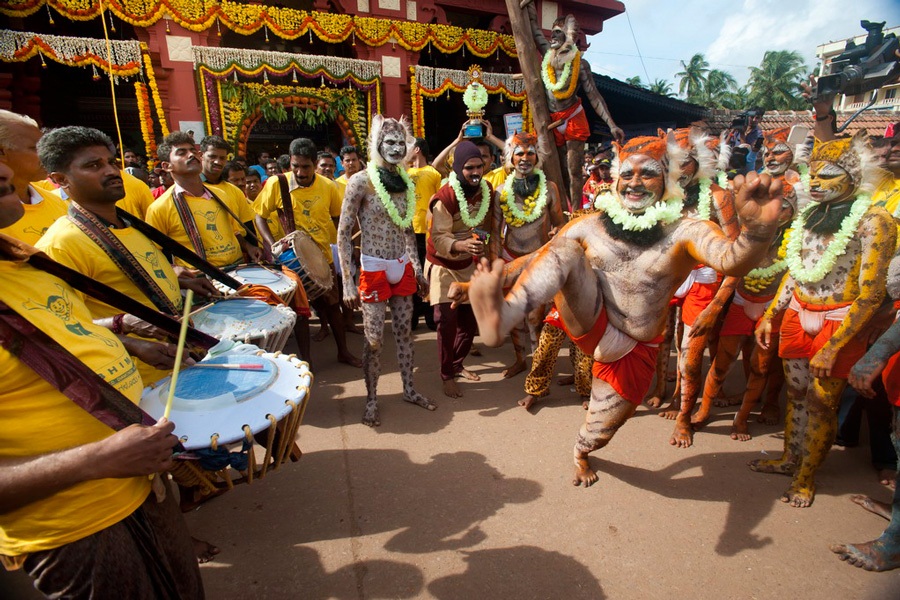 Udupi is a famous temple town and headquarters of the Udupi district in Karnataka which is famous for Sri Krishna Temple. The Udupi Krishna Math was established in the 13th century by the great philosopher, Madhavacharya. The temple attracts pilgrims from all over India and is also a center for the Dvaita philosophy. Udipi Krishna Temple has a fascinating idol of Lord Krishna that is richly adorned with jewels. Another attraction of Sri Krishna Temple is the Kanakanna Kindi, a small window through which Lord Krishna is believed to have given darshan to his devotee, Kanakadasa. Udupi is one of the best places to visit in Karnataka and also popular places of pilgrimage in Karnataka.
Janmashtami is celebrated in a grand scale in Udupi Sri Krishna Temple. Also known as Gokulashtami, the town celebrates the festival by Arghya Pradana, which is a ritual of pouring milk or water on the idol of Lord Krishna. This will be performed at midnight on Janmashtami day. The special dishes named Chakkulis and Laddus are offered to the Lord. The next day people perform Leelotsav. The artists play different performances with unique dresses; make ups, musical instruments and Tiger Dance Groups. Large number of people from across India visit Udupi on this special occasion. Choose from wide range of Udupi tour packages offered by Trawell.in.
Nearest City: Mangalore (65 km)
---
Guruvayur, Kerala
Guruvayur is a municipal town in Thrissur district of Kerala and is well known for the temple of Sri Krishna. Guruvayur Sri Krishna Temple is one of the most popular pilgrimage sites in Kerala and also the fourth largest temple in India in terms of the number of devotees visiting per day. Lord Sri Krishna can be seen in standing posture with four hands carrying Sankhu, Sudarshana Chakram, Lotus and Mace. The temple is built in a typical Kerala architecture. Vishwakarma, the divine architect is said to have built the first temple here. On Malayalam New Year day, the first rays of Sun fall directly at the feet of Lord Krishna. Guruvayur Krishna Temple is one of the popular tourist places in Kerala and is a must visit place of pilgrimage for Hindus.
Ashtami Rohini or Janmashtami is one of the famous festivals celebrated with great pomp and fervor at Guruvayur Temple. The idol of Lord Krishna is decorated beautifully for darshan. Devotees observe fast on the previous day and spend their day in the temple singing bhajans and chanting slokas of Lord Krishna. The temple is brilliantly decorated with oil lamps and festivities continue till early hours of morning. Special concerts, cultural programs and satsangs are also held on the day. Special feasts are arranged for the devotees by various Krishna temples on this day. Ardent Krishna devotees flock to the temple during Ashtami Rohini to have a glimpse of the sacred idol of Lord Krishna and to take part in the pujas and rituals of the festival. Guruvayur can be visited as part of Thrissur tour packages.
Nearest City: Trissur (26 km)
---
ISKCON Temples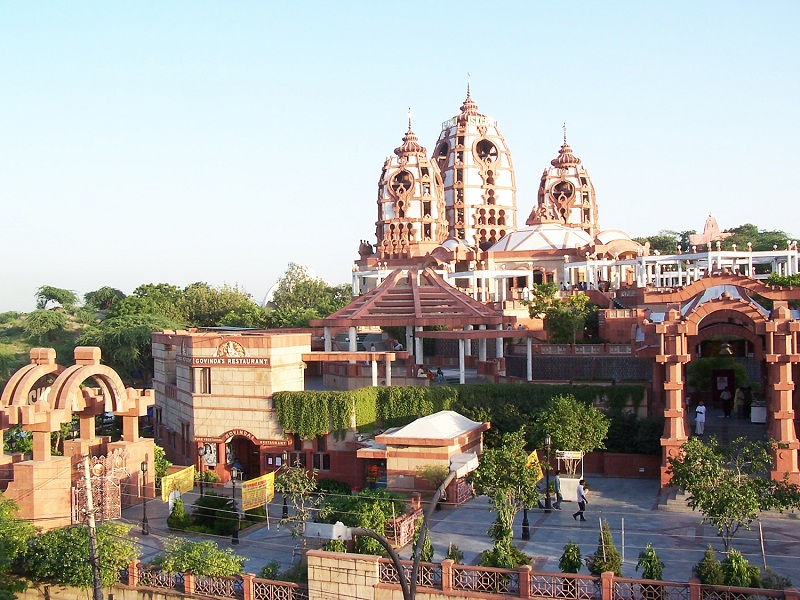 For International Society for Krishna Conscience (ISKCON), Janmashtami is the most important and biggest festival. ISKCON temples all over the nation celebrate Janmashtami with great pomp and fervor. ISKCON Bangalore, ISKCON Vrindavan, ISKCON Delhi, ISKCON Mumbai, ISKCON Pune, ISKCON Ahmedabad, ISKCON Jaipur, ISKCON Imphal and ISKCON Pandarpur are the main temples where people flock to participate in the ceremonies and events that take place throughout the day of Janmashtami.
These temples are decorated in a beautiful manner to celebrate the birthday of Lord Krishna. Devotees fast throughout the day until midnight when Krishna was born. The fast is broken after a special Janmashtami puja. A total of 108 different food items are prepared and offered to Lord Krishna. These offerings are usually prepared by devotees. The ceremonial bathing of Krishna idol is another important event. Night long prayers are offered and religious mantras are sung in the temples.
Santhi is an avid traveler and primary contributor to the blogs at Trawell.in. She has explored most of the states in India and gained vast knowledge on tourist destinations in India and abroad. She also contributes content to other travel websites.