Goa is renowned for its beautiful beaches and it allures a great number of tourists from all around the globe. While there are many popular and most visited beaches in Goa like Colva, Baga, Calangute Beach, Anjuna and Vagator Beach, there are also few most secluded and beautiful hidden beaches where one can escape from the hustling crowd and loud hawkers. Trawell.in bring you the list of 9 unexplored hidden jewels of Goa.
Watch Video - Beaches & Tourist Sites in Goa
Cola Beach
Cola Beach is one of the less explored beaches in Goa and among the most beautiful beaches in South Goa. The Cola Beach or Khola Beach is a private beach located 5 km north of Agonda Beach and 12 km from Palolem Beach. It is one of the remote beaches of Goa that is suitable for those seeking peace and relaxation. It is also much cleaner and quieter than the best Goa beaches. One distinctive point that separates Cola Beach from others is the fresh water lagoon on its sea shore and it offers great opportunities for swimming, fishing and kayaking.
Distance from Panjim: 70 Km
Must Read: 5 Alternate Beach Destinations to Goa
---
Arambol Beach
Arambol also known as Harmal Beach is a pristine and secluded beach situated in North Goa. It is one of the most beautiful Goa beaches and also a relatively less crowded beach in North Goa. The Arambol Beach extends over 6 km and consists of two beaches. More popular is the Harmal Beach contains long stretch of curving sand and it is good for swimming. It is a perfect place for people looking for peace and tranquility as part of their Goa Holiday Packages. The second beach known as Kalacha Beach lies beyond the rocky stretch and can only be reached on foot. It is famous for its picturesque fresh water lagoon named Vagkolam or Sweet water Lake, which is near the shore at the very end of the beach. The rocky cliffs near the beaches are popular for paragliding and dolphin watching boat trips are among the fun activities on this beach along with Wind and Kite surfing and Sailing.
Distance from Panjim: 34 Km
---
Most Popular Goa Tours
---
Butterfly Beach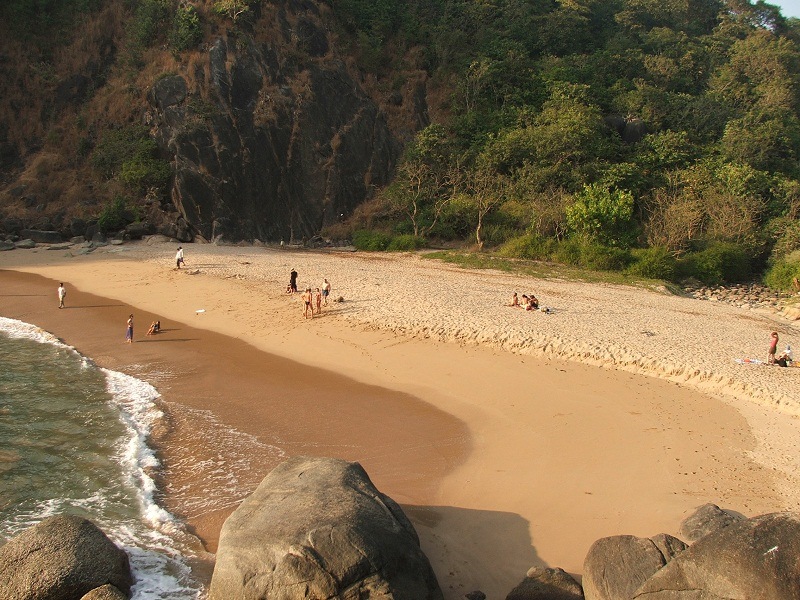 Butterfly Beach is another unexplored beach in Goa located on the Butterfly Island in South Goa. It is a tiny beach cove that lies just 6 km north of Palolem Beach. The sands here are perfectly white and the water translucent. Butterfly Beach is one of the most picturesque beaches of Goa. This beach would be the best place to unwind and relax. The main attraction of the beach is its famous Dolphin Play and the mesmerizing sunset. The Canoe rides along the tiny water streams on the island provide a thrilling ride. Butterfly Beach has no road access and has to reached by a boat from Palolem Beach.
Distance from Panjim: 69 Km
---
Betalbatim Beach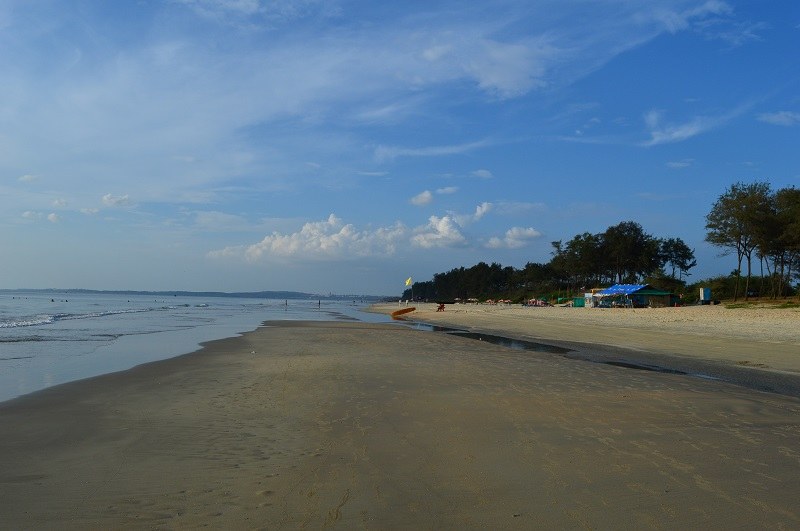 Betalbatim Beach is located to the north of the famous Colva Beach in South Goa. Popularly known as the Sunset Beach, Betalbatim is one of the relatively less known beaches in Goa. One can literally walk up to Betalbatim Beach from Colva Beach. Unlike most Goa beaches that are lined up with palm trees, this beach has a numerous pine trees along the shoreline. This Beach is among the cleanest beaches in Goa and has considerably less commercial activity compared to other popular beaches. Dolphins are a common site near the shores of Betalbatim and the local fishermen offer a ride to the tourists to catch a glimpse of the Dolphins.
Distance from Panjim: 31 Km
Also Read: Best Beaches in India
---
Cabo de Rama Beach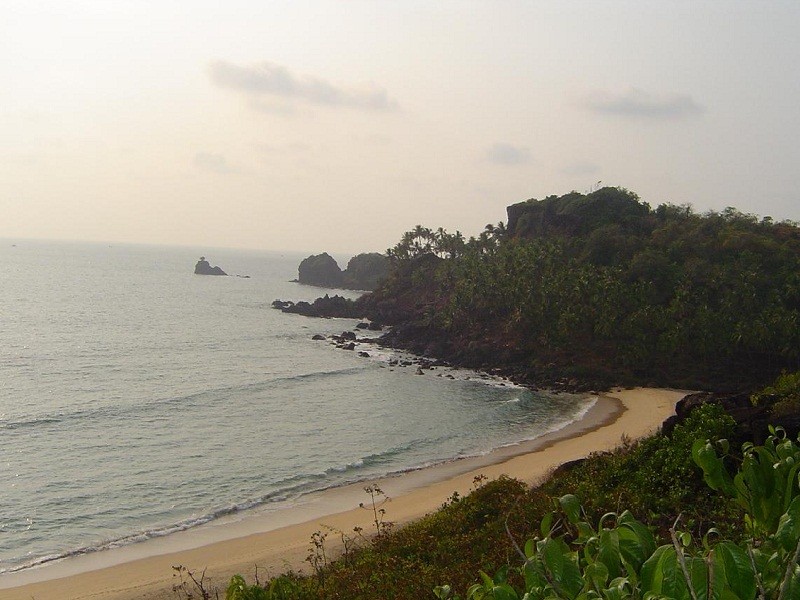 Cabo de Rama Beach is a beautiful place situated near Canaguinim in the South Goa, about 2 kms before Cabo de Rama Fort. The beach is secluded owning to its distance from major towns and is least visited by tourists. Overlooking the beach is the Portuguese Fort called Cabo de Rama, which is one of the popular places to visit in Goa. From the fort, one can see the beautiful view of the beach. Behind the beach is a steep cliff having rocky flat top. Palm trees line up the shoreline making it an ideal spot for couples with picnic baskets. There are no shacks near the beach but it has one small restaurant that offers basic eateries & drinks.
Distance from Panjim: 63 Km
---
Galgibaga Beach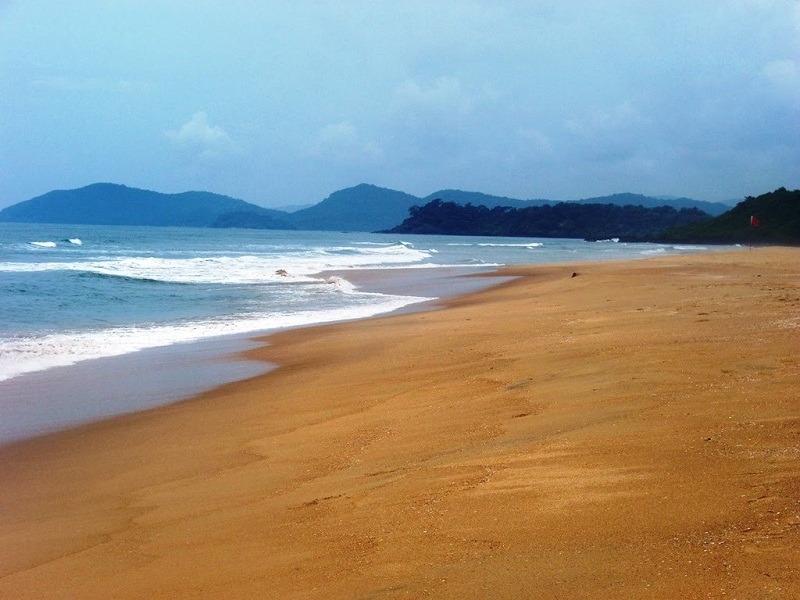 Galgibaga Beach or the Turtle Beach is the less crowded beach in South Goa. This is one of three beaches along with Agonda and Morjim Beaches, where the state program of olive turtles saving and protection is implemented. The whole northern part of this beautiful beach is used for turtle nesting. This empty stretch of beach with its silvery sands and clusters of coconut palms is a calm and serene paradise. Swimming at Galgibaga Beach is safe within the stipulated area. Lifeguards are available on this beach to ensure visitors safety. Tourists can witness the hatching olive turtle at Galgibaga as part of Goa Tour Packages.
Distance from Panjim: 84 Km
---
Canaguinim Beach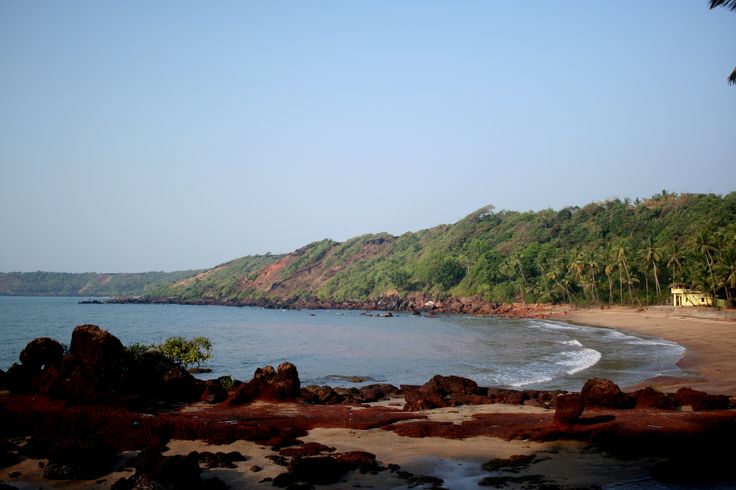 Canaguinim Beach is a beautiful beach in South Goa and is the most secluded beach lying south of Betul Beach. It has a low wall around it and also has some sedimentary rocks and a river Sal inlet at the end of the beach. Canaguinim Beach is covered with sandy rocks. The silver coastal stretch of the beach is much small and less crowded compared to other beaches in the vicinity. It consists of two beaches – North Canaguinim and South Canaguinim. These beaches are surrounded by lush wild vegetation, covered with golden sand. This one of the stunning and least explored beach in Goa beaches list.
Distance from Panjim: 52 Km
Suggested Post: Top Places to visit in Goa in 3 days trip
---
Velsao Beach
Velsao Beach is adjacent to the Bogmalo Beach to its north and the Majorda Beach & Colva Beach to its south in South Goa. The beach is famous for its large stretches of silver soft sands and picturesque sunsets. The shoreline of the beach is dotted with numerous palm trees. The lovely long stretch of white sand is perfect for relaxation, strolling and sunbathing. Velsao Beach offers magnificent views of sunset. The seashore is mostly seen empty and free from tourists compared to Goa best beaches.
Distance from Panjim: 25 Km
---
Rajbagh Beach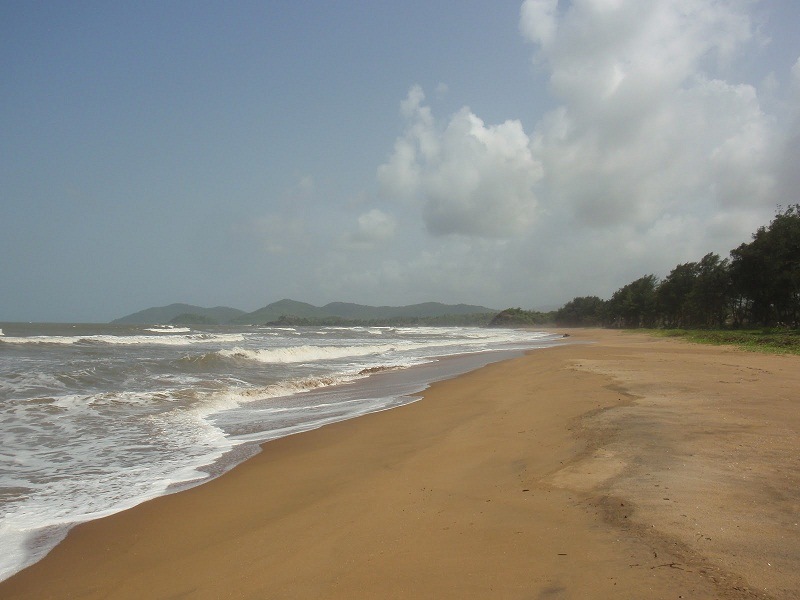 Rajbagh or Rajbaga Beach is situated to the south of famous Palolem Beach in South Goa. This beach is very beautiful, clean and isolated. The Rajbagh sea coastline is covered with palm trees and heavy pine trees which stretch from the cape, that separate the Rajbagh Beach from the neighboring Patnem Beach up to the Talpona River mouth. The Rajbagh Beach is ideal for a relaxed do nothing vacation. Almost the entire Rajbagh coastline is occupied by a luxury five-star hotel. Rajbagh Beach is undoubtedly one of the tidiest beaches in Goa. Only place in Goa, where one can still enjoy a hand paddled ferry trip at Rajbagh in the Talpona River. Swimming at this beach is safe than other famous beaches in Goa.
Distance from Panjim: 72 Km
---
Santhi is an avid traveler and primary contributor to the blogs at Trawell.in. She has explored most of the states in India and gained vast knowledge on tourist destinations in India and abroad. She also contributes content to other travel websites.