HARIDWAR TOURISM | TOURIST PLACES TO VISIT & TRAVEL GUIDE TO HARIDWAR
Pilgrimage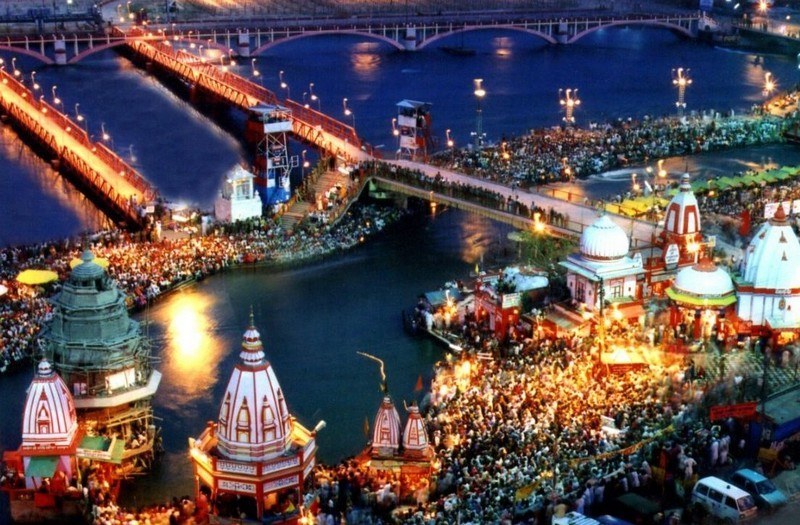 Ideal Trip Duration:
1-2 Hours

Nearest City to Haridwar:
Dehradun (54 Kms), Delhi City (208 Kms)

Best Time to Visit Haridwar:
October to April

Peak Season:
November & May to June
At a distance of 26 km from Rishikesh, 54 km from Dehradun, 86 km from Mussoorie, 192 km from Chandigarh and 208 km from Delhi, Haridwar or Hardwar is an ancient religious city in the Haridwar district of Uttarakhand. Haridwar is one of the best tourist Places to visit in Uttarakhand apart from being a popular pilgrimage site in India and also one of the well known tourist places near Delhi. Haridwar is another popular attraction not to miss in a Uttarakhand tour package.

Haridwar, literally translated as Gateway to God, is one of the seven holiest places for Hindus, located on the banks of River Ganges. It is the place where river Ganga descends to the plains. Haridwar is situated at an altitude of 314 m. It serves as a gateway to the Char Dham destinations of Uttarakhand which are Badrinath, Kedarnath, Gangotri and Yamunotri.

The history of Haridwar dates back to the period of King Vikramaditya, around 2nd century BC. Haridwar is referred to as Mayapuri, Gangadwar, and Mokshadwar in the ancient Hindu texts and epics. The holy city of Haridwar is considered as old as Varanasi and according to legend; gods left their footprints in Haridwar. According to the Samudra manthan, Haridwar along with Ujjain, Nashik and Prayag (Allahabad) is one of the four sites where drops of Amrit (nectar) fell while it was being carried by Garuda.

Har-ki-Pauri is the most important place of Haridwar where thousands of people take a dip in the holy waters of the Ganges. It is believed that Prince Bhagirath served self-punishment here to rescue the souls of his ancestors who had died due to the curse of Kapil Muni. His prayers were answered and Ganga started flowing from the locks of Lord Shiva and reviving the sons of King Sagara.

Chandi Devi Temple, Mansa Devi Temple at Bilwa Parvat, Vaishno Devi Temple, Bharat Mata Temple, Maya Devi Temple, Bhimgoda, Shanti Kunj are some of the important historical shrines in Haridwar. Rishikesh, Sapt Sarovar, Triveni Ghat, Kanva Rishi Ashram, Chila Wildlife Sanctuary are the other nearby attractions. Haridwar is also a fast growing industrial city as well. The city houses Bharat Heavy Electricals India Ltd and also has the first technical institute of India, the University of Roorkee, which is now known by the name of IIT Roorkee.

Haridwar is one of the venues for famous Kumbh Mela which takes place once in every 12 years. Maha Kumbh Mela will be held in Haridwar in 2022. The Ardh Mela is held every six years. Baisakhi, Kanwar Mela, Somwati Amavasya and Kartik Purnima are the other important festivals celebrated in Haridwar.

Jolly Grant Airport at Dehradun is the nearest airport, which is about 38 km from Haridwar. Haridwar Railway Station is well connected by train with Delhi, Dehradun, Rishikesh, Puri, Indore, Trivandrum, Ujjain, Madurai, Okha, Saharanpur, Mumbai, Allahabad, Gorakhpur, Varanasi, Amritsar, Howrah and Kathgodam. Haridwar can also be reached by State run buses that connect to nearby cities as well as New Delhi.

The best time to visit Haridwar is from October to April.
Internet Availability:
Good
Languages Spoken:
Hindi and English
Major Festivals:
Details Not Available