Hyderabad, the city of Pearls, has several beautiful tourist destinations in the vicinity for a memorable weekend trip. Trawell.in presents the top 11 monsoon getaways near Hyderabad which can be visited as a one-day / 2-day trip from the City. Also, browse the popular waterfalls near Hyderabad for the complete list of waterfalls around Hyderabad City and Falls in Telangana state.
Srisailam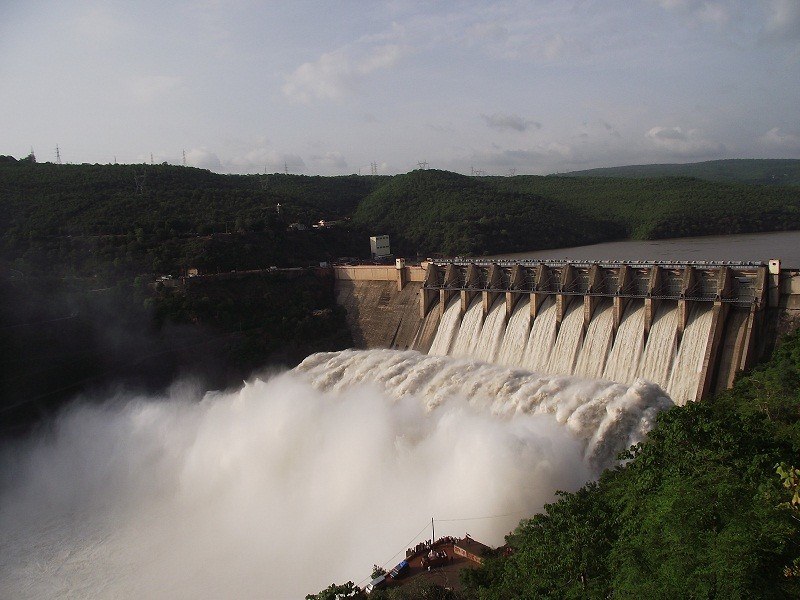 Srisailam is one of the most important pilgrimage centers in India situated on the banks of River Krishna in Kurnool district of Andhra Pradesh. This is one of the most popular places of pilgrimage near Hyderabad and also one of the best monsoon getaways from Hyderabad. Srisailam is famous for Srisailam Dam & Bhramaramba Mallikarjuna Temple which is dedicated to Lord Shiva. The unique feature of this kshetram is the combination of Jyothirlingam and Mahasakthi (in the form of Bhramarambika) in one campus, which is very rare and only one of its kind.
Srisailam is a perfect combination of temples and scenic spots. Srisailam Dam built over River Krishna is one of the largest dams in South India. Mallikarjuna Temple, Bhramaramba Devi Temple, Akka Mahadevi Caves, Pathala Ganga, Shikaresvara Temple, Sakshi Ganapathi Temple and Mallela Theertham are the other Srisailam Tourist Places. Mallela Theertham is a charming waterfall located in the dense Nallamala forest. This is one of the popular tourist places to visit in Srisailam and among popular weekend getaways for 2 day trip from Hyderabad.
Srisailam is at it's best when the dam gates open during monsoon (around August/September).
Distance from Hyderabad: 230 Km
---
Nagarjuna Sagar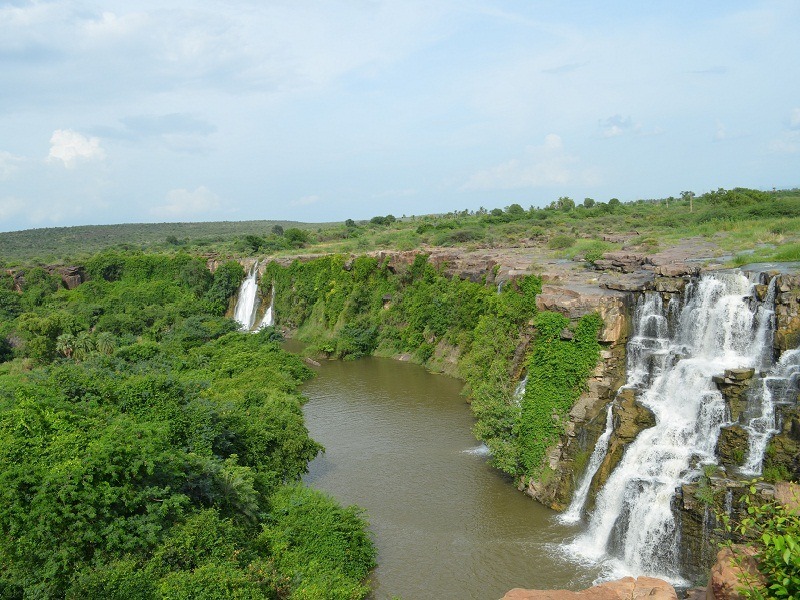 Nagarjuna Sagar, situated on AP – Telangana border, is one of the most prominent Buddhist centers in India. Nagarjuna Sagar is one of the best monsoon destinations near Hyderabad. It is well known for Nagarjuna Sagar Dam, one of the largest dams in India. It is also the place of immense archaeological significance & excavations revealed this place as a center for the propagation of Buddhist teachings in South India during 3rd century AD. One of the early river valley civilizations took birth here.
Nagarjuna Sagar Dam, Nagarjuna Konda, Ethipothala Falls and Anupu are the famous Nagarjuna Sagar Places to Visit. Nagarjuna Sagar Dam, built on River Krishna between the states of Telangana and Andhra Pradesh, was completed in 1966 AD. It has a height of 124 m and a length of over 1450 m with 26 crest gates. The lake created by the dam is the third largest man made lake in the world. Nagarjuna Konda, where the ancient Buddhist excavations are found is in middle of the waters of Nagarjuna Sagar and can be reached by a boat. Ethipothala waterfalls are striking falls on River Chandravanka (a tributary of River Krishna).
Nagarjuna Sagar Dam looks magnificent when the dam gates are open in monsoon around September.
Distance from Hyderabad: 154 Km
---
Most Popular Tours
---
Kuntala Falls
Kuntala Falls is an enchanting waterfall situated in the middle of the Sahyadri mountain range near Neredikonda village in Adilabad district of Telangana. Kuntala Falls is the highest waterfalls in Telangana with a height of 200 feet and is also one of the top monsoon getaways from Hyderabad. It is also one of the famous waterfalls near Hyderabad. Formed by Kadam River, Kuntala Falls cascades down through two steps from a rocky platform. The flow of these falls depends on the release of water from the Kadam Reservoir. The uncertainty of the water release, especially in the rainy season makes Kuntala Waterfalls a slightly dangerous place.
Monsoons and post-monsoons are the best seasons to visit Kuntala Falls. Pochara Falls, Gayathri Waterfalls, and Kanakai Waterfalls are the some important places situated near Kuntala Falls. It is one of the famous one day outings and a good weekend getaway from Hyderabad city. It is dangerous to get into water at the bottom when the water flow is high due to sharp rocks and twists.
The Sriram Sagar Dam is another major attraction situated between Hyderabad & Kuntala Falls. It is one of the largest irrigation projects in Telangana. Built on Godavari River, Sriram Sagar serves irrigation needs in Karimnagar, Warangal, Adilabad, Nalgonda, and Khammam districts. This place attracts large number of tourists during the monsoon season when the gates are open.
Distance from Hyderabad: 260 Km
---
Bidar
Bidar is a town and district headquarters located in the north-eastern part of Karnataka. Bidar is one of the most popular heritage sites near Hyderabad and also one of the best places to visit in Karnataka. It lies at an altitude of 2,200 feet on Deccan plateau overlooking the Manjira river valley. Bidar has great historical importance and it is one of the important historical places in Karnataka. Bidar is known for its unique Bidri handicraft products. It is one of the wonderful places to visit in monsoon near Hyderabad, as the forts and monuments of Bidar look fresh and green in the rainy season.
Bidar has number of historical monuments dating back to 15th century. These monuments reflect the glory of the Bahamani rulers. The main tourist attraction is Bidar Fort, which was built by Ahmad Shah in 1430 CE. The Rangin Mahal, Solah Kambh Masjid, Gagan Mahal, Diwan-e-Am, Royal Pavilion, Tarkash Mahal are other important places to be seen within the fort. Tombs of Bahamani Rulers, Barid Shahi Tombs, Madrassa of Mahmud Gawan, Chaubara, Gurudwara Nanak Jhira Sahib are other attractions in Bidar. Basavakalyan Fort, Humnabad, Narasimha Jhira Temple are other major attractions nearby.
The Singur Dam, constructed across River Manjeera is one of the scenic situated on the way to Bidar. The dam provides drinking water to Hyderabad City.
Distance from Hyderabad: 140 Km
---
Hampi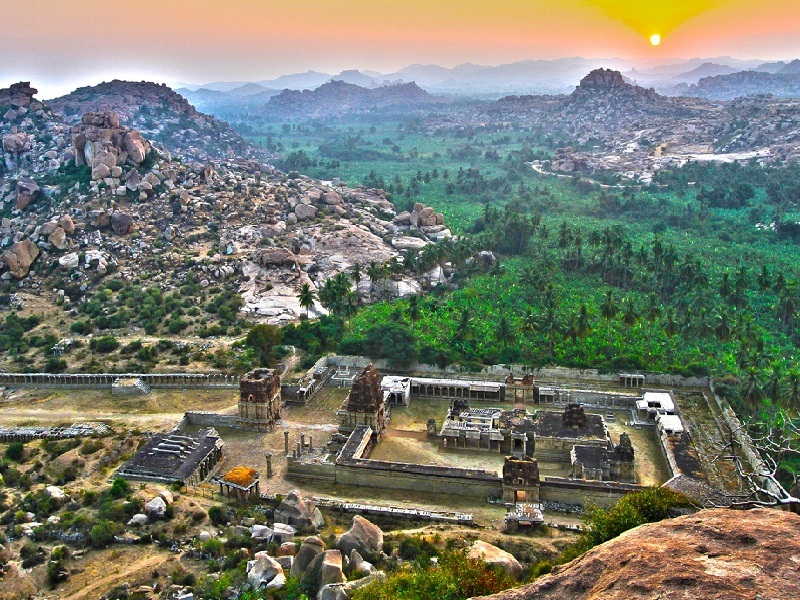 Hampi is an ancient city situated on the banks of Tungabhadra River in northern Karnataka. Hampi is one of the renowned UNESCO World heritage sites in India and also one of the most popular heritage sites in Karnataka. Hampi was the capital of Vijayanagara Empire and was an extremely important part of the Empire from 1343 CE to 1565 CE. It was one of the richest and largest cities in the world during 15th and 16th centuries. It is one of the best places to visit in rainy season as the ruins of Hampi looks fresh and more grandeur with full flowing Tungabhadra River. Hampi is one of the best places to experience the Karnataka Tourism and among the popular weekend getaways from Bangalore.
The ruins of Vijayanagara Empire are spread over an area of more than 26 Sq.km in & around Hampi . The place is a significant religious center of the Vijayanagara Empire due to the presence of the historic Virupaksha Temple along with many other monuments of the old city. The main tourist places in Hampi can be divided into two broad areas; the Hampi Bazaar area and the Royal Center near Kamalapur. Hemakuta Hill, south of the Virupaksha temple, contains early ruins, Jain temples and a monolithic sculpture of Lord Narasimha. The famous Vittala Temple is located 2 km east of the Hampi Bazaar. The Tungabhadra Dam constructed across Tungabhadra River, a tributary of Krishna River is situated in Hospet near Hampi.
Hampi Festival, held for 3 days in November is the most important festival celebrated here.
Distance from Hyderabad: 377 Km
Also Read: Hampi 2 day trip from Bangalore
---
Badami, Aihole & Pattadakal
Badami, Aihole and Pattadakal are popular heritage sites in India situated in Bagalkot district of Karnataka. Pattadakal is also listed as UNESCO World Heritage Site known as Chalukyan Group of Monuments. These three sites are popular monsoon getaways from Hyderabad which can be visited together and also popular tourist places in Karnataka. Badami, also called as Vatapi, was the capital of mighty Chalukyas from 540 to 757 AD who ruled Karnataka, Andhra Pradesh & Maharashtra. Badami is famous for cave temples, fort, fine carvings, wonderful architecture and breathtaking views. Cave temples, Badami Fort and several temples on the shores of Agastya Lake are the popular Tourist Places in Badami. Out of the three Hindu temples, two are dedicated to Lord Vishnu while one is dedicated to Lord Shiva. Boothanatha Temple is a magnificent structure situated on the banks of Agasthya Lake.
Pattadakal, along with Aihole, is considered as the cradle for South Indian Temple architecture. The main complex has about 10 temples constructed between 6th and 9th centuries. The temples at Pattadakal are larger and grandeur with extensive art work compared to the early stage temples of Aihole. The main monuments in Pattadakal are Virupaksha Temple, Sangameshwara Temple, Mallikarjuna Temple, Kashivisvanatha Temple & Galganatha Temple. There are more than 125 temples in Aihole constructed between 5th and 8th centuries during Badami Chalukya's rule. The main monuments in Aihole are Durga Temple, Ladkhan Temple, Ravana Pahadi and Archeology Museum.
Badami offers magnificent views in monsoon with beautiful waterfalls adjacent to Boothanatha Temple.
Distance from Hyderabad: 400 Km
---
Ananthagiri Hills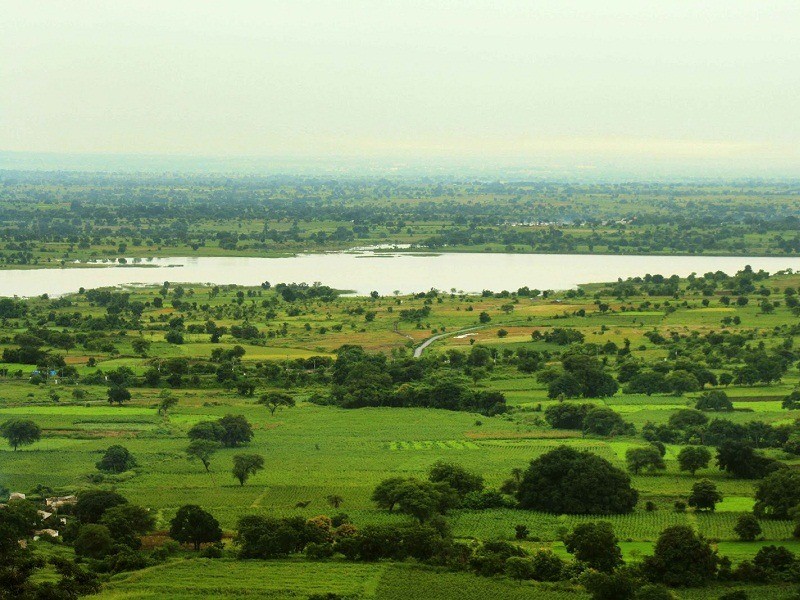 Ananthagiri Hills are located at Vikarabad in Ranga Reddy district of Telangana. It is a small and beautiful hill station near Hyderabad and is also famous destination for a day trip from Hyderabad. This is among the well-known places to visit in monsoon near Hyderabad. Ananthagiri forest is one of the dense forest areas in Ranga Reddy district and the hills are the main water source for Osmansagar (Gandipet) and Himayathsagar which provide drinking water to Hyderabad. Ananthagiri Hill is the birthplace of Musi River, which flows through Hyderabad. A small reservoir, the lush green jungle, the jungle trail are added attractions to this place covered by thick vegetation and beautiful streams with fresh water in monsoon.
Anantha Padmanabha Swamy Temple, dedicated to Lord Vishnu is one of the prime attractions in Ananthagiri hills. The hills are named after this temple Ananthagiri is also popular for trekking and it offers many trekking and camping opportunities. There are two trekking trails in the forests, one that begins from the Anantha Padmanabha Swamy Temple and another one starts 0.5 km from the temple, towards Kerelli. Nagasamudram Lake or Kotpally Reservoir is another picturesque location near Ananthagiri.
Distance from Hyderabad: 79 Km
---
Eturnagaram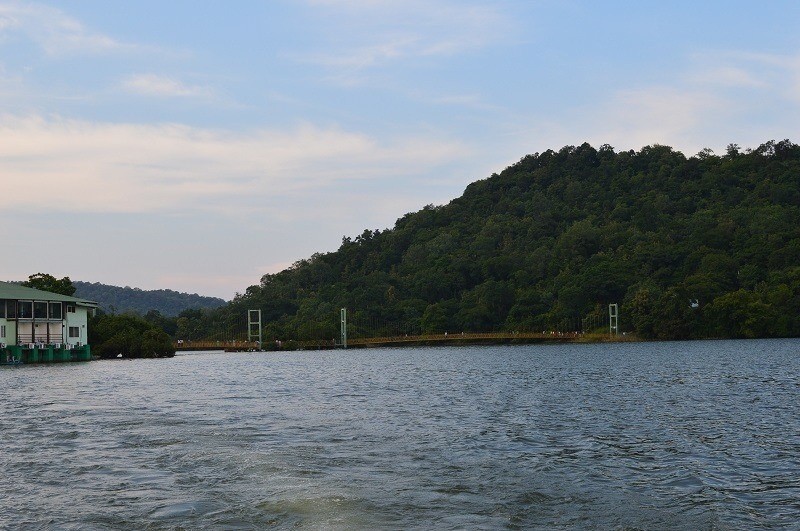 Eturnagaram is one of the oldest sanctuaries in South India which was declared as wildlife sanctuary in 1952. The sanctuary is located in Warangal district near the borders of Maharashtra, Chhattisgarh and Telangana. The famous Sammakka-Sarakka Temple is situated inside the forests of Eturnagaram. Spread across 806 sq. km area, Eturnagaram Sanctuary has a water source called Dayyam Vagu, which separates the sanctuary into two parts. This sanctuary provides shelter to Tiger, Leopard, Panther, Wolf, Wild Dogs, Black Buck, Gaur and Giant Squirrels.
The wide & pleasant Godavari River amidst thick forests of Eturnagaram is a delight to watch in peak monsoon season. Bogatha waterfalls is a nice waterfall situated near Eturnagaram and is also known as Chikupally Falls. Ramappa Temple and Laknavaram Lake are the other must visit attractions nearby. Laknavaram Lake, built by Kakatiyas in 13th century, is the largest lake in Warangal district. The suspension bridge across the lake is a special attraction. Monsoon is the best season to visit this place when the lake is filled with water and the surrounding hills are covered with thick vegetation.
Distance from Hyderabad: 253 Km
---
Bhadrachalam & Kinnerasani Dam
Bhadrachalam is a pilgrimage town situated on the banks of the River Godavari in Khammam district of Telangana. It is renowned for the famous Sri Rama Temple built in 17th century AD built by a devotee called Kancherla Gopanna popularly known as Bhakta Ramadasu. This holy town with beautiful landscape of River Godavari attracts several devotees in monsoon from different parts of Telangana and AP states. This is one of the famous places of pilgrimage in Telangana.
Parnasala and Kinnerasani Dam and Wildlife Sanctuary are the famous tourist attractions of Bhadrachalam. Tourists can engage in activities such as boating, trekking and a trip to Papikondalu. The Kinnerasani Dam was constructed in 1966 on Kinnerasani River, one of the major tributaries of Godavari River situated inside Kinnerasani Wildlife Sanctuary. The dam is situated in a beautiful location surrounded by greenery and natural landscape. The Kinnerasani Sanctuary is spread over an area of 635.4 sq. km with the picturesque Kinnerasani Lake and densely forested islands in the middle of the sanctuary.
Distance from Hyderabad: 312 Km
---
Pocharam Dam & Sanctuary
Pocharam Dam & Wildlife Sanctuary is situated in Medak district of Telangana. This is an ideal tourist place to visit in monsoon from Hyderabad to spend few hours. The sanctuary is spread over 130 sq. km and was a former hunting ground of the Nizams of Hyderabad. Established in the year 1952 CE, the sanctuary gets its name from the Pocharam Lake formed after the construction of Pocharam Dam on Alair River, a tributary of Manjeera River. The check dam is a wonderful site with water flowing freely throughout the monsoon. This is a nice place to relax and play in the water. The sanctuary is the homeland of various species of animals and birds.
Medak Church, Medak Fort, Edupayala Vana Durga Bhavani Temple, Singur Dam and Wargal Saraswati Temple are the major attractions around Medak. Nine small islands in the middle of the reservoir are the main breeding areas for birds, crocodiles and turtles. Birds like Painted Storks, herons, Coots, Teals, Cormorants, Black and White Ibises, Spoon Bills and Open Billed Storks make their nests in the islands. There is an Eco-Tourism center where visitors can see different species of Antelopes and Deer. Boating is available to take the visitors around the sanctuary for bird watching.
Distance from Hyderabad: 109 Km
Suggested Read: Wildlife Sanctuaries in India
---
Alampur
Alampur is a historical town on the banks of Tungabhadra River in Mahabubnagar district of Telangana. It is famous for Jogulamba Temple (Shakti Peetha), Navabrahma Temples and Sangameswara Temple built in 7th century AD. Situated close to the confluence of mighty rivers Krishna and Tungabhadra, Alampur has rich historical and pilgrimage importance. The ancient & sacred temples and mighty Tungabhadra River makes Alampur one of the top places to visit near Hyderabad. Jogulamba Temple is very ancient and one of 18 Maha Shakti Peethas of Goddess Shakti.
The Navabrahma Temples, named as Bala Brahma, Taraka Brahma, Swarga Brahma, Padma Brahma, Garuda Brahma, Kumara Brahma, Arka Brahma, Vira Brahma and the Vishwa Brahma are built close to each other on the banks of River Tungabhadra. Among these, Bala Brahma Temple is the biggest and only active temple. Sangameswara Temple is about 2 km from Navabrahma temples site. Coracle ride in Tungabhadra River is the popular activity. Kurnool, Orvakal Rock Garden, Mantralayam and Rollapadu Wildlife Sanctuary are other major attractions nearby. Jurala Dam constructed in 1995 on River Krishna, is an interesting place situated on the way to Alampur and it can be visited together.
Distance from Hyderabad: 218 Km
---
REFERENCE
---
Most Popular Tours
---
Santhi is an avid traveler and primary contributor to the blogs at Trawell.in. She has explored most of the states in India and gained vast knowledge on tourist destinations in India and abroad. She also contributes content to other travel websites.
Comments
comments