North or South, East or West, tourists love visiting hill resorts – in summer to escape the heat of plains and in monsoon to experience the lovely valleys amidst drizzles of rain. Trawell.in presents 20 Best Hill Stations in India spread across different states.
Shimla, Himachal Pradesh

Shimla, the capital city of Himachal Pradesh, is one of the best hill stations in India and among the popular Tourist Places near Delhi. Lies at an altitude of 7238 feet, Shimla is popularly referred as the 'Queen of Hills' and among the most visited places as part of Himachal tour. It was developed by the British and served as their summer capital. Shimla, amidst the lofty snow-clad Himalayan ranges surrounded by lakes and lush green pastures. The toy train between Kalka and Shimla was built in 1924 and it is an UNESCO World Heritage Site. Shimla is one of the popular tourist attraction not to miss in a honeymoon packages.
The Ridge, Mall Road, Vice Regal Lodge, Christ Church, Annandale, Chadwick Falls and Jakhu Hill are some of the best places to include in Shimla packages. Shimla is very famous for skiing with popular ski resorts at Kufri, Fagu Resort, and Narkanda that operate between January and March during snow fall season. Rhyali festival, the Summer Festival in May, Baisakhi (April) and Lavi fair are the major festivals celebrated in Shimla. It is most visited hill station in North India. It is also the most visited hill station in North India.
Nearest City: New Delhi (348 Km)
---
Ooty, Tamilnadu

Also known as Udhagamandalam, Ooty is often referred to as 'Queen of hill stations'. Situated at an altitude of 7,440 feet, it is the capital of Nilgiris district in Tamilnadu. It is one of the famous places to experince Tamilnadu Tourism and also one of the best hill resorts in South India. A land of picturesque picnic spots & lakes, it was a popular summer getaway for the British during colonial days. Its stunning beauty and splendid green deep valleys inspired the British to name it Queen of Hill Stations. Ooty is also one of the best hill stations near Bangalore.
There are several tourist places in Ooty like Ooty Lake, Botanical Garden, Rose Garden, Wenlock Downs, Pine Forest, Doddabetta Peak, Emerald Lake, Pykara Dam, Pykara Falls, Avalanche Lake & Sanctuary, etc. The toy train, known as Nilgiri Mountain Railway that runs from Mettupalayam to Ooty is a UNESCO World Heritage Site and a must be experienced as part of Ooty tour packages. The sanctuaries of Mudumalai and Bandipur provide ample opportunity to explore the wildlife of Western Ghats. The annual Tea and Tourism Festival (Jan) and Summer Festival (May) attract crowds in huge numbers. Ooty is easily accessible by public transportation from Coimbatore, Mysore & Bangalore.
Nearest City: Coimbatore (89 Km)
Must Read: 5 Beautiful Lakes in Ooty apart from Ooty Lake
---
Most Popular Tours
---
Nainital, Uttarakhand
Nainital is a beautiful hill station in the state of Uttarakhand situated in the Kumaon foothills of Himalayas. Nainital is famous for its scenic mountain views and is commonly known as the Lake District of India. It is one of the best hill stations in India and also the most popular hill stations near Delhi. Situated at an altitude of 1938 m, Nainital derives its name from Naini Lake. The highest point is Naina Peak or China Peak, with an elevation of 2,615 m. Nainital is surrounded by mountains on three sides and the town is spread around the beautiful Naini Lake.
Nainital attracts large number of domestic and foreign tourists every year. Nainital Lake, Naina Devi Temple, Mall Road, Naina Peak, Snow View Point, Kainchi Dham, Raj Bhavan, High Altitude Zoo, Bhimtal and Sattal are among the must include places in your Nainital tour packages. Naini Lake has facilities for boating and yachting. Nainital is also famous for its various schools and research facilities. The best time to visit Nainital is from March to May & December to February.
Nearest City: New Delhi (294 Km)
Also Read: 14 Most Romantic Places to visit on Valentine's Day
---
Munnar, Kerala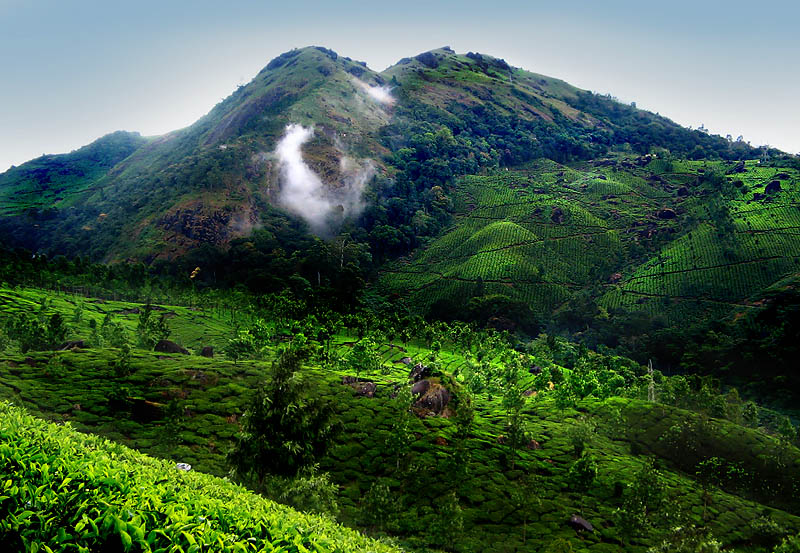 Munnar is a fascinating hill station located in Idukki district of Kerala. It is one of the best summer getaways in India and also the most popular hill station in Kerala. Munnar is also called as the Swiss of South India. It was once the summer resort of the British Governors of South India. Munnar also has the highest peak in South India – Anamudi, which towers over 2695 meters. Trekking facilities are available to reach Anamudi on foot. Munnar is also known for Neelakurinji flowers, which blooms once in 12 years. This is also one of the best weekend getaways from Kochi, Coimbatore & Madurai and also among the most visited places as part of Kerala tour packages.
Munnar is a trekker's paradise too, which offers both soft and mountain trekking. Visit the wildlife sanctuaries around Munnar. Some of the major attractions of Munnar are Mattupetty Dam, Echo point, Kundala Lake, Top Station, Anamudi peak, Devikulam, Nyayamkad falls, Thoovanam falls, Eravikulam National Park and Attukal Waterfalls are some of the best places to include in Munnar packages. Munnar offers different experience throughout the year, while March to May is the peak season.
Nearest City: Kochi (120 Km)
---
Manali, Himachal Pradesh

Manali is a breathtakingly beautiful hill station nestled in the mountains of Himachal Pradesh near the northern end of the Kullu Valley. It is located at an altitude of 2050 m and is spread along the banks of the river Beas. Manali is renowned for its snow-covered mountains, scenic beauty, history and culture. Often referred to as the 'Valley of the Gods', Manali is among the popular places to visit as part of Himachal Pradesh tour packages.
Manali is famous as a Honeymoon destination among Indian tourists. It is one of the best summer getaways in India and one of the top visited hill stations in Himachal. Solang Valley, Rohtang Pass, Hidimbi Temple, Bhrigu Lake, Vashist Temple, Manu temple, Naggar Castle and Manikaran are among the must include places in your Manali tour packages. Manali is also famous for adventure sports like skiing, hiking, mountaineering, paragliding, rafting, kayaking, and mountain biking. September to May is the best time to visit Manali. Dussehra and Hidimba Devi Festival (May) are the two major festivals here. Winter carnival (Jan/Feb) is the most famous event in the valley.
Nearest City : Shimla (255 Km) & Chandigarh (295 Km)
---
Darjeeling, West Bengal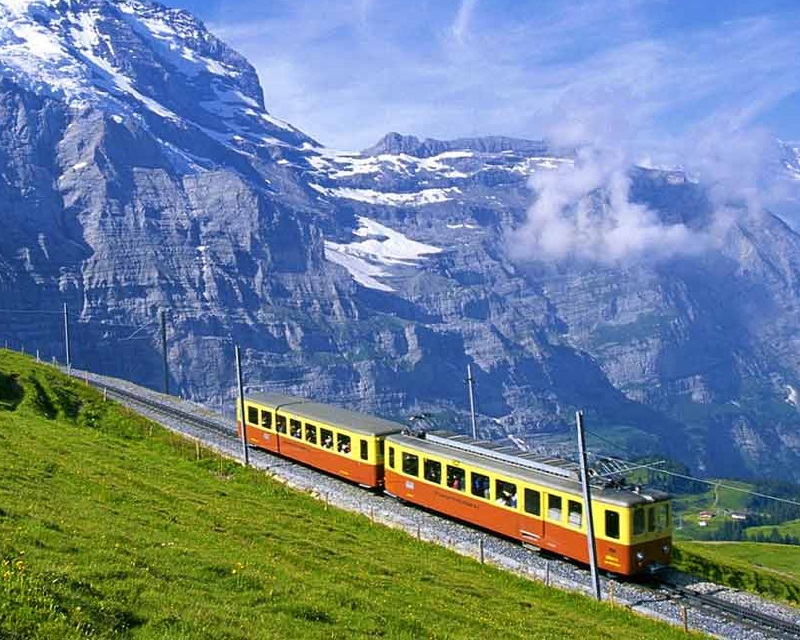 Darjeeling is a beautiful hill town in the state of West Bengal. Situated an elevation of 6,700 feet, Darjeeling is one of the most visited destinations in the state of West Bengal and one of the best hill stations in India. It is surrounded by tall Himalayan Mountains and beautiful valleys. This splendid hill station is renowned for its tea plantation and the spectacular views of Kanchenjunga, the world's third-highest mountain. One of the main Darjeeling attractions is the Toy Train, which is now a part of the UNESCO World Heritage Site.
The hill station has many tourist attractions which attracts tourists from all over India. Some of the popular places to visit in Darjeeling are Ghoom Monastery, Tiger Hill, Senchal Lake, Batasia Loop, Mahakal Temple, Bengal Natural History Museum, Happy Valley Tea Gardens, and Himalayan Zoological Park. Apart from tourism, Darjeeling is also popular for its many British style public schools, which attract students from across India and even neighbouring countries.
Nearest City: Siliguri (63 Km)
Also Read: 12 Best Budget Destinations for Winter in India
---
Srinagar, Jammu & Kashmir

Srinagar is the largest city and the summer capital of the Indian state of Jammu & Kashmir. It lies on the banks of the Jhelum River, a tributary of the Indus, and Dal and Anchar lakes. The city of Srinagar is one of India's popular tourist attractions because of its historic gardens, beautiful houseboats, meandering river and pleasant climate. It is also known for traditional Kashmiri handicrafts and dry fruits. It is among the top hill resorts in India and also one of the most beautiful summer getaways in North India.
There are many places to see in Srinagar and hence the city has lots of tourists all year round. Dal Lake, Mughal Gardens, Amarnath Cave, Shankaracharya Temple, Wular Lake, Nagin Lake, Jama Masjid, Hazratbal Mosque, Nishat Bagh, and Dachigam Wildlife Sanctuary are the must visit at tractions in Srinagar. Srinagar is also home to Asia's largest tulip garden. One can see the dazzling rainbow colours of the Tulip Festival in Srinagar during the first two weeks of April.The best time to visit Srinagar is between the months of April and October.
Distance from Delhi: 842 Km
---
Mahabaleshwar, Maharashtra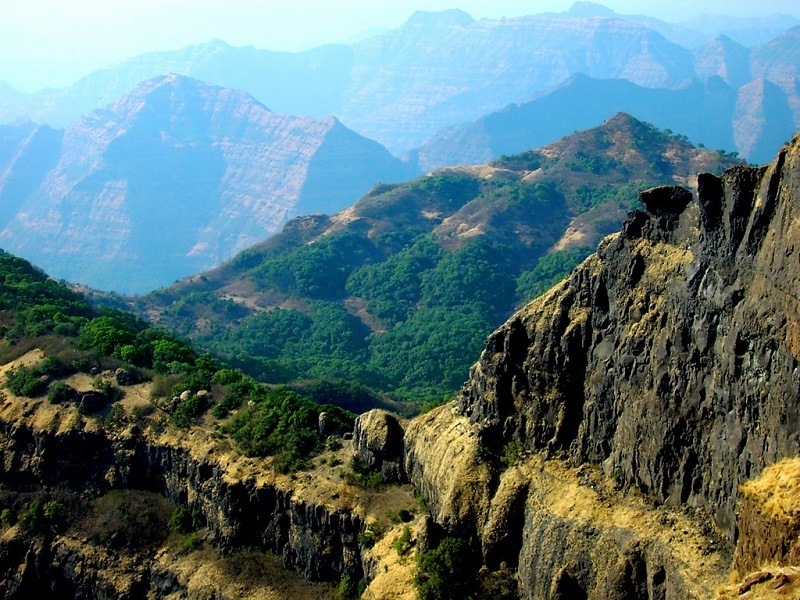 Mahabaleshwar is a popular hill station in Satara district of Maharashtra. Situated at an altitude of 1,353 m in the Western Ghats range, Mahabaleshwar is one of the top monsoon destinations in India and is often used to promote Maharasthra Tourism. This is the source of the Krishna River that flows across Maharashtra, Karnataka, Telangana and Andhra Pradesh. This pretty hill station is often referred as the queen of hill stations in Maharashtra. It offers panoramic view of the plains with the imposing sloppy peaks a nd surrounding woods.
Mahabaleshwar attracts large number of tourists for its lovely views, beautiful landscapes and pleasant temperatures. There are many tourist attractions in Mahabaleshwar like forts, temples, lakes, and many more. Pratapgarh Fort, Venna Lake, Mahabaleshwar Temple, Krishnabai Temple, Lingamala Falls, Tapola, Panchgani are are some of the best places to include in Mahabaleshwar packages. There are several viewpoints that are strategically located to capture the panoramic views created by the majestic Sahyadri Mountains and deep valleys. Arthur's Seat, Wilson Point, Kate's Point & Elephant head Point, Connaught Peak and Bombay Point are popular viewpoints. Mahabaleshwar is famous for cultivation of strawberries and mulberries.
Nearest City: Pune (123 Km)
Must Read: 5 Scenic Mahabaleshwar Viewpoints you must visit in Monsoon
---
Kodaikanal, Tamilnadu

Kodaikanal, often referred to as the 'Princess of Hill stations' is located in Dindigul district of Tamil Nadu. Kodai is a beautiful hill station at an altitude of about 7000 feet on the southern tip of upper Palani hills. It has several scenic natural attractions which are enjoyed by its visitors and make it a popular romantic destination. Kodai is undoubtedly among the best hill stations of South India and also one of the top tourist destinations in India.
Kodaikanal is not extensively commercialized like Ooty and it offers a pleasant experience to tourists with relatively less crowd. Kodai Lake, Bryant Park, Coaker's Walk, Bear Shola Falls,Silver Cascade, Pillar Rocks are some of the best places to include in Kodaikanal tour packages. The hills offer beautiful views all around, especially from the Coaker's Walk. Best time to visit Kodaikanal is April to June during the summer.
Nearest City: Madurai (95 Km)
---
Mussoorie, Uttarakhand

Mussoorie is a popular hill station in Dehradun district of Uttarakhand State and also one of the best hill stations in India. Mussoorie is situated atop a horseshoe crest on the mountains of Garhwal at an average altitude of 1880 m. Mussoorie offers commanding views of the underlying Doon Valley and the magnificent Himalayas. The highest peak in the region is Lal Tibba in Landour, at an elevation of over 2,275 m. Mussoorie is called the gateway to the Yamunotri and Gangotri. It is one of the most visited summer getaways in Uttarakhand and also the popular tourist places in Uttarakhand.
Kempty Falls, Camel's Back Rock, Mall Road, Cloud's End and Bhatta Falls are among the must include places in your Mussoorie tour packages. Mussoorie also offers adventure and shopping opportunities. Tourists can enjoy horse riding or a leisurely walk across Camel's Back Road and a rope-way ride to the top of Gun Hills. Snow Adventure Zone offers adventure activities like Sky Ride, Valley Crossing, Zip Swing, Paragliding, Night Camping & Safari.
Nearest City: New Delhi (278 Km)
---
Coorg (Madikeri), Karnataka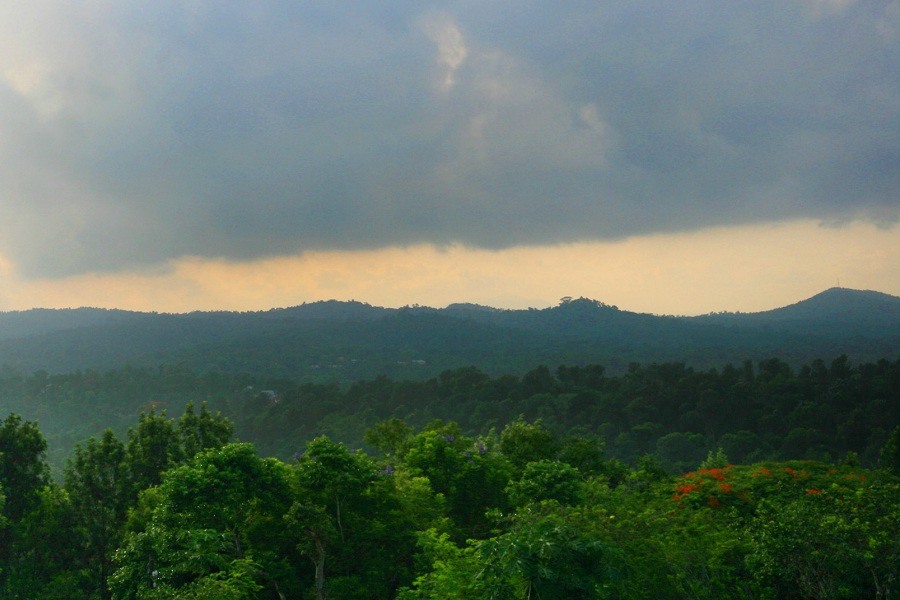 Coorg or Kodagu is a district in Karnataka and Madikeri is the district headquarters. At an altitude of 1525 m on Western Ghats, it is also known as the Scotland of India. Coorg is the most famous hill station in Karnataka and one of the best summer destinations from Bangalore. Madikeri is the heartland of Coorg region and was the seat of ruling dynasty. Coorg is the largest producer of Coffee in India and one of the places with highest rainfall in India. It is one of the top tourist places in Karnataka and one of the popular 2 day trip from Bangalore.
Misty hills, lush forest, tea and coffee plantation, orange groves, undulating streets and breathtaking views have made Coorg one of the top hill resorts in India. Coorg has many tourist places to visit. Raja's seat, Abbey Falls, Iruppu Falls, Omkareshwara Temple, Golden Temple at Bylakuppe, Talacauvery and Dubare, Mallali Falls are the major attractions in Coorg to visit as part of Coorg tour packages. The famous Cauvery River is originated in the hills of Coorg at Talacauvery. It has three wildlife sanctuaries – the Talacauvery, Pushpagiri and Brahmagiri Sanctuaries, and one national park, the Nagarhole National Park. Coorg is also famous for trekking activities with peaks like Tadiyandamol, Brahmagiri and Pushpagiri. Elephant rides at Dubare Elephant camp and white water rafting in Upper Barapole River are other interesting things to do in Madikeri.
Nearest City: Bangalore (265 Km)
Also Read: 5 Unique Experiences in Coorg
---
Shillong, Meghalaya

Shillong is the capital city and a hill station located in the north – eastern state of Meghalaya. Also known as the Abode of Clouds, it is one of the smallest states in India and one of the best places to visit in summer. It is the headquarters of the East Khasi Hills district and is situated at an average altitude of 1,496 m, with the highest point being Shillong Peak at 6,449 feet. Shillong remained the capital of Assam until the new state of Meghalaya was formed in 1972.
The British called Shillong the 'Scotland of the East' because of its beautiful lakes, waterfalls, pine forests and green mountains. There are several interesting places to visit in Shillong including Umiam Lake in Barapani, Shillong Golf Club, Bara Bazaar, Botanical Survey of India Orchidarium, Wards Lake, Lady Hydari Park and Zoo, Meghalaya State Museum, Shillong Peak, Cathedral of Mary Help of Christians, Grotto Church, All Saints Church and Butterfly Museum. Shillong also houses several waterfalls, the prominent ones being Spread Eagle Falls, Crinoline Falls, Elephant Falls, Beadon Falls and Bishop's Falls.
Nearest Airport: Guwahati (100 Km)
---
Mount Abu, Rajasthan

Mount Abu is a popular hill station in the Aravalli Range in Sirohi district of Rajasthan state near the border with Gujarat. At an altitude of 1220 m, this is the only hill station in the deserts of Rajasthan and also one of the best Tourist Places in Rajasthan during summer. The ancient name of Mount Abu is Arbudaanchal. In the Puranas, the region has been referred to as Arbudaranya (forest of Arbhuda). Mount Abu is also one of the best hill stations in India.
It has been a popular retreat from the heat of Rajasthan and neighbouring Gujarat for centuries. Mount Abu has many tourist attractions in the form of temples, lakes and forts. Dilwara Jain Temples, Guru Shikhar Peak, Adhar Devi Temple, Sri Raghunathji Temple, Achalgarh Fort, Nakki Lake, Durga Temple, Gaumukh Temple, and Mount Abu wildlife Sanctuary are the top most tourist places to visit in Mount Abu. Mount Abu has the World Spiritual University and head quarter of the Bhrama Kumaris, a well known sect. February to June and September to December is the peak tourist season of Mount Abu.
Nearest City: Ahmedabad (226 Km)
---
Dharmashala, Himachal Pradesh

Dharamshala is a beautiful hill station in Kangra district of Himachal Pradesh. It lies at an average altitude of 1,475 m above sea level. This is the gateway to the Kangra valley and also the headquarters of Kangra district. The city was destroyed by a massive earthquake in the year 1905 and was reconstructed to become a health resort and a popular tourist destination. In the year 1960, Dharamshala became a temporary headquarters to His Holiness Dalai Lama. It is one of the best places to visit in summer in India and also one of the top honeymoon places in India. Tourists flock to this place in large numbers as part of Himachal Tour.
Dharamshala consists of two distinct parts – Lower Dharamsala and Upper Dharamshala. Lower Dharamsala is a bustling civil and commercial center whereas Upper Dharamshala, known more commonly as McLeod Ganj, is the seat of Tibetan spiritual leader, the Dalai Lama. It has a lot to offer ranging from ancient temples, churches and monasteries to museums and beautiful trekking trails. The ancient Chamunda Temple, Dalailama Temple, Namgyalma Stupa, Bhagsunath Temple, Norbulingka Institute, Gyuto Monastery and Indru Nag are some of the prime tourist attractions to visit as part of Dharmashala 2 day trip. Dharamshala is a starting point to a number of trekking trails. Bhagsu Falls, Dharamkot, Triund Hill, Ilaqa, Toral Pass, Bhimghasutri Pass, Dunali and Kareri Lake are the important trekking trails here.
Nearest City: Chandigarh (248 Km)
Also Read: Top 10 Indian Destinations Popular with Foreign Tourists
---
Lonavala, Maharashtra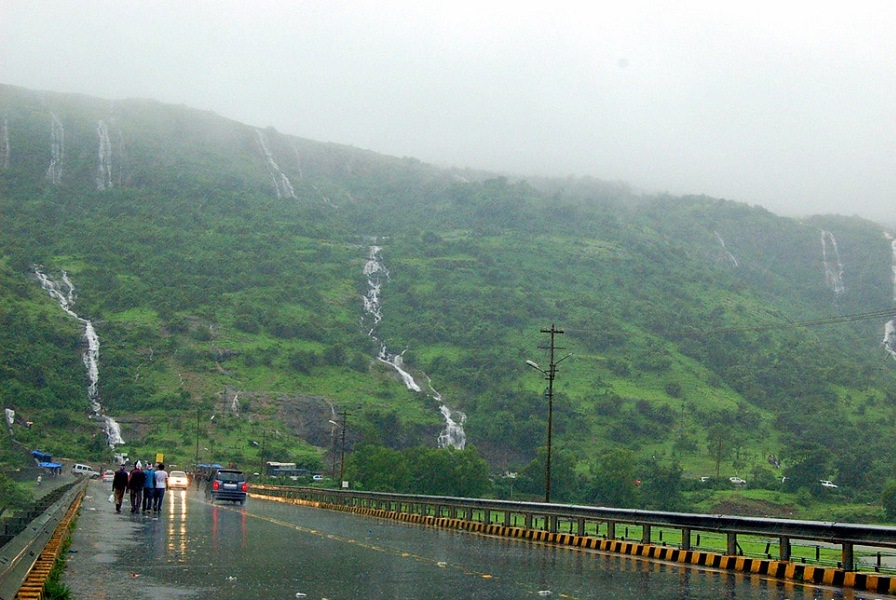 Lonavala is a beautiful hill station in Pune district of Maharashtra. It lies 622 m above sea level in the Sahyadri Ranges which separate the Deccan Plateau and the Konkan Coast. Lonavala and Khandala are the twin hill stations located near to each other and are very popular monsoon getaways in India and also one of the top tourist places near Mumbai. Lord Elphinstone, who was the Governor of the Bombay Presidency, developed Lonavala along with Khandala in 1871.
Lohagad Fort, Rajmachi Point, Karla Caves, Valvan Dam, Lonavala Lake, Tiger's Leap, Tungarli Lake and Dam, Bhaja Caves, Rajmachi Fort, Bhushi Dam, Korigad Fort, Kune Waterfalls, Tikona Fort, Bedsa Caves, Visapur Fort and Tung Fort are some of the best places to include in Lonavala tour packages. The best time to visit Lonavala and Khandala is during the monsoon, between July – October, when the scenic spots become lush green and the waterfalls are in full flow.
Nearest City: Pune (67 Km)
---
Wayanad, Kerala
Wayanad is one of the famous hill stations in Kerala. At an altitude ranging between 700m to 2100m, Wayanad is the biggest foreign exchange earners of Kerala with its production of cash crops like pepper, cardamom, coffee, tea, spices and other condiments. Wayanad is also famous for Tea and Coffee plantations. Kalpetta, Sulthan Bathery and Mananthavady are the largest towns in Wayanad and are the base stations to visit different parts of the Wayanad district. It is one of the least expensive hill stations in India and also one of the top summer destinations in India. With several rain forests, Wayanad is also a wonderful monsoon destination and one of famous Kerala tourist places.
Wayanad has a pleasant weather throughout the year and is one of the popular tourist destinations in Kerala. It has several Waterfalls (Meenmutty Falls, Soochipara Falls, Kanthampara Falls), Dams / Lakes (Pookote Lake, Banasura sagar dam, Karappuzha Dam), Wildlife Sanctuaries (famous Wayanad WLS), Peaks / Trekking Destinations (Brahmagiri / Pakshipathalam, Chembra Peak), Hill Stations (like Lakkidi) and several Pilgrimage centers (like Thirunelly Temple). Edakkal Caves is among the prime place to visit on a Wayanad tour.
Nearest City: Kozhikode (70 Km)
---
Dalhousie, Himachal Pradesh

Dalhousie is a scenic hill station in Chamba district of Himachal Pradesh. It lies at an elevation of 1,970 m and is a splendid summer retreat in North India. Dalhousie is surrounded by snow peaked mountains and is located on the western edge of the Dhauladhar mountain range of the Himalayas. Dalhousie is one of the top summer destinations in India and is visited by large number of tourists as part of their Himachal tour packages. It was named after Lord Dalhousie, the then Viceroy of India, who established this town as a summer retreat in 1854.
Ganji Pahari, Dainkund Peak, Khajjiar, Noorwood Paramdham, Bara Pathar temple, Hariraya Temple, St. Patrick Church, Chamera Lake, Satdhara Falls, Kalatop Sanctuary, Panchpula, Subhash Baoli and Salooni are covered as part of Dalhousie 2 day tour. Dalhousie also offers a lot of activities for nature lovers and adventurers. Garam Sadak, Jhandri ghat, Moti tibba and Sach pass are the ideal places for the trekking enthusiasts in Dalhousie. Minjar fair and summer festival are the two important festivals celebrated in Dalhousie.
Nearest City: Jammu (169 Km)
---
Gangtok, Sikkim
Gangtok, the capital of Sikkim, is a hill town and one of the most popular places in north-east India. It is situated on the lower slopes of the Himalayan range at an elevation of 1,650 m. Once an important trade route between Tibet and India, today Gangtok is a busy administrative and business center. It rose to prominence after the construction of Enchey Monastery in the year 1840, as it then became a popular pilgrimage for followers of Buddhism. Gangtok is also one of the popular summer getaways in India.
Gangtok is known for its scenic beauty and striking views of Mount Kanchenjunga, the third highest peak in the world. There are many tourist places in Gangtok and is well-known as the land of monasteries. Himalayan Zoological Park, Kanchenjunga National Park, Tsomgo Lake, Saramsa Garden, Ganesh Tok View Point, Tashi View Point, Shingba Rhododendron Sanctuary, Nathula Pass, Seven Sister Waterfalls, Changu Lake, Enchey Monastery, Rumtek Monastery, Hanuman Tok, and Yumthang valley are some tourist places to visit in Gangtok as part of Gangtok Tour Packages.
Nearest City: Siliguri (114 Km)
---
Lansdowne, Uttarakhand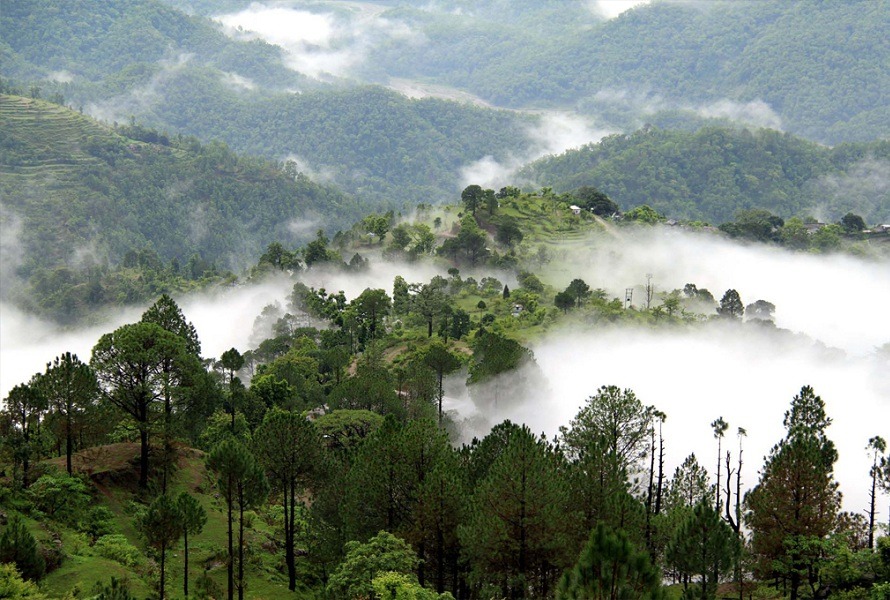 Lansdowne is a small hill town in Pauri Garhwal district of Uttarakhand. It lies at an elevation of 1706 m above sea level and is surrounded by thick oak and pine forests. It is a popular hill resort in Uttarakhand for the British and they built a cantonment here. Lansdowne is named after its founder Lord Lansdowne, the Viceroy of India between 1888 and 1894. Lansdowne is also one of the best places to visit in April & May months in India.
Garhwal Regimental Museum, St. Mary's Church, St. John's Church, Durga Devi Temple, Kaleshwar Mahadev Temple,Tip-in-Top, Bhim Pakora, Bhulla Tal, Tarkeshwar Mahadev Temple and Bhairav Garhi Temple are the important tourist places in Lansdowne. It is also an ideal place for trekking and nature walks. Bird watching, boating and paddling are the main activities that visitors can indulge in Lansdowne. The annual festival Shardotsav, celebrated during the season of autumn is a grand draw of tourists.
Nearest City: Dehradun (143 Km)
---
Araku Valley, Andhra Pradesh
Araku Valley, popularly known as Araku, is a scenic hill station in the Vishakhapatnam district of Andhra Pradesh. It lies at an altitude range of 900 to 1400 m and is the most popular hill station summer getaway in Andhra Pradesh. This valley is surrounded by mountains like Galikonda, Raktakonda, Sunkarimetta and Chitamogondi. Jindhagada Peak, the tallest peak in Eastern Ghats is situated near Araku. It is also one of the cheapest hill resorts in India.
Araku is popular for its famous coffee plantations. Araku Valley has some interesting places to visit including Borra caves, Tyda, Katiki Falls, Tribal Museum & Padmapuram Botanical Gardens. The tourists can see tribal folk dances like Dhimsa and Mayuri. Araku Valley is one of the top attractions you must include in Vizag packages. The train journey from Vizag to Araku is a memorable experience with 46 tunnels, several bridges through lush green valleys. Araku is famous for the mustard flowers that change the landscape of the valley from green to yellow in the months of November & December.
Nearest City: Vizag (112 Km)
---
REFERENCE
---
Most Popular Tours
---
Comments
comments