DARJEELING TOURISM | TOURIST PLACES TO VISIT & TRAVEL GUIDE TO DARJEELING
Hill Station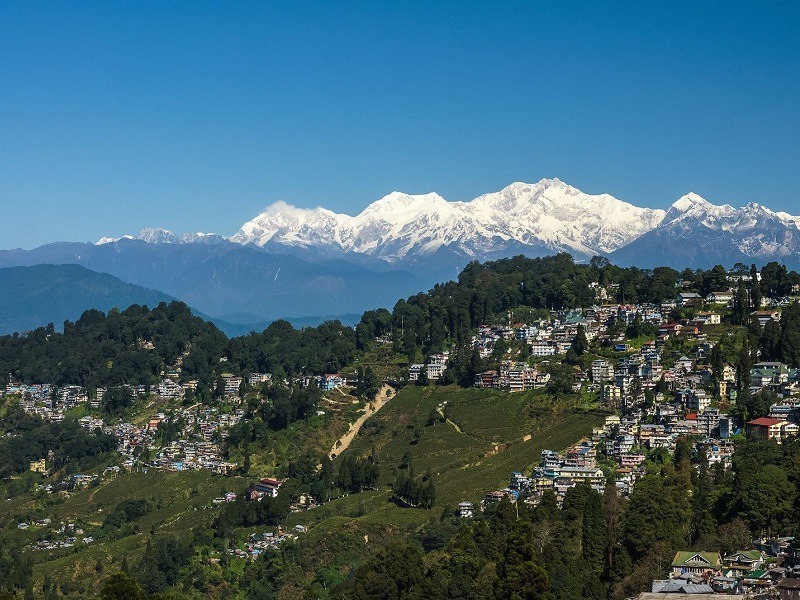 Ideal Trip Duration:
2-3 Days

Nearest City to Darjeeling:
Kolkata (507 Kms), Siliguri (65 Kms)

Best Time to Visit Darjeeling:
October to May

Peak Season:
March to May
At a distance of 65 km from Siliguri, 98 km from Gangtok, 109 km from Jalpaiguri, 371 km from Manipur, 502 km from Guwahati, 503 km from Patna and 507 km from Kolkata, Darjeeling is a charming hill station located in the Shivalik hills of the lower Himalayas in West Bengal, India. Situated at an altitude of 6,700 feet, Darjeeling is one of the most popular tourist places in West Bengal and among the must include places in your honeymoon tour packages.

The name Darjeeling comes from two Tibetan words 'Dorje', meaning thunderbolt and 'ling', means a place or land. Before being invaded by the Gorkhas of Nepal in the 1790s, Darjeeling was largely under the Kingdom of Sikkim and native tribes named Lepchas were the original inhabitants of the place. Under the Sugauli Treaty of 1815 CE, Nepal yielded one-third of their lands to the British, who established Darjeeling as the summer capital of Bengal Presidency. During 19th century AD, they set up a sanatorium and a military depot in Darjeeling. Later, extensive tea plantations were established in the region by the British. After independence, in 1947, Darjeeling was merged with West Bengal.

Amidst the backdrop of the mighty snow-clad Himalayan peaks, Darjeeling is famous for its tea plantations, spectacular views of snow-capped peaks and Darjeeling Himalayan Railway. The majestic Kanchenjunga, third highest mountain in the world, towers over this beautiful hill town. The toy train, among the major attractions of Darjeeling, was built in the late 19th century and runs from Jalpaiguri to Darjeeling. It was declared as a World Heritage Site in 1999 and is one of the few steam engines still in service in India. One can get a breathtaking view of the valleys and the hills while taking the ride.

Darjeeling is internationally recognized for its high quality Darjeeling tea which ranks among the most popular black teas in the world. Being the highest tea exporter, Tea Tourism in Darjeeling attracts many visitors during the plucking season. With over 86 gardens producing the famous Darjeeling tea, this is the place to enjoy guided tours amid verdant tea estates and enjoy tea tasting sessions like a true connoisseur. Apart from these, Singalila National Park, Padmaja Naidu Himalayan Zoological Park, Tiger Hill, Japanese Peace Pagoda, Ghoom Monastery, Sandakphu Trek, Mahakal Temple, Bengal Natural History Museum etc. are some of the top and important places to visit in Darjeeling.

Bagdogra Airport, Siliguri is the nearest airport, which is about 70 km from Darjeeling and has well connected flights from Kolkata and New Delhi. From the airport, one can reach Darjeeling by Bus or Cab. New Jalpaiguri Junction at Siliguri is the nearest railhead which is about 73 km from Darjeeling. It is well connected by train with Patna, New Delhi, Mumbai, Guwahati, Bangalore, Agartala, Kamakhya, Dibrugarh, Puri, Gaya, Indore, Jaipur, Kolkata, Amritsar, Chennai, Chandigarh, Ranchi, Bhubaneswar, Cochin and Agartala. Siliguri is the nearest major bus station which has direct buses from Kolkata, Darbhanga, Guwahati and Patna. Darjeeling is well connected with Siliguri by private taxis and limited number of buses.

Darjeeling is blessed with a diverse and distinct culture. There are several ethnic groups and communities, each having their own set of festivals. Losar, Maghe Sankranti, Tendong Lho Rumfaat, Chotrul Duchen, Teesta Tea and Darjeeling Tourism Festival and Darjeeling Carnival are the popular festivals celebrated in Darjeeling.

The best time to visit Darjeeling is from October to March, when the temperature is pleasantly cool and the sky is usually clear offering lovely views of Kanchenjunga snow peaks.

Internet Availability:
Average
Languages Spoken:
Bengali, Nepali, Hindi & English
Major Festivals:
Losar, Teesta Tea and Darjeeling Tourism Festival