Vietnam is a small Republican country lying on the eastern part of Indo-Chinese peninsula in Southeast Asia. Known worldwide for its wonderful natural beauty, Vietnam is regarded as one of the most popular beach destinations in Asia and among the most affordable international destinations for Indians. From the lush rice terraces and forested mountains in the north to the picturesque valleys of the Central Highlands and from the fertile delta to beautiful beaches of the south, Vietnam offers something for everyone, be it a beach lover, mountain goat, leisure seeker, history buff or an adrenaline junky.
Here is the list of 13 amazing places to visit in Vietnam that can be visited as part of Vietnam Tour Packages.
Ho Chi Minh City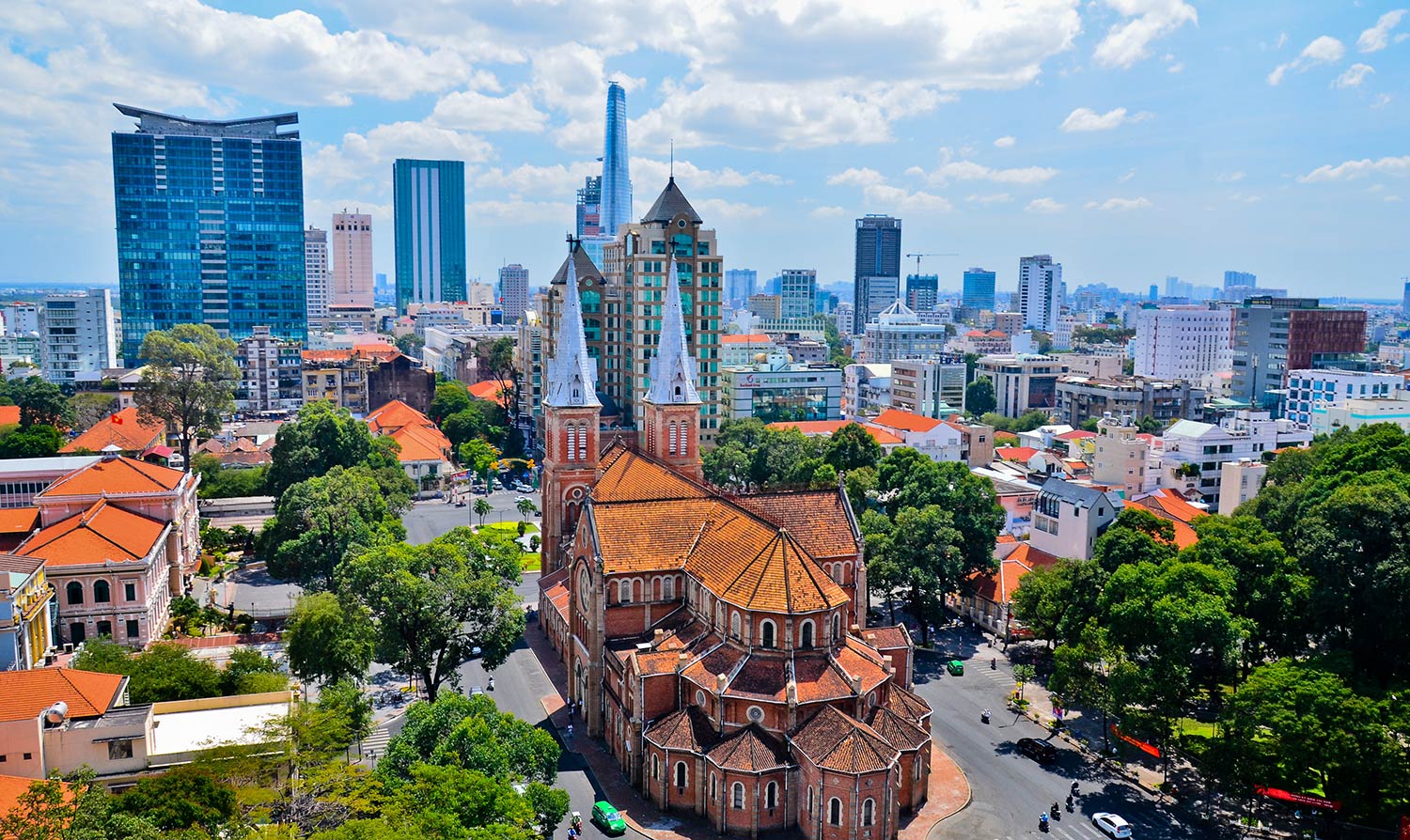 Situated along the Saigon River, Ho Chi Minh City was the capital of South Vietnam during the Vietnam War and was called as Saigon. Today, it is the largest city of the reunified country as well as the business and financial hub of Vietnam. With ornate temples, fascinating pagodas, sleek skyscrapers, happening nightlife, and beautiful silhouette made Ho Chi Minh City one of the most amazing places to visit in Vietnam. The War Remnants Museum, Cu Chi Tunnels, Cao Dai temples, Notre Dame Cathedral, Ben Thanh Market, Jade Emperor Pagoda, and Reunification Palace are the major tourist attractions in Ho Chi Minh City.
---
Hanoi

Hanoi, the capital city of Vietnam, is one of the most ancient capitals in the world and among the best places to visit in Vietnam. Located on the banks of the Red River, Hanoi is known for its ancient pagodas, unique museums and centuries-old architecture that have remained intact despite the severe bombings during the Vietnam War. The Imperial Citadel of Thang Long, Water Puppet Theatre, Ho Chi Minh Mausoleum, Perfume Pagoda, Hoan Kiem Lake and Ngoc Son, Hanoi Old Quarter, Opera House and the Temple of Literature are the top places to visit Hanoi during your Vietnam Tour.
Besides, this French colonial city is also known for its delectable cuisine, vibrant nightlife, silks and handicrafts, as well as a multi-cultural community that's made up of Asian, Chinese and French influences.
Also Read: Famous Traditional Vietnamese Dishes
---
Ha Long Bay
Situated near the Chinese border in North Vietnam, Halong Bay is one of the prettiest places as well as the most visited Vietnam Tourist Places. Halong Bay is known for its cluster of limestone rocky outcrops rising from the emerald blue water, intriguing caves, lakes and lush forest. The Bay is dotted with more than 1,600 limestone islands while most of them are uninhabitable. It was declared as a UNESCO World Heritage Site in 1994. The surrealistic scenery of Ha Long Bay has indeed featured in many movies. Junk boat tours and sea kayak expeditions take visitors past islands. One can find intriguing caves and lakes while cruising along the bay.
Also Read: Fascinating Pagodas in Vietnam
---
Mui Ne

One of the most bustling beach destinations in Vietnam, Mui Ne is a renowned beach resort town located in the Binh Thuan Province of Vietnam. It is the driest region in Southeast Asia and among the most crowded weekend attractions in Vietnam that one should not miss during your Vietnam Trip. Besides its stunning beaches, Mui Ne also boasts of unique white sand dunes and red sand dunes. On the white dunes, one can see a lake filled with lotus flowers between the slopes and also go for an ATV ride along pristine ivory sand dunes. In contrast to the white dunes, the red dunes are the perfect spot to watch the mesmerizing sunset. Hiking lovers will admire Mui Ne's unique Fairy Stream.
---
Hoi An
Hoi An is an ancient coastal city located off the coast of the South China Sea in South Central Vietnam and is dating back to 2,000 years during the Champa Kingdom. Declared as an UNESCO World Heritage Site i 1999, the Old Town quarter at the heart of the Hoi An is a joy to explore as it is a breathtaking mix of ornate Chinese temples, wooden shop-houses, French-colonial buildings, and old canals.
Most of the old shops in this vintage town have been carefully converted to modern businesses aimed at tourists including countless tailors, souvenir shops, art galleries, restaurants and cafes. Japanese covered bridge, the Chinese assembly halls, Guan Yin Temple, the Museum of History and Culture and the Tran family Home and Chapel are the must visit places here. Besides, one can also visit the UNESCO Site of My Son Sanctuary and two lovely beaches as part of Hoi An Tour.
---
Mekong Delta

Known as 'Vietnam's Rice Basket', the Mekong Delta is an agricultural region made fertile by the network of canals and streams fed by the Mekong River. Stretching from the Gulf of Thailand to Ho Chi Minh City, Mekong Delta is one of the best tourist places in Vietnam as it is covered with incredibly lush paddy fields, thick mangroves, fruit orchards, bird sanctuaries and full of local life with chaotic floating markets. Of these, the colourful floating markets are the major draw for the tourists. Can Tho is the base for Mekong Delta Trip as it is close to the floating markets of Phong Dien and Cai Rang, while boat trips from Cau Mau allow you to explore the U Minh Mangrove Forest and Cau Mau Nature Reserve.
---
Hue

Situated on the banks of the Perfume River in Central Vietnam, the historical town of Hue was once served as the former political, cultural, and spiritual center of Nguyen dynasty. Today, it is a perfect blend of modern trends and old world charm and among the top places to visit in Vietnam. The hotels and the other recently raised buildings reflect contemporary style while the vintage Citadel and the other age old edifices are true depictions of the ancient architecture.
Among the most impressive monuments in Hue is the UNESCO World Heritage Site of Ngo Mon Gate of the imperial city. The complex features hundreds of monuments including the Forbidden Purple City, royal tombs, pagodas, temples, and royal quarters.
---
Sa Pa

Surrounded by scenic Hoang Lien Mountains and rice terraces, Sa Pa is an incredibly picturesque town situated near the Chinese border in northwestern Vietnam. Established as a hill station by the French in 1922, Sa Pa today is the tourism center of the northwest and is one of the best places to visit in Vietnam as part of your honeymoon tour. The deep valleys of Sa Pa are home to different ethnic minorities of Vietnam including the Hmong, Giay, and Red Dzao people while the undulating hills are terraced with rice fields and overlooked by the country's tallest peak, Fansipan Mountain.
Sa Pa is also the top trekking destination in Vietnam as there are oodles of options to trek the mountains or day hike between tiny villages. The topography, the terraced rice cultivation, the serene-yet-colourful countryside and many natural sites such as Ham Rong Mountain, Silver Waterfall, Rattan Bridge, Bamboo Forest and Ta Phin Cave together has made Sapa an idyllic holiday retreat.
---
Nha Trang

Nha Trang is a popular seaside resort city located on one of Asia's most beautiful bays off the coast of South Central Vietnam. With its long stretch of beautiful coastline, clear waters, abundant marine life, verdant islands and picturesque mountains, Nha Trang is considered as one of the popular beach destination in Asia as well as in Vietnam. Often called as the Riviera of the South China Sea, this coastal town is a scuba divers paradise and adorned with resorts, swaying palm trees and a pretty promenade.
Besides, Nha Trang itself is steeped with colonial structures that date back to the Champa Kingdom, Buddhist temples and churches, as well as natural hot springs, and unique waterfalls. Po Nagar Cham Towers, Long Son Pagoda & White Buddha, Nha Trang Cathedral, Ba Ho Waterfalls, Alexandre Yersin Museum, Thap Ba Hot Springs, Suoi Do Pagoda, and Hon Khoi Salt Fields are the top places to visit in Nha Trang during your Vietnam Trip.
Also Read: 7 Best Beach Destinations in Asia
---
Da Lat
Located on the Lang Biang highlands, Da Lat is a charming hill station spread around the pretty Lake Xuan Huong. Dalat was once the summer retreat for Vietnamese emperors and French colonials due to its year-round cool temperatures, idyllic scenery of misty valleys, lush pine trees and colorful flowers. Known by many names such as The Paris of Vietnam, The City of Flowers, The City of Eternal Spring and The City of Lovers, Dalat is the most popular honeymoon destination in Vietnam and also a popular destination for those looking for relief from the heat.
Thien Vien Truc Lam Pagoda, Da Lat Railway Station, Cam Ly Waterfall, Hang Nga Crazy House, Elephant Waterfalls, Dalat Flower Gardens, Night Market and Linh Phuoc Pagoda are the top attractions in Da Lat.
---
Ninh Binh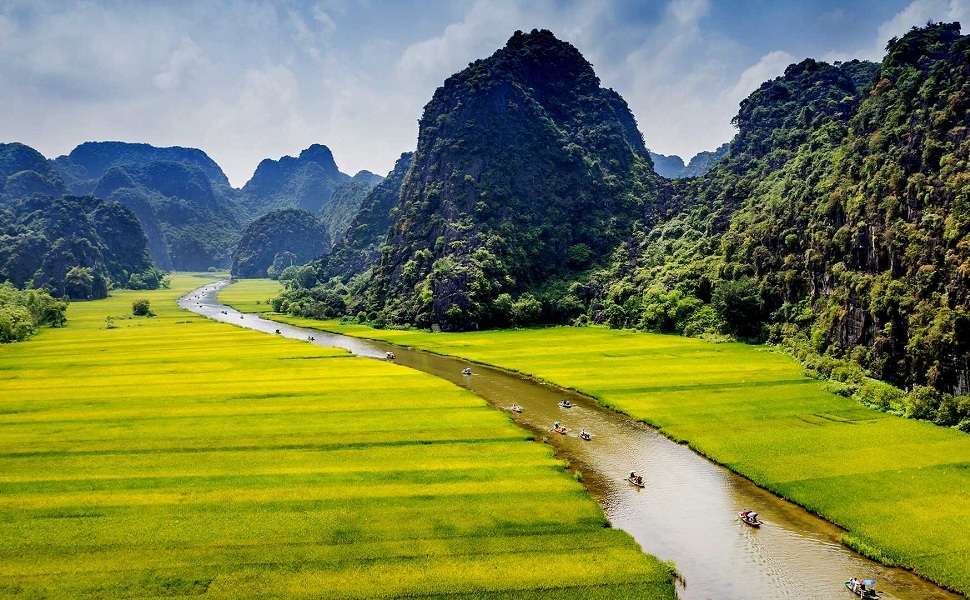 Located on banks of the Red River Delta, Ninh Binh is a province in northern Vietnam. The former capital of Vietnam, Ninh Binh is one of the popular Vietnam tourist places often visited by domestic and international travellers as it boasts of the most majestic and impressive natural landscapes. Ninh Binh is often called as the Ha Long Bay on land because it looks like Ha Long Bay but on land instead of water. The stunning landscapes here are right out of a movie set with the constant backdrop of charming rivers, surrounded by hundreds of karst limestone cliffs and vast green paddy fields.
The highlights of this place include the landscape of Tam Coc that can be seen by taking a traditional boat ride and also visiting a UNESCO Site of Trang An Grottoes. One can also visit Samson Beach, Phat Diem Stone Cathedral, Cuc Phuong National Park and Bai Dinh Pagoda, among the most fascinating pagodas in Vietnam while in Ninh Binh as part of Vietnam Packages.
---
Phu Quoc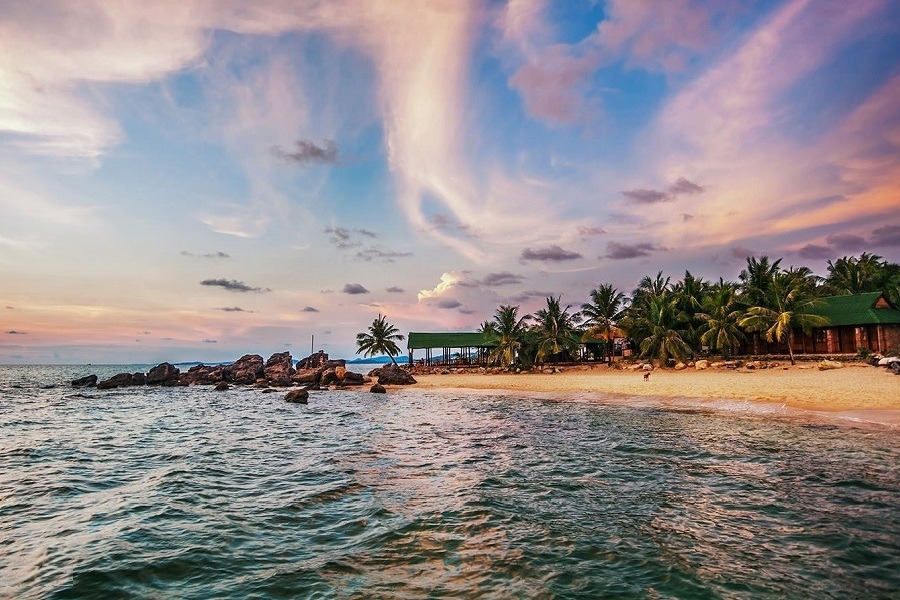 Located in the Gulf of Thailand, Phu Quoc is the Vietnam's largest island sitting pretty just off the coast of Cambodia. It is one of the most famous Vietnam Attractions as it is known for sparkling white sand beaches, crystal clear water, romantic sunsets, evergreen forests, and a serene atmosphere. Phu Quoc is an ideal holiday destination for travellers looking to escape bustling city life. Phu Quoc National Park, Dinh Cau Rock, Suoi Tranh Waterfall, Sung Hung Pagoda and Cao Dai Temple are the top places to visit in Phu Quoc.
Besides, visitors can explore traditional villages and the early-morning Duong Dong Market for an authentic local experience. This serene island also offers good opportunities to its visitors like diving, kayaking and delicious fresh seafood.
---
Phong Nha-Ke Bang National Park
Phong Nha-Ke Bang is a national park and a UNESCO World Heritage Site located in Quang Binh Province of Vietnam. This is a biosphere reserve that comprises of evergreen forests and more than 100 fauna species include tigers, elephants, primate, saola, reptiles, amphibians, and many varieties of birds. The park comprises of Asia's largest karst mountains, nearly 300 caves, and underground rivers. Formed approximately 400 million years ago, it is the oldest major karst formation in Asia and also one of the popular places to visit in Vietnam.
The park is home to the Hang Son Doong Cave, the world's largest cave where its biggest chamber is over five kilometers in length. Phong Nha-Ke Bang National Park offers countless activities to its visitors like cave exploration and grottos by boat as well as mountain climbing and forest trekking.
---
Top International Tour Packages