With the onset of July, monsoon picks up the pace and most people are cringing at the mere thought of traveling in the rains due to traffic jams, muddy roads, floods, and puddles especially those stuck in man-made cities. But, July is the time to visit some places in India that are wrapped in nature's glory. The rains nourish these places with a green cover making for an aesthetic sight. What's more, most places in India have incredibly lowered prices in monsoons! So, just go through our blog to make your July more eventful as part of India Packages.
Here is the list of some amazing places to visit in July in India.
Leh – Ladakh
Travelling to Leh – Ladakh region in July will take you to a fantasy world, a dream come true destination as its high rising mountain peaks, stunning lakes, salubrious weather, and breathtaking scenery add to the charm of this magical paradise. A motorcycle ride is a must across the fascinating Nubra Valley, which is located on once a trading route that connected to eastern Tibet. In addition, July is the time to witness the colorful celebrations of Kashra Gustor and Hemis Festivals in Ladakh. Spending your monsoon holidays here during India tour will certainly make you cherish the memories.
---
Udaipur
Fondly called as 'City of Lakes', Udaipur is known for its artificial lakes, majestic palaces, colorful festivals, and heritage temples. As much as it is hot in summers, Udaipur is worth the visit during monsoons as it receives just enough rains for a pleasant climate and easy travel. The city starts coming to life and activity picks up with tourism and trade during July and is a great time to experience the magic of Udaipur with sightseeing, lazy boat rides, and exciting shopping sessions. The city has been regarded as one of the most romantic destinations in India and imagines the romance that's possible during the rains as part of Udaipur Tour Packages. City Palace, Lake Pichola, Monsoon Palace, Bagore Ki Haveli, Jagdish Temple, Eklingji Temple, Saheliyon Ki Bari, and Kumbhalgarh Fort are the top places to visit in Udaipur.
---
Goa
The quintessential beach destination of India, Goa is blessed with unlimited charms along with a culture and a spirit to die for. The blissful golden sandy shores, delicious gastronomy, colonial architectures and a carefree attitude of its people make it simply irresistible. The rainy season that falls anywhere around July has a unique spell in Goa when the beautiful beaches are crowd-free. In addition to the virtually isolated Goa beaches, the wildlife sanctuaries are must visit in Goa during this season as you can find a lot of animals and lush vegetation along with many seasonal streams and waterfalls. A visit to the enchanting Dudhasagar Falls, a cruise along the Mandovi River and a tour across the spice plantations are a few fascinating things to do in Goa in July as part of Goa Tour Packages.
Book Here: Car Rentals in Goa
---
Jog Falls
Dropping from a height of about 830 feet, Jog Falls, the second highest plunge waterfall in India, is a gorgeous sight to behold especially in July when the rains are pouring out all their love on Karnataka. Here, the Sharavathi River flowing down from a rocky bed in four distinct falls known as Raja, Rani, Rover, and Rocket. The four cascades merge to form the huge waterfall. The magnificent waterfall is a treat to the eyes as it is portrayed within lush green surroundings. Kudumari Waterfalls, Unchalli Falls, Koosalli Waterfalls, Bennehole Falls and Murudeshwar are some major attractions near Jog Falls which can be visited while holidaying in Karnataka.
               Also Read : Top Tourist Places in Karnataka
---
Puri
Another most popular destination to visit in July in India is Puri, one of the four pilgrimage destinations of original Hindu Char Dhams. The coastal town of Puri is home to the sacred Sri Jagannath Temple. Lord Jagannath is regarded as the supreme god and the sovereign monarch of the Odishan Empire. During July, the town is flooded by thousands of devotees to witness the spectacular Rath Yatra as part of Puri Tour Packages. Puri Beach, Konark Sun Temple, Gundicha Temple, Chilika Lake and Sanctuary, Chandrabaga Beach and Konark Beach are the popular places to visit in Puri.
---
Valley of Flowers
Clad in the mountains like a lost paradise, the Valley of Flowers is a National Park known for its beautiful blooms, rolling hills, and valleys and such a vivid collection of flora and fauna. Untouched by the chaos of civilization, it is undoubtedly one of the best places to visit in July in India when the snow in the valley has been melted and the flowers are in full bloom and greenery is as far as the eye can see. One can find fifty shades of green and other hues in this heaven on earth as part of Uttarakhand Tour Packages. It has the most beautiful trekking routes bestowed with colorful orchids that are opened from June to October only. This national park is also home to certain medicinal herbs along with some endangered species of animals and birds like Himalayan Monal.
---
Mahabaleshwar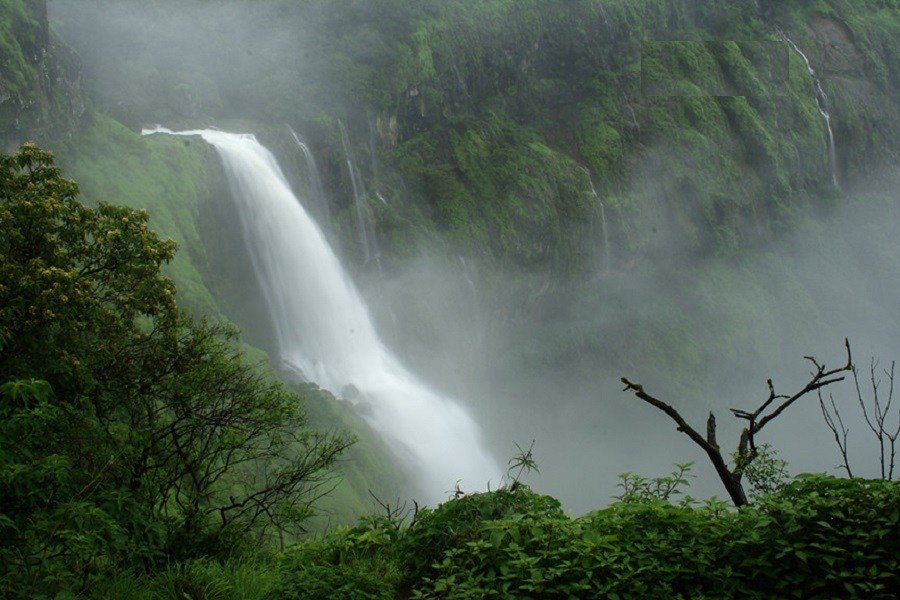 Often referred as Queen of hill stations in Maharashtra, Mahabaleshwar is one of the top monsoon destinations in India. If you want to enjoy the cool, foggy, lush green environment, then head over to Mahabaleshwar in July as the monsoon showers enhance the beauty of this pretty hill station. Visit Arthur's Seat, Wilson Point, Kate's Point & Elephant head Point, Connaught Peak and Bombay Point for stunning views of surrounding hills, gushing waterfalls and meandering rivers through the valleys during your Mahabaleshwar Tour. Besides, one can also visit Panchgani, the Strawberry County of Maharashtra, as part of Mahabaleshwar Packages.
Book Here: Car Rentals in Mumbai
Cherrapunji
With an annual rainfall of 11872 mm, Cherrapunjee is one among the wettest places on the Earth and is an excellent place to sit back and unwind during monsoon season especially in the month of July when all the waterfalls come alive and the landscape looks lush green. The place is well known for its living root bridges. Trek to the forested clifftops, strolling in the tea plantation, walking through tree bridges, and spend some quality time with your soulmate amidst nature are some of the popular things to do in Cherrapunji as part of Meghalaya Tour Packages. David Scott Trail, Maswmai Cave, Mawkdok Dympep Valley, Seven Sister Waterfalls, Nohkalikai Falls, and Thangkharang Park are the top places to visit in Cherrapunjee.
---
Amarnath Cave
Located in Jammu and Kashmir, Amarnath Cave, the divine abode of Lord Shiva is one of the holiest shrines in India for Hindus. The month of July brings the most important reason to visit Amarnath as it is the time when you can trek to the holy site. The cave is covered in snow for most of the year and the pilgrimage to the ice lingam housed in the cave is allowed in the month of Shravan, which falls in July or August. Besides, it is a challenging trek for those who love adventure in the hills.
---
Mount Abu
Mount Abu experiences moderate showers and they turn the city green. The forests look all the more beautiful, making it an apt time to visit. If you are a nature enthusiast, then this should be your pick for a vacation in India in July. Boating in Nakki Lake, an excursion to Dilwara Jain Temples or head towards Mount Abu Wildlife Sanctuary are the top things to do here as part of Mount Abu Tour Packages.
---
Coorg
Among the top places to experience Karnataka Tourism, Coorg is one of the prettiest places to visit in India when it is raining. In July, the surrounding mountains and valleys filled with lush vegetation and little sprouts of vibrant-hued flowers soothe the eyes. Besides, the waterfalls like Abbey Falls and Iruppu Falls come alive during this time and offers a spectacular panorama. Raja's Seat, Nagarhole National Park, Bagamandala Temple, Nisargadhama, Dubare, Talacauvery and Omkareshwara Temple more the other notable places to visit in this quaint hill station during your Coorg Trip. While in Coorg, travelers must enhance their trip by choosing the best Coog Resorts to pamper themselves with opulence amidst picturesque vistas.

                 Book Here: Coorg Cab Packages
---
Khajuraho
The ancient city of Khajuraho is known all over the world for its beautiful temples. The Khajuraho group is one of the best UNESCO World heritage sites in India and is considered to be one of the seven wonders of India. It is one of the wonderful places to visit in July when the whole landscape is washed away with fresh rains and is painted with greenery. The monuments of Khajuraho look more beautiful and dramatic under the sky with grey clouds. Don't forget to bring your camera along to capture the most dramatic landscape. Chausth Yogini, Brahma, Lalgun Mahadev, Matangeshwar, Varaha, Lakshman, Parshwanath, ChaturBhuja, Ghantai, Vishwanath, Devi Jagdambi, Chitragupta, Kandariya Mahadev, Vaman, Adinath, and Duladev are the most famous temples to visit in Khajuraho.
---
Malshej Ghat
A small hill station in the mighty Sahyadri ranges of the Western Ghats, Malshej Ghat in monsoon is engulfed in green hills and innumerable waterfalls. The drive to Malshej Ghat through itself is soothing with the picturesque view of the splendid valleys, picturesque mountains, gushing waterfalls and placid lakes. For monsoon lovers, it is an excellent place to drench in rain along with some outdoor activities like trekking, hiking, bird watching. The forests of Malshej are the prime attraction for the nature lovers as they house a huge variety of flora and fauna. Shivneri Fort, Junnar Caves, Bird Graveyard, Pimpalgaon Joga Dam and Malshej Falls are some of the most popular tourist attractions that can be visited here as part of Pune Tour Packages.
Book Here: Car Rentals in Pune
Santhi is an avid traveler and primary contributor to the blogs at Trawell.in. She has explored most of the states in India and gained vast knowledge on tourist destinations in India and abroad. She also contributes content to other travel websites.