The summer heat in Delhi often reaches extreme levels pushing people retreat to the pleasant hill resorts. Delhi is advantageously located close to the hill states of Uttarakhand and Himachal Pradesh and the hills of Kashmir are also not too far away. While there of plenty of summer getaways around Delhi, Trawell.in tried to shortlist the top 11 hill stations near Delhi that can be reached overnight and ideal for a weekend stay.
Nainital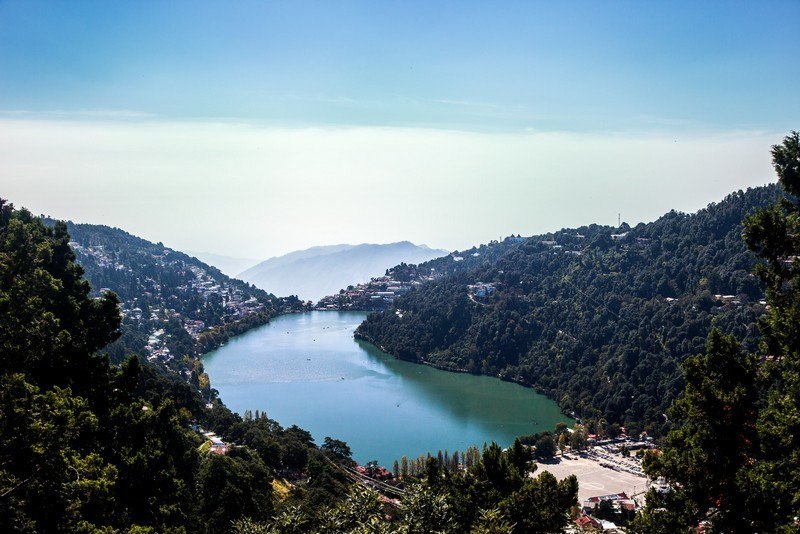 Nainital is a beautiful hill station in the state of Uttarakhand and headquarters of Nainital district in the Kumaon foothills of Himalayas. It is one of the most popular hill stations in North India and also the top tourist places in Uttarakhand. Nainital is famous for its scenic mountain views and is commonly known as the Lake District of India. Situated at an altitude of 1938 m, Nainital derives its name from Naini Lake. The highest point is Naina Peak or China Peak, with an elevation of 2,615 m. Nainital is surrounded by mountains on three sides and the town is spread around the beautiful Naini Lake.
Nainital Lake, Naina Devi Temple, Mall Road, Naina Peak, Snow View Point, Kainchi Dham, Raj Bhavan, High Altitude Zoo, Bhimtal and Sattal are among the must include places in your Nainital tour packages. Naini Lake has facilities for boating and yachting. Nainital is also famous for its various schools and research facilities. The best time to visit Nainital is from March to May & December to February. Nainital is one of the most visited hill stations near Delhi city.
Distance from New Delhi : 294 Kms
Also Read: 14 Most Romantic Places to visit on Valentine's Day
---
Mussoorie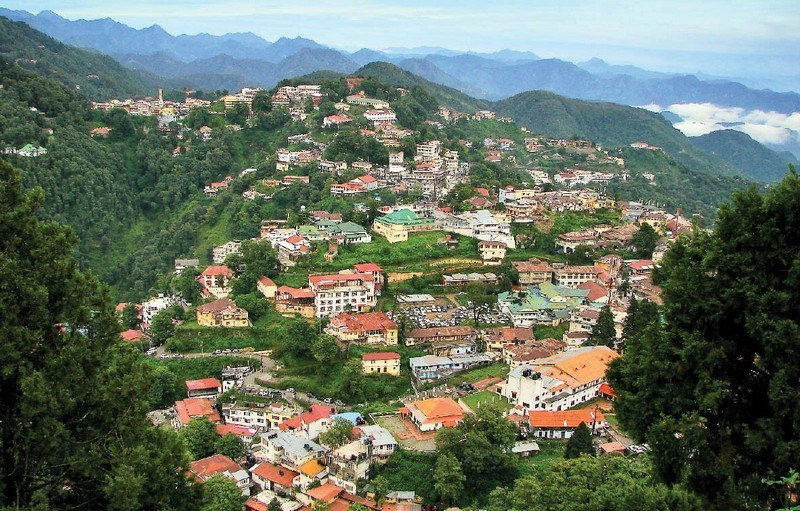 Mussoorie is a popular hill station in Dehradun district of Uttarakhand. This is one of the most popular hill resorts in Uttarakhand state. Mussoorie is situated atop a horseshoe crest on the mountains of Garhwal at an average altitude of 1880 m. Mussoorie offers commanding views of the underlying Doon Valley and the magnificent Himalayas. The highest peak in the region is Lal Tibba in Landour, at an elevation of over 2,275 m. Mussoorie is called the gateway to the Yamunotri and Gangotri. This is one of the most popular hill stations in Uttarakhand and also one of the best tourist places to visit near Delhi.
Kempty Falls, Camel's Back Rock, Mall Road, Cloud's End and Bhatta Falls are some of the best places to include in Mussoorie tour packages. Mussoorie also offers adventure and shopping opportunities. Tourists can enjoy horse riding or a leisurely walk across Camel's Back Road and a rope-way ride to the top of Gun Hills. Snow Adventure Zone offers adventure activities like Sky Ride, Valley Crossing, Zip Swing, Paragliding, Night Camping & Safari. Mussoorie is also one of the best hill stations around Delhi.
Distance from New Delhi : 278 Kms
---
Most Popular Tours
---
Shimla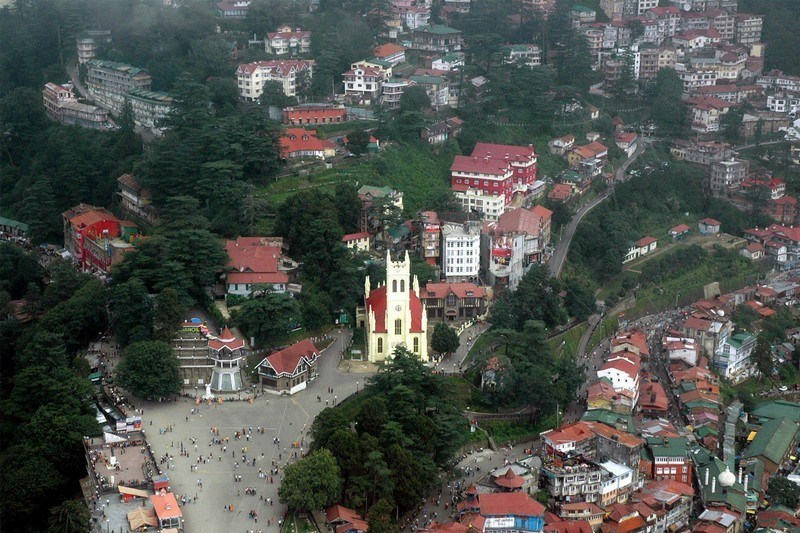 Shimla is the capital city of Himachal Pradesh and one of the most famous hill stations in India. Lies at an altitude of 7238 feet, Shimla is popularly referred as the 'Queen of Hills' and among the most visited places as part of Himachal tour packages. This lovely hill station was developed by the British and served as their summer capital. Shimla is surrounded by pine, deodar and oak forests. The toy train between Kalka and Shimla was built in 1924 and it is an UNESCO World Heritage Site. Shimla is one of the top hill stations near Delhi.
The Ridge, Mall Road, Vice Regal Lodge, Christ Church, Annandale, Chadwick Falls and Jakhu Hill are best places to visit during your Shimla packages. Shimla is very famous for skiing with popular ski resorts at Kufri, Fagu Resort, and Narkanda that operate between January and March during snow fall season. Rhyali festival, the Summer Festival in May, Baisakhi (April) and Lavi fair are the major festivals celebrated in Shimla.
Distance from New Delhi : 348 Kms
---
Manali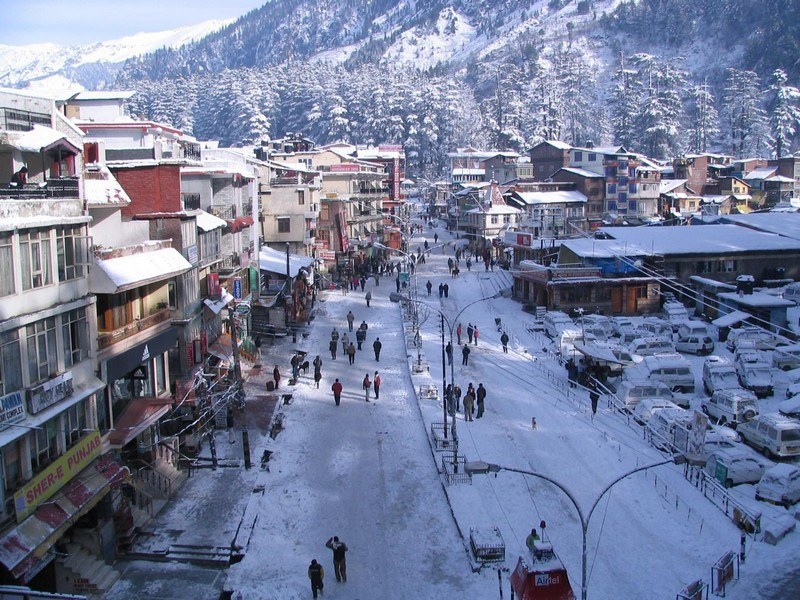 Manali is a breathtakingly beautiful hill station nestled in the mountains of Himachal Pradesh near the northern end of the Kullu Valley. It is located at an altitude of 2050 m and is spread along the banks of the river Beas. Manali is renowned for its snow-covered mountains, scenic beauty, history and culture.Often referred to as the 'Valley of the Gods', Manali is one of the popular places to visit as part of Himachal packages and one among the most beautiful summer getaways in India.
Manali is famous as a Honeymoon destination among Indian tourists. Solang Valley, Rohtang Pass, Hidimbi Temple, Bhrigu Lake, Vashist Temple, Manu temple, Naggar Castle and Manikaran are the top places to visit in Manali as part of Manali tour packages. Manali is also famous for adventure sports like skiing, hiking, mountaineering, paragliding, rafting, kayaking, and mountain biking. September to May is the best time to visit Manali. Dussehra and Hidimba Devi Festival (May) are the two major festivals here. Winter carnival (Jan/Feb) is the most famous event in the valley.
Distance from New Delhi : 545 Kms
---
Kasauli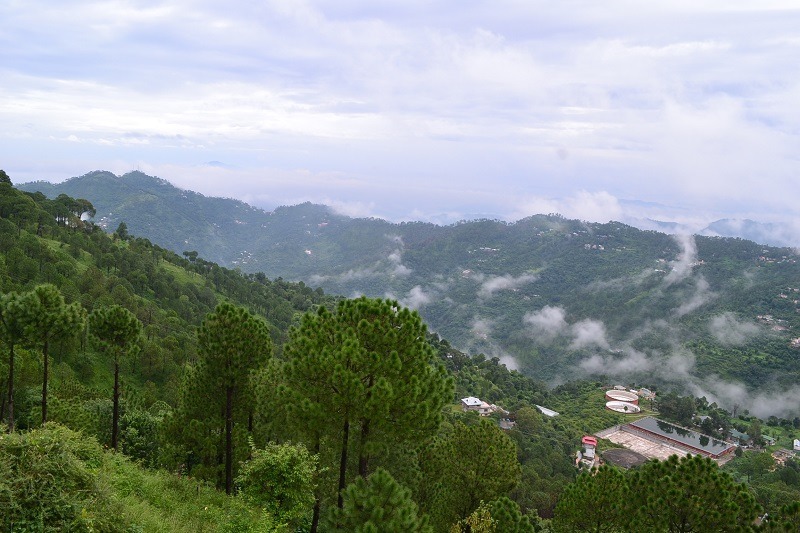 Kasauli is a picturesque hill station in the Solan district of Himachal Pradesh. At an altitude of 1,927 m, it was established by the British in 1842 as a Cantonment town. The name Kasauli came from Kausalya, a mountain stream which flows between Kasauli and Jabli. The serene place of Kasauli has been mentioned in the epic Ramayana. Kasauli is among the cheapest hill stations in India.
The town is the home of the Kasauli Brewery, which is the highest brewery and distillery in the world. Kasauli is set in the backdrop of the Dhauladhar Ranges with natural trails for long walks. Christ Church, Monkey Point, Lower and Mall Road, Sunrise Point, Sabathu Fort are some of the major places to visit in Kasauli. The hill station offers activities like trekking, paragliding, and camping for adventurous travellers. The best time to visit Kasauli is from April to June and September to November.
Distance from New Delhi : 300 Kms
---
Dalhousie
Dalhousie is a scenic hill station in Chamba district of Himachal Pradesh. It lies at an elevation of 1,970 m and is a splendid summer retreats in North India. Dalhousie is surrounded by snow peaked mountains and is located on the western edge of the Dhauladhar mountain range of the Himalayas and is one of the top places to visit as part of Himachal tourism packages. It was named after Lord Dalhousie, the then Viceroy of India, who established this town as a summer retreat in 1854.
Ganji Pahari, Dainkund Peak, Khajjiar, Noorwood Paramdham, Bara Pathar temple, Hariraya Temple, St. Patrick Church, Chamera Lake, Satdhara Falls, Kalatop Sanctuary, Panchpula, Subhash Baoli and Salooni are the top places to visit as part of Dalhousie 2 day tour. Dalhousie also offers a lot of activities for nature lovers and adventurers. Garam Sadak, Jhandri ghat, Moti tibba and Sach pass are the ideal places for the trekking enthusiasts in Dalhousie. Minjar fair and summer festival are the two important festivals celebrated in Dalhousie. The best time to visit Dalhousie is from March to June and October to December.
Distance from New Delhi : 564 Kms
---
Lansdowne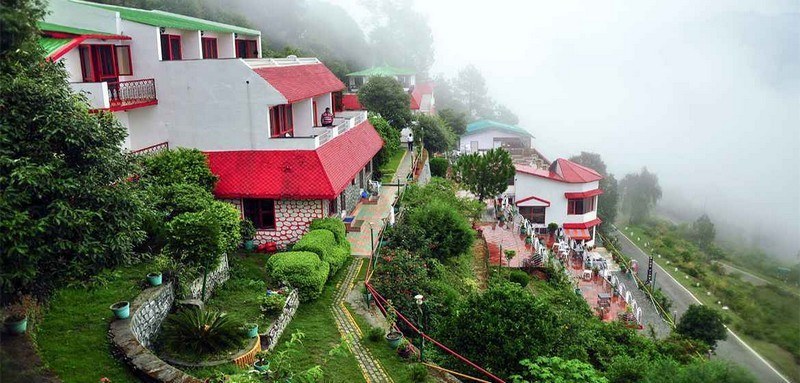 Lansdowne is a small hill town in Pauri Garhwal district of Uttarakhand. It lies at an elevation of 1706 m above sea level and is surrounded by thick oak and pine forests. It was a popular hill resort for the British and they built a cantonment here. Lansdowne is named after its founder Lord Lansdowne, the Viceroy of India between 1888 and 1894. It is one of the best hill resorts close to Delhi.
Garhwal Regimental Museum, St. Mary's Church, St. John's Church, Durga Devi Temple, Kaleshwar Mahadev Temple, Tip-in-Top, Bhim Pakora, Bhulla Tal, Tarkeshwar Mahadev Temple and Bhairav Garhi Temple are the important tourist places in Lansdowne. It is also an ideal place for trekking and nature walks. Bird watching, boating and paddling are the main activities that visitors can indulge in Lansdowne. The annual festival Shardotsav, celebrated during the season of autumn is a grand draw of tourists.
Distance from New Delhi : 247 Kms
---
Ranikhet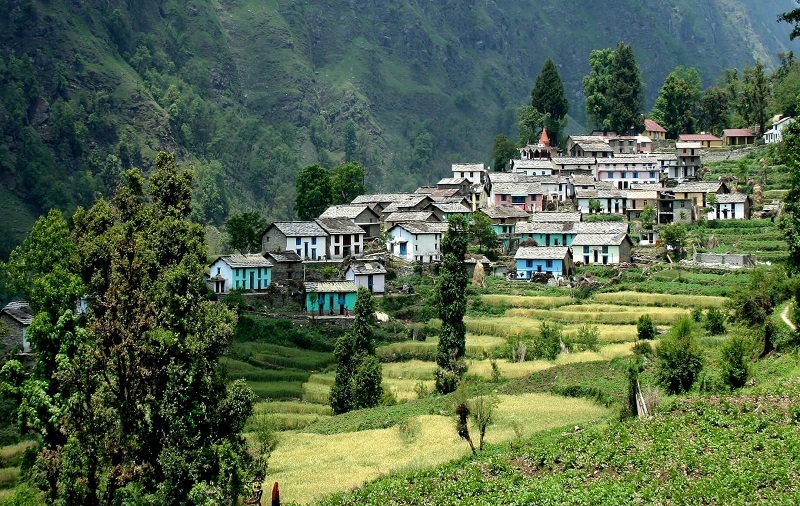 Ranikhet is a picturesque hill station and a cantonment town in the Almora district of Uttarakhand. Surrounded by Himalayan mountain ranges, Ranikhet is situated in the upper Kumaon Hills at an altitude of about 1869 m. The town of Ranikhet became the headquarters of the British Kumaon Regiment. This town was also a summer retreat for the British officers. Today, Ranikhet is home to the Indian Army's Kumaon Regiment.
Ranikhet is a popular hill resort well known for the views of the mighty Himalayas. Bhalu Dam, Binsar Mahadev Temple, Chaubatia Orchards, Hairakhan Temple, Mankameshwar Temple, Katarmal Sun Temple, Jhula Devi Temple, Army Golf Course & Dwarahat are the popular tourist places in Ranikhet. Visitors can also go for trekking to nearby places like Tarikhet and Sitlakhet. Ranikhet has a cool climate throughout the year and it is an ideal summer getaways from Delhi city.
Distance from New Delhi : 350 Kms
---
Almora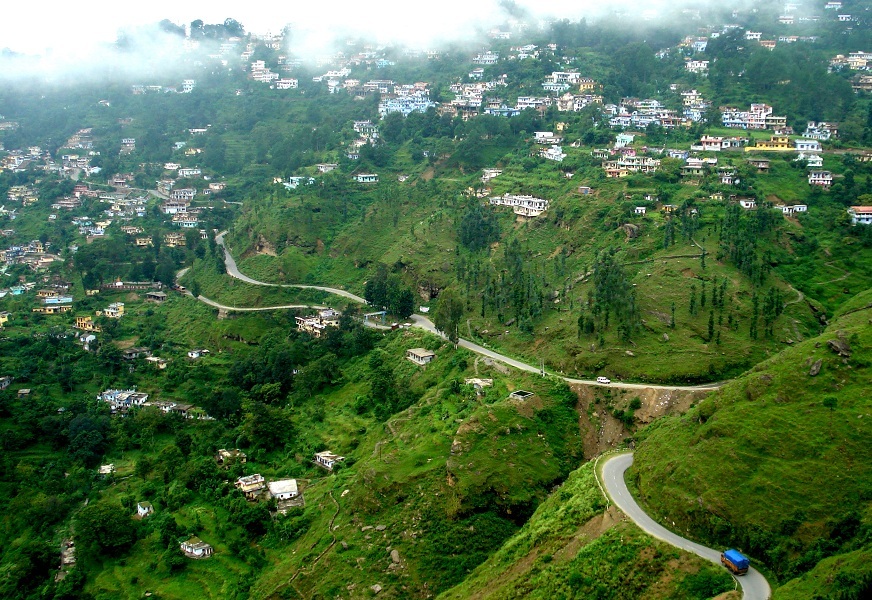 Almora is a scenic hill station in the Almora district of Uttarakhand. It lies at an altitude of 1,651 m, amidst the southern part the Kumaon Hills of the Himalayas. It is located on a 5 Km long horse shoe shaped ridge, the eastern portion of which is called the Talifat and the western one is known as Selifat. Developed by the kings of Chand dynasty, it was later developed by the British. Almora is considered the cultural heart of the Kumaon region of Uttarakhand and among the best hill stations near Delhi.
Almora is famous for its alluring beauty, panoramic view of the Himalayas and rich cultural heritage. Nanda Devi Temple, Kasar Devi, Banari Devi, Chitai Temple, Jageshwar, Binsar Wildlife Sanctuary, Garhnath, Baijnath, Govind Vallabh Pant Museum, Almora Fort, Katarmal Sun Temple, Kalimath, Bright End Corner are important places of sightseeing in Almora. The traditional Panchmarchi Shawls in soft wool, decorative candles, drift wood statues and copperware are popular. The best time to visit Almora is from March to June and from September to November.
Distance from New Delhi : 364 Kms
---
Dharamshala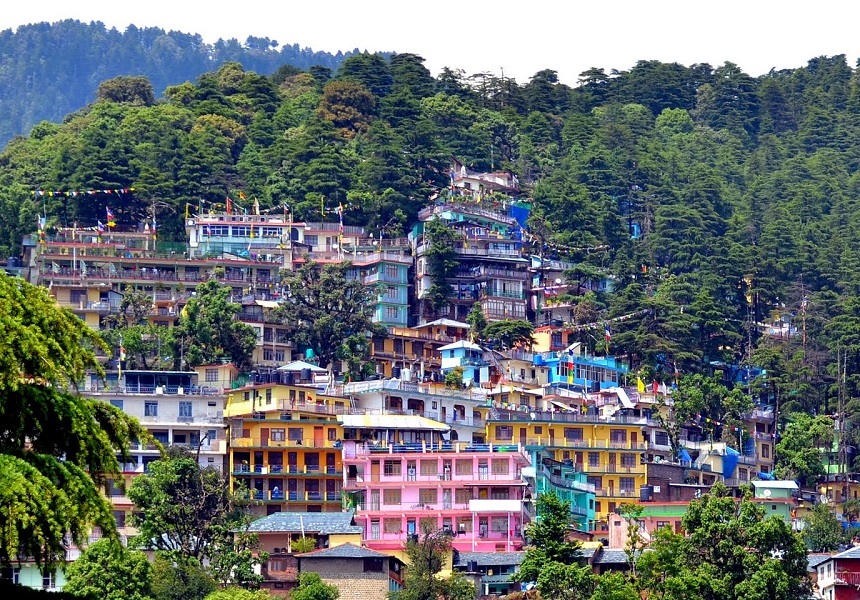 Dharamshala is a beautiful hill station in Kangra district of Himachal Pradesh. It lies at an average altitude of 1,475 m above sea level. This is the gateway to the Kangra valley and also the headquarters of Kangra district. It is one of the most visited hill stations in Himachal. In the year 1960, Dharamshala became a temporary headquarters to His Holiness Dalai Lama. Today, it is known as Little Lhasa or Dhasa, because of its large population of Tibetans and Buddhist Monasteries. It is one of the popular summer getaways in North India and also one of the must visit place as part of Himachal Tour Packages.
Dharamshala consists of two distinct parts – Lower Dharamsala and Upper Dharamshala. Lower Dharamsala is a bustling civil and commercial center whereas Upper Dharamshala, known more commonly as McLeod Ganj, is the seat of Tibetan spiritual leader, the Dalai Lama. Dalai Lama's residence and the headquarters of Central Tibetan Administration are located here.
It has a lot to offer ranging from ancient temples, churches and monasteries to museums and beautiful trekking trails. The ancient Chamunda Temple, Dalailama Temple, Namgyalma Stupa, Bhagsunath Temple, Norbulingka Institute, Gyuto Monastery and Indru Nag are some of the prime tourist place to visit in Dharmashala. Dharamshala is a starting point to a number of trekking trails. Bhagsu Falls, Dharamkot, Triund Hill, Ilaqa, Toral Pass, Bhimghasutri Pass, Dunali and Kareri Lake are the important trekking trails here.
Distance from New Delhi : 486 Kms
---
Auli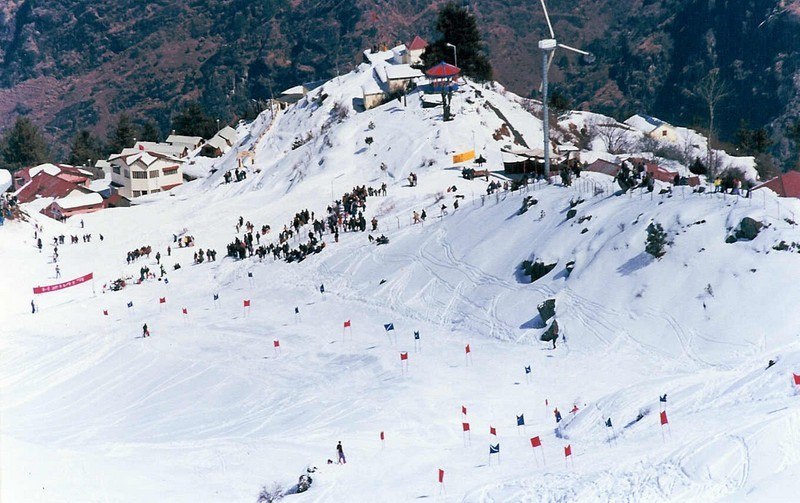 Auli is a cute hill station and an important ski destination in Chamoli District of Uttarakhand. At an altitude of 2800 m, it is situated on the way to Badrinath. Auli is one of the top skiing destinations in India. The slopes of Auli were the training ground for the Indian Paramilitary Forces and Indo-Tibetan Border Police Force. It also boasts the Asia's longest cable car (4 km long).
Auli is surrounded by coniferous and oak forests, with a panoramic view of the lofty peaks of the Himalayas like Trishul, Nanda Devi, etc. Auli has been the venue of Skiing Festivals since 1986. Auli Ski Resort, Gurso Bugyal, Auli Lake, Chattrakund, Kuari Pass Trek, Bhavishya Badri Temple, Hot Springs at Tapovan, Joshimath, Nandaprayag, Rudraprayag, Vishnuprayag, Pandukeshwar and Badrinath are the important tourist places in and around Auli. Excursions to Hemkund and Valley of Flowers are also popular among the travellers visiting Auli. Best time to visit is last week of January to first week of March for skiing.
Distance from New Delhi : 495 Kms
---
Santhi is an avid traveler and primary contributor to the blogs at Trawell.in. She has explored most of the states in India and gained vast knowledge on tourist destinations in India and abroad. She also contributes content to other travel websites.