Holidaying in India means so many different things, but they all serve the purpose of refreshing the mind, relaxing the body and soul. There are several luxury resorts spread across South India and these are the combination of exotic locations, warm ambiance, ancient therapies and treatments. From heading to a romantic or spa retreat, to a candlelight dinner to staying in a tree house, these luxury resorts in South India have a lot to offer.
Here are the 8 best luxury resorts in South India where you must go to just relax.
Kumarakom Lake Resort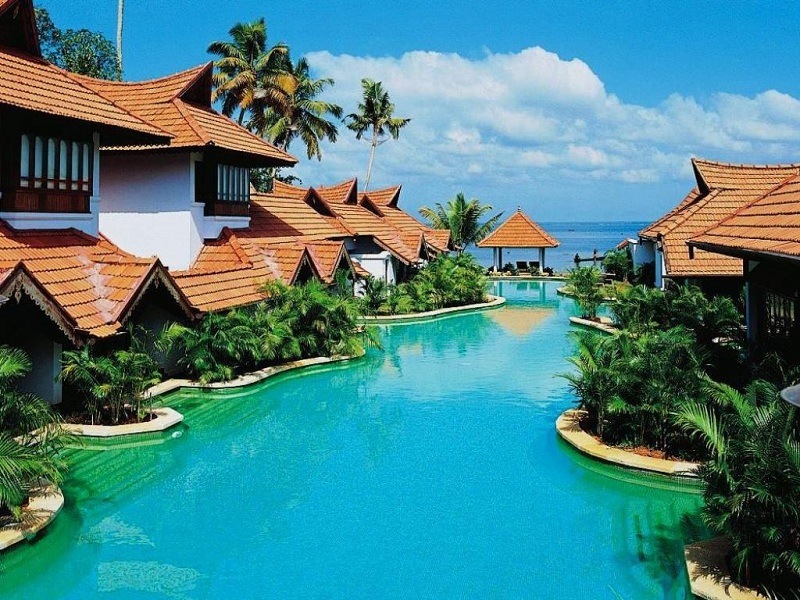 Kumarakom Lake Resort is a luxurious property on the shores of the Vembanad Lake in Kumarakom, among the top places to visit near Kochi. The resort is considered one of the best resorts in India and has received a number of global awards for service. The resort exposes a perfect blend of Kerala's traditional architectural charm and luxurious modern amenities. The resort has a conference room, a swimming pool, a fitness center, a business center and an Ayurveda treatment center.
Kumarakom, also known as the Queen of Vembanad, is a cluster of little islands on the Vembanad Lake. Kumarakom is the most famous Kerala backwaters destination for traditional houseboat ride and it is one of the ideal weekend getaways from Kochi & Trivandrum. Kumarakom Bird Sanctuary, Kumaramangalam Temple, Vaikom, Pathiramanal Island, Aranmula, Vagamon, and Erumeli are the popular places to visit as part of Kumarakom tour packages.
Location: Kumarakom, Kerala
Nearest City: Kochi (55 km)
Website: www.kumarakomlakeresort.in
---
Orange County, Kabini, Karnataka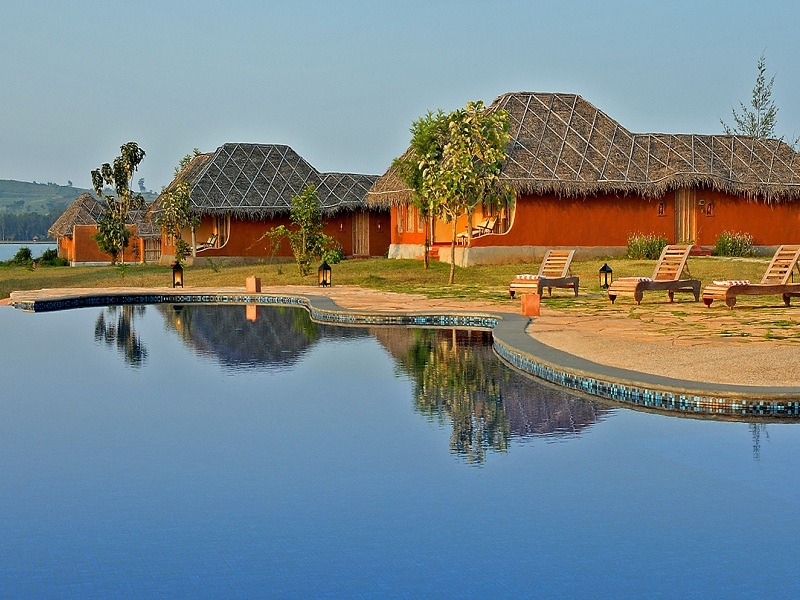 Orange County, one of the top luxury resorts in South India, is located near the banks of the river Kabini, which runs through the Nagarhole National Park and borders along the Bandipur National Park, among the famous places to visit near Mysore. Built like the huts of the indigenous Kadu Kuruba tribe, the resort is an epitome of absolute peace, serene & pristine environment commensurate with luxury. It has been voted one of the 25 best Eco Lodges in the World by National Geographic Traveller.
The resort has a scenic reading lounge, Ayurveda spa and the infinity pool. This wildlife resort also offers some activities for their guests like Coracle Ride, Elephant Ride, Bird Watching, Boat Safari, Jeep Safari, Guided Nature Walks and Tribal Village Visit.
Location: Kabini, Karnataka
Nearest City: Mysore (81 km)
Website: www.orangecounty.in/kabini
---
Most Popular Tours
---
The LaLiT Resort & Spa, Bekal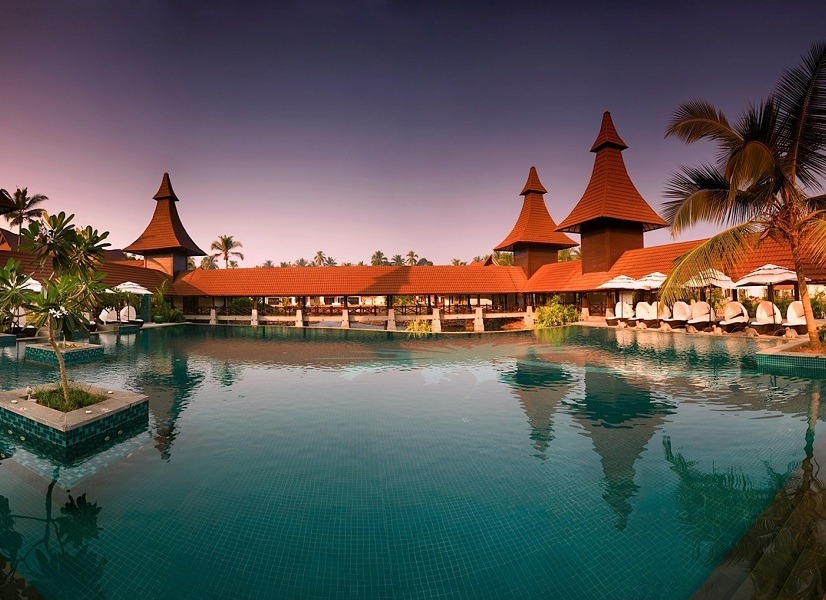 Surrounded by Nombili River on three sides, The LaLiT Resort & Spa is a beach resort situated at Bekal, among the most scenic places to visit near Mangalore. Nestled amidst landscaped gardens and an internal lagoon overlooking a pristine white sandy beach, it is the ultimate spa destination in tranquility, offering unparalleled luxury, comfort & serenity to its guests. This is one of the best luxury beach resorts in South India.
Bekal is famous for Bekal Fort which is the largest and best preserved fort in Kerala and also one of the top visited Kerala tourist places. Built on 35 acre headland on the shores of Arabian Sea, this fort is believed to have been built by Sivappa Naik of the Ikkeri dynasty in 1650 CE. Bekal Beach, Ullal Beach and Mangalore are the top places to visit in and around Bekal.
Location: Bekal
Nearest City: Mangalore (60 km)
Website: www.thelalit.com/the-lalit-bekal
---
The Leela, Kovalam
At a distance of 15 km from Trivandrum, The Leela Kovalam is built on a cliff-top and is cradled between two wide sweeping beaches in Kovalam. This resort provides a perfect blend of traditional grandeur and a contemporary outlook. The Leela is Kerala's largest resort with 194 guest rooms and suites spread over 44 acres. This resort also specializes in traditional Ayurveda treatment.
Kovalam is one of the most famous beach destinations in Kerala and also one of the most famous places to visit near Trivandrum. There are three beaches in Kovalam and are the popular beaches in Kerala. The most popular beach is the Light House Beach and offers an amazing sight of Vizhinjam Mosque. Samudra Beach and Eve's Beach are the other must visit beaches in Kovalam. Apart from beaches, Kovalam is also famous for its Ayurveda massages and many yoga resorts.
Location: Kovalam
Nearest City: Trivandrum (15 km)
Website: www.theleela.com/en_us/hotels-in-kovalam/the-leela-kovalam-hotel
---
Vythiri Resort, Wayanad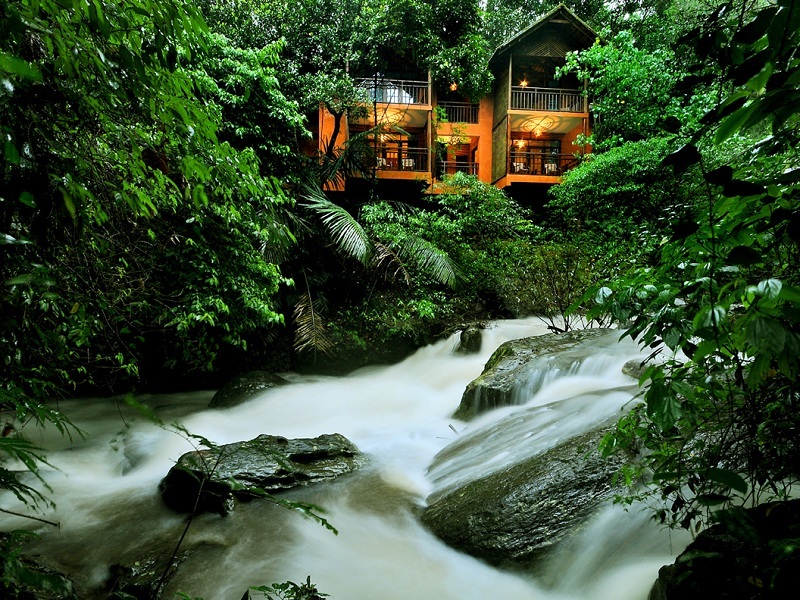 Established in the year 1994, Vythiri Resort is an exquisite jungle resort located in Wayanad, Kerala. This is the best jungle getaway and a treasure trove for nature lovers. Set amidst a 150-acre coffee and cardamom plantation, the resort boasts of traditional hospitality. Guests can enjoy a comfortable stay in well-appointed, tastefully furnished rooms with modern amenities. There are 5 tree houses at the resort that are located above the canopy of the rain forest.
Book Here: Top Resorts in Wayanad
Vythiri is a small hill station situated in Wayanad district of Kerala and is one of the top tourist places in Wayanad. Vythiri is famous for its evergreen rain forests and plantations of coffee, tea, rubber, cardamom and pepper. The forests of Vythiri are home to a wide variety of wildlife. Pookote Lake, Chembra Peak, Soochipara Falls, Meenmutty Falls, Edakkal Caves, Banasura Sagar Dam and Wayanad Wildlife Sanctuary are the important places to visit in Wayanad as part of Wayanad Tour Packages.
Nearest City: Kozhikode (64 km)
Website: www.vythiriresort.com
---
The Serai Resorts, Chikmagalur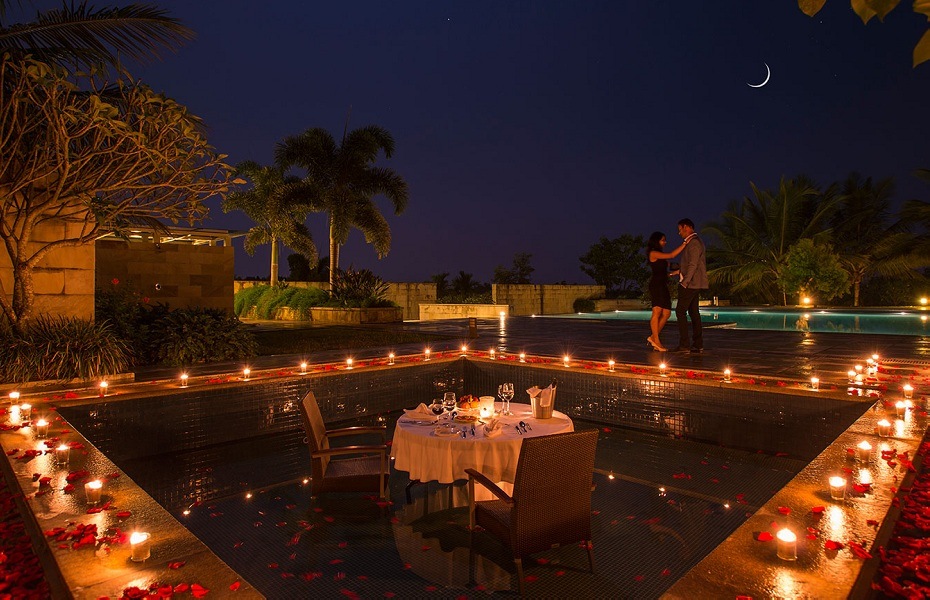 Situated amidst 70 acres aromatic coffee plantations, The Serai Resorts is a luxurious and destination resort in Chikmagalur, among the most popular places to visit near Bangalore. Plush and classy interiors, tastefully done furnishings, service of the best quality and undisturbed solitude are some of the offers that The Serai gives out to its guests. This resort features a full-service spa, a restaurant, and an indoor pool.
At an altitude of 3,400 feet, Chikmagalur is a scenic hill town located at the foothills of Mullayangiri range in Karnataka. Chikmagalur is one of the top hill stations in Karnataka and also one of the best weekend getaways near Bangalore. Chikmagalur is also famous for coffee and is known as the coffee land of Karnataka. Hirekolale Lake, Baba Budangiri, Mullayangiri, Ayyanakere Lake, Belavadi, Bhadra Wildlife Sanctuary, Manikyadhara Falls, and Kemmanagundi are the important places to visit in Chikmagalur during your Chikmagalur Packages.
Location: Chikmagalur
Nearest City: Mangalore (64 km)
Website: www.theserai.in/chikmagalur
---
The Tamara Coorg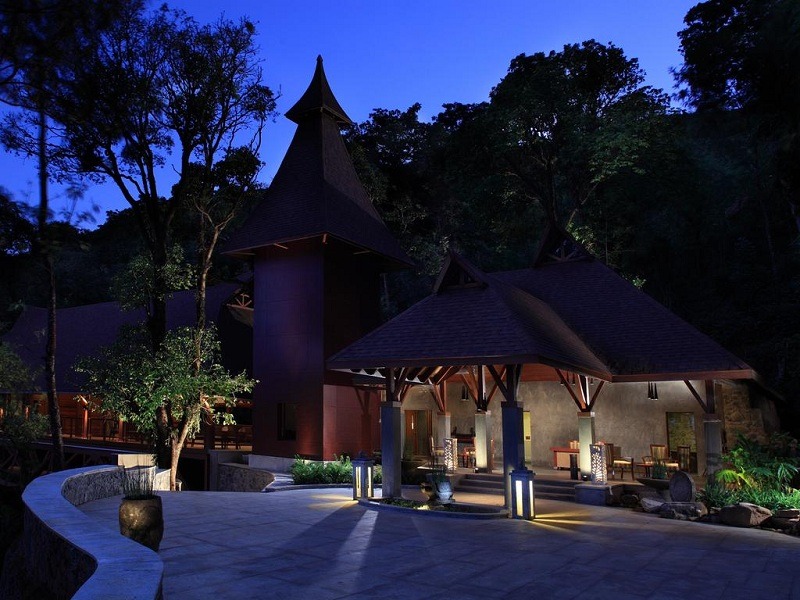 The Tamara Coorg is a premium plantation resort set amidst the 180.2 acre coffee plantation near Virajpet in Coorg. The Tamara Coorg is a combination of best hospitality, luxury, and charm with a coffee plantation backdrop. The Tamara Coorg offers 44 Luxurious Cottages, 2 Super Luxury Cottages, 8 Suite Cottages, and 2 exclusive Eden Lotus Suites. The resort has a Spa, Yoga Temple, Fiteness Center and Swimming Fool. The Tamara Coorg also organize guided plantation walks, trekking trails & yoga sessions for the guests.
Book Here: Best Resorts in Coorg
Often referred as the Scotland of India, Coorg or Kodagu is the most famous tourist places to visit in Karnataka and among the best hill stations near Bangalore. Madikeri is its district headquarters & is the starting point for all Coorg Tour Packages. Coorg is the largest producer of Coffee in India. Raja's seat, Abbey Falls, Iruppu Falls, Omkareshwara Temple, Bylakuppe, Talacauvery and Dubare are the popular Coorg Tourist Places. You can also explore the stay offered by Jungle Lodges & Resorts (JLR) at Dubare, Nagarhole, Bandipur or Kabini to explore Coorg.
Location: Coorg
Nearest City: Mangalore (164 km)
Website: www.thetamara.com
---
Kurumba Village Resort, Ooty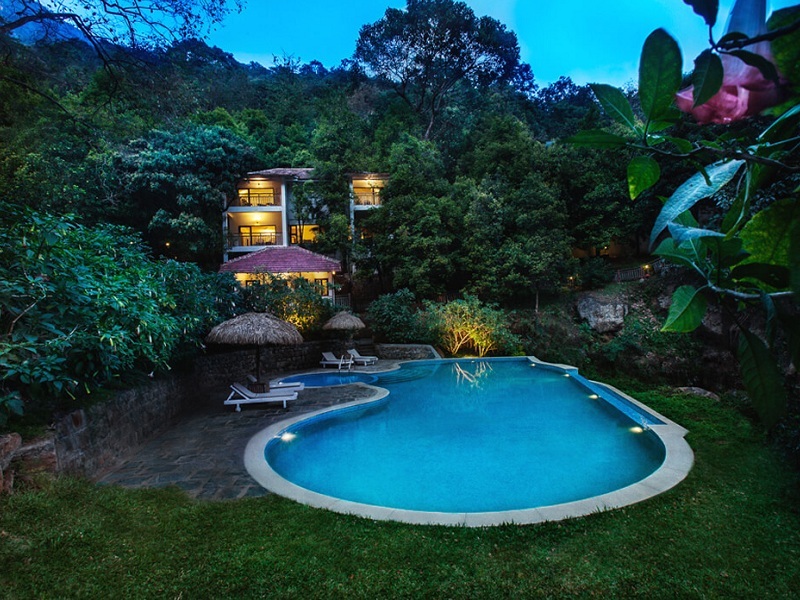 Kurumba Village Resort, Ooty is a luxury resort situated at Kurumbadi village near Ooty. Named after the Kurumbas, the resort is a tribute to the ancient clan that co-existed happily with nature in this hot spot of great bio-diversity. Spread over an area of 10 acre, it is situated amidst spice haven of nutmeg, cloves and pepper abound. The resort is set up mainly with a view to be in close touch with nature.
Book Here: Top Resorts in Ooty
Ooty, also known as Udhagamandalam, is one of the best hill stations in India and also one of the top places to experience Tamilnadu Tourism. Ooty is a nature lover's paradise and also one of the top places to visit near Coimbatore. The rolling hills, lush green vegetation, misty landscapes and pleasant weather attract large number of tourists to this hill station. Ooty Lake, Botanical Garden, Rose Garden, Wenlock Downs, Avalanche Lake and Emerald Lake are the popular places to visit in Ooty as part of Ooty Tour Packages.
Location: Ooty
Nearest City: Coimbatore (53 km)
Website: www.natureresorts.in/kurumba
---
---
Santhi is an avid traveler and primary contributor to the blogs at Trawell.in. She has explored most of the states in India and gained vast knowledge on tourist destinations in India and abroad. She also contributes content to other travel websites.