Thailand, officially the Kingdom of Thailand, is a gorgeous country located at the center of the Indochina peninsula in Southeast Asia. It shares borders with Laos and Cambodia in the East, Myanmar in the North, Andaman Sea in the west and the Gulf of Thailand in the South. Bangkok is the capital and also the most bustling city of activity and commerce in Thailand. With nearly 40 million foreigners flying to the country each year, Thailand is one of the top destinations in the world and among the best beach destinations in Asia.
Popularly called as the Land of Smiles, Thailand possesses an eclectic mix of cultures, traditions, people, landscapes, and history. From high lime stone cliffs to structures sitting on extinct volcanoes and from the white sand beaches to beautiful wildlife reserves, Thailand's attractions are diverse and each provides a rewarding and memorable experience in its own way. Famous worldwide for its exotic beaches, Thailand is a complete destination for family holidays, a break with friends, a romantic getaway and also the perfect setting for a wedding and honeymoons.
Trawell.in presents top 12 places to visit in Thailand here.
Watch Video - Thailand Tourist Places - Video
Bangkok
The capital of Thailand, Krung Thep or Bangkok is a bustling blend of ancient and modern, traditional and cosmopolitan. With its magnificent temples, authentic canals, exotic food, busy markets, visual delights and a vibrant nightlife, Bangkok is considered as the gateway to the Southeast Asia and the most visited city in the world by international tourists, according to the MasterCard third annual Global Destination Cities Index. Often considered to be the erstwhile royal kingdom of Thailand, Bangkok is the main hub for international travel and also a great starting point for many Thailand Tour Packages.
Popularly known as the 'City of Angels', Bangkok is packed with historical, religious and natural tourist attractions. Wat Arun, Wat Phra Kaew, Grand Palace, Lumphini Park, Wat Saket, Dusit Palace and Floating Market are the famous places to visit in Bangkok. Khao San Road, the famous tourist street, is a good place to begin with its cheap shopping, dining and nightlife. Bangkok is also known for mouthwatering street food and Thai massage. You can also take a cruise along the Chao Phraya River which is once-in-a-lifetime experience, just like shopping in Bangkok.
Also Read: 9 Best Places to Try Local Cuisine in Bangkok
---
Phuket
Often called as the Pearl of the Andaman, Phuket is a rain forested, mountainous island situated in Southern Thailand. Blessed with more than 30 amazing beaches, Phuket is the biggest island of Thailand and among the finest beach destinations in the world. Patong is the main town of Pthuket which has a more casual vibe and is filled with nightclubs, bars and discos. Attracting travellers from all over the world, Phuket is considered as one of the most popular destinations in Thailand and also must included places in many Thailand Tours.
With its innumerable beaches, fine white sands, exotic surroundings and lively towns make Phuket the perfect place for any kind of vacation with family, friends or with your loved one. Patong Beach, Kata, Karon, Kamala, Rawai, Kata Yai, Kata Noi, and Mai Khao are the most popular beaches in Phuket. Having some of Thailand's most popular beaches, the island is home to many seaside resorts, spas and restaurants. Phi Phi Islands and Krabi Islands are easily accessible from here and are counted among the best tourist places in Phuket. The island also offers thrilling water sport facilities for adventure lovers.
---
Popular Thailand Tours
---
Ayutthaya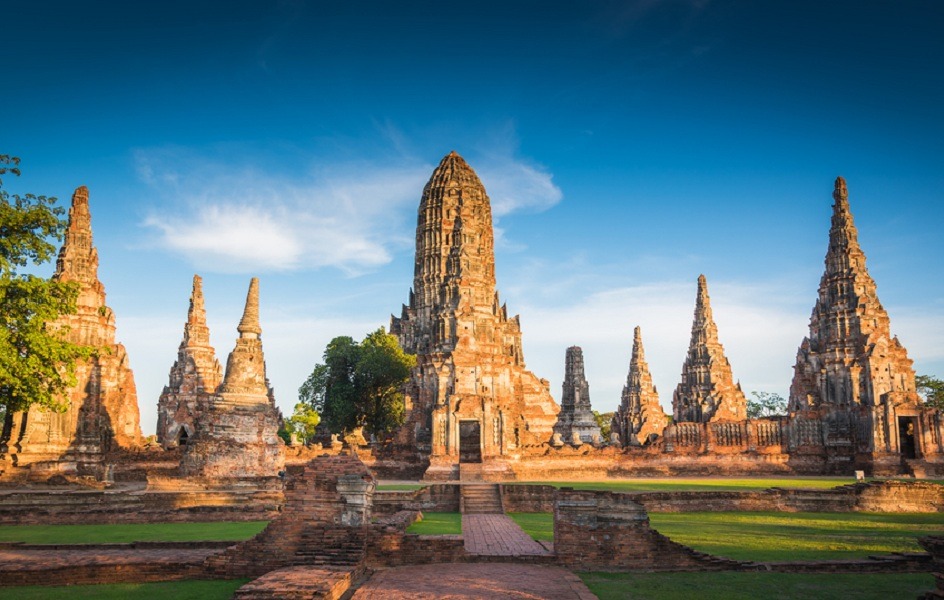 Ayutthaya, also known as Phra Nakhon Si Ayutthaya, is a modern city and a living museum in the Central Plains of Thailand. Founded in 1350 CE, Ayutthaya was the ancient capital of Siam (Thailand) for more than 400 years before it was sacked by Burmese invaders. With three palaces and more than 400 temple ruins, Ayutthaya was declared as a World Heritage Site by UNESCO. The ruins of Ayutthaya are now a major attraction for history buffs those visiting Thailand and also one of the most impressive ruined cities in Asia. Lies just 80 km north of Bangkok, it is an ideal destination for a day trip from Bangkok.
Once declared the most magnificent city on earth, Ayutthaya is today a fascinating archaeological park brimming with Buddhist temples, palaces, monasteries and ancient statues of monumental proportions. Wat Phra Ram Temple, Wat Phra Si Sanphet, Wat Mahathat, and Wat Ratchaburana, are the top places to visit in Ayutthaya historical park. Don't miss the overgrown Buddha head behind Mahathat Temple which is the major tourist attraction and the iconic image of Ayutthaya. Wat Chaiwatthanaram monastery, Wat Yai Chai Mongkol, Wat Na Phra Men, Wat Putthaisawan, Bang Pa-In and Chao Sam Phraya National Museum are the other attractions in Ayutthaya.
Also Read: 9 Splendid Festivals Celebrated in Thailand
---
Krabi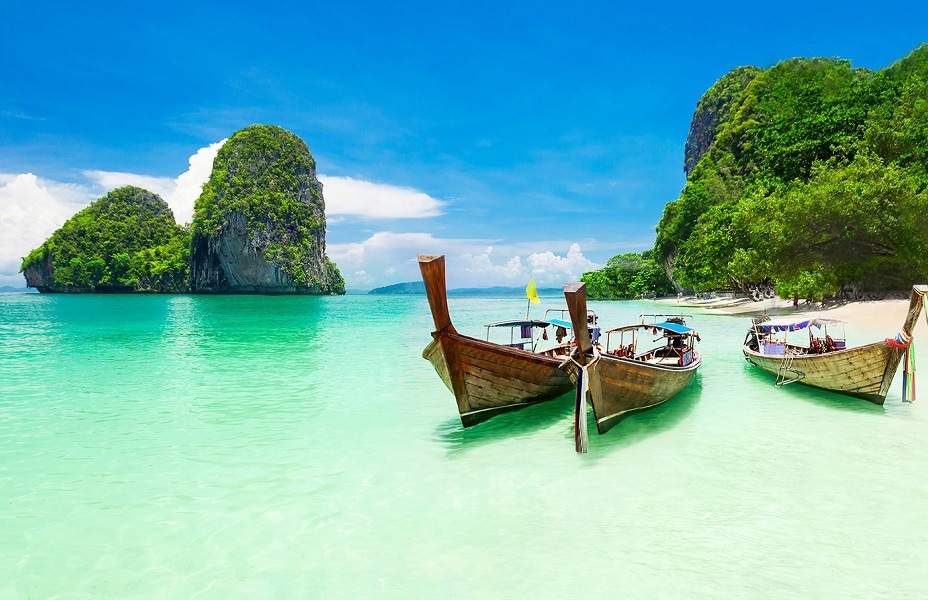 Nestled in the midst of mangrove forests and limestone karsts, Krabi is the capital of the Krabi Province in the Southern Thailand near Andaman coastline. Krabi province is divided into eight regions which also includes Koh Lanta and Phi Phi Islands. With its jagged karst limestone islands, scenic views, breathtaking beaches and marvelous temples, Krabi is a very popular beach destination in Thailand and also must include place in Thailand Packages. This island town also serves as the base to explore all the natural resources within the province.
Home to iconic Koh Phi Phi Island and neighboring Koh Lanta, Krabi is the most relaxing destination to be in all of Thailand that has the most stunning natural scenery, gorgeous white sandy beaches, a jungle and over 200 islands just of the coast. It also has the stunning Railay Beach and the popular beach town of Ao Nang and Thai foodie heaven of Krabi Town itself. Other places of interest in Krabi are Noppharat Thara Beach National Park, Koh Phi Phi, Khao Phanom Bencha National Park, Khao Khanap Nam, Koh Poda, Koh Ngai, Ao Maya, Tha Pom Khlong Song Nam, Emerald Pool, and Khlong Thom Hot Spring Waterfall. From seafront restaurants to water sports, golf, and vibrant nightlife, the coast around Krabi has a little bit of everything for its visitors.
Also Read: Thailand Visa Guide for Indians
---
Chiang Mai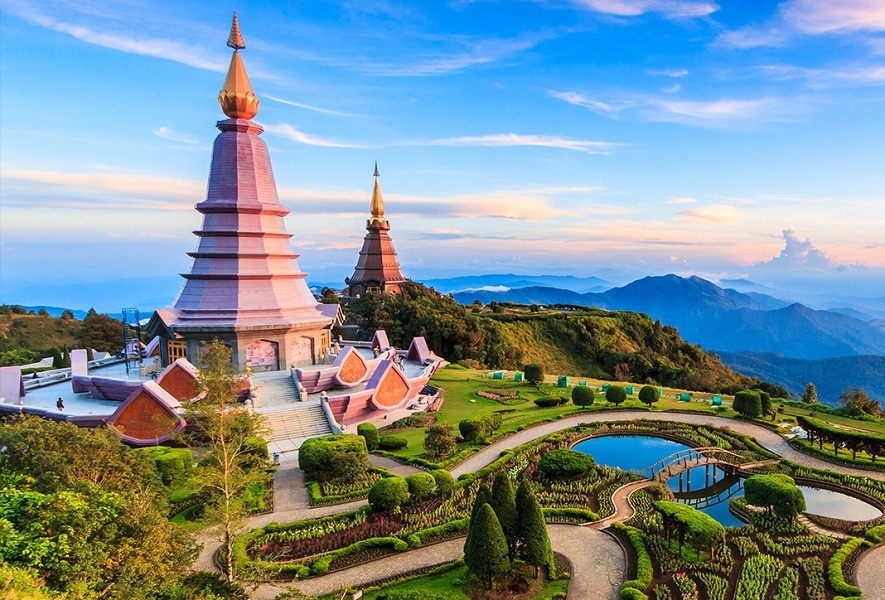 Often called as the 'Rose of the North', Chiang Mai is the hub of Northern Thailand and the Capital City of the Province of this name. Founded 800 years ago, Chiang Mai was once the capital of the Lanna Kingdom, but now is a major draw for backpackers and tourists wishing to explore the lush landscapes, hill tribes and outdoor adventures of the region. However, Chiang Mai itself is an important cultural city where historical and modern Thai architecture and traditions coexist. The city transforms at night into a shopping wonderland, with market stalls and a plethora of small restaurants and bars.
Surrounded by the mountains, rivers, waterfalls and jungles, Chiang Mai is a welcome retreat from the southern heat. The city itself has more than 300 temples to explore and a wonderful elephant sanctuary, as well as Thai cookery classes and a fascinating night bazaar. Wat Phra That Doi Suthep, Doi Inthanon National Park, Wat Umong, Wat Phan Tao, Royal Park Rajapruek, Wat Phra Singh, Wat Chedi Luang and Chiang Mai Night Bazaar are the top attractions in Chiang Mai. It is also acts as a convenient base for adventure sports including hiking, biking and rafting. Alternatively, head into the mountains to visit the region's many hill tribes.
---
Pattaya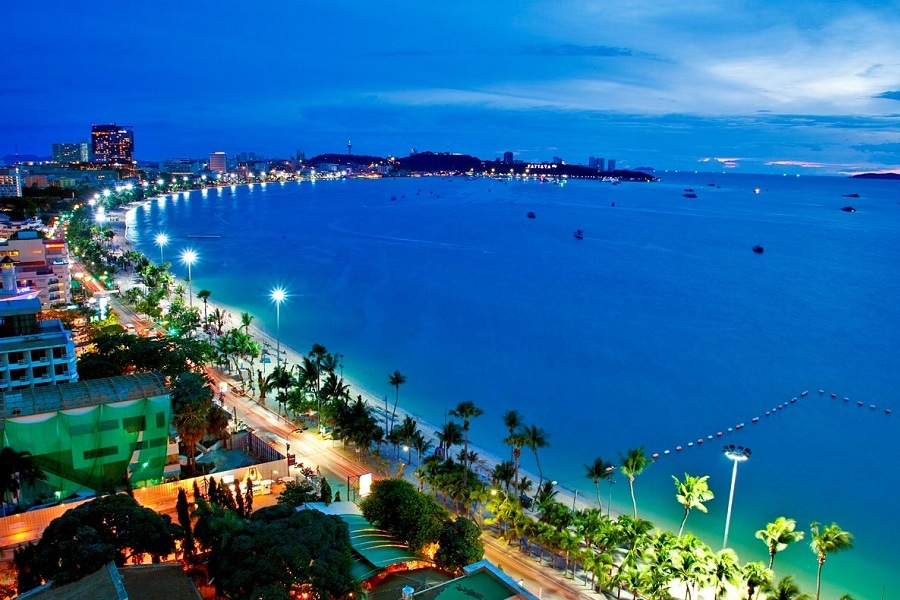 Located a stone's throw away from Bangkok, Pattaya is a popular resort city located on the Eastern Gulf Coast of Thailand. Pattaya is best known for its glittering nightlife and never-seen-before parties that attracts international travellers as well as weekenders from Bangkok and expats. After a spate of development in the 1970s, this seaside resort town became a favourite destination for Adult tourism in Thailand, though in recent years the government has made efforts to turn Pattaya into a family-friendly destination.
Established around a wide crescent shaped Ao Pattaya bay, Pattaya city has numerous tourist attractions ranging from zoos, themes parks, temples, night markets, thrilling water sports, mouthwatering cuisine and relaxing tropical setting. Jomtein Beach, Ko Phai, the Sanctuary of Truth, Wat Phra Yai, Buddha Mountain, Pattaya Floating Market, Nong Nooch Botanical Gardens and Walking Street are the top places to visit in Pattaya. There are so many things you can do in Pattaya such as water sports, sunbathing, go-karting, bungee jumping, horse riding, diving and cabaret show watching.
Must Read: 13 Most Popular Tourist Attractions in Bangkok
---
Chiang Rai
Located just northeast of Chiang Mai, Chiang Rai is a picturesque city in northern Thailand near the borders of Laos and Myanmar. Founded in 1262 CE by King Meng Rai, the former capital of the Lanna Kingdom is filled with cultural and natural wonders, including the Golden Triangle where Thailand, Laos, and Burma come together. With relaxed atmosphere, remote tribal villages and ancient temples make this little mountainous city a popular alternative to Chiang Mai for travellers who are interested in a little more Thai ethnic culture.
Once the hub of opium trade, it is now famous for its temples and other cultural attractions. The most famous attraction in Chiang Rai is probably the White Temple or Wat Rong Khun. Along with White Temple, Black Temple, Wat Phra That Doi Chom Thong, Wat Klang Wiang, Clock Tower, Doi Mae Salong, Phu Chi Fa Forest Park, Mae Fah Luang and Khun Korn Waterfall are the best places to visit in Chiang Rai. It is an ideal destination for jungle trekking and engaging with the hill-tribe culture.
---
Koh Samui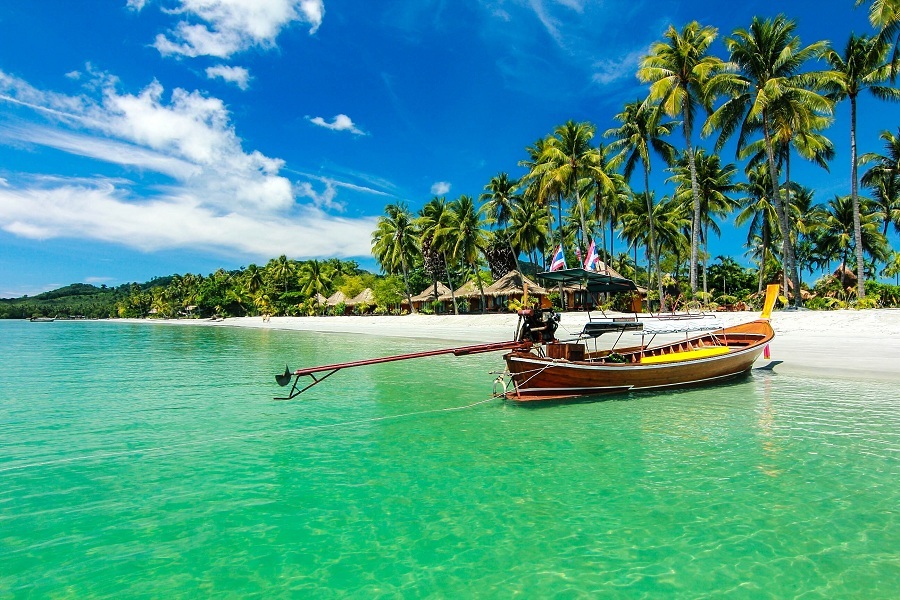 Koh Samui or Ko Samui is an island located in the Chumphon Archipelago in the Gulf of Thailand. Situated in Surat Thani province of Thailand, Ko Samui is the second largest island in Thailand after Phuket and also a well-known beach destination in Southeast Asia. Samui is surrounded by more than sixty other islands. Koh Samui is one of the most popular places to visit in Thailand because it has wonderful nature, white beaches, clear seas, waterfalls, spectacular viewpoints, beautiful temples, and many activities for tourists to enjoy. It also has an exciting nightlife with plenty of beach clubs.
Chaweng, Lamai, Taling Ngam, and Natien are the popular beaches in Koh Samui. Besides beaches, Nathon, Namtok Hin Lat, Ban Lipa Yai, Butterfly Garden, Big Buddha Temple and Bophut Elephant Camp are the other attractions. Koh Nang Yuan, the Angthong National Marine Park, Koh Tao and Koh Phangan are the popular destinations for day trips from Koh Samui. With crystal-clear waters and stunning corals, Koh Tao is considered as one of the safest diving and snorkeling destinations in the world. Home of the infamous Full Moon Party, Koh Phangan is blessed with tranquil beaches and tropical forest that is largely undiscovered by the party crowd.
---
Kanchanaburi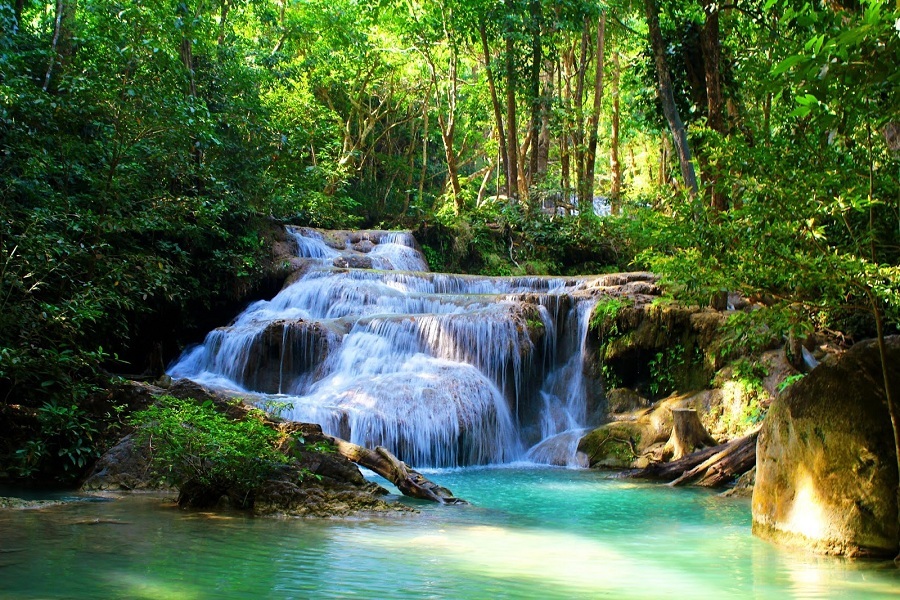 Located in the western Thailand, Kanchanaburi is a city situated at the confluence of river Kwai Noi and Kwai Yai. Become a famous tourist attraction after the novel 'The bridge over the River Kwai', Kanchanaburi is a great place for travelers of all kinds from nature enthusiasts to history lovers. Situated only two hours by bus from Bangkok, Kanchanaburi is filled with magnificent landscapes, fabulous natural waterfalls and plentiful hot springs. It also has a rich history, especially from the World War II era.
Well-known for World War II icons, Kanchanaburi is home to the most famous bridge constructed as part of the "Death Railway" intended to connect Bangkok and Rangoon. Allied War Cemetery, Jeath War Museum, and the World War II Museum are the other popular historical attractions here. Apart from these, Srinakharin Dam, Vajiralongkorn Dam, Sai Yok National Park & Waterfall, Erawan National Park &Waterfall, Mon Bridge, Mueang Sing Historical Park, Three Pagodas Pass and Wat Wang Wiwekaram are top places to visit in Kanchanaburi.
---
Pai
Named after Pai River, Pai is a small town in Mae Hong Son Province of Thailand near the Myanmar border. Pai is situated between Mae Hong Son and Chiang Mai and is also part of the Mae Hong Son Loop. Surrounded by mountains everywhere, this beautiful town of Pai was once a sleepy refuge for "hippies" only a short while ago. Now, Pai is a predominantly tourism-oriented town, offering a relaxed atmosphere with a broad tourist and pretty serious backpacker scene.
Nestled in the mountains and surrounded by waterfalls and wondrous hiking trails, Pai offers so many attractions to its visitors. Pombok Falls, Wat Phra That Mae Yen, Mo Paeng Falls, Pai Circus School, Tha Pai Hot Springs, Tham Lod Caves and Pai Canyon are the top places to visit in Pai. Often called as the Thailand's hill tribe heartland, the region of Pai is home to several colourfully dressed tribes and even more colourful cultures. Tourists can also float down the Pai canal on a bamboo raft and go for an evening stroll at the walking street.
---
Sukhothai
Sukhothai is a small historical city located in the Lower Northern Thailand. Sukhothai province, whose name means "the dawn of happiness", was the first capital of Thailand in the 13th century CE. Towering monuments with exquisite details and well-documented records now make the ancient Siamese capital a premier heritage destination in Southeast Asia and also among the most visited ancient sites in Thailand during Thailand Trip.
A UNESCO World Heritage City, Old Sukhothai is a stunning temple complex located 12 km to the west of today's Sukhothai. Most historically significant temple ruins are housed inside the Sukhothai Historical Park and nearby Si Satchanalai Historical Park. The Sukhothai Historical Park contains the ruins of 21 ancient temples, stupas and other buildings. Wat Mahathat, Wat Si Chum, Sangkhalok Museum, Wat Traphang Ngoen, Wat Sra Si, Wat Sorasak, Ramkhamhaeng National Museum and Wat Chetuphon are the other popular places in Sukhothai. Besides these, Sukhothai itself is a quiet rural city where you can still relish the charms of Thailand's rustic lifestyle. This historical city also serves as a venue for the very popular Loy Krathong Festival of Thailand held annually on the full moon day in November.
---
Khao Sok National Park
Khao Sok is a national park perfectly situated on the mainland between Phuket, Krabi, Khao Lak and Koh Samui in Southern Thailand. Established as Thailand's 22nd national park, Khao Sok is one of the most beautiful wildlife reserves in Thailand and also a fantastic place to go on vacation as part of Thailand Holiday Packages. Spread over an area of 739 Sq. Km, Khao Sok is a rainforest with great diversity of plants and wildlife. The park is home to wild elephants, leopards, a range of monkeys including dusky langurs, snakes, and over 180 species of birds. The park is also home to the rare Rafflesia, the world's largest flower, which grows to a diameter of around 80 cm and blooms once a year in January or February.
The main attractions of the park are iconic limestone hills, waterfalls, and raft houses spread over Khao Sok Lake and caves. Close elephant encounters, jungle trekking on foot and canoeing are the popular activities in the park. Apart from hiking and exploring the lake by boat, many visitors take up the opportunity to do guided bird watching hikes, night safari tours, more extreme overnight camping treks, bamboo rafting along the Sok River.
Most Popular International Tours
---
Santhi is an avid traveler and primary contributor to the blogs at Trawell.in. She has explored most of the states in India and gained vast knowledge on tourist destinations in India and abroad. She also contributes content to other travel websites.