Known worldwide for its amazing natural beauty, Vietnam is regarded as one of the most popular beach destinations in Asia and among the most affordable international destinations for Indians. Besides, this Southeast Asian country is also known for its authentic Vietnamese cuisine. The cuisine relies on a balance of salty, sweet, sour and hot flavors, achieved through use of fish sauce, cane sugar, the juice of kalamansi citrus fruit and chilli peppers. Often made from simple ingredients, Vietnamese food is one of the healthiest cuisines around the world, as it has generous combination of fresh herbs and greens paired with rice, noodles, seafood, pork and beef. Check here the list of top 12 Vietnamese dishes you must try during your vacation as part of Vietnam Tour Packages.
Pho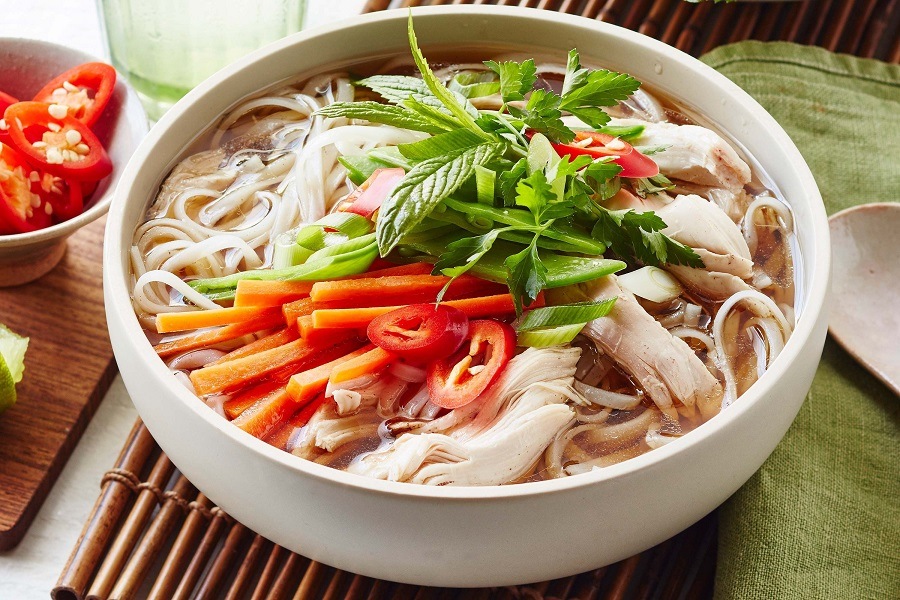 Often considered as the Vietnam's national dish, Pho is the most popular among all Vietnamese dishes and also ranked as one of the most delicious dishes in the world. Locally pronounced as 'fuh', it is basically a clear soup consists of a light beef or chicken broth flavoured with ginger and coriander, flat rice noodles, spring onions and slices of chicken, pork or beef. It is considered to be one of the most balanced dishes as it contains carbohydrates, good proteins, little fat, lot of water, vitamins, minerals and antioxidants. Pho is cheap, tasty, and widely available everywhere from street stalls to high-end restaurants throughout the day while Vietnamese people normally enjoy Pho as a breakfast food. Gia Truyen in Hanoi is the best place to try this authentic dish during your Vietnam Tour. Besides, Hanoi is also known for Tran Quoc Pagoda, one among the top pagodas in Vietnam.
---
Banh Mi
Another popular Vietnamese dish after Pho, Banh Mi is a unique French-Vietnamese sandwich infused with flavours, ingredients and tastes from the two countries. In Vietnamese language, Banh means bread and mi means wheat. This baguette sandwich filled with a choice of meat, and fresh vegetables seasoned with pepper mayo, chilli sriracha and soy, is so delicious that have attracted a growing fan base around the world. Though its origins are French, the Vietnamese have made it distinctively their own with an assortment of fillings that usually revolve around pork. These crispy baguettes are usually stuffed with a wide range of meat fillings like roasted pork belly, fried egg, grilled pork loin, fried fish with turmeric and dill, boiled sausages, Chinese barbecued pork, and poached chicken. Available at almost every street corner in Vietnam, the Banh My Queen in Hoi An is the best place to taste this crispy baguette during your Vietnam Trip.
---
Com Tam
Popular in Ho Chi Minh City, Com Tam is another famous dish on Vietnamese food list. Com Tam literally translate to 'broken rice' in Vietnamese language and is traditionally served with barbecued pork, fried egg, prawn paste cake, and diced green onions. This simple meal is one of the most popular dishes from South Vietnam that can be enjoyed any time of the day and is relatively inexpensive. As a dry dish, it would normally be served with a small bowl of fish sauce as well as a small bowl of soup broth with garlic chives. This slow cooked dish is must try one if you are in Vietnam as part of Vietnam Tour Packages.
---
Goi Cuon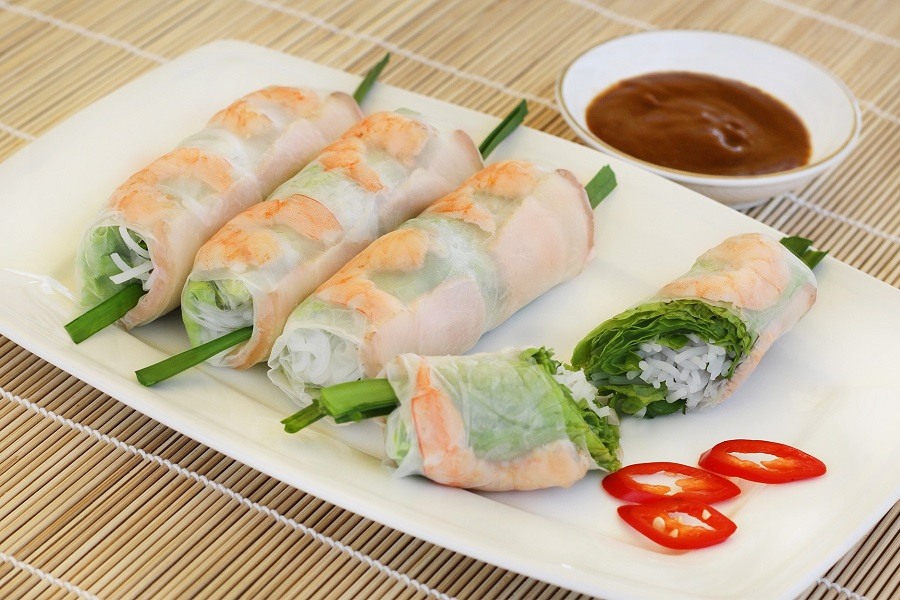 Goi Cuon, the Vietnamese Spring Rolls is a refreshing appetizer introduced to Vietnam by Chinese immigrants. The translucent cigar-shaped rolls are made with shrimp, pork, vermicelli noodles, and an assortment of vegetables rolled in rice paper. Literally means salad rolls, these light and healthy fresh spring rolls is also a healthier alternative to Cha Gio, the Chinese deep-fried spring rolls. This refreshing summer appetizer is best enjoyed with peanut-rich sauce and lettuce salad. Almost every region in Vietnam has its own distinct spring roll but Quan An Ngon in Hanoi and District 7 in Saigon are the best places to try this awesome snack in Vietnam as part of Vietnam Packages.
---
Banh Xeo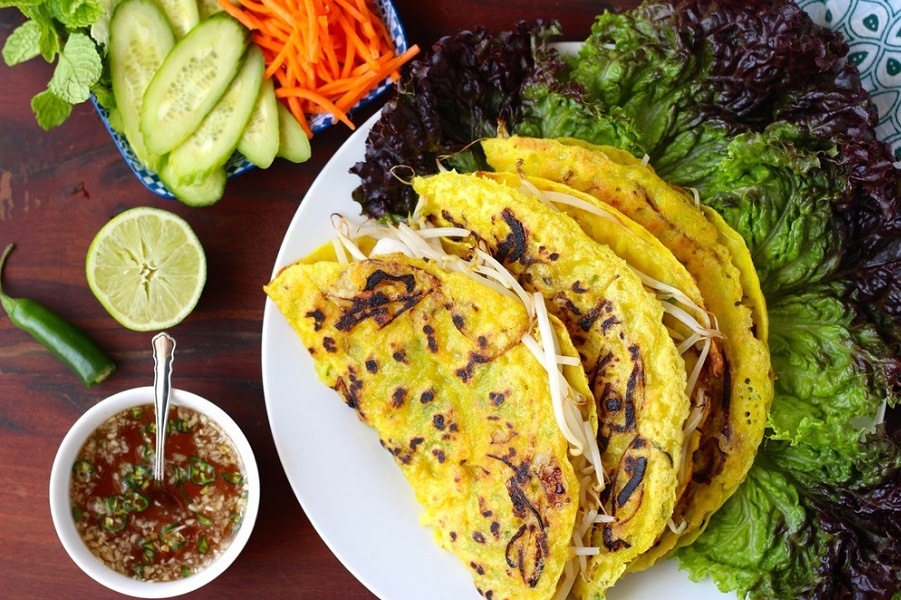 Made from rice flour flavored with turmeric and coconut milk, Banh Xeo is a savoury pancake. Banh Xeo got its name from two Vietnamese words, Banh means cake and Xeo means the sizzling sound when the batter is poured on to the hot frying pan. This traditional Asian recipe is the Vietnamese version of a savory French crepe filled with bean sprouts, sliced pork belly, and shrimp. These stuffed crepes are then wrapped up with lettuce and herbs and then dip it in a spicy sauce before being eaten. Most roadside stalls, local markets, and restaurants sell a platter of Banh Xeo while Banh Xeo 46A in Ho Chi Minh City is the best place to try these pancakes.
---
Banh Cuon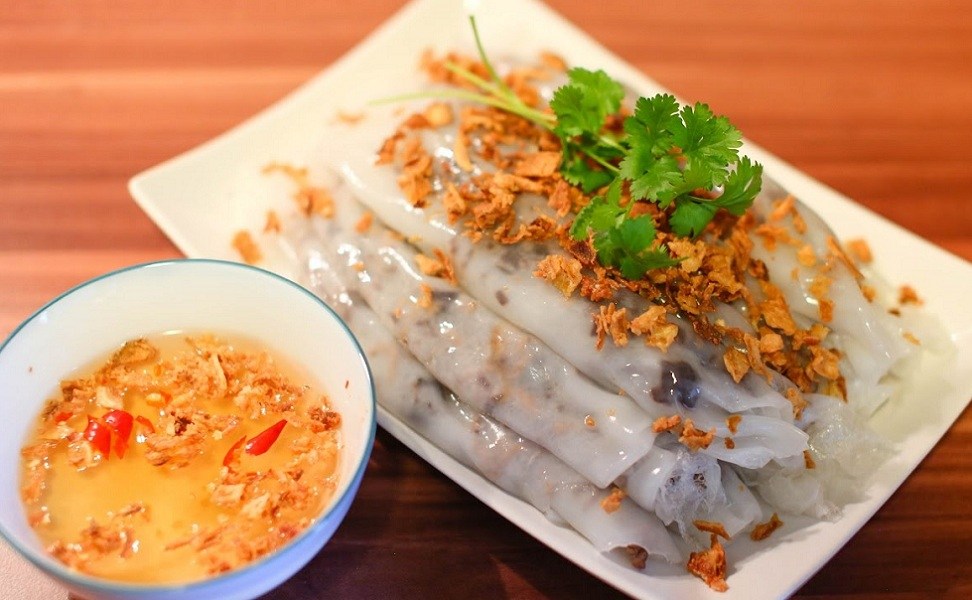 Banh Cuon is another Northern Vietnamese specialty that you don't want to miss while holidaying in Vietnam. Literally translates to "rolled cake",  Banh Cuon is a steamed rice rolls made from a thin, wide sheet of steamed fermented rice batter filled with a mixture of seasoned pork, finely chopped wood ear mushrooms, and minced shallots. Served with a mixture of fish sauce including sugar and lime, this dish is usually eaten for breakfast in Vietnam. Due to its popularity, one can easily spot plenty of roadside vendors selling Banh Cuon in Vietnam while the best place to try this dish is Banh Cuon Gia Truyen in Hanoi, among the top places to visit in Vietnam.
---
Che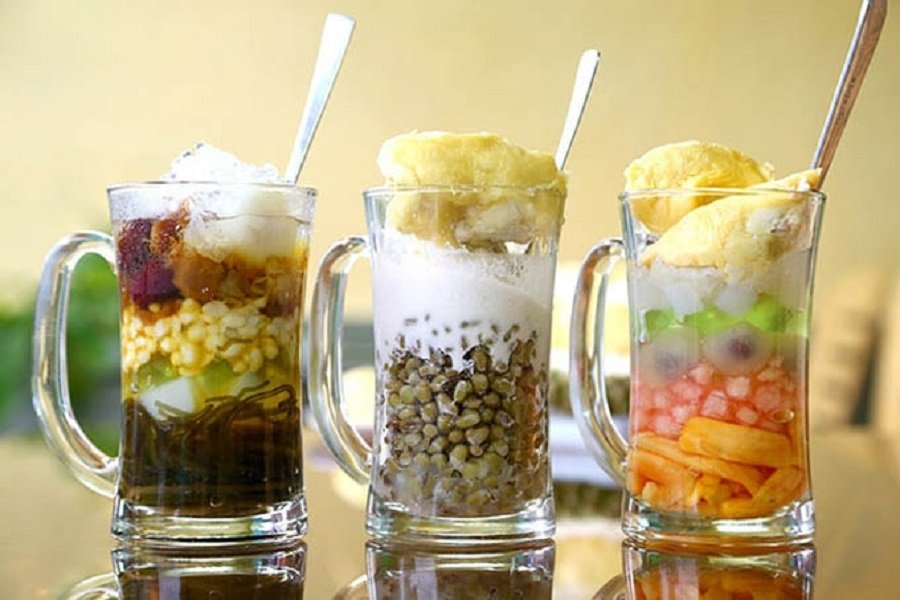 "Chè" is a general Vietnamese word to describe any traditional Vietnamese sweet pudding or dessert soup. Originated in Northern Vietnam, it is typically made of several ingredients mixed together and served in a large glass. There are so many varieties of Che that are made with different ingredients such as mung beans, black-eyed peas, kidney beans, tapioca, jelly (clear or grass), fruit (longan, mango, durian, lychee or jackfruit), and coconut cream. Che suong sa hat luu, Che buoi (grapefruit pudding), and Che thap cam (assorted pudding), are among the most popular ones. Che is the perfect end to your meal, especially if you had a light meal like Banh Cuon on a scorching day in Vietnam.
---
Bun Cha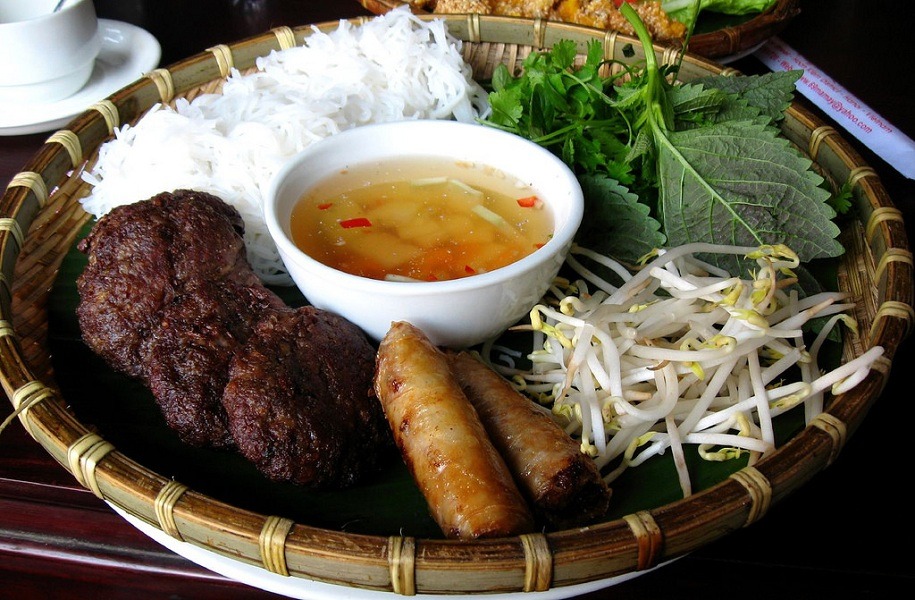 Bun Cha is one of the oldest favorites of Northern Vietnam cuisine and this is the dish that President Obama tried during his Vietnam Trip. This is the top choice of Vietnamese for lunch.  It comes with grilled pork sausage patties, a plate of vermicelli noodles, a basket of herbs, bean sprouts, pickled veggies and the ever-important nuoc cham sauce. The flavorsome smoky barbeque pork of Bun Cha is the best part of the dish. Bun Cha is essentially a deconstructed version of the popular chargrilled pork and noodle bowl known as Bun Thit Nuong, served across all regions of Vietnam. 1 Hang Manh and Bun Cha Huong Lien in Hanoi are the best places to try this Vietnamese dish as part of Vietnam Packages.
---
Xoi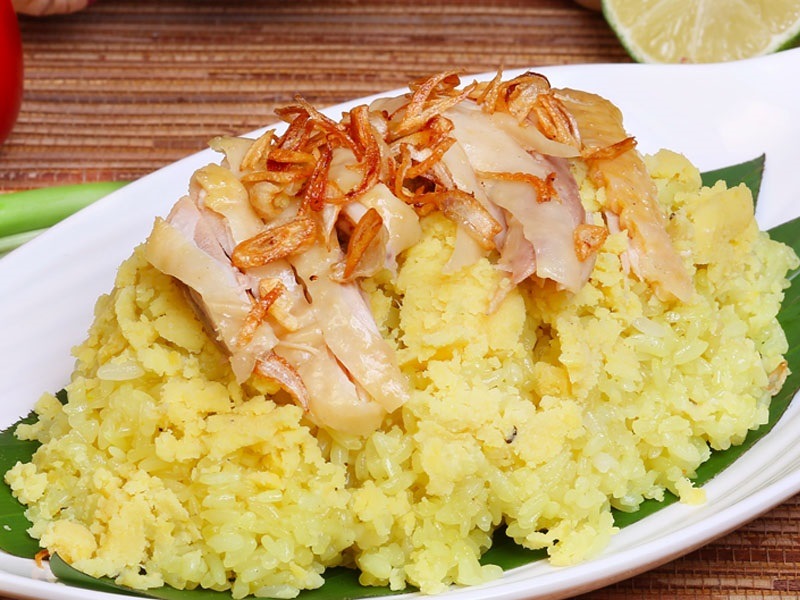 Xoi is a sweet or savory Vietnamese dish made from glutinous rice or sticky rice and other ingredients. In Vietnam, the savory sticky rice, known as Xoi Ga, is a popular breakfast item that comes with any number of mix-ins like slithers of chicken or pork and fried or preserved eggs, along with a scattering of dried shallots on top. While Xoi ngot, the sticky rice dessert often made during special occasions such as Vietnamese New Year, is skillfully wrapped in a banana leaf, topped with grated coconut, mashed mung beans, and delicious sesame seeds. One can find this dish anywhere in Vietnam from the roadside vendors to luxuriously traditional restaurants. Ho Chi Minh City is the best place to try this delicious dish while in Vietnam Tour.
---
Cha Ca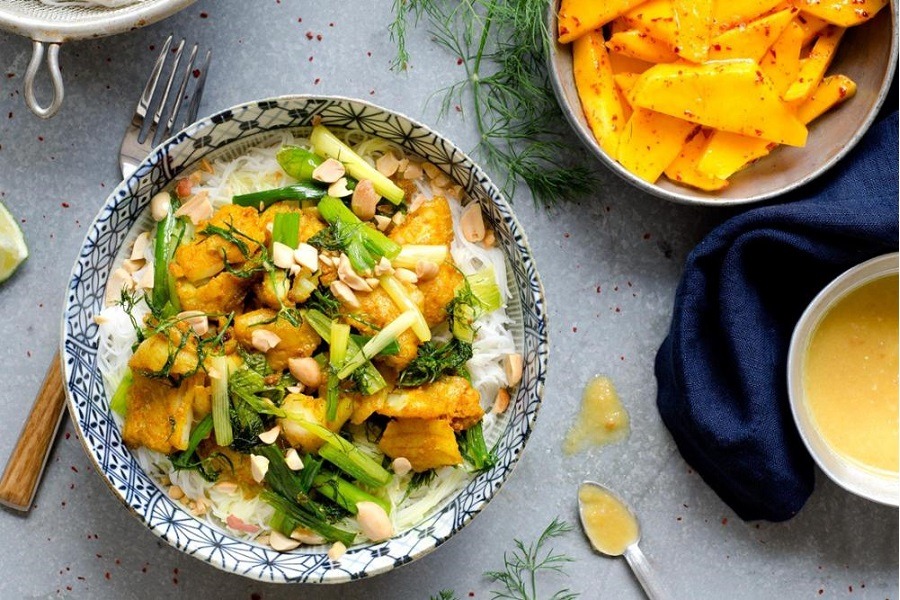 A delicious delicacy for the sea food lovers, Cha Ca is one of the famous and unique dishes of Hanoi, the capital city of Vietnam. Cha Ca is made with chunks of freshwater fish (usually catfish) marinated in turmeric, ginger, garlic and fish sauce, and grilled over charcoal for a smoky note. It is then served with fresh herbs, occasionally dill, crushed peanuts, rice noodles and dipping sauces. This Vietnamese food item is full of flavours and a popular culinary delight. Cha Ca Thang Long Restaurant in the Old Quarter of Hanoi is the best place to taste this Hanoi specialty while holidaying in Vietnam.
---
Bun Bo Hue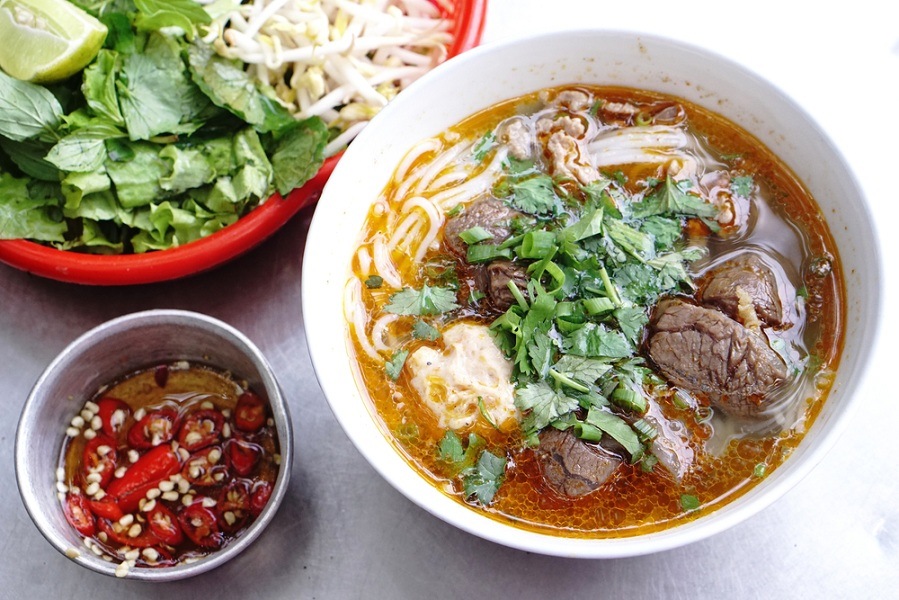 Hue, the former imperial capital of Vietnam, is known its local dishes and Bun Bo Hue is one of them. With dollops of red oil floating on top, Bun Bo Hue is spicy noodle soup and definitely a must try Vietnamese dish. Served with thick rice noodles, the broth is prepared by simmering beef bones and beef shank with lemongrass and then seasoned with fermented fish sauce and sugar. Later, very spicy chili oil is added during the cooking process and then it is served with chunks of huyet (congealed pork blood), pork hocks, peppery Vietnamese beef sausage, and sliced beef shank as toppings. This nice balance of spicy, sour, sweet, and salty, dish is delicious to eat on a rainy cold day. Bo Hue Quan Cam in Hue is the best place to try this dish in Vietnam.
---
Goi Ca
Goi Ga is one of the most well-known Vietnamese salads for its great taste. This refreshing Vietnamese salad is made by mixing shredded boiled chicken, shredded cabbage and spicy Vietnamese mint with the dressing made from lemon juice, sugar, fish sauce and salt. Crushed peanut is added as a topping. Vietnamese people usually eat this sweet, spicy and sour salad with steamed rice and fish sauce or chicken rice congee.
---
Most Popular International Tours