Situated in Southeast Asia, Vietnam is a small Republican country known for its wonderful natural beauty in the form of stunning beaches, lush rice fields, forested mountains and picturesque valleys. Besides, Vietnam is also home to number of pagodas and temples, where travelers can have a detailed look at well-preserved architecture, rich history as well as cultural heritage of Vietnam. From Buddhist monasteries to Hindu shrines, these enchanting temples are a must visit for every traveler who visit Vietnam as these are among the top places to visit in Vietnam.
Here is the list of 9 fascinating temples in Vietnam that are must include as part of Vietnam Tour Packages.
Bai Dinh Pagoda
Bai Dinh Temple is a spiritual and cultural complex on Bai Dinh Mountain in Ninh Binh Province of Vietnam. Consists of several old and new Buddhist temples, it is considered as the largest Buddhist temple complex in Vietnam and also a popular site for Buddhist pilgrims. Covering an area of about 1700 acres, the new complex was built in 2010 while the original pagoda is at the foothills. Built in Vietnamese architectural style, the complex consists of Bodhisattva Avalokitesvara temple, Phap Chu Temple devoted to the Shakyamuni Buddha, and a temple dedicated to Lord Buddha along with a bell tower.
Besides, the temple is also home to largest bronze statue of Buddha and the largest well in Vietnam. The temple also offers breathtaking views of the surrounding mountains, trekking trails in the Ba Chua Thuong Ngan forest, and limestone caves exploration.
Also Read: 13 Amazing Places to Visit in Vietnam
---
Tran Quoc Pagoda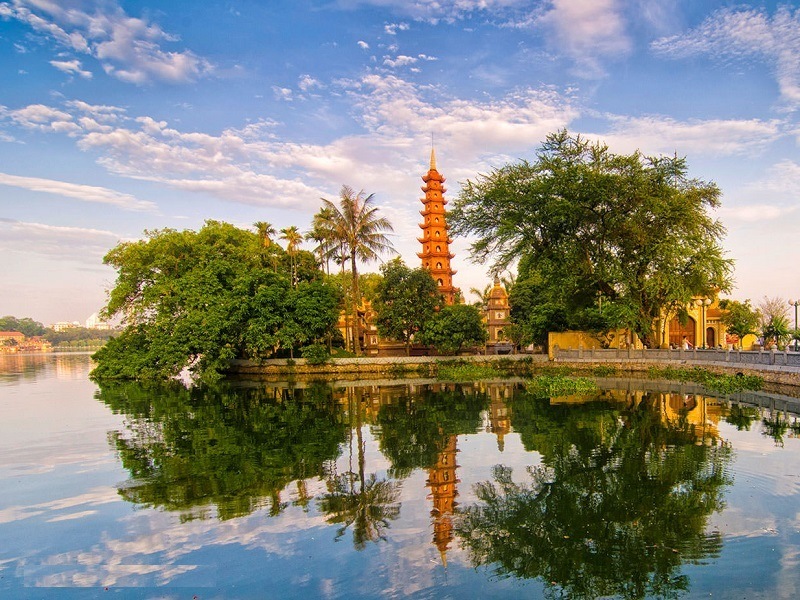 Dating back to the 6th century, Tran Quoc Pagoda is the oldest Buddhist temple in Hanoi situated on the banks of West Lake. Built as Khai Quoc Pagoda in 6th century during the reign of Emperor Ly Nam De, this Buddhist pagoda was originally located on banks of Red River and was relocated to its present location in 1615 AD due to the river's encroachment.
Designed according to strict rules of Buddhist architecture, the main pagoda stands at a height of 15 m with 11 levels while its surrounding structures include an incense burning house and a museum housing historical relics. Besides, on the grounds of Tran Quoc is a Bodhi tree, a sapling of the original tree in Bodh Gaya, India under which the Buddha sat and achieved enlightenment. With its magnificent architecture and picturesque settings, Tran Quoc Pagoda is one of the must visit places in Hanoi while in Vietnam Packages.
---
Emperor Jade Pagoda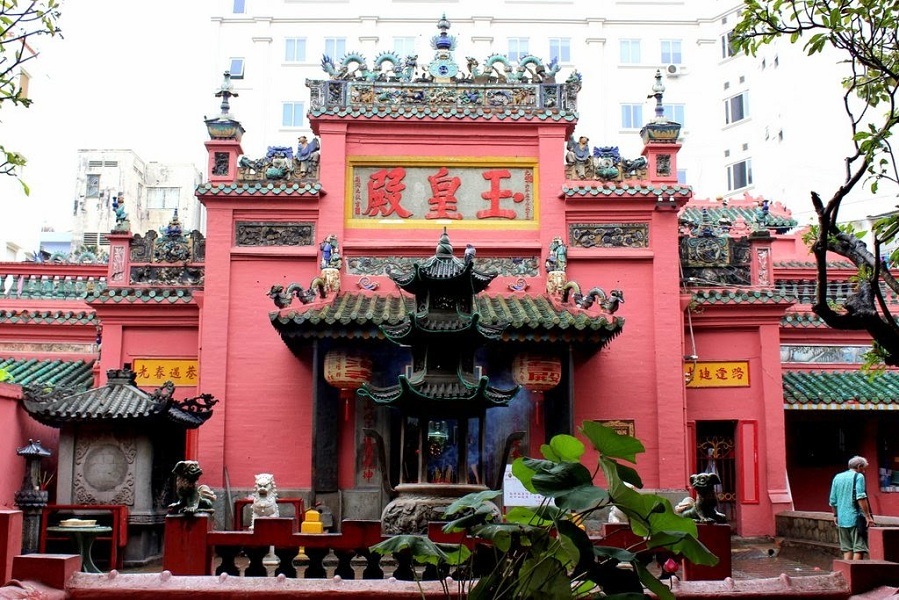 Located in Ho Chin Minh City, Emperor Jade Pagoda is another extravagant temple in Vietnam which was built in 1909 CE by a Cantonese community that migrated from Guangzhou province in Southwest China on behalf of Emperor Jade or King of Heaven. Also known as Tortoise Pagoda, this pagoda is a fine representation of Mahayanist branch of Buddhism that is practiced widely in Vietnam. The temple houses some intricate carvings of Taoist and Buddhist figure along with goddess of fertility Kim Hua, which is surrounded by figures of women and small children. Arguably one of the most historically important temples in Vietnam, the Jade Emperor Pagoda is even more famous in the news after former American President Barrack Obama visited the site in 2016.
Also Read: 12 Famous Traditional Vietnamese Dishes
---
Thien Hau Pagoda
Officially called as the Ba Thien Hau Pagoda, the Thien Hau Temple is a Chinese-style temple located in the Chinatown of Ho Chi Minh City, Vietnam. Dedicated to the Chinese sea goddess Thien Hau, or Lady of the sea, the temple was built in 1760 by Chinese immigrants but it has been renovated several times. Representing the Chinese architecture, the roof of the temple is decorated with small porcelain figures depicting scenes from Chinese religion and legends. The interior of the temple is actually a partially covered courtyard, at the end of which is the main altar of the 'Lady of the Sea' while the exposed portions of the courtyard contain large stone incense burners.
---
Cao Dai Temple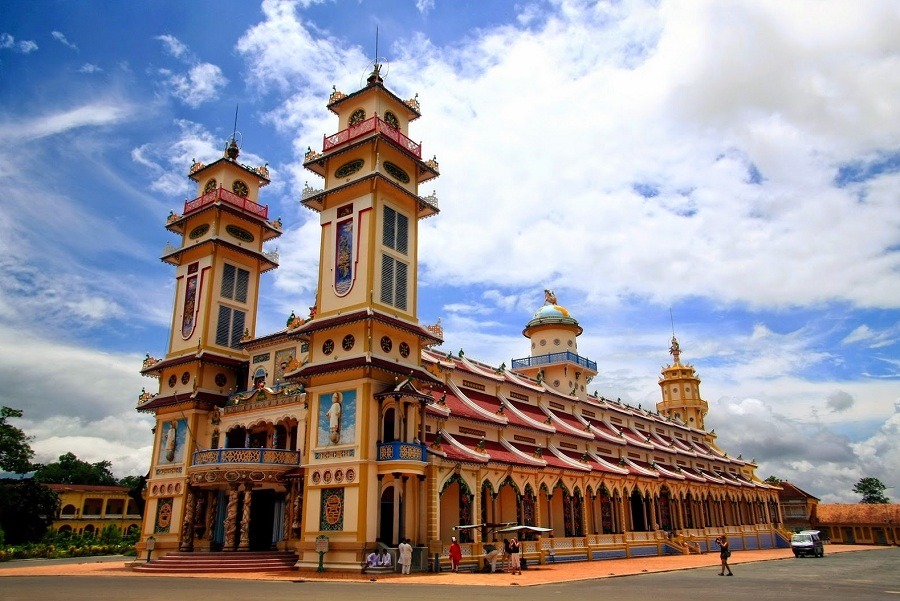 Just outside Tay Nihn town, Cao Dai Temple is a significant landmark of Cao Dai, a syncretist Vietnamese religious movement that incorporates aspect of Catholic, Confucianism, Taoism and Buddhist worship. Also known as the Great Temple or Holy See, the temple was built during the 1930s in a unique architectural style that reflects the Neo-Gothic, Baroque and Oriental styles. Closely resembles a Christian cathedral, it has two square towers, a long central nave with upper gallery, and side aisles.
The exterior and interior of the Great Temple of Cao Dai are both extravagantly decorated with abstract designs, images of saints, seven-headed cobras, and pillars wrapped with dragons. There is a huge sphere inside the temple which represents the left eye of God. The main highlight for those visiting the Cao Dai Temple is watching the Caodaist rituals, which is a great display of personal reflection and colour.
Related Tours: Most Popular Honeymoon Tours
---
Thien Mu Pagoda

Also called Linh Mu Pagoda, Thien Mu Pagoda is an ancient temple situated on the left bank of Perfume River in Hue city of Vietnam. Built in 1601 CE Nguyen Hoang, this seven storey pagoda is one of the oldest and tallest religious buildings in the country and among the must visit attractions during your Vietnam Trip. Literally translated to Heavenly Lady Pagoda, Thien Mu Pagoda is widely regarded as the symbol for the former Imperial Capital City, and is mentioned in many local folk songs.
Originally built as a small pagoda but over time it was expanded with more intricate features. One can see Dai Hung shrine, 12 huge wooden sculptures of temple guardians, the great bell, a tortoise with inscribed stele from 1715 and a complex of monastic buildings inside the temple complex. The temple also houses the car that took the monk Thich Quang Duc to his self-immolation in 1963 Saigon in the temple compound. There is a large cemetery at the far north end of the temple complex.
---
Temple of Literature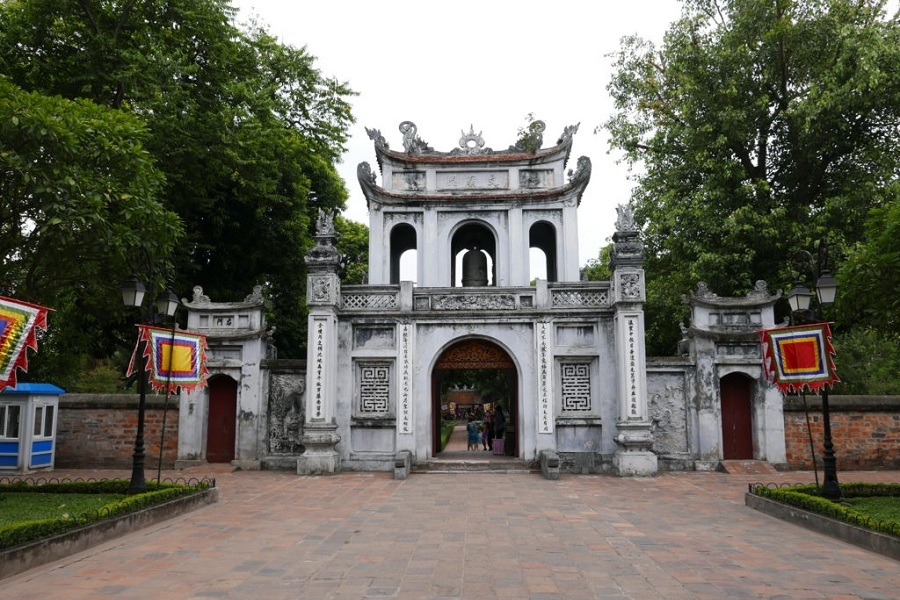 Situated in Hanoi, the Temple of Literature was the first national university in Vietnam which was established in 1706 CE under the rule of King Ly Thanh Tong as a place of learning rather than religion. Historically, it was used to teach and educate the local Vietnamese royalty, nobles and bureaucrats until 1779 CE. Dedicated to Chinese philosopher Confucius, the place still holds a spiritual significance to each generation of students and educators in Vietnam. Surrounded by lush-green landscaped gardens, the temple consists of five linear courtyards and an impressive twin-tiered Van Mieu gate. Being one of 23 special national monuments of Vietnam, the Temple of Literature is one of the popular temples in Vietnam and also must-see tourist attraction in Vietnam.
---
Van Thuy Tu Temple
The Van Thuy Tu Temple is the oldest temple in Phan Thiet of Vietnam dedicated to whale worship, as the fishing communities in southern Vietnam revere whales as divine beings who protect against bad weather at sea. The temple was built in 1762 CE in honor of a legendary whale Ca Ong, which was believed to save fishermen caught in a storm.  Recognized as a national relic site in 1996, this temple is now home to nearly 100 whale skeletons and other strange species of fish, most of which are 100-150 years old. Most noteworthy of them is the 19m whale skeleton, which is the largest whale's skeleton of Vietnam as well as in Southeast Asia.
There is a large burial ground in the temple complex for dead whales and the Whale funerals always attract large crowds. Besides, one can also find numerous artefacts from the Nguyen Dynasty like written decrees by 24 former kings, terracotta statues, incense table, lacquered boards, and an antique bronze bell.
---
One Pillar Pagoda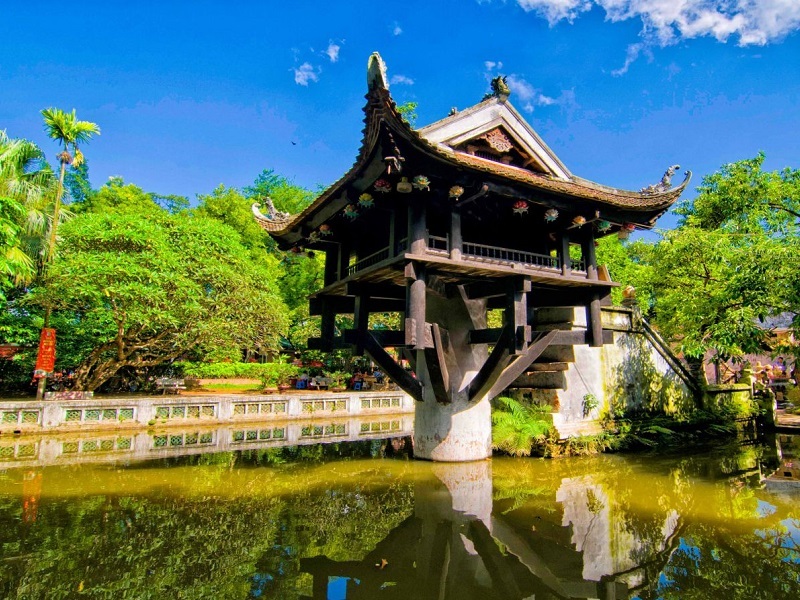 One Pillar Pagoda or Chua Mot Cot is a historic Buddhist temple situated next to Ho Chi Minh Mausoleum in Hanoi, the capital city of Vietnam.  Dedicated to Quan Am, the temple was originally built in 1049 CE by the Emperor Ly Thai Tong as a gratitude for having a son. Situated in center of a square shaped lotus pond, the One Pillar Pagoda is built of wood on a single stone pillar and it is designed to resemble a lotus flower growing up out of the water. Along with Perfume Temple, it is considered as one of two most iconic temples of Vietnam and among the must visit places during your Vietnam Tour.
Top International Tour Packages