It's hot almost everywhere in India but the month of May will be ecstatic, tumultuous, and paradisiacal for everyone with its mind-blowing festivals. While some are cultural festivals others let you get immersed in religious colors. However, these festivals bring a lot of excitement that makes people forget about the harsh climate and get together for a cheerful time. The best of music, dance and cultures will be on offer, bringing out glimpses of the country's diversity during these festivals. Fortunately, many of them take place in the hills, where the weather is not too hot and suitable for sightseeing as well as trekking in the mountains. If you want to be a part of these festivities, plan your trip coincide with any of these amusing festivals and relish the excellent traditions and celebrations as part of India Tour Packages.
Here is the list of some spectacular Indian festivals celebrated in May.
Ooty Summer Festival
Amongst the most acclaimed summer festivals in India, the 121 years old Ooty Summer Festival is an annual event organized by the Ministry of Tourism and Culture of India and the Tourism Department of Tamil Nadu in May in the beautiful hill station of Ooty. Held this year from 4th to 27th May, this is one of the popular seasonal festivals of India, particularly in the Nilgiris as no other festival promises such scenic beauty and relaxation as this festival does. The key attractions of Ooty Summer Festival are the Flower Show (17th to 21st May) at Ooty Botanical Garden, Vegetable Show in Nehru Park of Kotagiri, Rose Show in the Government Rose Garden of Ooty, and Fruit Show in Sim's Park of Coonoor. Summer is the peak season in Ooty and the fiesta enhances the charm of the place so this is a perfect occasion to visit this hill station as part of Ooty Tour Packages and display its common appeal among tourists the whole way across the world. Since the festival dates keep on changing, do confirm them if you plan to go for it.
Thrissur Pooram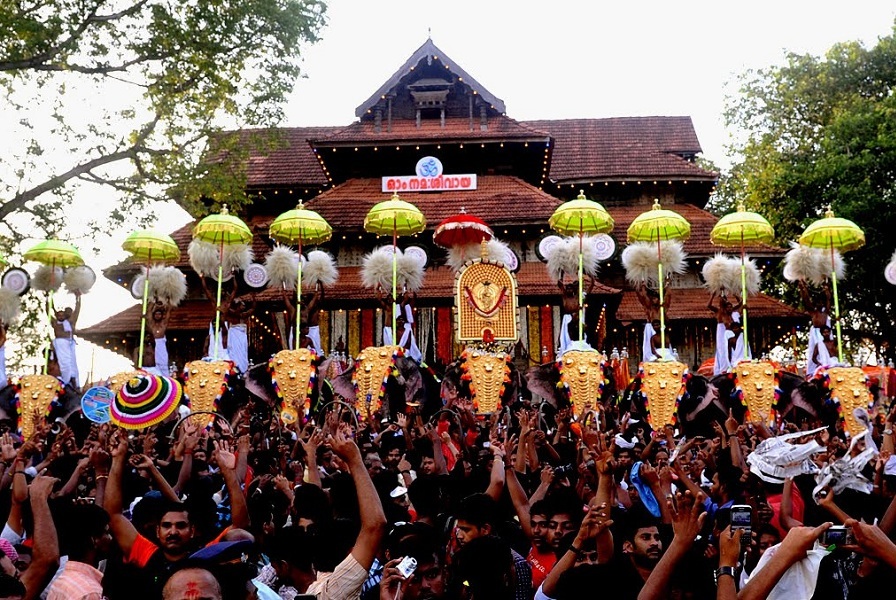 Known as the most colorful of all the temple festivals of Kerala, Thrissur Pooram, started by the erstwhile rulers of Kochi, is celebrated every year on the Pooram day in the month of Medom (April/May) in the premises of the Vadakkunnathan Temple, among the top places to visit in Thrissur. Held on 13th May this year, this spectacular 36-hour long event marked with colorful fireworks, percussion, and parading of caparisoned elephants lures lakhs of devotees as well as tourists from across the world as part of Kerala Packages. The main attraction of this festival is the grand procession of 30 beautifully decorated elephants carrying the deities accompanied by more than 250 musicians playing the folk tunes. One can also enjoy many cultural events like ornamental parasol display, drum concerts, dance, and music concerts as part of celebrations.
Moatsu Festival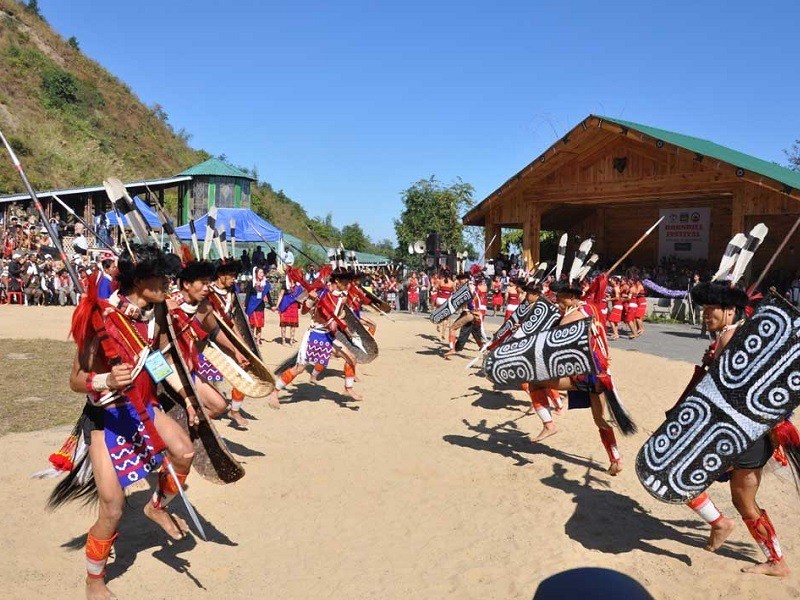 Festivals of Nagaland are eye-openers for travellers, as this tiny mountainous state of northeast India is full of tribal culture and customs which allow you to explore a different side of India. The Moatsu Festival of Nagaland is one such special festival celebrated by the Ao tribe every year in May after seeds have been sown in the fields. This year the festival will be held from 1st May to 7th May in the Ao town of Mokokchung, which is about 150 km away from Kohima. The festival is celebrated in order to bring joy, fun, and excitement in the tribe community after stressful activities like clearing fields, burning the jungles, sowing seeds, clearing the wells, and repairing houses. The significant part of Moatsu is Sangpangtu, where a huge fire is lit and the locals dressed in their best local attire sit around the bonfire and enjoy the special food and wine. One can expect a lot of singing, dancing, and merry-making at this festival.
International Flower Festival, Gangtok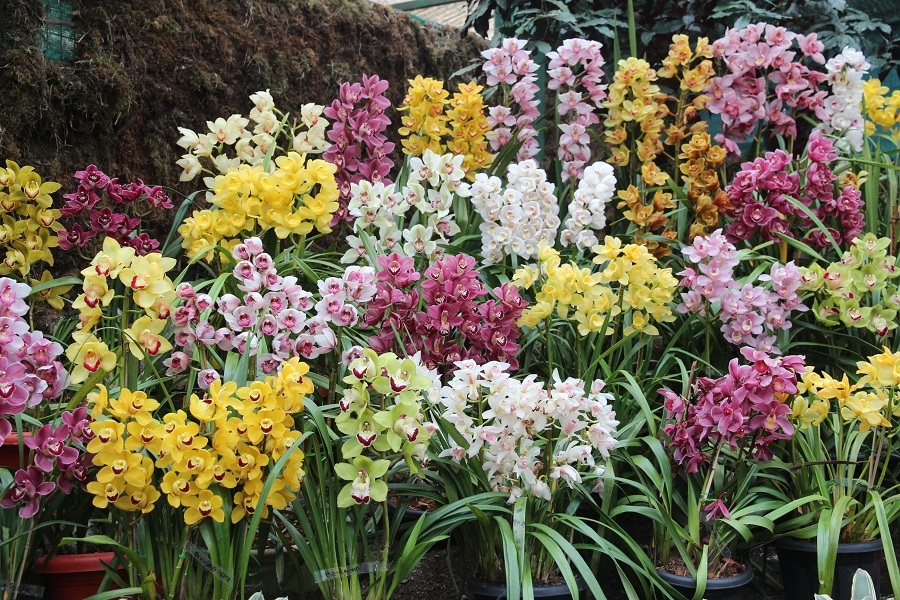 Organized by the Government of Sikkim, the International Flower Festival is a month-long festival celebrated in Gangtok. Held from 1st to 31st May this year, the main aim of this festival is to promote tourism and create awareness about the flowers and plantation of the region. At this festival, you can see around 600 orchid species, over 40 kinds of rhododendron, around 240 species of ferns and trees, 140 gladiolas and numerous other kinds of plants and flowers including the beautiful state flower of Sikkim, the orchid Dendrobium Nobile. Don't hesitate just pack your bags and head to Sikkim as it is the time to admire the variety and beauty of the native flowers and plants of this mountainous state as part of Gangtok Tour Packages. Besides, this festival also features entertaining cultural shows, local food festivals, white water rafting in Teesta, Yak Safari, local folk dances, a showcase of films on Sikkim tourism, and local handicrafts exhibitions.
Mount Abu Summer Festival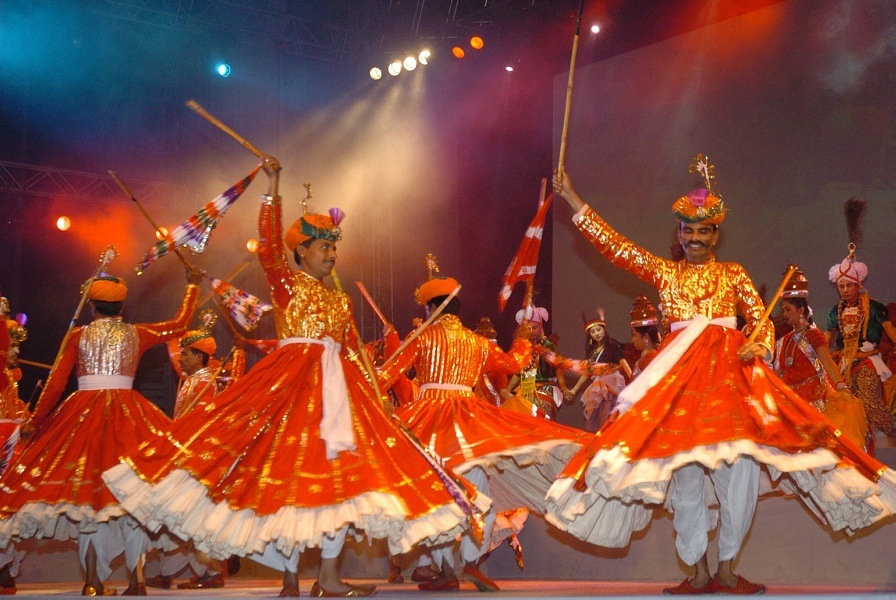 Right before monsoon, Mount Abu, the only hill station of Rajasthan gets a festive makeover with Mount Abu Summer Festival which starts on Buddha Purnima every year. Held from 17th May – 18th May 2019, this festival is organized by Rajasthan Tourism Department and is one of the most talked about cultural festivals in May in India. The main purpose of this festival is to showcase all the vibrant cultural activities of the land. This 2-day fiesta kicks off with traditional ballad singing followed by a ceremonial procession that starts from RTDC Hotel Shikhar and cultural performances at Nakki Lake. It also features skating race, boat race, horse race, tug of war along with CRPF band show and fireworks. What graces your evening during the festival days is the Shaam-E-Qawwali where you can enjoy listening to great Qawwali singers coming from across India as part of Mount Abu Tour Packages.
Dhungri Mela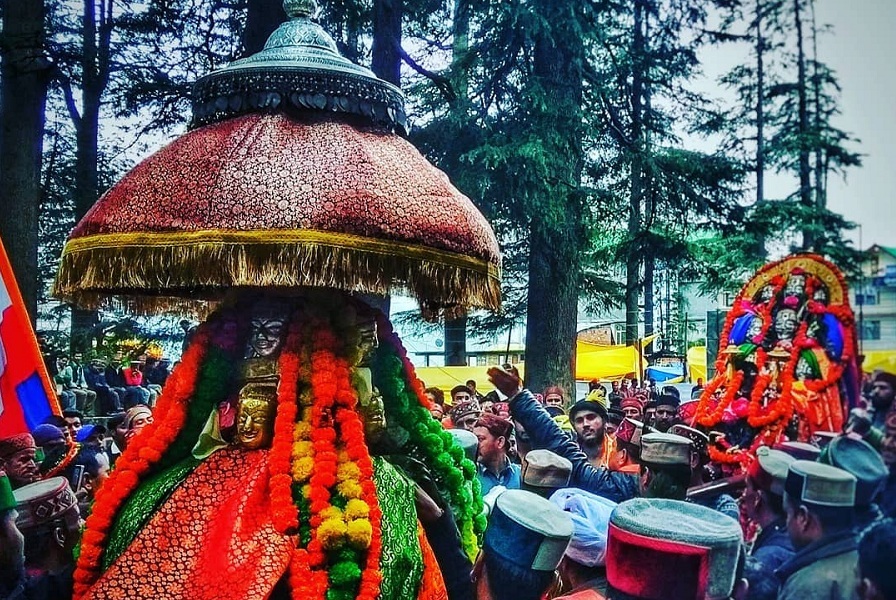 Festivals have been a very integral part of human civilization and celebrating them has been a tradition since ages. One such festival celebrated in Manali is Dhungri Mela held every year on account of birth anniversary of Goddess Hidimba, the consort of Bhima, one of the Pandava brothers. In 2019, this 3-day festival is held from 14th to 16th of May at Hidimba Temple, among the top places to visit in Manali. During this mela, deities from nearby villages are carried in procession to attend the celebrations. A large fair will be conducted with carnival rides, shopping stalls, singing and dancing along with the performances of the Kullu Natti folk dance. So, plan your summer trip to this magical hill station in the month of May in order to glimpse of local culture and lifestyle of folks as part of Manali Tour Packages.
Buddha Purnima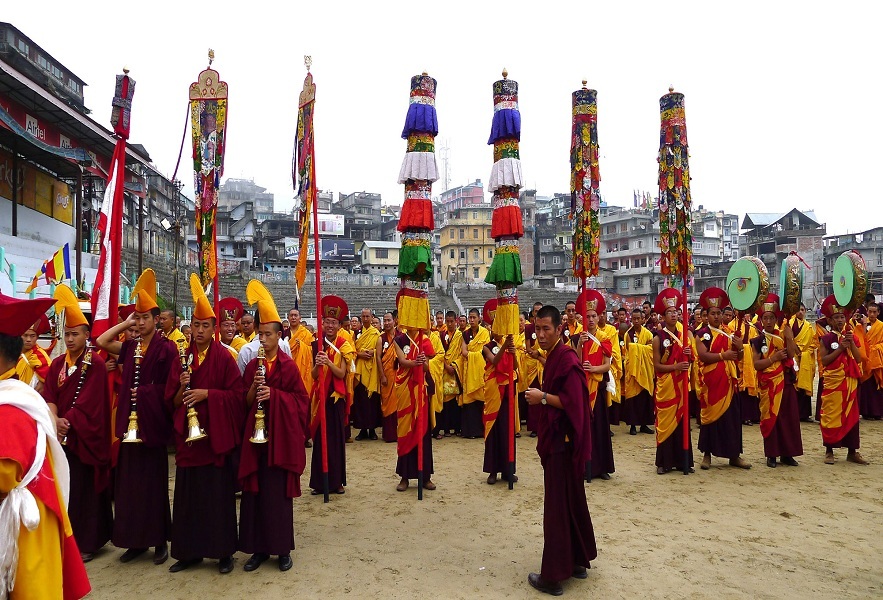 Buddha Purnima or Buddha Jayanti is one of the biggest festivals for the followers of Buddhism. Held on 18th May this year, this auspicious day marks the birth anniversary of Gautama Buddha, His enlightenment and death. In India, it is mainly celebrated in Ladakh, Sikkim, Arunachal Pradesh, Bodhgaya, Sarnath, Darjeeling, and Maharashtra. The festivities include prayer meets, sermons and religious discourses, recitation of Buddhist scriptures, group meditation, processions, and worship of the statue of Buddha. Indian Railways runs a special Mahaparinirvan Express Buddhist Tourist Train for the people who prefer to visit all Buddhist pilgrimage places in India.
Villianur Temple Car Festival, Pondicherry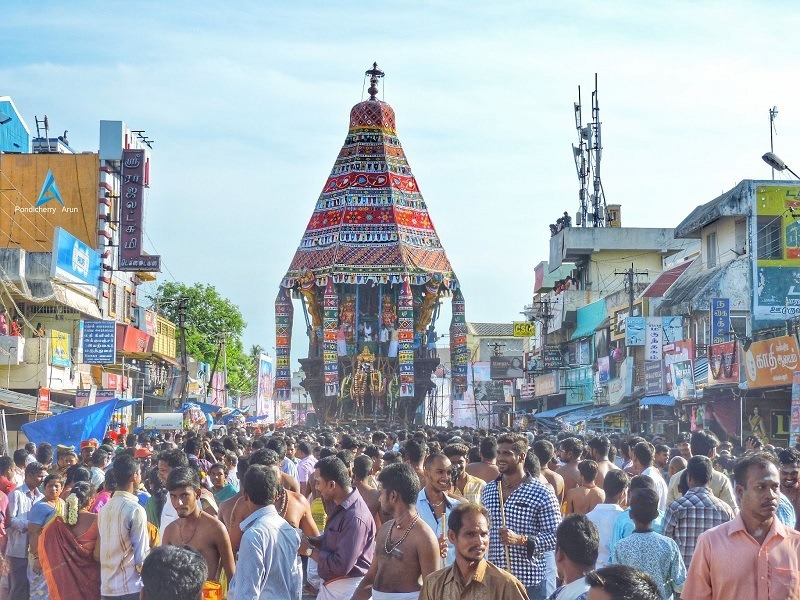 Villianur Car festival is a renowned annual temple festival celebrated at the Thirukameswarar Kukilambal Temple in Pondicherry. This shrine is counted amongst the most famous temples in South India and one of the top places to visit in Pondicherry. Also known as Brahmotsavam, it is celebrated on the Full Moon day in the month of May (i.e. 18th May) as part of 10 day Brahmotsavam festival. On this day the deity is taken out for a procession in a 15 meter high beautifully decorated chariot. Thousands of people throng the streets to pull the chariot irrespective of their caste and religion as it is believed to be highly auspicious. Several devotees distribute buttermilk, curd and rice to the crowd with a belief that their wishes will be fulfilled. This procession is quite a sight, and makes your Pondicherry Tour a memorable one.
Ramadan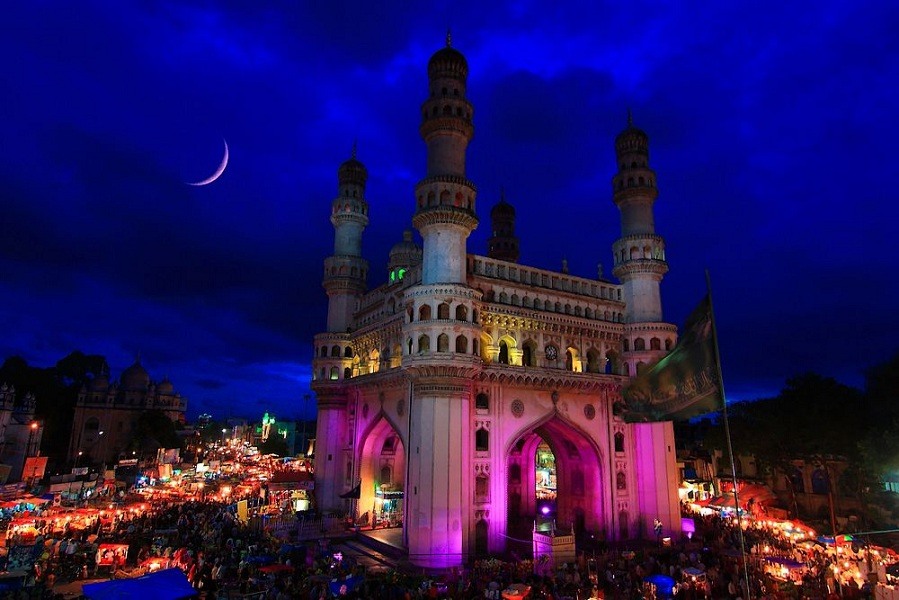 A significant festival for the followers of Islam, Ramadan or Ramzan is the ninth month of the Islamic calendar and is observed as a month of fasting prior to commemorate the first revelation of the Quran to Muhammad according to Islamic belief. In 2019, it begins on 6th May and concludes with the grand celebration of Eid-ul-Fitr on 5th June. During this month, Muslims traditionally fast daily from sunrise to sunset and turn their attention to God, with a focus on prayer and ritual purification. In the evenings, the streets of India are decked up and you get to taste some of the most delicious meat dishes and biryanis. Though Ramzan is celebrated all over the country, Hyderabad has no parallel in India when it comes to Ramzan celebrations. Don't forget to visit the night market at Charminar and taste sumptuous Haleem during Ramzan as part of Hyderabad Tour Packages.