Located on the Iberian Peninsula in Europe, Spain, officially the Kingdom of Spain is a beautiful country brimming with full of incredible places. With its wonderful cities, dramatic coastlines, charming landscapes and great architectural monuments, Spain held the second places after France in the list of most visited countries in the world. Apart from its wealth of historical monuments, this Mediterranean country is also known for mouth-watering Spanish Cuisine and world's finest wine. Here is the list of top tourist places to visit in this amazing land as part of Spain Tour Packages that can turn your dream into a reality.
---
Madrid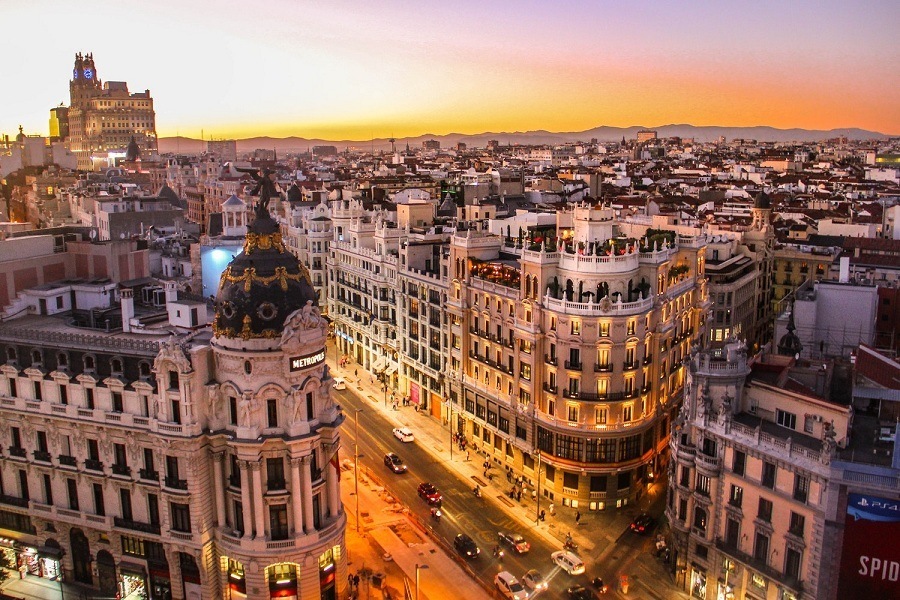 Madrid is definitely among the most beautiful cities in Spain and also a great destination for a European vacation. Famous for its rich cultural heritage, authentic cuisine and liveliest nightlife, the Spanish capital city is elegant and classy with ornate architecture, wide boulevards, manicured parks and royal palaces. The Royal Palace, Puerta del Sol and Plaza Mayor are the top places to visit in Madrid as part of Honeymoon Packages. Besides, Madrid is famed for its art and culture, with more than 70 museums including the world-famous Prado Museum, the Thyssen-Bornemisza Museum and Centro de Arte Reina Sofia, which holds some of Europe's most famous works from Picasso's Guernica to Velázquez's Las Meninas.
---
Barcelona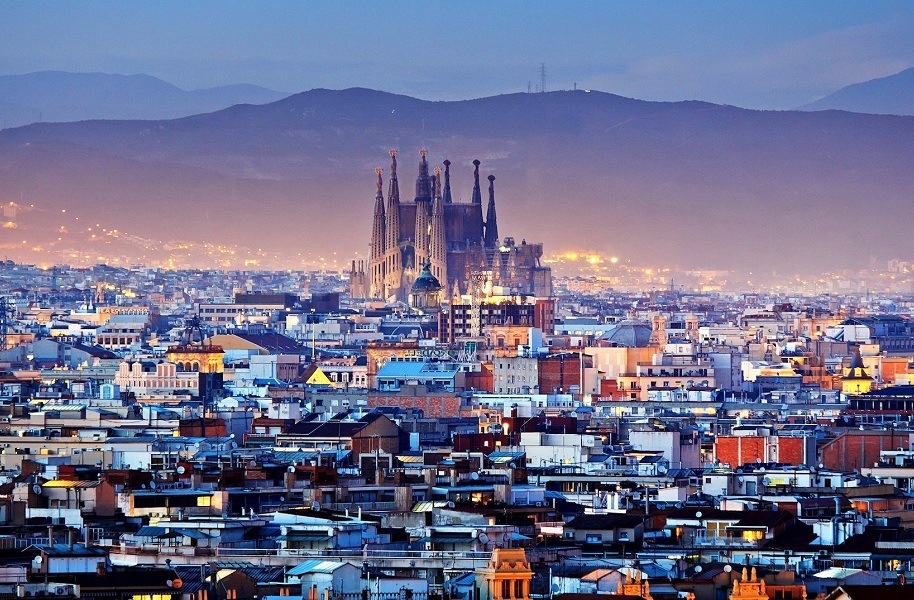 Located along the Mediterranean Sea, Barcelona is the vibrant capital city of Catalonia. This modern metropolis is one of the best European destinations for Indians as well as foreigners for its stunning location, rich culture, fantastic art and architecture, tasty local cuisine, sunny beaches, buzzing nightlife and eye popping sightseeing attractions. Casa Batllo, Sagrada Familia church, La Rambla, Barri Gòtic, Casa Mila, City Beaches, Park Guell, Barcelona City History Museum, Montjuic, and Monestir de Pedralbes are the must visit places in Barcelona as part  of Europe Packages. One can also visit some excellent museums dedicated to Picasso and Miró, Barcelona's once resident artists along with La Boqueria, a local market that dates back to the 13th century where you can sample some of the best food in Spain.
---
Seville
Seville is the capital of Andalusia and also the fourth largest city in Spain. With its fun-loving locals, exceptional tourist attractions, lively festivals and vibrant nightlife make Seville one of the top places to visit in Spain. This Andalusian city is also one of Europe's largest historical destinations as it is home to treasures like the General Archive of the Indies, the Reales Alcazars palace, and the Santa Maria de la Sede Cathedral (containing the remains of Christopher Columbus). At night, Seville's friendly and welcoming spirit really shines through, and you can listen to live music and enjoy delicious tapas with the local beer, Cruzcampo in any one of the bars. Plan your Spain Trip during the annual Feria de Abril festival, where you can catch extraordinary performances by local artists.
---
Granada (Alhambra)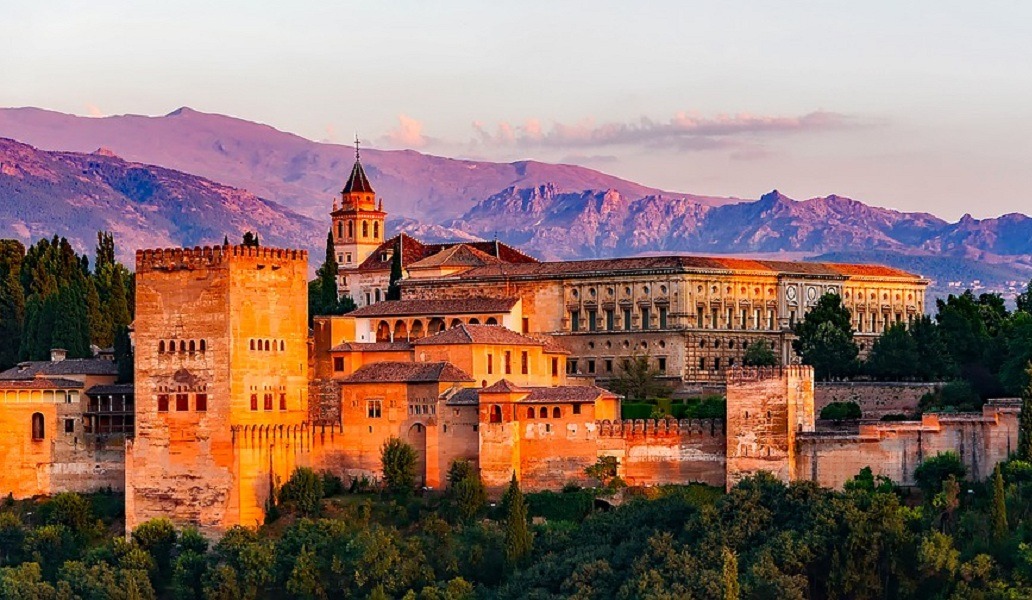 Located at the base of the Sierra Nevada Mountains, Granada is a jewel in the Andalusian crown with an interesting history and absolutely breathtaking sights. This was the last place in Spain to be re-conquered by the Catholics after hundreds of years of Moorish rule. Nicknamed as the "Land of a Thousand Castles", Granada offers a perfect blend of traditional cultures, vibrant nightlife and spectacular attractions including the elegant and intricate Alhambra palace. Often described as "A pearl set in emeralds", this Moorish palace sits high over the city contains some of the best-preserved Islamic art and architecture in the world. Apart from Arabic architecture, one can also visit classical Catholic monasteries such as Monasterio de la Cartuja and the winding streets of Albaicin as part of Europe Tour Packages.
---
Valencia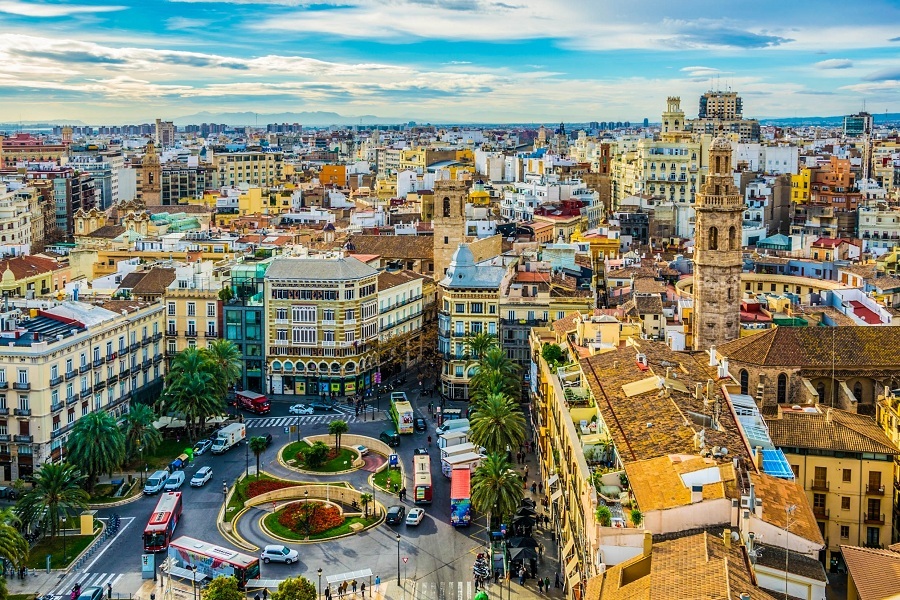 Valencia is the third largest city in Spain located in the eastern part of the country. The Mediterranean city of Valencia has an astounding cathedral, brilliant beaches, renaissance churches and some of the most striking modern architecture in Europe. City of the Arts and Sciences, Oceanogràfic, La Lonja de la Seda, Valencia Cathedral, El Miguelete, Casco Histórico, Jardín del Turia, Malvarrosa Beach and El Saler Beach are the top places to visit in Valencia. And of course, this is the best place to sample paella, Spain's most famous dish.
---
Bilbao
Situated in northern Spain, Bilbao is the center of the economic-social development and the main factor of the modernization of the Bay of Biscay. Staggering architecture, a venerable dining scene and stunning landscapes make Bilbao one of the great treasures of the Basque Country. One of the must-see locations in the city is the famed Museo Guggenheim Bilbao. Designed by Frank Gehry, the Guggenheim Museum is a colossal titanium structure that houses some spectacular modern art. The Euskalduna Conference and Music Centre, Norman Foster's Underground, Calatrava's airport, the towers designed by the architects Arata Isozaki and César Pelli, Arriaga Theater, Basilica of Begoña are some of the best places to visit in Bilbao while holidaying in Spain.
---
Toledo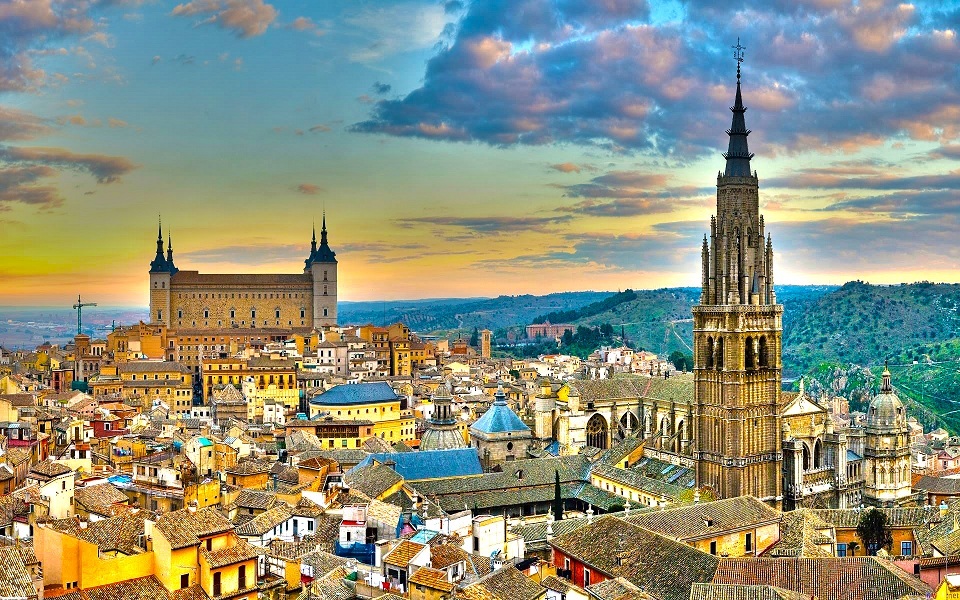 Toledo is a historic city located high on a hill looking over the plains of the Castilla-La Mancha in the heart of Spain itself. It is often called as the "City of the Three Cultures" because it was inhabited by Jews, Christians and Muslims for many centuries. Toledo is also the birthplace and former home of the Spanish painter El Greco. Today, Toledo, the UNESCO World Heritage Site, is famous for its horseshoe-arched mosques, Sephardic synagogues and one of Spain's finest Gothic cathedrals. The Sol Gate, the Moorish Bisagra Gate, Monastery of San Juan de los Reyes, Toledo Cathedral, Alcazar of Toledo, Museum of Santa Cruz, Castle of San Servando, Mezquita-Iglesia de El Salvador, El Greco Museum and Caves of Hercules are the popular places to visit in Toledo. This Spanish city also offers a wide range of restaurants and tapas bars, serving the traditional local cuisine as well as the excellent wines of the region.
---
Ibiza
Often referred to as the Party Island of Spain, Ibiza is an idyllic island with crystal clear waters in the Mediterranean Sea off the eastern coast of Spain. With more than 100 miles of coastline with some 50 beaches, Ibiza is the third largest of the Balearic Islands. It is definitely one of Europe's favourite nightlife scenes as it boasts number of nightclubs, restaurants, and fashionable bars. Every year the place is thronged by the young international tourists. Although it is renowned for having some of the best nightclubs in the world, the island known for its magnificent architecture, coastline and marine life that have landed it a World Heritage Site listing. Ibiza Cathedral, Dalt Vila, Playa d'en Bossa, Sant Antoni de Portmany, Talamanca, Santa Eulalia, Punta d'es Moscarter, Cala Comte, Island of Es Vedrà and Formentera are the must visit attractions in Ibiza.
---
Cordoba
Placed in southern Spain in the region of Andalusia, Cordoba was the most important city during the Moorish rule of Spain in the middle ages. Also, this thousand-year-old city is one of Spain's most beautiful cities as it is the living legacy of the different cultures that settled here throughout its history. Cordoba is home to many notable pieces of Moorish architecture such as the Mezquita, which is one of the world's largest and most iconic Islamic buildings and even has a cathedral built in the center of its many arches and columns. Juderia, which is the old Jewish quarter, Medina Azahara, Alcazar, Roman Bridge, Calahorra Tower, charming cobbled streets, beautiful courtyard patio houses and a revitalized riverside full of cafes and bars are the must visit places in Cordoba during your Spain Tour.
---
Malaga
Situated on the Costa del Sol of the Mediterranean, Malaga is the second-most populous city of Andalusia and the sixth-largest in Spain. The birthplace of Pablo Picasso and the gateway to the Costa del Sol, the city is loaded with an impressive number of museums and monuments, delightful pedestrianized center, innovative restaurants and stylish hotels. The Alcazaba, Gibralfaro Castle, Malaga's Renaissance cathedral,  Farola seafront promenade, Picasso Museum, Thyssen Museum, the CAC – Contemporary Art Centre and Ronda are the must visit tourist places in Malaga as part of your Spain Packages. Besides, this Andalusian coastal city has nearly 15 beaches within its limits from family-friendly beaches such as 'El Palo' to manmade beaches such as 'La Malagueta'.
---
Segovia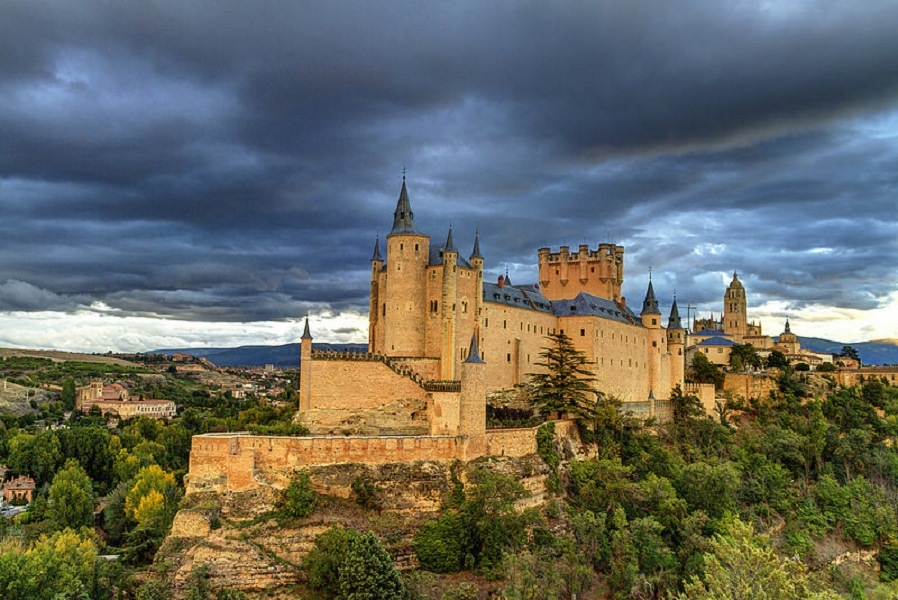 Perched on a rocky hilltop just to the north of Madrid, the small city of Segovia is a place of romance, a living legacy of the past in an inspiring setting.  This UNESCO World Heritage town is known for Roman Aqueduct, the most impressive monument in Segovia and the Alcazar Palace, said to be Walt Disney's inspiration for Cinderella's Castle. Apart from these, Palacio Real la Granja, Catedral de Segovia, Jewish Quarter, Real Casa de Moneda, Iglesia de la Vera Cruz, the catholic Monastery of Santa Maria del Parral, Iglesia San Esteban and  Iglesia de San Martin are the top places to visit in Segovia.
---
Salamanca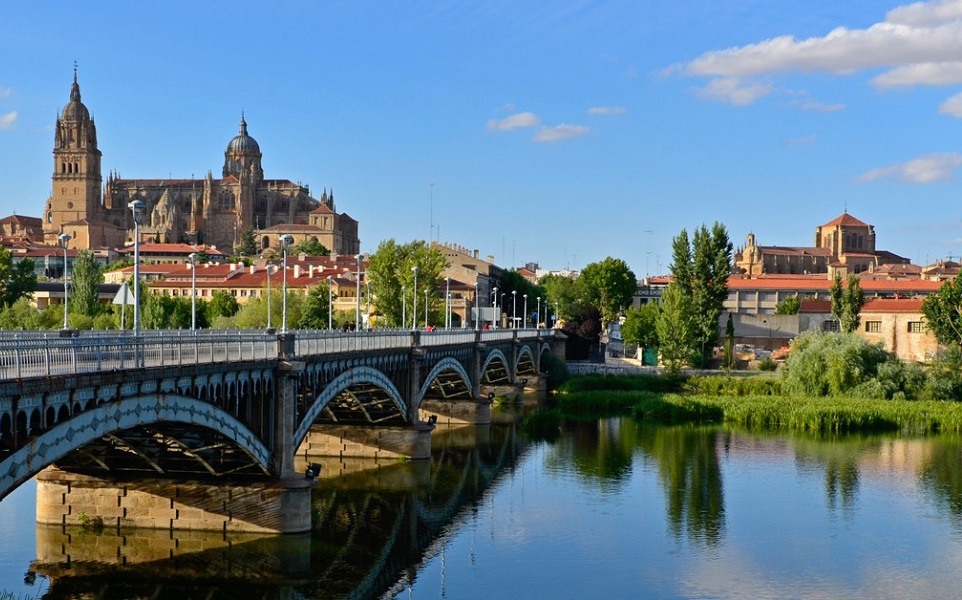 Located in the western part of Spain, Salamanca is the capital of the Province of Salamanca in the community of Castile and León. Known as Spain's "golden city", for its sandstone buildings that appear to glow, Salamanca is a city of exceptional beauty with rich history, religious and gastronomic culture. Salamanca has the distinction of hosting Spain's oldest university which was founded in 1134 AD and is the third-oldest university in Europe, after those of Bologna and Oxford. Universidad Civil, the convents of Las Claras and Santa Teresa, Plaza Mayor, La Casa de las Conchas, Catedral Vieja and Museo de Art Nouveau y Art Deco are the must visit places in Salamanca. This is also Castile's liveliest city as it is home to a massive student population that throngs the streets at night and provides the city with so much vitality.
---
Tarragona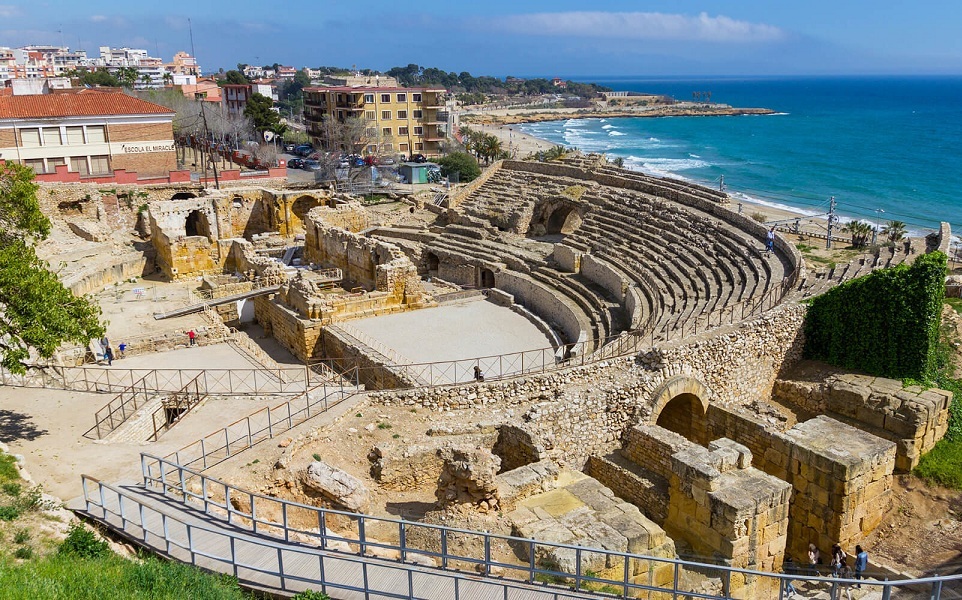 Located on the Costa Dorada in Spain, Tarragona is a beautiful destination for those who want to explore Catalonian history and culture, combined with a sparkling beach destination. It was founded by Gneus Scipio as a Roman military camp in 218 BC. Considered the second most important Roman town in Spain, the Catalan city is a wealth of Roman ruins, number of historical churches from different periods and an array of plazas sprinkled with cafes and tapas bars. Tarraco, an UNESCO World Heritage Site, Universidad Rovira i Virgili, Museum of Archeology, the Roman amphitheater and Tarragona Cathedral, Platja del Miracle, Tamarit-Punta de la Mora, Cloister and Diocesan Museum are the must visit Tarragona Tourist Places that can be visited as part of your Spain Tour Packages.
---
Pamplona
Founded by the Romans, Pamplona is the capital of Navarre region in northern Spain. The city is famous worldwide for the wild and adrenalin-rich San Fermin, the running with the bulls festival, which is held annually from 6th – 14th July. This is one of the top festivals in Spain that attracts hundreds of thousands of visitors each year. Besides, there is more to explore in Pamplona from the old historic churches to grand cathedrals, medieval walls and the Museum of Navarra showcasing exquisite Roman artefacts, and Renaissance paintings complemented by some lovely parks. Museo de Navarra, Catedral de Santa Maria la Real y Museo Diocesano, the Ciudadela (citadel), La Media Luna, the Royal and General Archive of Navarre, and Castle Square are the top places to visit in Pamplona. Pamplona also sees its fair share of pilgrims arriving on foot as part of their pilgrimage to Camino de Santiago.
Most Popular International Tours
Santhi is an avid traveler and primary contributor to the blogs at Trawell.in. She has explored most of the states in India and gained vast knowledge on tourist destinations in India and abroad. She also contributes content to other travel websites.