If there is anything that has been the core of human fancy for ages, it surely is flying like a free bird and seeing everything become tiny under them. This dream somewhat come true after the invention of the aircraft. However, some crazy dreamers wished to get the ultimate bird-like feeling, hence they invented paragliding – a thrilling adventure sport that allows you to soar high, with the vast expanse of nature underneath. Although India is a land of infinite possibilities, paragliding was never traditionally popular, until recent times. Now, many tourist places in India offer a breathtaking paragliding experience. So, let's explore the top destinations in India where paragliding can be enjoyed as part of India tour packages.
Bir Billing, Himachal Pradesh
Bir Billing is a beautiful village located in the backdrop of the mountainous landscape of Himachal Pradesh. Perched at an altitude of 2430 m, Bir Billing is the second highest Paragliding site in the world and the highest paragliding spot in India. Bir is the take-off site and Billing, which is located at a distance of about 14 km from it, is the landing site. The 15-20 minute gliding session gives adventure enthusiasts a chance to take flight from one of the highest points in the world along with a panoramic view of the Dhauladhar mountain range of the Himalayas and the lush green of the valley. Besides, this small village is also famed for hosting the first-ever world cup for paragliding. Bir Billing can be visited along with Dharamshala tour packages.
                                     Book Here : Himachal Tour Packages
---
Nandi Hills, Karnataka
Situated at a height of 1478 m, Nandi Hills or Nandidurga is another popular paragliding spot in India and among the best places to visit near Bangalore. Located on the northern periphery of the Silicon Valley, Nandi Hills is a favorite spot for many adventurous activities including camping, and trekking. However, recently it has become a popular paragliding destination for young adventure seekers of Bangalore and Hyderabad. The gliders in Nandi Hills take off from a soaring height of 1400 m and land on one of the flat surfaces around the hills. The gliding session can take place here all year round except in the months of July- September when monsoons arrive. Apart from Paragliding, one can also visit the temples dedicated to Sri Ugra Narasimha, Sri Yoga Narasimha, and Sri Bhoga Narasimha in Nandi Hills. Besides, it is also one of the picturesque spots for spectacular sunrise that attracts several nature lovers.
                                    Book Here : Bangalore Tour Packages
---
Manali, Himachal Pradesh
Manali is another famous destination for paragliding in Himachal after Bir Billing. Located at an altitude of about 5000 ft-6000 ft in the mighty Himalayas, Manali is one of the popular hill stations in India, and among the best places to visit in Himachal. Tourists can try paragliding throughout the year except for monsoons. Solang Valley and Marhi are two of the most popular places to visit in Manali to try your hand at paragliding. A one-hour-long paragliding session will let you experience the scenic landscapes of the Himalayas and numerous green meadows and glittering water bodies. Apart, one can also visit Rohtang Pass, Hidimba Temple, Manu Temple, Vashist Hot Springs, Naggar Castle, and Manikaran while in Manali.
                                    Book Here : Manali Tour Packages
---
Mussoorie, Uttarakhand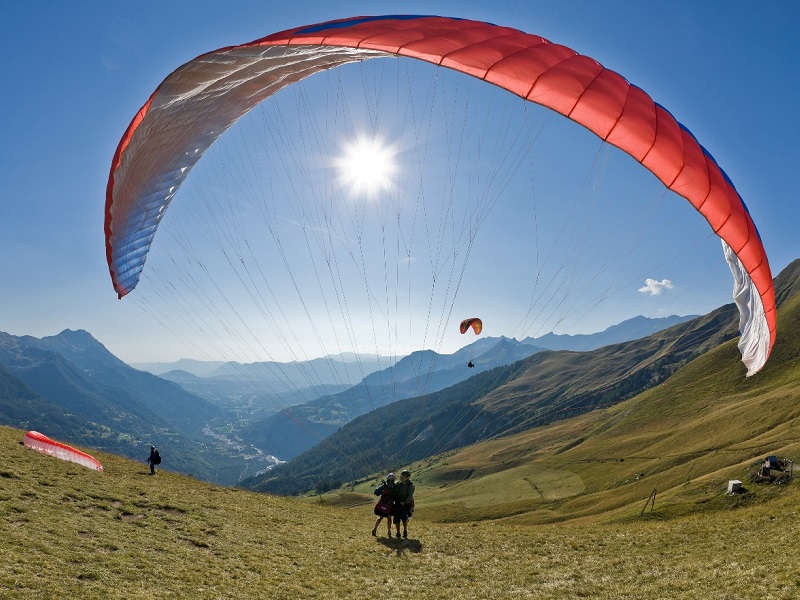 No doubt one of the best places to paraglide with an ideal climate and spectacular sights, Mussoorie in Uttarakhand is a heaven for adventure seekers. Mussoorie is one of the popular hill stations in North India and among the best places to visit near Delhi. From the take-off point near Mussoorie Lake, one can fly to Dehradun on a long flight up to the height of 2300 m above sea level. One can explore the beauty of Garhwal Himalayas, mesmerizing Doon Valley, and breathtaking views of the serene lakes while soaring in the skies of Mussoorie. Except for the monsoon, any time is good to paraglide in Mussoorie. Also, there are several interesting tourist places in Mussoorie which include Kempty Falls, Gun Hill, Camel's Back Road, Jharipani Falls, Mall Road, Childer's Lodge, Bhatta Falls, Dhanaulti, and Kanatal.
                                    Book Here : Mussoorie Tour Packages
---
Kamshet, Maharashtra
Situated at an altitude of about 2200 feet in the Western Ghats, Kamshet is one of the popular hill stations in Maharashtra and among the scenic places to visit near Pune. Owing to its perfect weather and highly suitable topography, Kamshet is one of the best paragliding spots in India. Hence, it is dotted with many paragliding schools and workshops that provide certified courses and sessions to adventure enthusiasts. Both, Solo flying and Group flying are popular here. Paragliding is possible here from October to May/June. A leap from the tower hills and the bird's eye view of box-shaped houses in the scenic villages of Kamshet is a delight for a lifetime. Kamshet can be visited as part of Lonavala tour packages.
                                    Book Here : Maharashtra Tour Packages
---
Gangtok, Sikkim
If you are an adventure junkie and are headed to the northeast, then Paragliding in Gangtok is one of the best things to do. One can enjoy the magnificent views of the Himalayas and the lush landscapes below as you fly high in the sky of Gangtok, among the must-include places in North-East tour packages. The operators in Gangtok offer tandem flights and do not require any kind of training beforehand. There are two options to choose from – a medium flight for 10 minutes and a long flight that lasts for 30 minutes. Apart, one can also visit many tourist places in Gangtok like Banjhakri Waterfalls, Enchey Monastery, Ranka Monastery, Tashi Viewpoint, etc.
                                     Book Here : Gangtok Tour Packages
---
Sanasar, Jammu
Located in Jammu & Kashmir, Sanasar is a serene hill resort that is surrounded by monstrous conifers. This is undoubtedly one of the most beautiful paragliding sites in India, and among the must-include places in Jammu & Kashmir tour packages. Glide over the beautiful and majestic landscape of Jammu surrounded by the majestic snowclad Himalayas is an unforgettable experience for a lifetime. With a backdrop of snow-capped Himalayas, a low-flying ride will land you in enchanting meadows while a high-flying ride will give you 20 uninterrupted minutes of pure bliss of the mighty snowcapped Himalayas. There are many operators for conducting paragliding activities and the package includes camping, meals, and training. Besides, don't forget to visit the beautiful Sanasar Lake, among the top Jammu tourist places.
---
Santhi is an avid traveler and primary contributor to the blogs at Trawell.in. She has explored most of the states in India and gained vast knowledge on tourist destinations in India and abroad. She also contributes content to other travel websites.