Christmas, among the most awaited festivals of the world, is celebrated on 25th December every year to commemorate the birth anniversary of Jesus Christ. This is the prime festival of Christian community and hence, is celebrated with lots of joy and gusto. Christmas is celebrated with equal zest and fervor in India like in other parts of the world. Christmas trees festooned with sparkling decorations, stockings hung out for Santa's gifts, twinkling lights across houses and markets, preparing special delicacies and much more form the major part of the celebrations. From Shimla's white Christmas to Kolkata's Bada Din, from Pondicherry French-style Christmas to Goa's Portuguese-influenced festival, from Mumbai metropolitan style Christmas to Kerala's traditional Christmas, India has many places to celebrate a memorable Christmas. Christmas is among the most famous festivals of India.
Trawell.in listed 7 top places to celebrate Christmas in India here.
Goa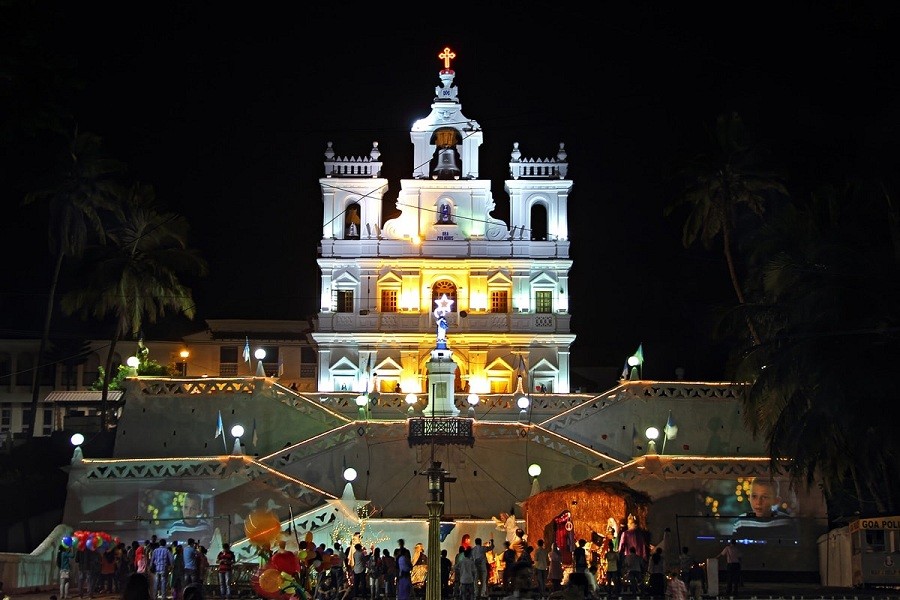 Influenced heavily by the Portuguese culture and a predominantly higher Roman Catholic population, Goa is one of the best places to witness Christmas celebrations in India, and among the top places to visit near Mumbai for beach lovers. Often called as the party capital of India, Goa becomes livelier during the Advent Season which also attracts thousands of tourists from different parts of the country as well as from abroad. Night long parties on the beaches, cathedrals decorated with lights and flowers, midnight mass in churches with singing Christmas carols, there is nothing such a vacation in Goa doesn't offer on Christmas. One can indulge in a special Christmas treat in any of the Goan restaurants and also visit any of the famed Goa beaches in the night to see fireworks.
Book Here: Goa Cab Packages
---
Pondicherry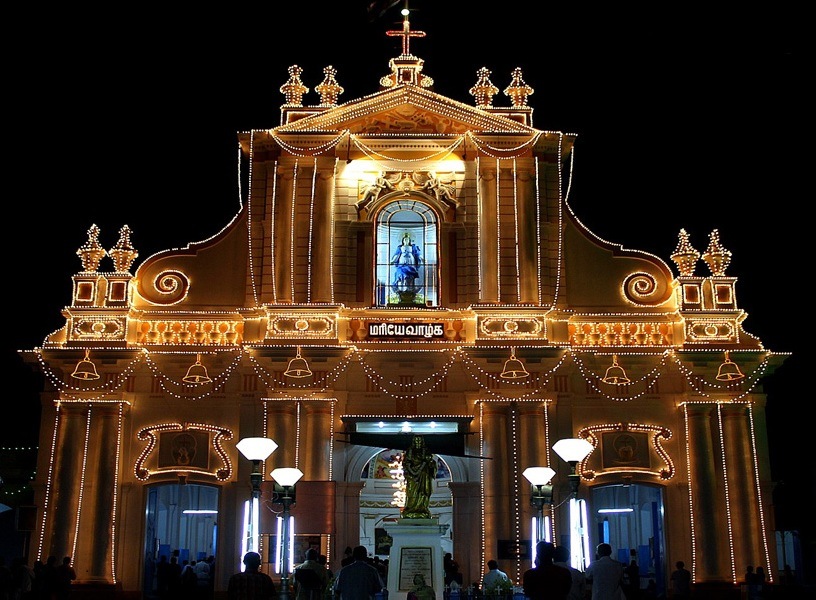 Along the coast of Bay of Bengal, Pondicherry is a former French colony and is often referred to as the French Riviera of the East. Like Goa, Puducherry also have a sizable population of Roman Catholics due to French influence. Beautifully lit up churches & homes, holy midnight masses, serene beaches, and the quintessential French cuisine make Pondicherry one of the best cities to celebrate Christmas in India. Pondicherry has some famous churches which should not be missed during Christmas. The Church of the Assumption, The Church of Our Lady of Angels, Basilica of the Sacred Heart of Jesus, as well as Church of Our Good Health and St Antony Church are the some of the top Places to visit in Pondicherry during Christmas. One can also taste the sumptuous French cuisine on the restaurants and cafes on the Promenade.
Also Read: Top Places to visit near Chennai
---
Most Popular Tours
---
Shillong
Besides its mesmerizing waterfalls, crystal clear lakes and impressive mountains, Shillong, the capital city of Meghalaya, is famous for its Christmas celebrations due to its considerable population of Christians. Often called as the Scotland of India, this hill town is blanketed with a freezing temperature, decorated streets & churches with multiple live shows during Christmas. Christmas is a picturesque & peaceful affair as not many people visiting Shillong in December due to its extreme weather conditions. Numerous bands and artists play gospel music at the churches during this time. You must not miss the midnight mass in Cathedral Church, among the oldest churches in North East India. Shillong is among the best budget destinations for winter in India and also one of the least expensive hill stations in India.
---
Mumbai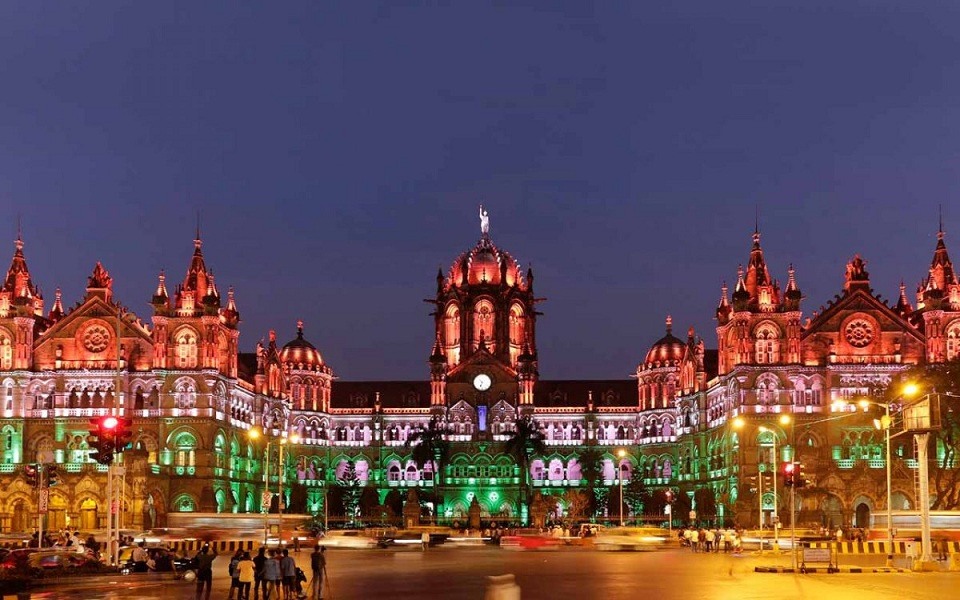 Mumbai, the entertainment capital, is yet another place in India where you can feel the spirit of Christmas to its best. From Christmas markets to shopping malls, midnight masses to family gatherings, you have it all in Mumbai, among the best places to visit near Pune. Especially, Church gate, the western suburb of Bandra, and Hill road are some of the best places to visit in Mumbai to witness Christmas celebrations. Also, it boasts of several churches like Holy Name Cathedral, Mount Mary Basilica, Saint Thomas's Cathedral and Saint Michael's Church which are the top places to visit in Mumbai for midnight mass. Many shopping malls in Mumbai put up huge decorated Christmas trees to attract shoppers during this festive time. One can also find several offers on spa treatments, lavish dinners and parties.
Book Here: Car Rentals in Mumbai
---
Kochi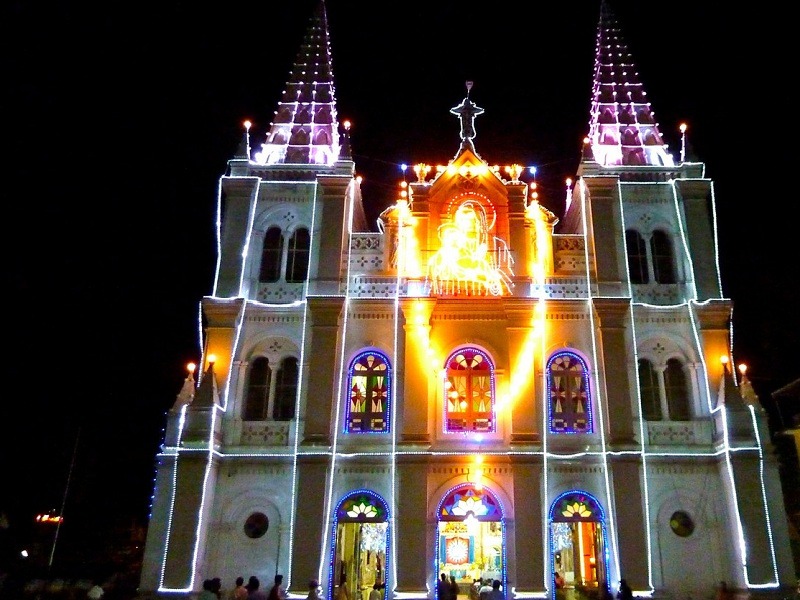 Well known as the 'Queen of the Arabian Sea', Kochi or Cochin is dotted with several old churches owing to large Christian population. Kochi is one of the main regions in Kerala where you can witness a bigger Christmas celebration as people decorate their houses, churches and streets with lights and other materials. Children carry candles and visit their neighbourhood in groups with singing Christmas carols. One can also attend the midnight mass at St. Francis Church which is the oldest European church in India and also one of the best Places to visit in Kochi. Besides festivities, one can also go for a memorable houseboat trip in the scenic Kerala Backwaters.
Also Visit: Places to visit near Kochi
---
Kolkata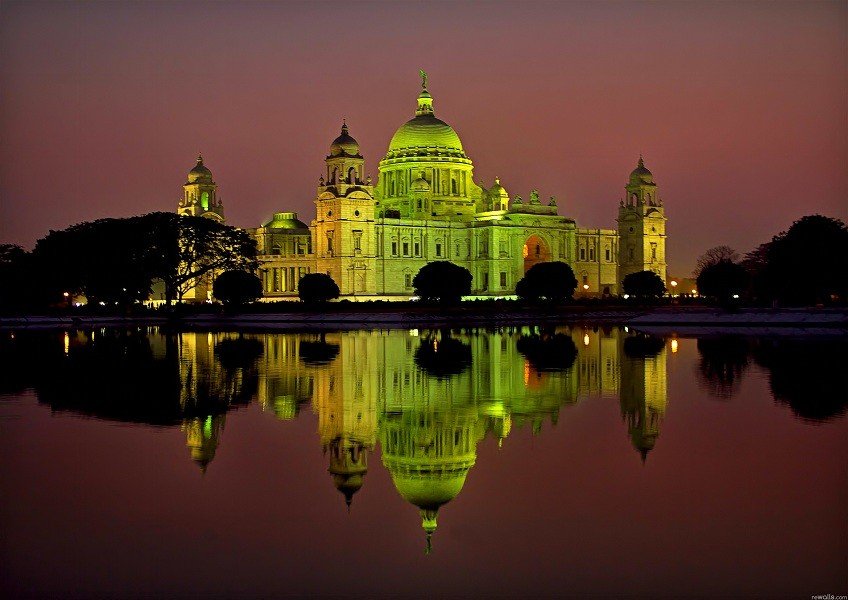 Being the capital of the British Government till 1911, Kolkata has a long and vibrant history of celebrating Christmas. It is among the best places to visit in India during Christmas. Earlier, British officials hosted dinners along with numerous sporting tournaments, military band performances and plays. Kolkata still has a sizeable community of Anglo-Indians and celebrates Christmas as Bada Din with much fervor. Light & Sound exhibitions, rock band performances, brightly lit up churches & shops, Kolkata got it all! St Paul's Cathedral, situated near the Victoria Memorial, holds one of the biggest gatherings on Christmas Eve in Kolkata. The West Bengal Tourism also organises an annual Kolkata Christmas Festival at Allen Park, near Park Street, with carols, cultural performances, shops, food stalls and a carnival-like atmosphere. Kolkata is among the best Places to celebrate Navaratri in India.
---
Shimla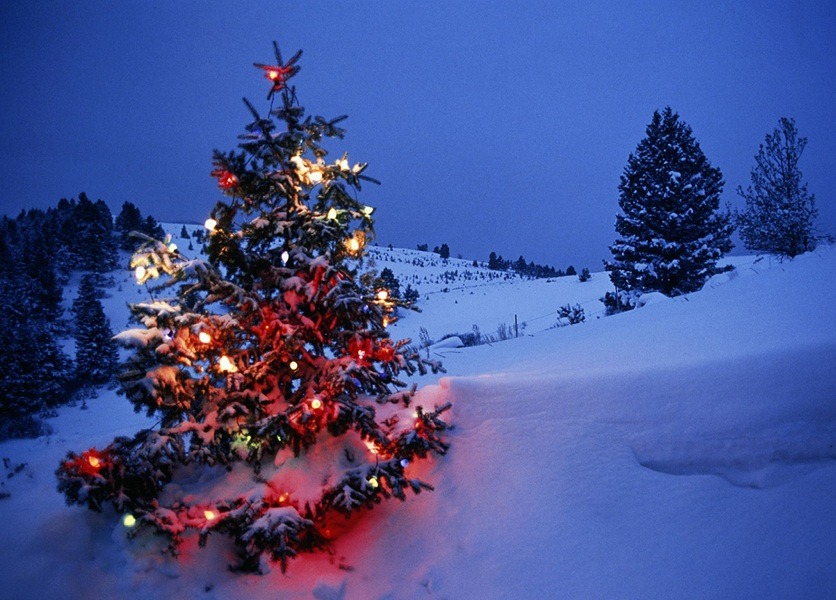 Are you looking for a white Christmas in India? If yes, Shimla, the capital city of Himachal Pradesh, can be the best place for you. Often referred to as the 'Queen of Hills', Shimla is one of the most famous hill stations in India and among the best places to visit near Delhi. Almost the entire town covers with snow during Christmas time. Adorned by pine trees that are decorated with colorful lights and hanging gifts, Christmas in Shimla looks like a fairytale style Christmas. The Ridge & the Mall Road are the main places where all the action is during Christmas time. One can also attend the midnight mass at the 150 years old Christ Church, which is among the best places to visit in Shimla. The hotels are usually packed and rates are high during the festive season so make sure book your hotels in advance.
---
REFERENCE
---
Most Popular Tours
---
Santhi is an avid traveler and primary contributor to the blogs at Trawell.in. She has explored most of the states in India and gained vast knowledge on tourist destinations in India and abroad. She also contributes content to other travel websites.