When you need a relaxing weekend where you just want to laze around without having to do anything else and just enjoy nature while sipping your wine or freshly ground coffee, then Chikmagalur, a pristine hill station positioned at the foothills of Mullayangiri range, is a place for that. Fondly called the Coffee Land of Karnataka, Chikmagalur is one o the top places to visit in Karnataka as it is famous for its tranquil environment, dense forests, glittering lakes, gushing waterfalls, and tall mountains. Whether you want to witness the enchanting charm of Western Ghats or cherish some quality time amid nature, the resorts in Chikmagalur let you have it all. Flaunting a blissful environment and featuring contemporary amenities, these resorts promise the travelers a lavish stay amidst the lush green landscapes. Combining a stay with a plethora of activities, these resorts are sure to leave you energized for days to come. If you are looking for that peaceful & secluded retreat, then check out these top Chikmagalur Resorts listed below. These resorts are shortlisted based on their amenities, location, and value for money offered.
Gateway Resorts Chikmagalur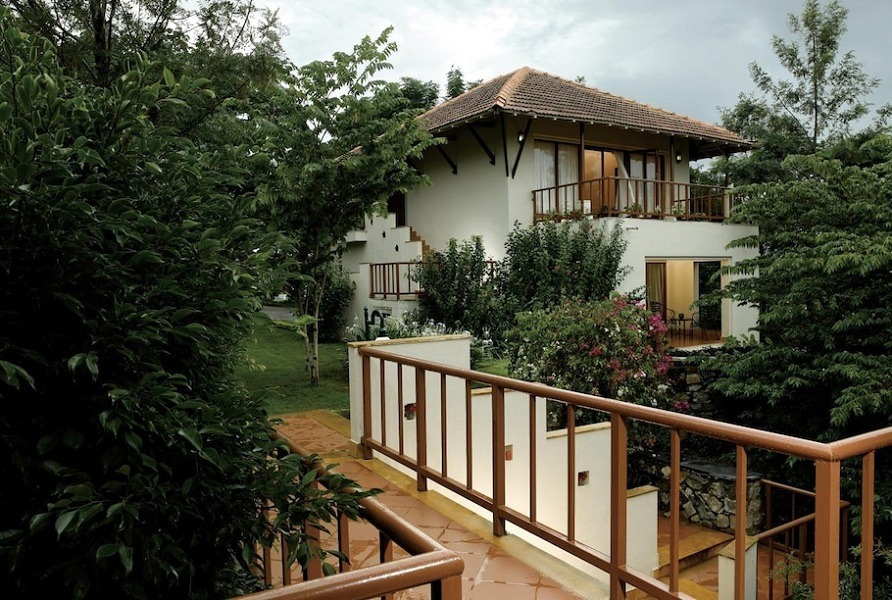 Among the best resorts in Chikmagalur, the Gateway Resort is a rare blend of colonial architecture and contemporary efficiency. With facilities and amenities designed to the taste of modern travelers, the Gateway Resort Chikmagalur offers serenity and privacy along with a new-age experience in the lap of nature. There are 10 standard rooms and 19 luxury cottages in the resort along with the conference hall, Snooker and Pool Table, a well-equipped spa & fitness center, and a fabulous Peaberry restaurant that serves lip-smacking local delicacies. Besides, the resort offers activities like trekking to Mullayanagiri hills, and coffee plantation visits and sightseeing in the surrounding areas for the guests.
---
Vistara County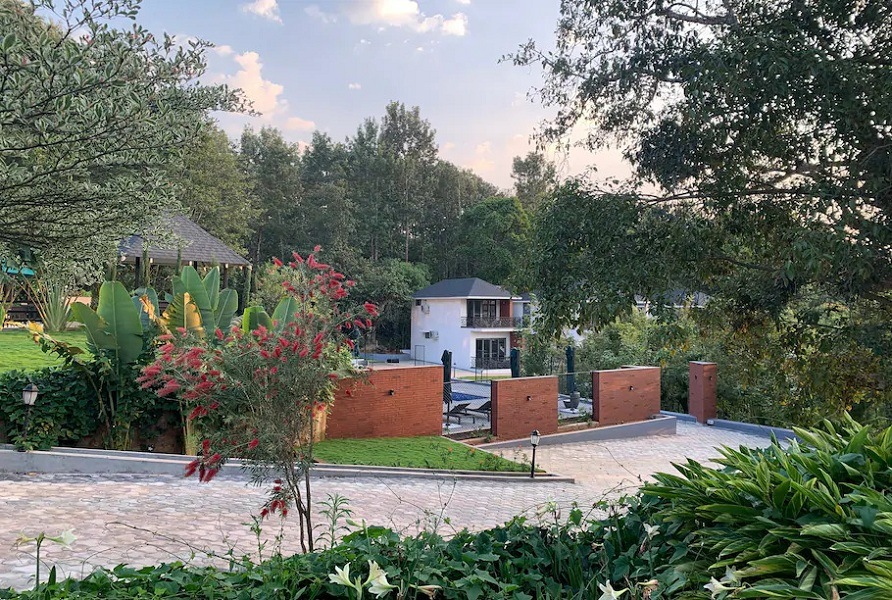 Located in the serene hillsides of Chikmagalur, the Vistara County Resort offers a luxurious getaway for travelers who want to spend some quality time with family and friends amid a tranquil environment. The resort, situated inside a vast coffee & areca plantation, will help you create memories for a lifetime and have a cherishing staying experience. Guests can even opt to go on a walk to explore these coffee plantation lands. Along with all the modern amenities, every room in the property features a private balcony from where one can overlook the enchanting view of the Mullayanagiri Hills and Chikmagalur, one of the top places to experience Karnataka Tourism. Besides, the resort has a spa, a large indoor games arena with facilities such as pool, table tennis, carom, etc. also outdoor badminton and hoops. One can also satisfy their hunger with different cuisines at Kurunji Cafe, the in-house multi-cuisine restaurant.
---
Coffee Grove Resort
Located inside a vast Coffee Plantation, the Coffee Grove Resort is one of the most comfortable luxurious & affordable Chikmagalur resorts. The resort offers all the modern luxuries & amenities to make your stay memorable and is Ideal for friends, families, corporate events, and destination weddings. There are a total of 20 well-maintained rooms equipped with all the amenities such as wardrobe, television, separate sitting area, attached bathroom, and air-conditioner as well. The resort has a restaurant, outdoor swimming pool, garden, and a kids' club. The Coffee Grove Resort also arranges many adventure activities like plantation trails, trekking, cycling, and bonfire as well. It is one of the preferred resorts by the tourists as it is situated close to all tourist places in Chickmagalur.
---
Trivik Hotels & Resorts
Set on top of Mullayangiri Hills, the Trivik Hotels & Resorts is a 38-acre coffee plantation stay in Chikmagalur. It is considered one of the most luxurious resorts in Chikmagalur as it provides the finest services in dining and entertainment to make your stay memorable. The property has 25 spacious, refined rooms that are fitted with plush sofas, minibars, tea/coffee makers along with other in-room amenities. A perfect amalgamation of luxury and leisure, the resort is boasting an outdoor pool, a beauty center, a global cuisine restaurant, bar, gym, bonfire, and an indoor children's play area. Trivik also offers complimentary plantation tours, but waking up to the ombre sunrise and get the stunning mountain views is sure to be the highlight of your stay!
---
The Serai Chikmagalur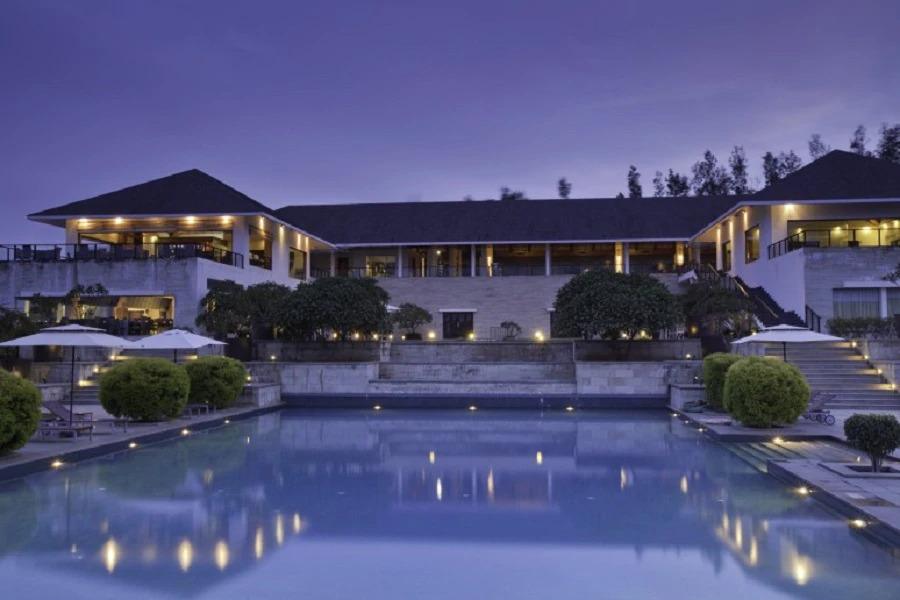 If you are looking for the best resort in Chikmagalur where you want to relax and unwind in your private pool or want to enjoy a leisurely walk in the coffee plantations, then the Serai Resort is the right one. Situated amidst the aromatic coffee plantations, the resort has spacious and well-appointed villas with plush and classy interiors, Jacuzzi, private plunge pool, and large glass doors and windows to enjoy panoramic views of the lush surroundings. The property has an in-house Oma Spa where guests can indulge in various massages and spa treatments including signature coffee cure therapies. Also, it boasts a multi-cuisine restaurant called Odyssey and the Blue Sky Lounge, a trendy bar serving refreshing drinks. Nature lovers can enjoy plantation walks while adventure travelers can reach out to the front desk for booking trekking tours to Baba Budangiri, among the must include places in Chikmagalur Tour Packages, and cycling tours as well.
Santhi is an avid traveler and primary contributor to the blogs at Trawell.in. She has explored most of the states in India and gained vast knowledge on tourist destinations in India and abroad. She also contributes content to other travel websites.