Often referred to as the Pearl of the Andaman, Phuket is the largest island in Thailand. Known for its stunning golden sand beaches, colourful shore line stuffed with shacks and nodding palm trees, thrilling water sports, panoramic sunsets, and vibrant night life, Phuket is among the world's finest beach destinations and also one of the top places to visit in Thailand. From the popular, party beaches with plenty of activities to the quiet serene beaches, visitors to this gorgeous island are spoiled for choice. For them, who are already convinced about Phuket as their next beach destination and for those who are yet to finalize to visit Phuket as part of Thailand Tour Packages, here is the list of 12 amazing beaches to visit in Phuket.
Watch Video - Thailand Tourist Places
Freedom Beach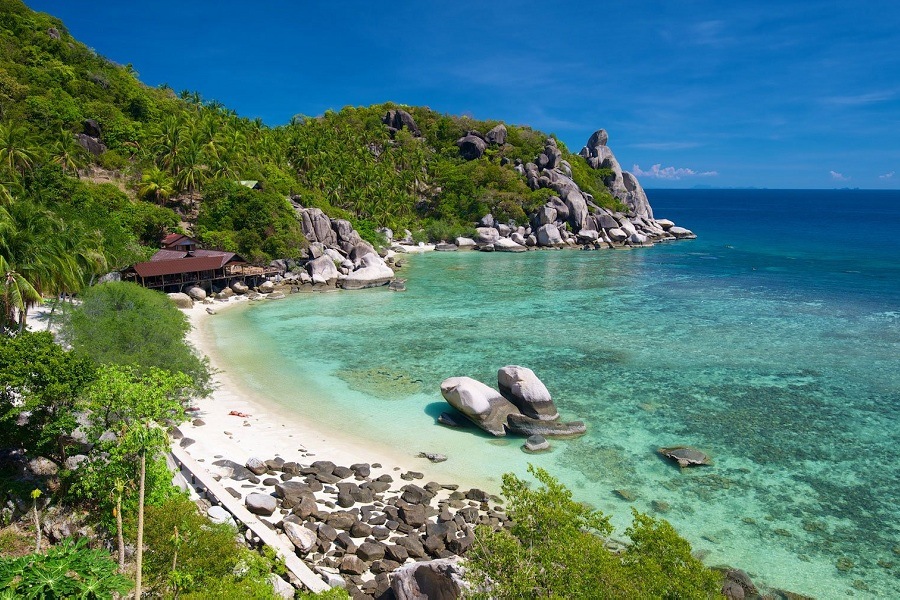 Situated on Phuket's west coast, Freedom Beach is arguably one of the prettiest beaches in Phuket. This 300 m long strip of white sand is set in a superb bay dotted with granite rocks and surrounded by hills covered with thick and luxuriant jungle. It is just a short drive away from Patong Beach, the busiest beach in Phuket. It is least accessible of all the Phuket beaches as land access requires trekking through a thick jungle, but is also reachable by boat from Patong Beach. Apart from sunbathing, beach soccer, beach volleyball, and snorkeling are the other popular activities that can be enjoyed at Freedom Beach. This is the perfect place for those wanting to be free of tourists and simply enjoy the sand, sun, and sea as part of Thailand Packages.
Must Read: Thailand Visa Guide for Indian Travellers
---
Kata Beach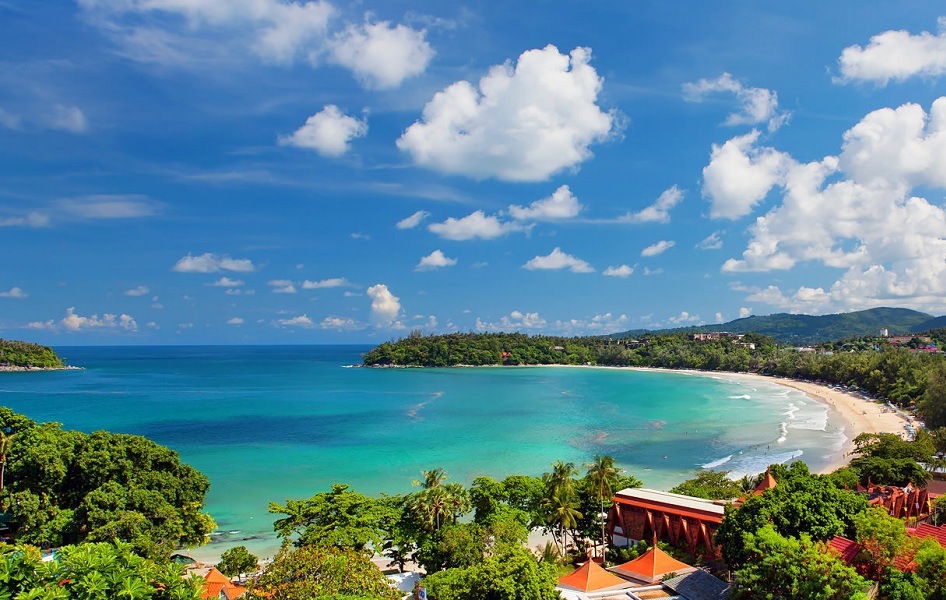 For a more laid back Phuket beach experience, head to the beautiful Kata Beach as it is one of the most beautiful and famous beaches in Phuket which lures many visitors with its white sands and clear turquoise waters. Kata is a 1.5 km long cove shaped beach situated further south from Karon. Probably the most scenic beach in Phuket, Kata is less crowded than Patong and offers a large choice of dining, shopping, hotels, and a decent nightlife. Despite all of the tourist activity located on and around the beach, Kata Beach is still very beautiful and is ideal for families who want to relax some time at the beach during their Phuket Tour.
---
Most Popular Bangkok & Phuket Tours
---
Kata Noi Beach

Located just south of Kata Beach, Kata Noi Beach is a beautiful little bay along Phuket's west coast, and one of the best beaches on the island. This 700m long secluded bay is still reasonably undeveloped, giving it a more private feel. The beach has lovely soft sand and stunning scenery. This nice wide strand of white sand has incredibly clear blue water during the high season and is considered as one of Phuket's top swimming beaches that can be visited as part of Thailand Tour. Kata Noi Beach is also a great spot for surfers, as the waves tend to be relatively large during the low season. Besides, it is also home to some of Phuket's most luxurious resorts and restaurants.
---
Laem Sing Beach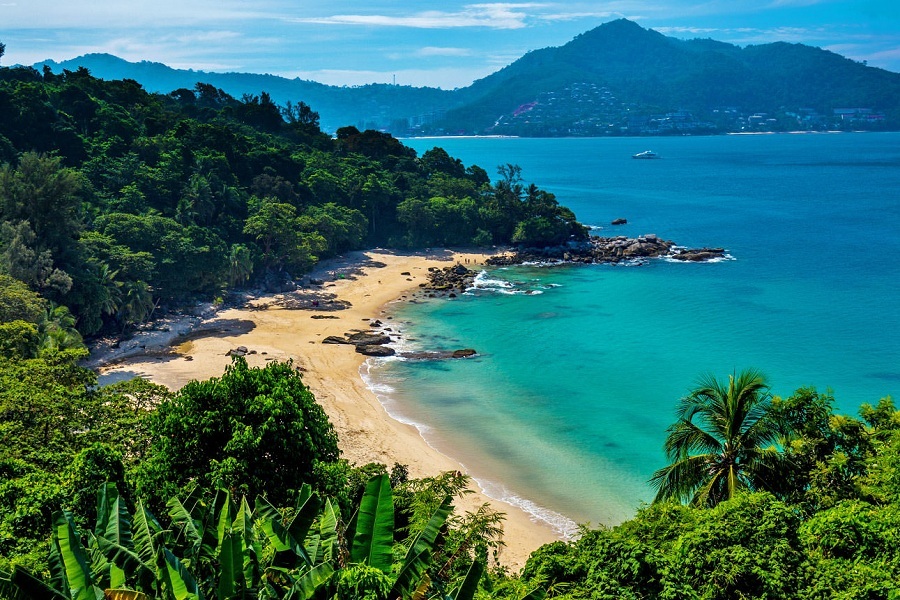 If you're looking for a beach that looks like it's straight out of a tropical, hidden paradise in Phuket, Laem Singh beach is the one for you. This stunning beach looks hidden beneath the grove of palm trees with large boulders scattered around. Placed between Kamala and Surin beaches on the west coast, Laem Singh Beach is one of the more beautiful beaches in Phuket Island and was relatively unknown until recently. Despite the increase in tourism nowadays, the beach is still absolutely stunning and well worth a look during Phuket Trip. There are several restaurants serving Italian and Thai delicacies to pamper your taste buds. One can also satisfy their adventurous souls with multitude of water sports like snorkeling, boarding, jet skiing, water skiing and even banana boat ride here.
---
Surin Beach
Set on the west coast of Phuket, Surin Beach is known as Phuket's five-star beach as it has been attracting the rich, royal and famous with its huge millionaire villas and five-star resorts. This 800 m long beach, situated between Bangtao and Kamala Beach, is famous for its crystal clear water and soft white sand. With small headlands closing in both ends and palm trees providing green behind, Surin is absolutely stunning, peaceful and has a relaxing vibe. The sea here gets deeper than in other bays, so be careful while swimming at the beach. It is often dubbed as the "Millionaire's Row", so visitors can rest assured it is going to be an expensive day at the beach as the restaurant and wine bars here are costly.
---
Patong Beach
Patong is the most famous beach resort on the west coast of Phuket Island in Thailand. Often considered as one of the most happening beaches in Phuket, the hemispherical golden sand beach is vibrant and is lined with cafes, shacks, nightclubs, bars, massage parlors and transgender cabarets. It is popular with young tourists due to its party atmosphere and disruptive nightlife. With an astounding combination of beautiful white sand beach edged by the glittering Andaman Sea, Patong is one of the top beaches to visit in Phuket as part of Phuket Tour Packages. Also, the beach has plenty of enthralling water sports like sunbathing, swimming and beach volleyball during the day time.
---
Karon Beach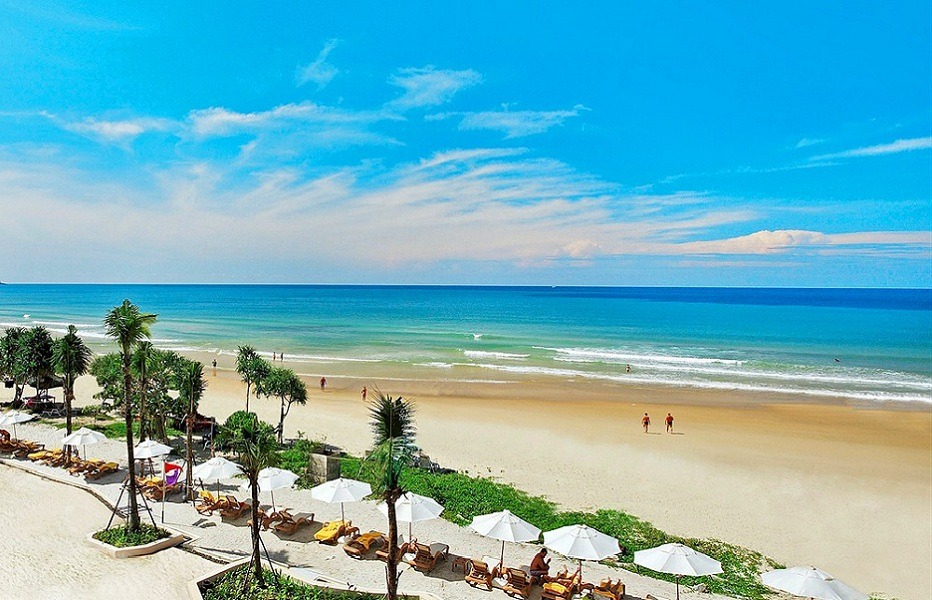 With 3.5 km long, Karon Beach is the third longest beach as well as one of the most popular beaches in Phuket. Located on the west coast, between Patong and Kata Beach, Karon Beach is exceptionally straight stretch of white sand with clear views from end to end. The sand at the beach is fine and powdery, with a mix of silica, coral and ground-up shell. It has been the venue of the Asian Beach Games, X-Sports, and sand building competitions over many years. The beach is a top place for snorkeling and diving for those travelers who are feeling a bit more ambitious. It also has a decent choice of dining, shopping and nightlife entertainment, as well as a beautiful Buddhist temple.
---
Kamala Beach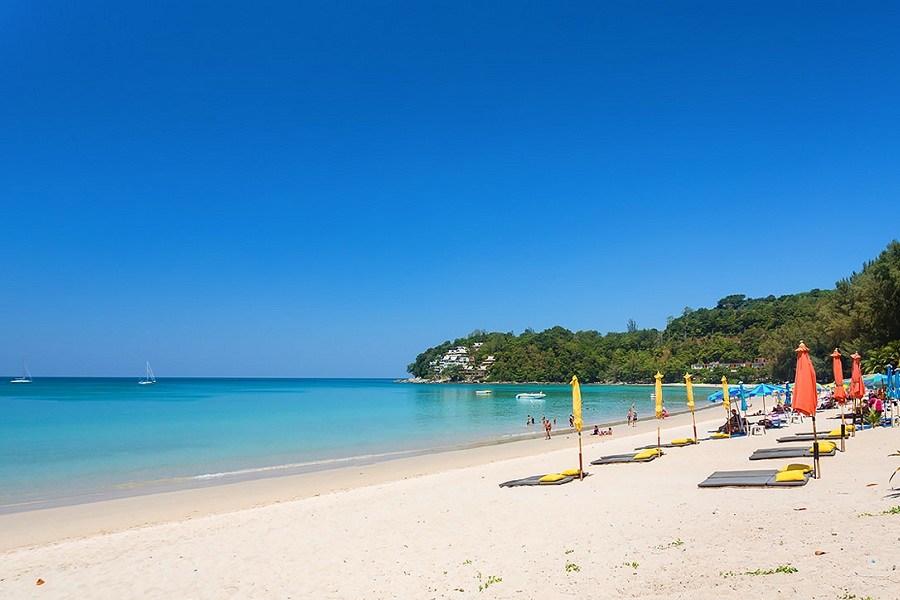 Lies just north of the noisy Patong Beach, Kamala Beach is an amazing two kilometer stretch of white sand beach surrounded by forested hills in Phuket. The gently curving bay offers pristine, emerald green waters backed by a gloriously shaded paved beach path. The northern section of the beach is more appealing with clear water studded by the occasional smooth rocky outcrops. Its calm, shallow waters and relaxed atmosphere make it ideal for families who wanting to stay away from noisy crowd. There are enough restaurants, cafes, bars and massage shops. Swimming is excellent here as the currents are much calmer even on rougher days.
Also Read: 9 Splendid Festivals Celebrated in Thailand
---
Nai Harn Beach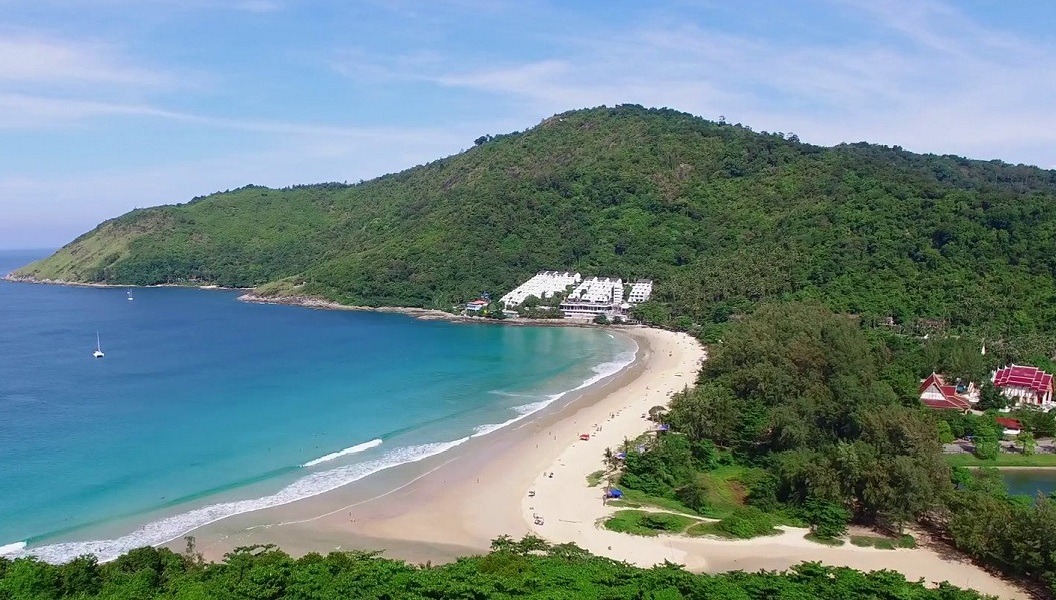 Located to the south of Phuket, Nai Harn Beach is a secluded beach surrounded by green hills and small islands. With thin soft sand and clear blue water, Nai Harn is one of the most picturesque beaches to visit in Phuket as part of Thailand Packages. This small bay is never crowded unlike other Phuket beaches as it is home to only a few hotels, restaurants and shops. It retains its quiet charm and offers a more relaxing and peaceful atmosphere for its visitors. During the high season, it is a popular anchorage for boats. Snorkeling and swimming are the two best pass time for the tourists who visit this place as part of Thailand Trip. Besides, there is a lake just behind the beach, where people come to fishing and take a ride in swan-shaped boats.
---
Bangtao Beach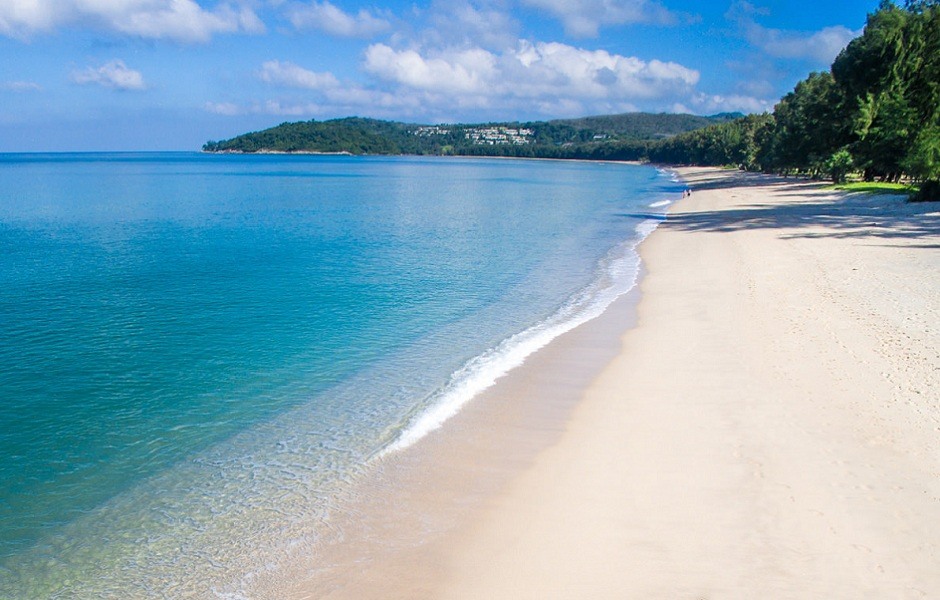 With over 8 km long, Bangtao Beach is the second longest beach as well as among the top places to visit in Phuket. It is home to the famous Laguna Complex, an immense complex boasts some of the most luxurious and largest resorts on the island such as Banyan Tree Resort, Dusit Thani Laguna Phuket and Angsana Resort and Outrigger Resort. Laguna dominates much of the center of the beach, with a number of hotels and bungalows operating at the southern end. Bangtao has an incredible choice of restaurants which serve delicious cuisine to satisfy your taste buds. One can swim around in the beach, walk on the warm stretch of sand and enjoy the luxuries of the resort complex here as part of Thailand Trip. One can also visit Layan Beach, a very tranquil area situated at the northern end of Bangtao Beach.
---
Paradise Beach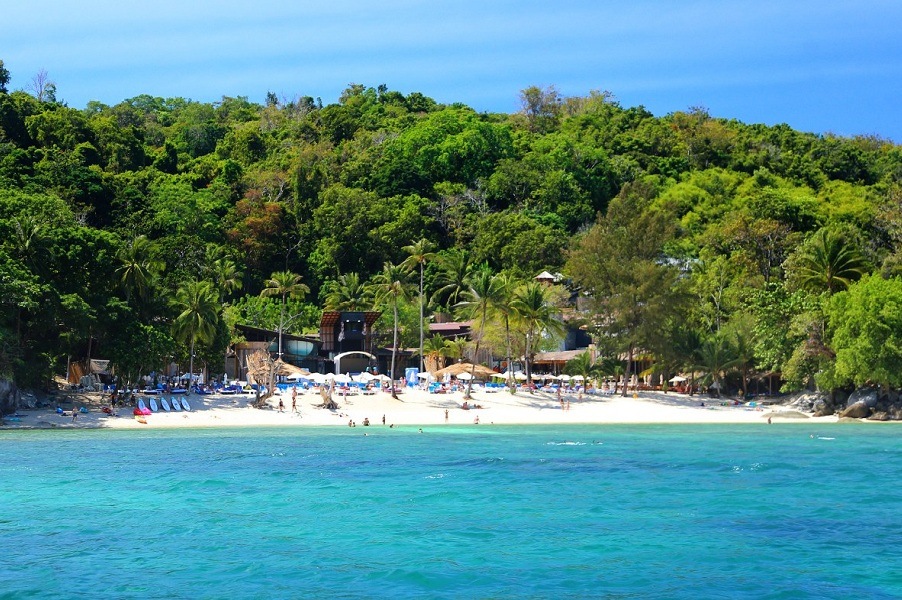 Situated about five km southwest of Patong, Paradise beach is stunningly beautiful and is one of the best beaches in Phuket. This 150m long stretch of sand is lined up with shade-giving palm trees and tropical almonds. There are large granite rocks at both ends of the beach and a coral reef some 100 m out. Along with the main attraction of coral reef, one can also engage in activities like snorkeling, sea kayaking and body-boarding. There is a fee to access the beach, which occasionally varies but is generally around 200 baht. There is another small beach next to it.
---
Mai Khao Beach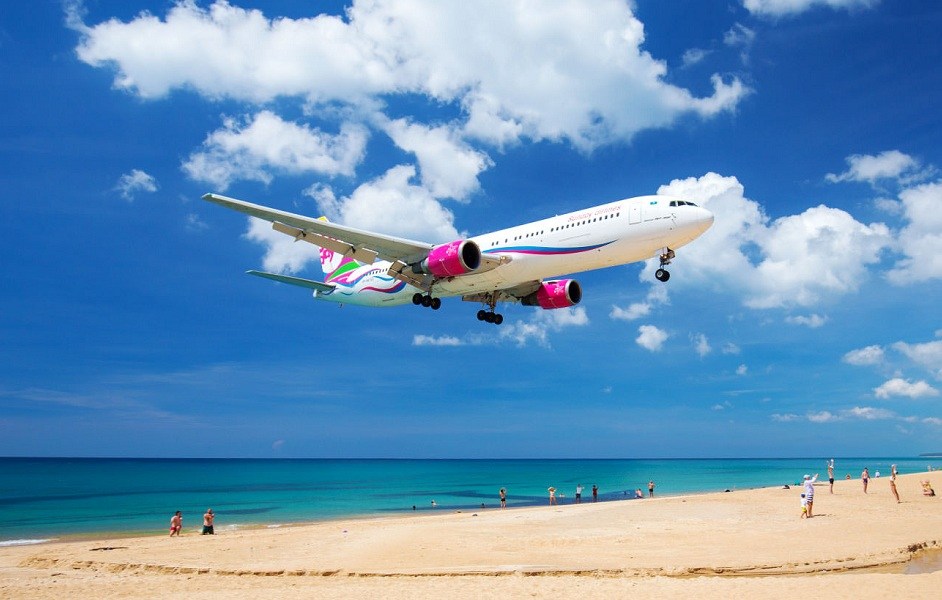 With 11km long, Mai Khao Beach is regarded as the longest beach in Phuket and among the stunning places to visit in Phuket. It is also known as Airport Beach or Sanambin Beach, as it is very close to the airport.  Being a part of the Sirinat National Park, Mai Khao is still undeveloped and practically deserted a lot of the time. The only significant constructions along it are the JW Marriott Phuket Resort and Phuket International Airport near Nai Yang Beach. Due to a sharp drop off into the Andaman Sea, swimming is not safe here in low season between May-November.
---
Most Popular International Tours