From tiny rocks to inhabitable larger tracts of land emerging from the surface of the Andaman Sea, Southern Thailand is blessed with an astonishing number of islands off its coasts. Phuket is one of the popular choices among its vast collection of islands that is known for its stunning golden sand beaches, colourful shoreline stuffed with shacks and nodding palm trees, thrilling water sports, panoramic sunsets, and vibrant nightlife. Phuket is among the world's finest beach destinations and also one of the top places to visit in Thailand. Besides, Phuket is surrounded by several exciting islands characterized by beaches with soft sands and abundant natural beauty. Whether your idea of fun is lazing around on serene beaches or diving underwater to explore the wealth of aquatic flora and fauna, these tropical islands are a perfect choice for your next getaway. Here is a list of the best island beaches near Phuket that you must visit as part of Thailand tour packages with family or friends.
Koh Phi Phi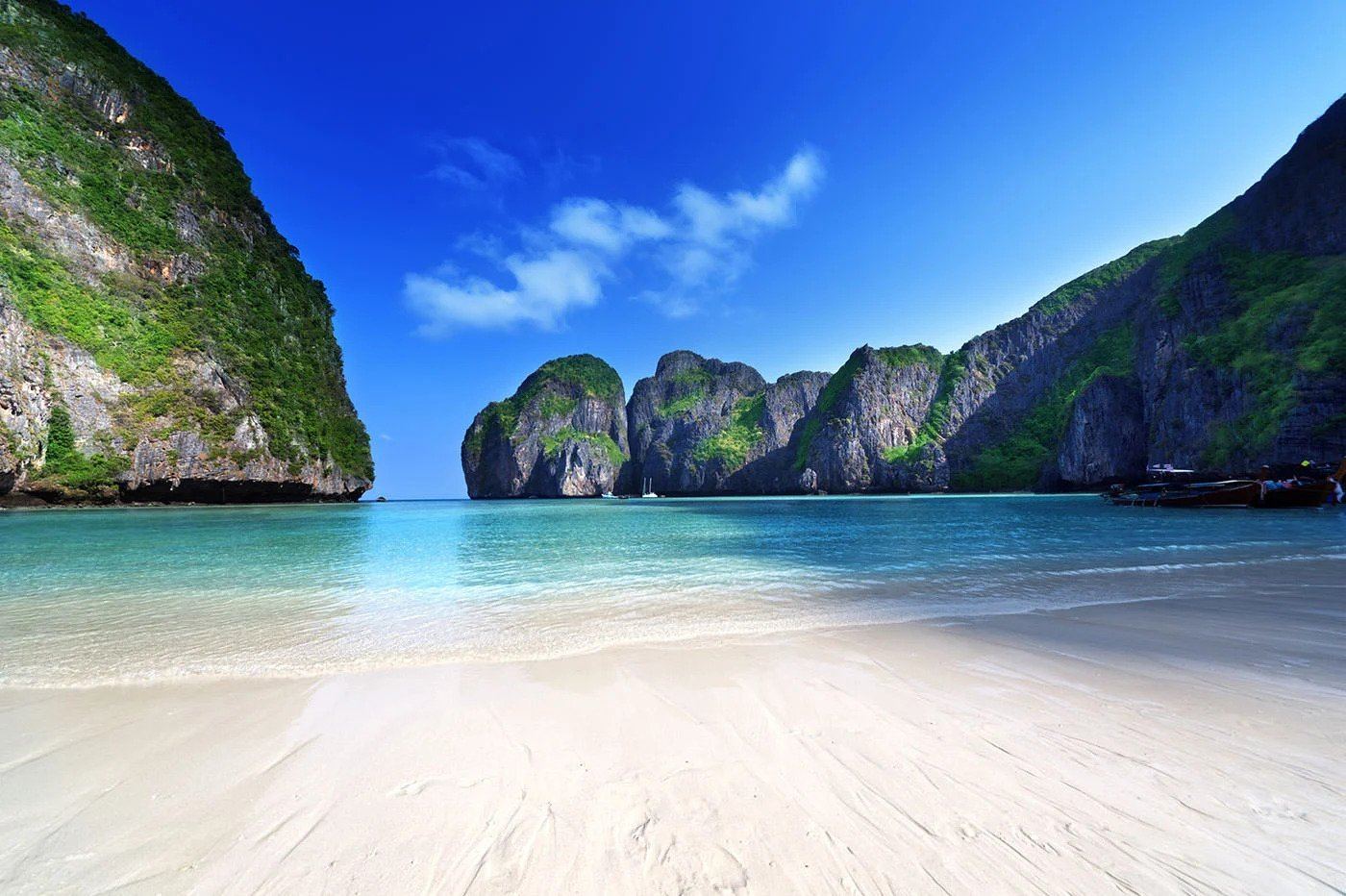 Located between the provinces of Krabi and Phuket, Koh Phi Phi is one of the most picturesque islands near Phuket, and among the top places to visit in Krabi. It is a group of 6 islands however just two of them, namely Phi Phi Don and Phi Phi Leh are the main attractions while the rest are inaccessible. With dozens of different shades of blue waters around, exquisite limestone rock formations, and extremely scenic white sandy beaches, these two islands are featuring the kind of beauty that will take your breath away. Koh Phi Phi is a popular choice for many visitors to the region because it is home to Maya Bay, one of the most famous beaches in the whole of Asia that came to the public's notice after the worldwide release of the popular movie, The Beach in 2000. There are other places to see in Phi Phi Islands such as Pileh Bay, a turquoise-watered bay perfect for snorkeling, Viking Caves, Phi Phi Leh National Park, and a kayaking trip to Monkey Beach, where you can make some furry friends. From parties on the beach to bars with boxing rings inside, Phi Phi's nightlife is legendary.
---
James Bond Island
Just 90 minutes ferry ride away from Phuket is the incredibly scenic James Bond Island, also known as Khao Phing Kan. Located in Phang Nga Bay, this island got its new name after a James Bond movie – The Man with the Golden Gun, was shot here in 1974. Thailand is one of the top countries most visited by tourists in the world. The delights here are available in the form of delicious seafood and breathtaking sights of huge limestone karsts rising from the aquamarine waters of Phang Nga Bay, especially the funnel-shaped rock that is the perfect setting for the perfect shot. The mangrove forests and calm waters are also popular for trekking expeditions and kayaking here. Besides, there are also a few other islands worth checking out but perhaps the most intriguing is that of Ko Panyi, a floating village that offers delicious fresh fish and even has a floating football pitch, too. Due to the ease of access, a tour of this island is often combined with the Krabi tour and Phuket tour.
---
Koh Maphrao / Coconut Island
Located on the east coast of Phuket, Koh Maphrao, popularly known as Coconut Island is a beautiful island just about 15 minutes from the main city. One can easily reach the island by catching a boat from Laem Hin Jetty and spending a day relaxing in its calm atmosphere away from the touristy atmosphere of Phuket. Most of the island is covered in coconut plantations. The main beach called Coconut Beach is found on the northern coast, while there are smaller beaches scattered around. From hospitable locals to abundant marine life, everything about this unknown island is lovely. Furthermore, the exceptional views of Phang Nga Bay from the island are incredibly fascinating. If you are travelling to this palm-speckled oasis from Phuket, take a halt to try amazing seafood at one of the many floating restaurants on the way. Island beaches are one of the reasons to fall in love with Phuket.
---
Coral Island
Coral Island or Koh Hae is perhaps the closest of the islands situated off the coast of Phuket, just fifteen minutes by speedboat. It is an ideal option for those looking to avoid a longer boat trip and for those looking for something a little less crowded. It is popular for its exotic coral reef, hence the name Coral Island. The island is home to two beautiful beaches, namely Long Beach and Banana Beach, one of the popular beaches to visit in Phuket. Additionally, the entire Coral Island offers numerous water activities, including banana boats, canoes, snorkelling, speed boat racing, and many more to add some thrill to your vacation. There are also several bars and restaurants located on the island for those looking to grab a mid-afternoon beer or meal to escape the sun.
---
Koh Yao Islands
Located in the heart of Phang Nga Bay, Koh Yao consists of two large islands – Koh Yao Noi, and Koh Yao Yai. Koh Yao Yai is the larger of the two and is characterized by fishing villages, sandy shores, rubber plantations, and mangrove forests. However, Koh Yao Noi, a smaller island, offers more hotels along the coast and is frequently visited by tourists over the weekend. The charm of these islands stands in the fact that they have not been overdeveloped, and are perfect for a day or two of exploring, relaxing, and unwinding. The rice paddies, rubber plantations, and buffaloes working in the fields offer a glimpse into the local life of Thailand. From Phuket, it takes about 45 minutes to get there by local ferry, or 20 minutes by speedboat.
---
Similan Islands
A part of the Phang Nga province, Similan Islands is an exotic archipelago of 9 islands in the Adanam Sea about 84 km northwest of Phuket, Thailand, one of the affordable international destinations for Indians. These islands are home to white sandy beaches, rich marine life, and ideal spots for snorkeling and scuba diving. It is widely considered to be one of the top 10 diving sites in the world, as well as in Thailand. Its less explored and unspoiled beaches and coral reefs make for a perfect escape from everyday life. Divers regularly come into contact with colourful fish and other marine life, with huge manta rays even known to pass through the area on occasion. Besides, huge boulders around the islands, make for an interesting landscape and an even better climb.
---
Ko Racha Yai
For absolute tranquility in the face of crystal clear waters, consider Racha Islands, also known as Raya during your Phuket tour. Situated a mere 20 km to the South of Phuket, the twin islets of Racha Yai and Racha Noi are especially famous for their top-notch diving and snorkelling sites, as well as for their 'full of fish' surrounding waters. Out of the two, Koh Racha Yai is the bigger one that serves as the more popular tourist destination with its sandy beaches and great resorts, while Noi is uninhabited and a bit rockier. The two beaches on the main island are beautiful, and the island is fun to explore. Long-tail and speedboats transfer visitors to the area frequently where they can enjoy swimming, underwater exploration, and a luxury beach stay making it one of the best islands near Phuket.
---
Koh Khai Islands
The Koh Khai are three tiny but trendy islands just 20 minutes from Phuket's east coast. Koh Khai Nok is the largest of them and is particularly busy in high season as it offers a pleasant getaway from Phuket for those who want to enjoy sunbathing and snorkelling without the hassle of a long trip at sea. Featuring restaurants, bars, sun-loungers, and umbrellas, the highlight of Koh Khai Nok is the multitude of tropical fish roaming around the shore, giving visitors the great experience of swimming in a natural 'aquarium' in Thailand, among the best beach destinations in Asia.
---
Santhi is an avid traveler and primary contributor to the blogs at Trawell.in. She has explored most of the states in India and gained vast knowledge on tourist destinations in India and abroad. She also contributes content to other travel websites.