Dubai, one of the seven emirates of the United Arab Emirates (UAE), is the largest and the most luxurious city perched on the Gulf Coastline. Sits in the middle of the Arabian Desert, surrounded on one side by dry sand and the beautiful Persian Gulf on the other side, this luxurious city, is known for its ultra-modern architecture, incredible skylines, high-end shopping options, colorful nightlife, and a plethora of tourist attractions, is one of the most visited cities in the world and among the most sought travel destinations for Indians. Besides, Dubai is a paradise for food lovers with multiple cuisines being served in some of the best restaurants along with simple and finger-licking go local Emirati cuisine. If you are not familiar with the region's traditional dishes, then here is the list of must-try Emirati dishes as part of Dubai tour packages.
Al Harees
Al Harees is one of the most popular traditional dishes in Emirati cuisine, especially in Dubai. It is a porridge-like dish made with beaten skinless wheat and meat, usually chicken or lamb. Related to the Arabic dish haleem, it's made by cooking the soaked wheat for several hours. When the mixture reaches porridge-like consistency, chunks of lamb, chicken, or mutton are added, and the dish is boiled again for several hours. Cinnamon, salt, and pepper are also added to boost the flavor of the dish. Even though the preparation time is slightly longer, the result is quite worth it. Al Harees becomes especially popular during the holy month of Ramadan as it is a filling and nutritious dish that is easy on the stomach, which is a boon during the month of fasting.
                                    Also Visit : Top Dubai Tourist Places
---
Al Machboos
Another famous traditional Emirati dish of Dubai, Al Machboos is a non-vegetarian rice dish that's widely considered to be a national dish in all countries of the Arabian Peninsula. Also known as Kabsa, this rice dish is made out of red meat, chicken, or shrimp boiled in stock with spices and dried lime powder, or loomi. Then, the pieces are removed from the pot and rice is added and cooked in the same stock. Once the rice is cooked, the meat, onions, spices, and other ingredients are added to complete the dish. It is best served with some raita and salad to make it more delicious. One can find delicious Machboos in almost all the restaurants in Dubai and Abu Dhabi but Al Fanar Restaurant & Café in Yas Mall serves the best Al Machboos.
                                     Must Read : Dubai Visa Guide for Indians
---
Balaleet
Balaleet is one of the prominent traditional Emiratis' breakfast dishes. It refers to a noodle dish that can be both sweet and salty. This Emirati breakfast dish is prepared with vermicelli, eggs, cardamom, cinnamon, and saffron. Balaleet is made by the first sauteing and then boiling vermicelli noodles. Once they're cooked, they're sweetened with sugar, cardamom, turmeric, and saffron-infused rose water. It is usually served with an omelette or scrambled eggs on top. The taste is enhanced as the dish is topped with crunchy pistachios. It is typically served for breakfast though it can also be eaten for dessert.
---
Luqaymat
If you have a sweet tooth and want to try some Arabic desserts while in Dubai, then you can start with Luqaimat. Luqaimat are essentially deep-fried dough balls made using butter, milk, sesame seeds, turmeric, flour, saffron, and cardamom. The ingredients are whipped together to form a smooth batter and then deeply fried to get the nice golden color and then drizzled with syrup to get sweetness to the dish. They taste like crispy fried doughnuts – crunchy on the outside and soft and fluffy on the inside. This is a popular street food in Dubai and Abu Dhabi and a beloved traditional Emirati dessert especially during the holy month of Ramadaan.
---
Thareed
No Dubai food guide would ever be complete without tasting Thereed. Thereed or Therid is a slow-cooked stew made of chicken, lamb, or goat, roasted vegetables, and appetizing seasonings. This heavily spiced dish is served with thin Emirati bread, known as Rigag. It has many health benefits as it is rich in vitamins and proteins. Also, it can be cooked as a purely vegetarian dish. Like Al Harees, Therid is a preferred dish for iftar and for breaking the fast during the holy month of Ramadan. No doubt, Therid is a heavenly combination of flavors and textures and one of the best Emirati dishes you can try in Dubai and Abu Dhabi.
---
Saloona
Despite the influx of western cuisine into restaurants in the Emirates, Saloona has kept its place in the hearts of the people of Dubai. So, when you're in Dubai, make sure you discover this Emirati stew, known for its simple preparation, delicious taste, and amazing flavor. Rich in vitamins and protein, this Emirati stew is prepared with pieces of chicken, turmeric, olive oil, grated ginger, minced garlic, onion, chilli, and spices. It features at almost every special occasion or feast in the Emirates. One will also find seafood and all-vegetarian versions. Whichever you choose, one thing is sure it makes a great accompaniment with rice and flatbreads.
---
Jasheed
Jasheed is one of the more popular dishes in the Gulf region. Fish has a particularly important place in Emirati cuisine, especially in coastal regions where fresh fish features in many meals. It is prepared from small sharks, or other fish if these aren't available. The fish is first cooked with spices in water until the skin peels off. Then, it is cleaned and cooked with a blend of bazaar spice mix, cinnamon, ginger, ground dried lemon, cardamom, chopped onion, and garlic. This dish is best served with white rice or rice with fried onions.
---
Samak Mashwi
Due to its location in the Persian Gulf region, fish and seafood have long featured prominently in traditional Emirati cuisine. There are many delicious seafood dishes you can try in Dubai and Abu Dhabi, and Samak Mashwi is one among them. Samak Mashwi refers to fish, usually seabream, grilled in the traditional Emirati way. The fish is cleaned, and marinated in a mixture of herbs and spices like coriander, cumin, chilli, turmeric, paprika, dried lime powder, and date paste. The fish is then grilled with its scales still on to help it stay moist even in high heat. Then, it is garnished with parsley, lemon slices, mayonnaise, pickles, and sliced olives. This dish is served especially during parties, social events and during Ramadan. If you are a seafood lover, then you would definitely love trying this dish as part of Dubai Tour.
---
Shakshuka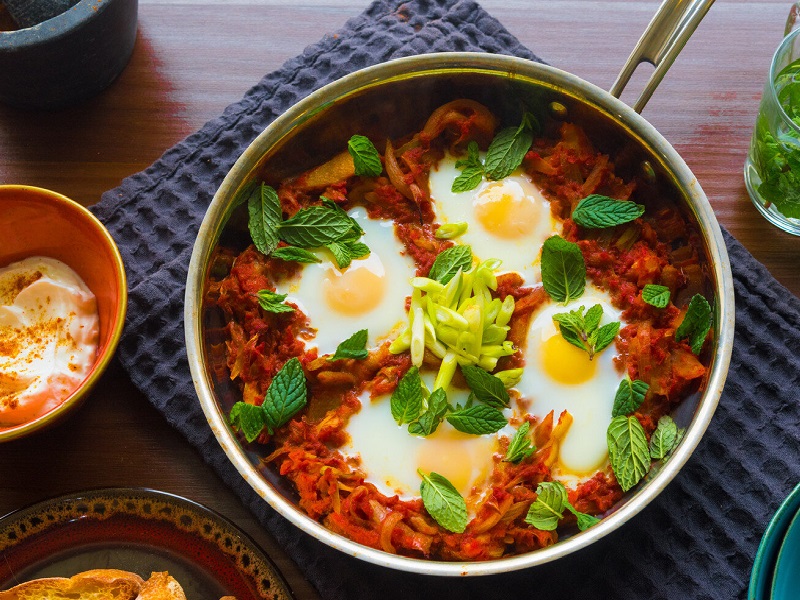 Shakshuka is a popular Middle Eastern and North African dish which is also popular in Dubai. This healthy dish is prepared by poached eggs cooked with onions, garlic, tomatoes, and spices like chili powder, cumin, and paprika powder. It is traditionally served for breakfast with warm pita bread, challah, or naan. Also, it tastes good with hummus, grits, roasted potatoes, herb salad, cucumber salad, or Greek salad.
---
Madrouba
Madrouba or Madrooba is one of Dubai's most popular foods, and it also has its fans in Bahrain and Oman, too. Madrouba is another type of Emirati porridge made with rice and meat, usually chicken. It is traditionally prepared by beating the rice into a smooth mash using a wooden spoon called a medhrab. To prepare, the meat is first boiled and simmered in a pot of water with caramelized onions, dried lime, and spices. After the meat is cooked all the way through, rice is added and stirred constantly to ensure that it doesn't stick and burn. This dish is ideal for all ages as it's easily digestible. The recipe takes a lot of time to prepare which is why it may not be found in a lot of restaurants.
---
Santhi is an avid traveler and primary contributor to the blogs at Trawell.in. She has explored most of the states in India and gained vast knowledge on tourist destinations in India and abroad. She also contributes content to other travel websites.