Fondly called as the party capital of South East Asia, Bangkok is always among the world's top tourist destinations as it is packed with historical, religious and natural tourist attractions. Besides, the capital of the kingdom of Thailand is one of the must include in Thailand Tour Packages and also one of the best places to try scrumptious Thai food in the world. From local dishes served at humble street stalls to haute cuisine at high-end restaurants, there are so many options for food lovers and sometimes it can be difficult to choose the good one. Trawell.in presents the list of 9 best places to try authentic Thai food in Bangkok here.
Somtum Der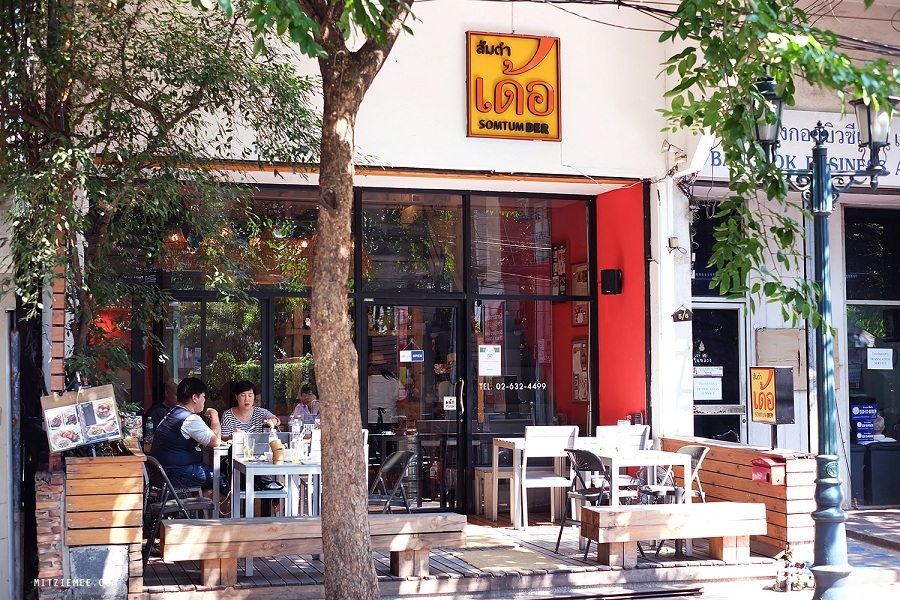 Somtum Der is a small cozy restaurant caters authentic Isan Thai food in Bangkok. Located in Silom, the restaurant is best known for the world famous papaya salad Som Tam from which the restaurant takes its name. There are multiple variations of Som Tam and remember that all are quite spicy, even the one-chilli versions are hot, but you can ask for a non-spicy version. Tum Thai, the base papaya salad, the Tum Thai Kai Kem with salted boiled eggs, the Tum Kor Moo Yang with savory grilled pork neck, Tum Pla Tu Khao Mun and Moo Ping Kati Sod, are must try delicacies here while in Bangkok as part of Bangkok Tour Packages.
Also Read: 13 Most Popular Tourist Attractions in Bangkok
---
Blue Elephant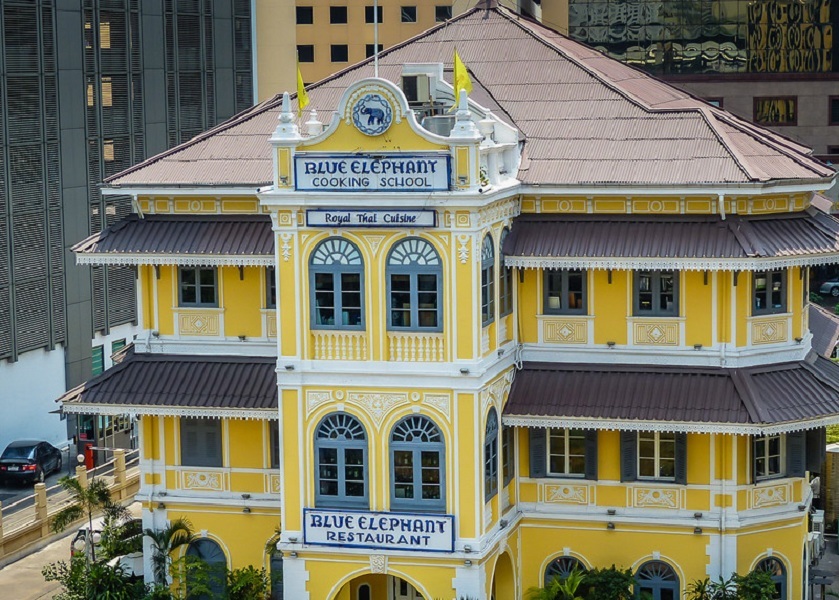 Founded by the award winning Chef Nooror Somany Steppe, Blue Elephant is one of the best places to enjoy fine Thai cuisine and hospitality in the country. Set in an elegant colonial building in Sathorn, Blue Elephant offers a wide variety of unique dishes, from the past, present and future of Thailand's gastronomic culture. The menu at Blue Elephant holds culinary treasures such as Bamboo Fish, Green Curry, Laab Salmon, Pad Thai Blue Elephant, Duck Salad, and Tom Kha Gai along with their signature dish Foie Gras. Besides, the restaurant is also noted for its cooking school as well as for its excellent product line of Thai curries and sauces.
---
Popular Bangkok Tours
---
Thip Samai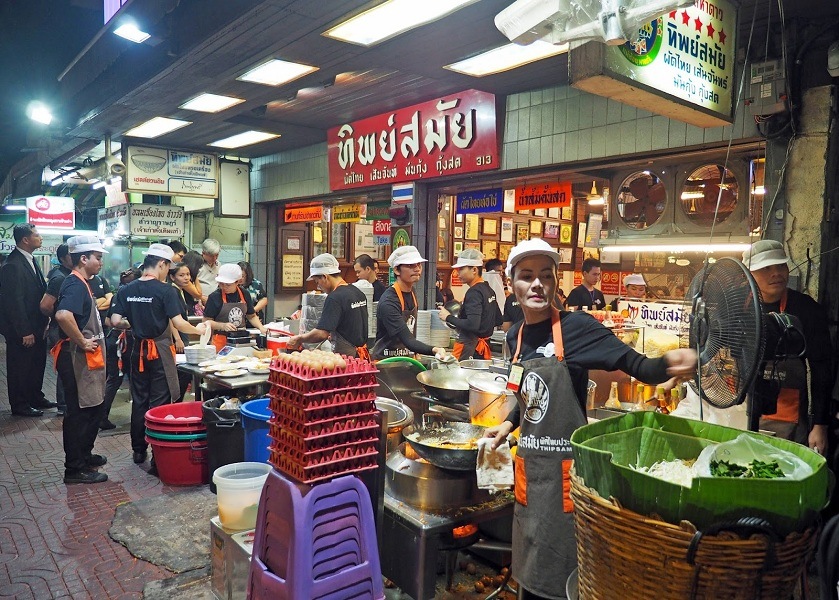 Located on Maha Chai Road near China Town, Pad Thai Thip Samai or Pad Thai Pratu Pi is one of the most famous Pad Thai restaurants in Bangkok. Began its operations in 1965, Thip Samai has a simple menu basically consisting of different varieties of Pad Thai. Pad Thais in this restaurant have a distinct smoky flavor as they are cooked on burning hot charcoals. Original Pad Thai, Pad Thai Sen Jan Man Goong, and Superb Pad Thai are the must try ones here. There is always a long queue of customers both local Thais and foreigners hungrily waiting to have one of Thailand's most famous dishes while in Bangkok as part of Thailand Packages.
Also Read: A Foodie's Guide to Singapore
---
Krua Apsorn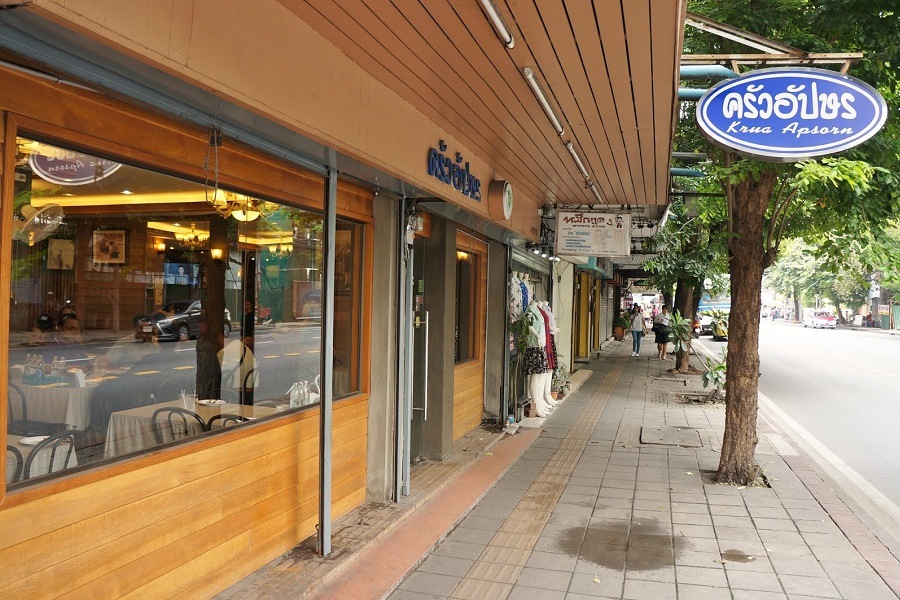 Like many of Bangkok's most beloved restaurants, Krua Apsorn is a legendary heritage restaurant in Bangkok that serves authentic food since 20 years. Managed by Khun Chan Chanawasakantak or Aunt Pornthep, Krua Apsorn has about 50 menus that allow customers to taste simple but extremely delicious Thai food at pocket-friendly prices. Though there many branches, the original branch of Krua Apsorn, located in the historic Dusit area of Old Bangkok, is the preferred one. Krua Apsorn is particularly famous for their Stir-fried Crab in Curry Powder, Stir-fried Crab with Yellow Chilli and Stuffed Crab Omelette.
Also Read: Top Places to Visit in Thailand
---
Issaya Siamese Club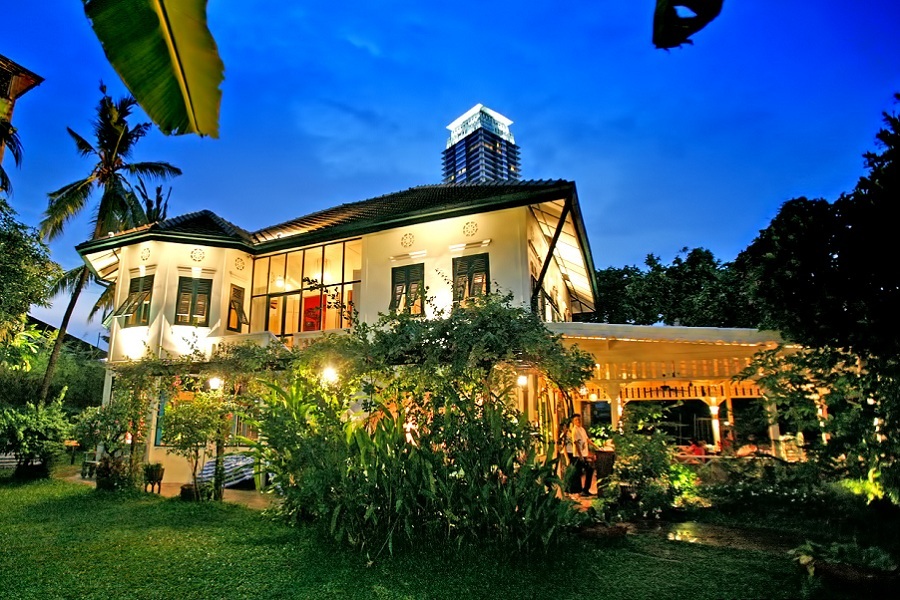 Featured on the list of top 50 restaurants in Asia, Issaya Siamese Club is the flagship home of Thai celebrity Chef Ian Kittichai. Renowned for its hip garden party atmosphere, this high-class restaurant is housed in a vibrantly coloured 100-year-old colonial villa on Chua Ploeng Road in Sathorn. The food here is undoubtedly sumptuous and healthy as they use organic farm fresh vegetables and herbs from the garden surrounding the restaurant. Though the menu features Chef Kittichai's several outstanding signature Thai cuisines, Mussaman Curry Lamb Shank, Jasmine Flower Flan, Yum Hua Plee and Kanom Tung Taek are unmissable ones.
---
Bo.Lan Restaurant
Bo.Lan is founded by chef couple Duangporn Songvisava and Dylan Jones who were trained by the king of Thai cuisine, the Australian chef David Thompson. Situated in Sukhumvit Road, the restaurant is consistently voted amongst the Thailand's best fine dining restaurants specializing in Thai cuisine since its opening. Bo.Lan changes its menu on a quarterly basis and incorporates fresh produce both from local farmers and grown on site. Having zero tolerance for course menus, this high class restaurant specializes in Penang curry, Duck Salad and much more. Take someone who shares a perceptive appetite as dinner is only served in set menus in a sharing style while they offer an à la carte menu for lunch.
---
Khua Kling Pak Sod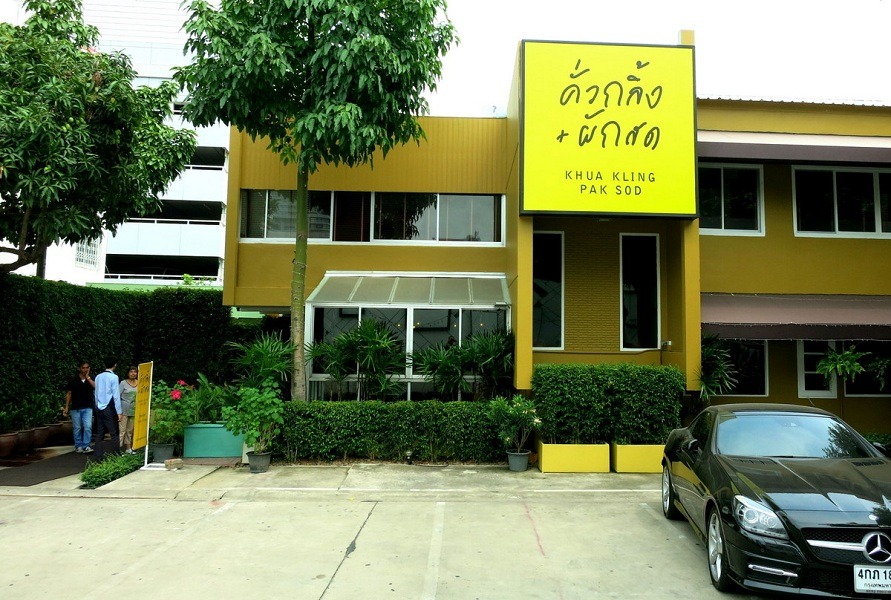 Khua Kling Pak Sod, a family-run establishment, is specializing in the cuisine of southern Thailand. Hidden down the narrow lane of Thonglor Soi 5, Sukhumvit, Khua Kling Pak Sod is a small restaurant famed throughout the country for its fragrant spice-infused flavors. Southern Thai food here is authentic and highly spicy. Gaeng Luang, Khua Kling, Phad Satow and Bai Liang Pat Kai are the signature dishes here. Among these, Khua Kling, super spicy young pork ribs fried in spicy paste is a must try.
---
Supanniga Eating Room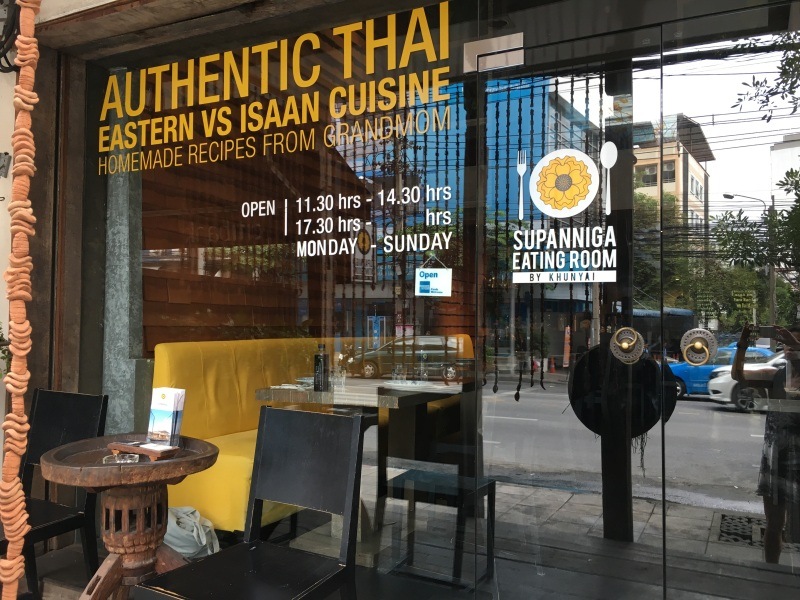 Nestled in the heart of Bangkok, Supanniga Eating Room serves authentic northeastern Thai cuisine inspired by the owner Laoraowirodge's grandmother, a native of Trat, on the eastern seaboard. There many branches four branches and a dinner cruise but Thonglor branch is the original one which captivates the hearts and stomachs of locals and expats alike with home-style cooking. The cuisine here showcases delicacies from the Trat and Chantaburi provinces, with a slight Isan touch. Moo Cha Muang, Khao Krieb Nam Jim, Gaeng Bai Poo Cha Plu, Nam Prik Khai Pu and Puu Jah are the must try dishes at Supanniga. There is also an extensive signature cocktail menu to pair up with the tasty Thai food.
---
Baan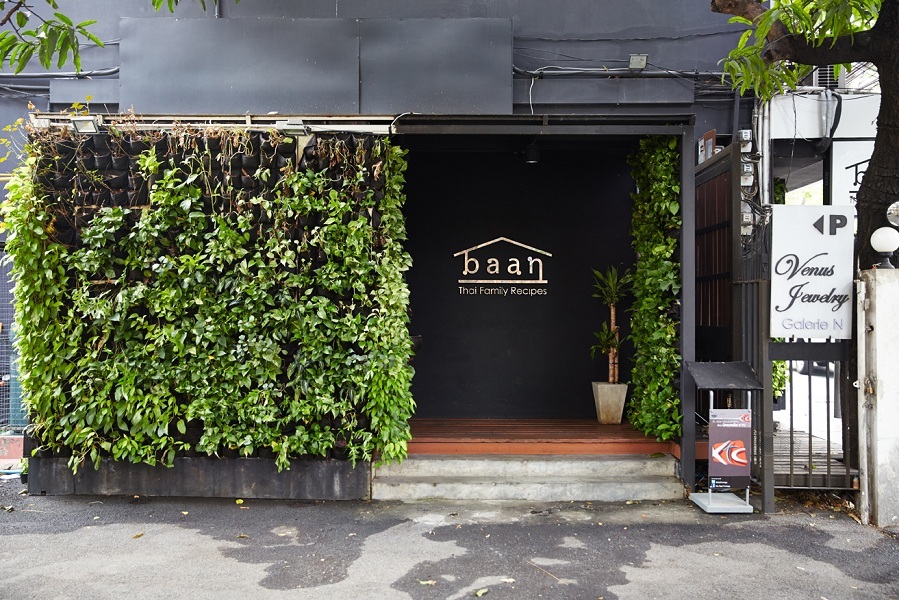 Situated just off Lumphini Park, Baan Thai Family Recipes is a restaurant in Bangkok owned by chef Thitid Ton Tassanakajohn, who also owned the heavily praised Le Du in Silom. The restaurant offers a great selection of local Thai dishes, including a range of regional dishes, and some restaurant unique creations as well. The chef brought these unique recipes from his childhood and added his knowledge of traditional ingredients. One must try Massaman with Lamb, Braised Beef Green Curry, Pad Ka Prao Neau, and Moo Satay at Baan during Bangkok Tour.
Santhi is an avid traveler and primary contributor to the blogs at Trawell.in. She has explored most of the states in India and gained vast knowledge on tourist destinations in India and abroad. She also contributes content to other travel websites.