Far away in the heart of the Indian Ocean lies the island nation of Maldives where sands are white as the smiles of the locals, where fish swim happily in the sea waters, where the weather is a dream and the deep rays of the sun wait to engulf you in their arms. With 1,190 Islands scattered among 26 atolls, the island nation is one of the top beach destinations in Asia as it is an abode of the most bewitching beaches in the world. Cruising on the island paradise, explore the untouched and traditional culture of Maldives, see the spectacular coral reefs, diving, and swimming in the azure waters are some of the top things to do as part of Maldives Tour Packages. Besides, there are many luxurious as well as budget island resorts spread across the massive island that are idyllic retreats for affluent travelers, offering world-class accommodation, fine dining options, luxurious facilities, and impeccable services for a fulfilling tropical holiday.
Here is the list of 10 island resorts in the Maldives for budget travelers.
Paradise Island Resort & Spa Maldives
If you want a tropical island holiday in the Maldives with bright white beaches, a lagoon awash in deep blues and aquamarines, and five star setting with excellent service, Paradise Island Resort & Spa will cater to all your needs. Locally called Lankanfinolhu, this five-star resort opened in 1994 is located in North Malé Atoll, which is about 10 km from Malé International Airport. Paradise Island is 1 km long and 230 m wide and has a beach all around with excellent marine life. From spacious bungalows with direct access to the beach to luxury villas with private hot tubs, the Paradise Island Resort & Spa offers an idyllic island stay in the Indian Ocean. Each room comes with air conditioning, tiled flooring, and a private terrace with serene ocean views. Also, the resort features an outdoor pool, 4 restaurants, and a spa. The resort also arranges special trips for resident guests who would like to go surfing, deep-sea fishing, and explore the nearby coral reefs.
                              Must Read : Dream Places to visit in Maldives
---
Sheraton Full Moon Resort & Spa
Sheraton Maldives Full Moon Resort & Spa is a tropical paradise located on the private Furanafushi Island in the stunning North Male Atoll, Maldives, and is accessible by a 15-minute speedboat ride from Velana International Airport. Surrounded by a shimmering turquoise lagoon, pristine white sandy beaches, and swaying palms, this award-winning 5-star star family resort is home to an exquisite collection of room types that range from elegant deluxe rooms to charming cottages and indulging water bungalows and villas, as well as an expansive two-bedroom water suite. The resort features seven restaurants and bars offering a diverse selection of cuisines. Guests can indulge in a signature treatment at the award-winning Shine Spa. Other services are available at an additional charge including diving, motorized water sports, sandbank picnic, snorkeling safari, sunset dolphin cruise, parasailing, fishing, and much more.
                                 Also Read : Maldives Tourist Visa Guide for Indians
---
Furaveri Island Resort
Furaveri Island Resort & Spa is a tropical 23-hectare natural and un-reclaimed island situated in the exotic Raa Atoll near Hanifaru Bay, a UNESCO biosphere reserve, in the Maldives. The Island, 151 km from Male International Airport, is accessible by direct seaplane or domestic flight followed by a 45-minute speedboat journey. The 168 private villas ranging from Garden Villas, Beach Villas, Water Villas, Beach Pool Villas, Dhoni Pool Villa, Ocean Pool Villa, Sunset Ocean Pool Villa, Two Bed Room Reef & Beach Residences in the resort have been specifically designed and tastefully furnished. Every room at this resort provides free WiFi access and features a mini-bar. At Furaveri, one can have a variety of dining options from an international buffet to a la carte fusion Asian restaurant and casual Mexican dining over the reef edge. Guests can enjoy various activities including snorkeling, diving, catamaran sailing, kayak, and windsurfing. There is also a kids club that features an air-conditioned venue with carefully selected toys and a large sand-filled playground with a playhouse, slide, and spring riders.
---
Kurumba Maldives
Kurumba Maldives is an island resort located on Vihamanaafushi island in the scenic North Male Atoll, Maldives. This is the very first private island resort in the Maldives and is just 10 minutes away by speedboat from the Male International Airport. Kurumba Maldives offers a wide range of comfortable accommodations surrounded by beautiful white sand beaches and scenic coconut trees. All these luxurious rooms and villas feature private terraces with beach views. The resort has 2 outdoor freshwater pools, 3 tennis courts, 7 restaurants, 4 bars, and a fitness center. Kurumba's restaurants boast an impressive variety of cuisines, including Japanese, Indian, and Lebanese choices. This award-winning resort also offers night snorkeling, water sports, underwater photoshoots, excursions. With a wide variety of accommodation, a diverse choice of restaurants, bars, and lots of activities to choose from, Kurumba is ideal for guests of all ages.
                                 Must Read : Tips to Travel the Maldives on a Budget
---
Bandos Maldives
Lapped by the vast expanse of the Indian Ocean, Bandos Maldives is a private island resort ideally situated on North Malé Atoll, just a 10-minute speed boat ride from Male International Airport. Opened in 1972, this upper-middle-range island resort was the second resort in the Maldives. From the ultra-exclusive and luxurious Water Villas to the standard rooms, Bandos Maldives has a total of 215 spacious rooms with balconies overlooking the garden or beach. The resort also boasts an outdoor pool with a swim-up bar, live entertainment at Sand Bar, massage treatments at Orchid Spa, and a Club House that offers a range of fitness activities including a gym, aerobics, badminton, tennis courts, squash, and table tennis. The resort also has an award-winning PADI Dive Centre with trips to over 40 dive sites and the kids' club. The clear blue water, lush green vegetation, white sandy beaches, azure blue sky, and abundant golden sunshine create a perfect setting for a romantic getaway or peaceful escape.
---
Kuredu Island Resort & Spa
Kuredu Island Resort & Spa is a beachfront property situated on Kuredu Island in the Lhaviyani Atoll, just 80 km from the Male International Airport. Accessible only by seaplane, Kuredu is the only resort in Lhaviyani Atoll and offers a luxurious retreat. Kuredu Island Resort and Spa features 383 accommodation units in the form of Garden Bungalows, Beach Bungalows, Beach Villas, Jacuzzi Beach Villas, Water Villas, and Private Pool Villas. All rooms are elegantly designed and equipped with all the necessary facilities required to give guests a comfortable and refreshing stay. This resort has an infinity pool, 2 luxury spas, a golf range, 14 dining outlets, a dedicated kids' club, and a house reef with a shipwreck for excellent diving. This is the only property that features a golf course on the island, and also has one of the best diving schools. Guests can also engage in golfing, snorkeling, canoeing, and fishing.
---
Embudu Village Resort
Nestled on a 3 km long Emboodhoo Island, Embudu Village is a 3 Star property situated in South Male Atoll, just 20 minutes speedboat ride from Male International Airport. This simple yet beautiful private island resort is a great option for travellers looking out for a resort amidst pristine beaches and stunning oceanic vistas. Blessed with a beautiful white sandy beach and lush tropical vegetation, this resort boasts 122 cozy rooms including Beach Bungalows and Water Villas. Guests can pamper themselves by indulging in the on-site spa services including deep-tissue massages, sports massages, and Thai massages. Embudu Village Resort is famous for its stunning house reef and spectacular world-class dive sites. One can find rays, sharks, turtles, morays, and many other amazing creatures in the house reef alone. The resort also provides a variety of exciting excursions.
---
Adaaran Club Rannalhi
Adaaran Club Rannalhi is a delightful luxury beach resort that sits exclusively at the tip of the South Male Atoll, only 34 km from the Malé International Airport, Maldives. The resort is featured among the best hotels in the Maldives as it offers immaculate beaches, excellent scuba diving facilities, and a relaxed environment with easy access to the capital city of Malé. This 5 acre beautifully designed and the meticulously constructed resort has 96 standard rooms display simplistic elegance and 26 water bungalows comprising of a private sun deck overlooking the stunning ocean. A seemingly magical lagoon borders the mesmerizing beach, which is framed by a lovely coral reef inhabited by colorful fish and fascinating sea creatures. It also features a spa and 4 dining options. Set amidst beautiful tropical surroundings, Adaaran Club Rannalhi offers a luxurious holiday packed with water sports like a catamaran, canoe, and banana-boat rides, snorkeling, diving, windsurfing, and water skiing. The resort also offers a sunset photo cruise, island hopping, and local village tour (traditional dhoni ride).
---
Sun Island Resort & Spa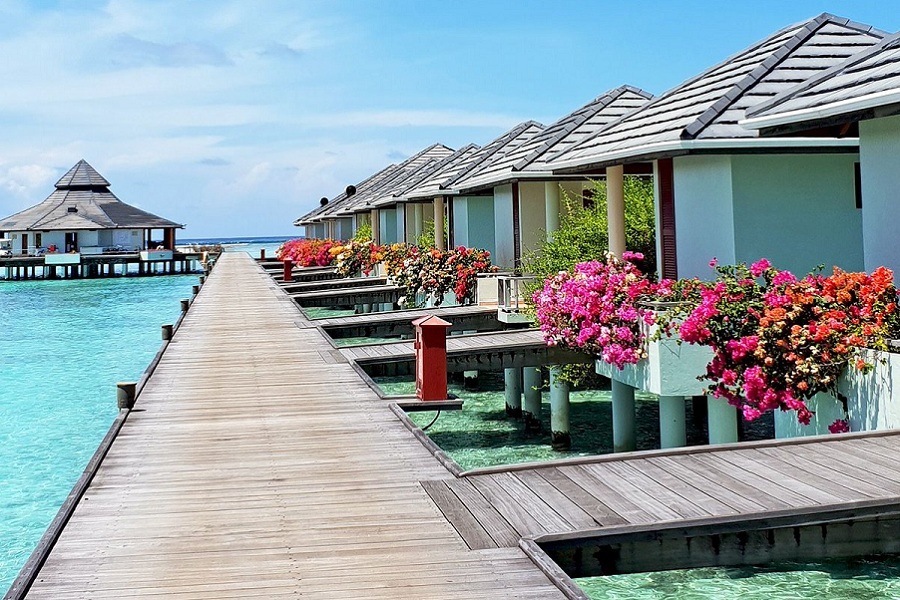 Sun Island Resort & Spa is one of the Maldives' biggest resorts situated in the peaceful surroundings of Nalaguraidhoo Island, South Ari Atoll. Set far away from locally-inhabited islands, the resort is a 17-minute domestic flight (Wheeled aircraft) from Male International Airport. Sun Island Resort & Spa boasts 462 beautifully furnished villas that are fully equipped with modern amenities and facilities like air conditioning, a television with satellite channels, and a balcony area to relax and enjoy the marvelous setting. There are 11 dining outlets on-site including restaurants Southern Star (Indian), overwater Sun Star, and a wonderful Italian restaurant which is perfectly located on the Jetty and makes an ideal spot for newlyweds or couples celebrating their wedding anniversary. The resort also has a private beach, an outdoor swimming pool, and an award-winning spa. For adventure seekers, Sun Island Resort & Spa offers mornings and sunset fishing as well as big game fishing options alongside excursions, island hopping, and seaplane rides.
---
Reethi Beach Resort
Reethi Beach Resort is located on the tiny Fonimagoodhoo Island in Baa Atoll, about 124 km from the Male International Airport. Surrounded by pristine coral reefs and white beaches, this is a great option for nature lovers and diving enthusiasts looking for a luxury vacation in the Maldives. Reethi Beach Resort features 80 Beach Villas, 30 Reethi Villas, 50 Deluxe Villas, and 30 Maldivian-styled water bungalows that overlook the Indian Ocean. It has a fitness center, an outdoor tennis court, an indoor tennis court, an outdoor pool, a spa, and wellness center, 5 restaurants, and 5 bars. At Reethi Resort, guests can find water sports facilities like windsurfing, diving catamaran boating, and snorkeling. The property also offers a variety of private and group excursions.
---
Santhi is an avid traveler and primary contributor to the blogs at Trawell.in. She has explored most of the states in India and gained vast knowledge on tourist destinations in India and abroad. She also contributes content to other travel websites.