Maldives, officially known as the Republic of Maldives, is an island nation in the Indian Ocean located south-west of the Indian subcontinent. Malé is the capital city of Maldives and also the major shopping hub. With 1,190 Islands scattered among 26 atolls, Maldives is one of the top beach destinations in the world as it is home to some of the most stunning beaches in the world and also an ideal honeymoon destination in the world.
A tropical paradise on the earth, Maldives Tourism is renowned for deep blue seas with colorful coral reefs, white sandy beaches, luxury resorts and diverse vegetation. It is also a great spot for diving, snorkeling or just exploring the waters with thousands of different fish swimming around the corals. Besides these, Maldives Islands also has a lot more to offer to visitors with a rich history and culture. There are so many Maldives Tour Packages and Maldives Honeymoon Packages available in the market for tourists who want to visit this magical island nation.
Trawell.in presents 8 dream places to visit in Maldives here.
Malé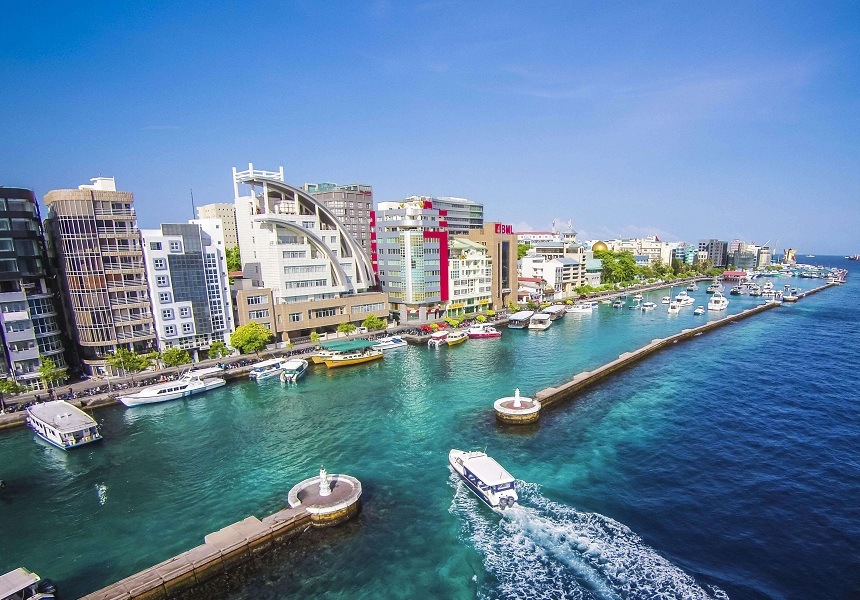 Malé, the capital of the Maldives, is the largest city and the most popular places to visit in Maldives. It serves as the seat for the Government of Maldives and is the hub of commercial trade. Covering an area of about 5.8 sq. km, it is one of the most populated islands of Maldives and is a shopper's paradise, as it provides a wide variety of shopping items.
Earlier called as Sultan's Island, Malé has an extensive array of attractions. The Grand Friday Mosque, Malé Fish Market, Malé's National Museum, Tsunami Monument, Hukuru Miskiiy, and Mulee Aage Palace are some of the popular places to visit in Malé as part of Maldives Holiday Packages. The Grand Friday Mosque built with coral stone is the most impressive architectural edifice of Male'. Its majestic golden dome is visible from all sides of the capital city as it dominates the skyline and attracts thousands of pilgrims every year. Malé doesn't have any beaches, so an artificial beach has been constructed over there.
Must Read: 8 Essential Tips to Visit Maldives on a Budget
---
Banana Reef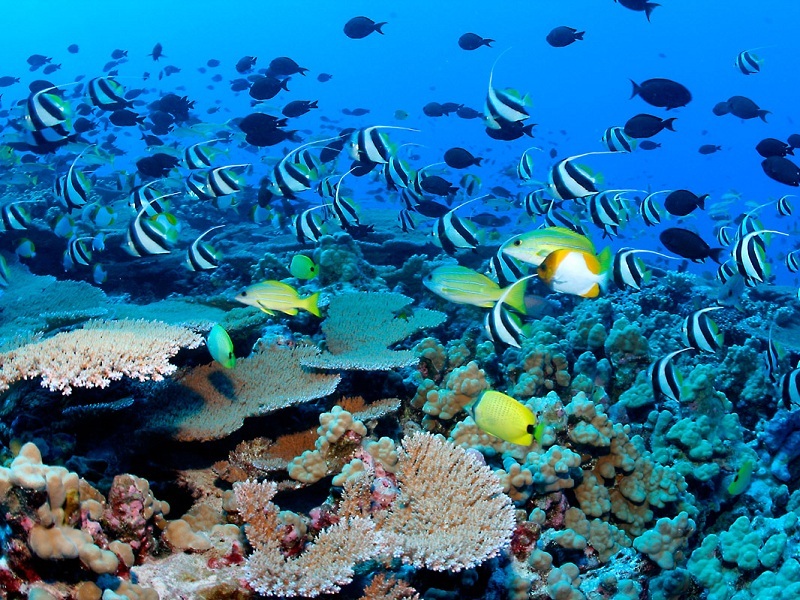 Located in North Malé Atoll, Banana Reef was the first dive site to be discovered in Maldives continues to be one of the best diving sites in the world. Also called as Gaathugiri, Banana Reef gets the name from its shape when seen from above. This protected area is famous for its fantastic diving opportunities and wealth of marine life, fantastic corals, amazing cliffs, overhangs, and caves. Diving at Banana Reef is one of the popular things to do as part of Maldives Vocation.
The dive, which ranges in depth from 5 to 30 m, has several interesting places to explore, such as on the western end were a large cave can be found between 1 m to 15 m down and the northeastern end of the reef has plenty of large caves, fascinating overhangs and deep gutters along the majestic rock face. Coral formations here are abundant and colorful, attracting large variety of fish, including squirrel fish, banner fish, oriental sweetlips, grouper, sharks, jacks, blue-striped snappers, and barracudas.
Also Read: Maldives Visa Guide for Indians
---
Alimatha Island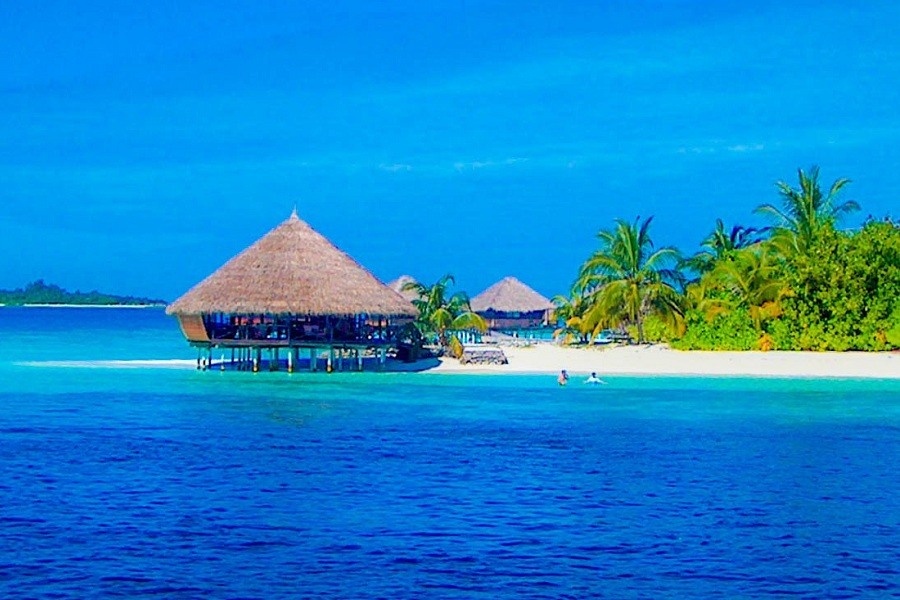 Alimatha is an Island in Maldives located on the northern end of the Felidhu Atoll or Vaavu Atoll, just 2 hours boat ride from the international Airport in Hulhule. Its crystal clear waters, white sand beaches, aquamarine lagoons, and spa centers make it one of the best honeymoon islands in Maldives and also one of the popular places to visit as part of Maldives Tour.
Alimatha is a complete destination in Maldives for all tourists because it has a world-level diving sites for both experienced and beginners, aquarium-like snorkeling sites, and emerald shallow waters for swimming. The Island has lush vegetation and is enclosed by beautiful sites such as Myaru Kandu, one of the most famous channel dives in the whole world. TGI Maldives Alimatha Diving Center arranged diving trips every day, half and full day diving excursions, night dives and day and night snorkeling trips to the beautiful sites surrounding the islands including the national park area of Dewana Kandu, just 10 minutes by boat from Alimatha. The Alimatha Aquatic Resort on the island offers wonderful stay options in the form of beach bungalows and overwaters cottages.
---
Maafushi Island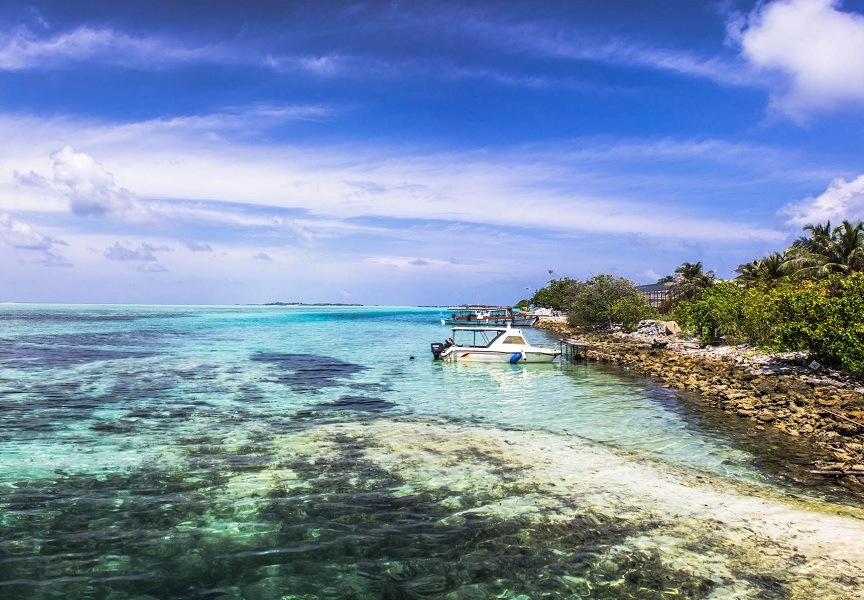 Maafushi Island is an inhabited island located in South Male' Atoll in Maldives. It is one of the biggest and one of the popular local islands in Maldives. Sparkling waters, white sandy beaches, splendid resorts, and thrilling activities make Maafushi one of the best islands to visit in Maldives for honeymoon. It is completely quiet, peaceful place where you can forget all your worries and just sit back and relax.
Located 27 km away from Malé, the northern end of the island is a tourist zone where one can find bikini beach, public beach, guest houses, gift shops, and restaurants. Maafushi is well known for the only prison in Maldives. Diving, snorkeling, catamaran rides and sunbathing are the most popular activities here. One can also go for fishing and there is no better place than Maafushi where you can try a relaxing experience of night fishing.
---
HP Reef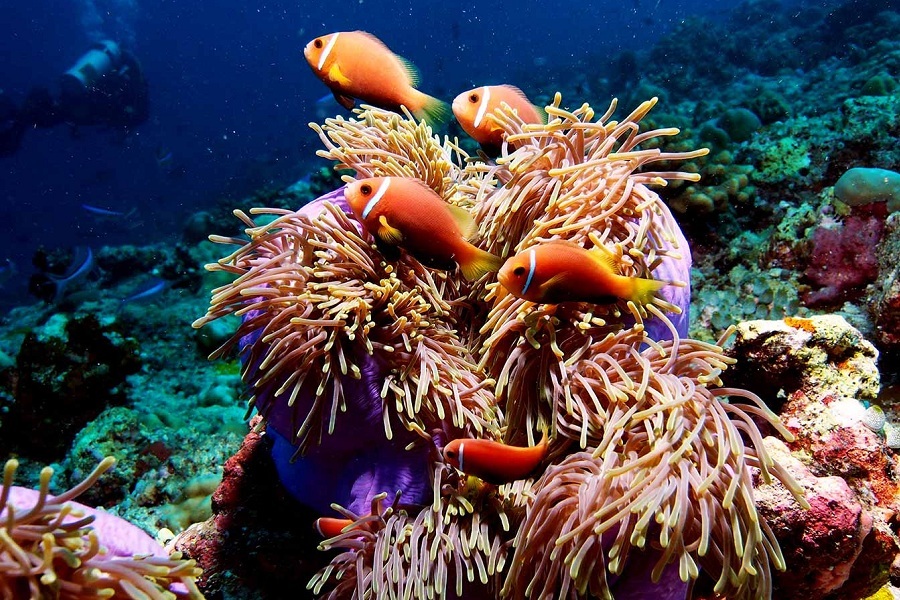 HP Reef or Girifushi Thila is a marine protected area located to the north of Girifushi in North Malé Atoll, Maldives. Also known as 'Rainbow Reef', HP Reef has strong currents and is great spot for those looking to explore the underwater world. Sits beside a narrow channel where currents provide nutrition for extremely rich growths of soft, blue corals, and support a large variety of reef fish and pelagics. It is also called the soft coral capital of the world. Diving at HP Reef is one of the must things to do during the Maldives Tour.
HP Reef is one of the best known and most beautiful dive sites in the Maldives. Sandwiched between Girifushi and Himmafushi, the formations include large blocks, spectacular caves and a 25 m vertical, swim-through chimney. With dives of up to 10 to 40 m deep, the reef is a great place for spotting various reef fish, manta rays, dog tooth tunas and other marine life. Most of the reef is completely covered in yellow, blue and orange soft hanging corals, as well as stunning sea fans.
---
Biyadhoo Island
Biyadhoo is another popular island in the tropical paradise and among the best Maldives tourist places. Spread over ten acres of land, it is around 18 miles away from South Malé International Airport and has Makunufushi Island in close proximity. The island is owned and managed by the Taj group from India. This tropical island haven is enclosed within the turquoise folds of the Indian Ocean and offers a fascinating glimpse of the simple, yet breath-taking beauty of Maldives.
Bordered by a crystalline lagoon and white sandy beaches, Biyadhoo is blessed with lush tropical vegetation and famed to have the best house reef in the Maldives. Often referred to as a scuba-diving island, Biyadhoo is popular among the diving and snorkeling enthusiasts. Famous scuba-diving sites in the area are Kandooma Thila, Kandooma Caves and the Protected Marine Area of Guraidhoo Kandu. The Nautico Watersports Center organizes the scuba-diving tours on both Villvaru and Biyadhoo islands. Snorkeling, windsurfing, catamaran sailing, and canoe paddling are the other popular water sport activities on this island.
---
Veligandu Island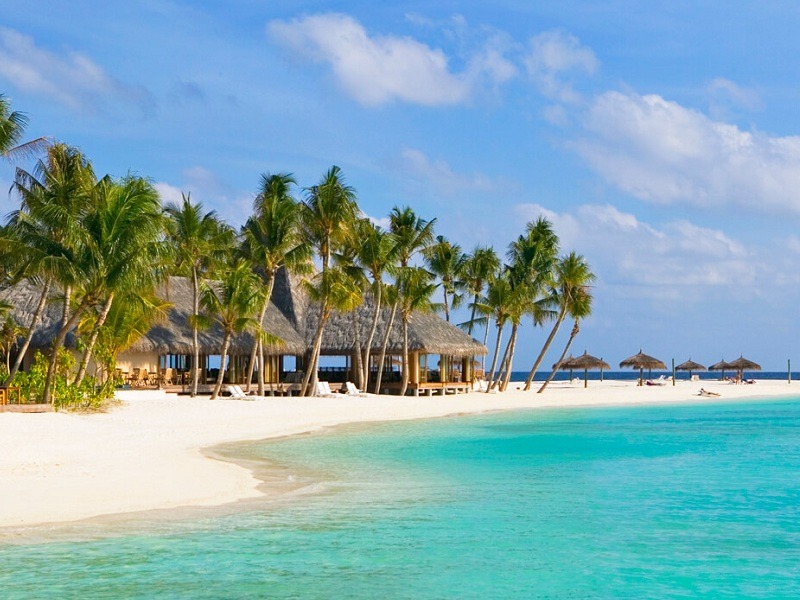 Veligandu Island is reasonably a small island located in North Ari Atoll of Maldives. But in spite of being small, the island is filled with astonishing greenery that provides immense serenity. The Veligandu Island Beach which sprawls over an area of 22 acres is the main attractions here and is one of the best beaches in Maldives. Veligandu Island Beach with its unique white sands and turquoise waters is really a big attraction for honeymooners and newly-weds.
The beach can be accessible by seaplane from Malé Airport and it has only one resort. The resort offers various activities including scuba diving, windsurfing, catamaran sailing, parasailing, jet skiing, banana boat riding and canoeing.
---
Utheemu Island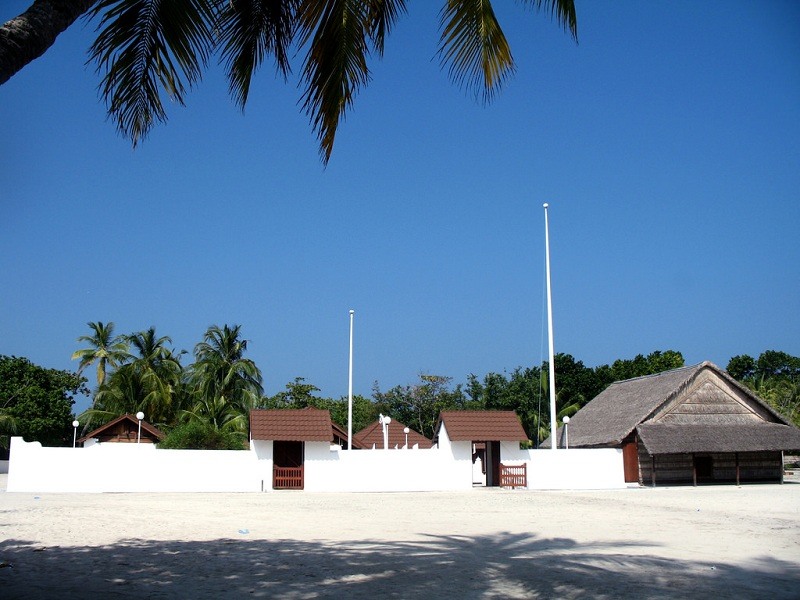 Utheemu is one of the inhabited islands of Haa Alif Atoll in the north of the Maldives. Utheemu is famed as the birthplace of Sultan Mohamed Thakurfaanu. It is a site of great importance for the locals, as Mohamed Thakurufaanu is considered a hero for saving his people from Portuguese invaders. Thakurfaanu and his brothers are remembered for having fought a 15-year-long war to evict the Portuguese from Maldives.
Utheemu Ganduvaru is a wooden palace in which Sultan Mohamed Thakurufaanu grew up. It has been very well maintained over the years and portrays the lives of the rich many years ago. Visitors are able to see the fascinating 500-year-old wooden interiors, including swing beds, lamps, elaborate wooden carvings and a large palm-thatch shed used as a sleeping room for guests at Utheemu Ganduvaru.
Top International Tour Packages
Santhi is an avid traveler and primary contributor to the blogs at Trawell.in. She has explored most of the states in India and gained vast knowledge on tourist destinations in India and abroad. She also contributes content to other travel websites.