Often called the Scotland of India, Coorg, one of the most visited tourist places in Karnataka, is famous for its coffee plantations, rich history, waterfalls, wildlife, culture, and cuisine. This pristine hill station is also home to some beautiful homestays that give you a one on one experience with nature and make your travel and stay memorable. Located far away from the chaos of the city amidst lush, green, aromatic coffee plantations and magnificent forested hills, Coorg has many budget-friendly homestays that will inspire you to engage with nature and find your tranquil escape. Besides, these leisure-friendly homestays allow guests to indulge in a host of fun and thrilling recreational activities, including trekking, swimming, plantation walks, bird watching, and bonfire as part of Karnataka tour packages.
Here is the list of the 10 best budget homestays in Coorg to make your stay comfortable and memorable.
Abbydhama Homestay
Situated near Raja's Tomb, Abbydhama Estate Home Sta is one of the best budget homestays in Coorg, among the top hill stations in Karnataka. The homestay has two stunning bungalows surrounded by scenic coffee plantations. Hosamane is a contemporary bungalow with five circular-shaped guest rooms designed on a coffee theme. The color scheme of each room depicts the transformation of blossom into a coffee bean. While, Halemane is the traditional, elegant old house with a warm, homely feel to it. All the rooms are well furnished and equipped with modern amenities like flat-screen television, attached bathroom with shower and free toiletries. Besides, the property also features an outdoor pool, an on-site treehouse, and a restaurant. Nestled in the serene environment of a coffee estate, it is a perfect place for families, nature lovers, and corporate groups.
                                  Also Read : Popular Places to Visit near Mysore
---
Ibbani Cadu Homestay
About 7 km from Madikeri, Ibbani Cadu Estate is a holiday home nestled deep in the beautiful Kodagu valley with rich coffee plantations, pepper, cardamom, and orange trees. Ibbani Cadu, literally meaning 'dewy forest', offers unmatched homely comfort and stunning views. This homestay in Madikeri offers a total of 5 rooms which are well-equipped with various modern amenities like flat-screen television, wardrobe, an attached bathroom, and balconies that give a beautiful view of coffee plantations. One can also enjoy a warm and cozy evening around the campfire arranged by the property, along with some authentic Coorg cuisine at the in-house restaurant. The property also has a Treehouse that gives a panoramic view of the surrounding lush green coffee estate. Monsoon season at Ibbani Cadu homestay can be sheer magic with torrential rains and the strong smell of freshly brewed coffee which makes the homestay one of the best Coorg homestay for nature lovers. Besides, the homestay is in proximity to some popular tourist places to visit in Coorg like Omkareshwara temple.
                                            Book Here : Mysore Tour Packages
---
Woody Woods Homestay
Woody Woods Homestay is another homestay in Coorg offering a perfect setting for a refreshing stay along with some adventure and thrills. It is situated amidst 20 acres of lush coffee plantations at Kadagadal, which is about 9 km from Madikeri. The homestay features 5 beautifully appointed guest rooms equipped with all modern amenities including air conditioning, TV, fan, toiletries. For the comfort and convenience of guests, the hotel offers 24-hour room service, free Wi-Fi, and a 24-hour front desk. One can explore the natural spots close by and indulge in many outdoor activities around the property. Experience a pleasant stay surrounded by coffee plantations at this homestay that soaks you in its natural beauty.
                               Must Visit : Hill Stations near Bangalore
---
Chilipili Estate Stay
Located only 15 km from Madikeri, Chilipili Estate Homestay is the perfect place for people who love nature and wanted to explore nature by being part of Coorg tour packages. Named after the nearby Chilipili temple, Chilipili Homestay is a 100-year-old beautiful home of Dilip Ganapathy and his family nestled in the 50 acres of greenery. This homestay has 2 well-furnished rooms named 'Hornbill' and 'Kingfisher' which are well equipped with amenities like television, wardrobe, and free WiFi. The travel desk assists with sightseeing and car rental service. This property offers doctor-on-call, laundry, and housekeeping services. From the stunning views around the retreat, delicious Coorg cuisine, lively bonfire in the evening to estate walks with the group members, you will make memories to cherish forever.
                                         Book Here : Coorg Cab Packages
---
Notting Hill Homestay
Perched on Stuart Hill in Madikeri, Notting Hill is a three-bedroom ancestral home that is ideal to get some relaxation at. The cozy maroon-colored cottage features accommodation with a shared lounge, a garden, a shared kitchen, an exciting collection of board games and books. Also, the homestay features both WiFi and private parking free of charge along with a children's playground. Built on the slope of a hill, the homestay offers a lovely view of the Madikeri town below and the majestic mountains above. If you're a group of friends traveling together or a large family, you'll appreciate the stay at Notting Hill Homestay.
                             Also Read : Most Popular PLaces to visit near Bangalore
---
Souland Estate Homestay
Nestled amidst 22 acres of the coffee estate in the Kodagu district, the Souland Estate Homestay has located about 5 km from the Dubare and 20 km from Madikeri. The homestay is a colonial-style structure built-in 1955 where the host family stays. This homestay in Coorg has 5 carefully designed rooms equipped with amenities like television, makeup mirror, adjustable window, wardrobe, desk, and attached bathroom with hot/ cold water supply. Cloud 9, The Granary, Perch The Loft are separate private cottages located within Souland Estates and are situated around the main bungalow. There is a garden around the homestay where guests can take a stroll. During your stay at Souland, you can experience beautiful mornings with piping-hot coffees, delicious homemade delights from the secret recipe book handed down over generations, estate walk along elephant corridors, long conversations with hosts under the night sky, bonfire evenings, everlasting friendships, and more. The property also offers a free Wi-Fi facility.
---
Serene Woods Homestay
Serene Woods is a premium homestay located in the middle of coffee plantations with a whiff of pepper, close to Madikeri town in Coorg. Enclosed by lush green surroundings, the homestay is equipped with five separate fully furnished mini cottages with balconies offering panoramic views of the surroundings. The property is boasting a restaurant, a shared lounge, and a garden, along with a private waterfall during the monsoon season. The homestay has a media room with a projector and screen that can be utilized for business meetings. Bonfires, bird-watching, and estate walks can be arranged for the guests. Also, the property has an indoor games room with Table Tennis, Football, Chess, Carrom, and other board games. This property provides free Wi-Fi and private parking facilities for guests. Set amongst lofty hills, lush greenery, and a perennial natural stream within the property makes it an ideal location for those who wish to be one with nature.
                                  Must Read : Top Adventure Activities in Coorg
---
Silver Brook Estate Stay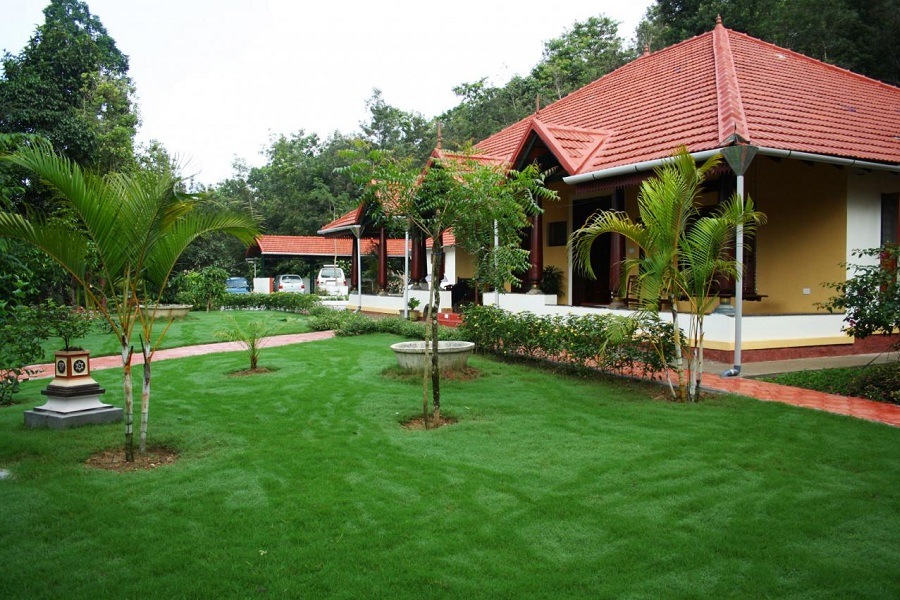 Silver Brook Estate Homestay is an eco-friendly homestay nestled amidst the lush green coffee plantations at Kadagadal mere 7 km from Madikeri. One of the most scenic Homestays in Coorg, Silver Brook is the winner of the Best Homestay Award 2015 by Lonely Planet. The property boasts five guest rooms that are beautifully furnished with antiques, floor tiles made by artisans in a remote village in Tamil Nadu. The airy rooms are complete with four-poster beds, LCD TV, writing desk, and lockable wardrobe. The resort is home to oak trees, a perennial stream, and a variety of butterfly and bird species, which makes it a haven for nature lovers and bird watchers. Guests can play indoor board games, relax on the hammocks in the garden area, or enjoy a quiet read at the resort's library. Other facilities offered here include a bonfire and parking. Besides, guests can relish a wide variety of Coorg and continental dishes at the resort's restaurant.
                                Must Read : Places to visit on the way to Coorg from Bangalore
---
Heights Farm Stay
About 8 km from Madikeri, Heights Farm Stay is a rainforest-themed holiday retreat situated in a huge coffee and spices plantation in Coorg. The farm stay has a total of 6 bedrooms spread on two floors that are equipped with essential requisites like a chair, television set, large bed, and attached bathroom with the facility of hot/cold water supply. Along with a host of conveniences, the property has a garden, fireplace, free Wi-Fi facility, and parking space available within its premises. The in-house kitchen offers a taste of the authentic regional cuisine of Coorg. Guests can indulge in a bonfire, plantation trails, nature walks, and bird watching. Fresh air, a sky full of stars, with authentic rural and outback settings, make it a perfect getaway for a family to unwind with your loved ones.
                             Also Read : 5 Places that can be visited Along with Coorg
---
Misty Mercara
Misty Mercara is a serene homestay located approximately 1 km away from the Raja Seat Mantapa in Coorg. This 4-star property has 5 guest rooms equipped with amenities such as flat-screen television, toiletries, and hot and cold water facilities. The homestay also boasts in-house dining, 24-hour room service, and on-site parking. One can enjoy waking up close to nature, the sight of misty hills, coffee plantations, and green gardens at this property. Offering an exclusive glimpse into the locals' lives, this homestay is a great option for ones who want to visit all the popular tourist places in Coorg like Raja's Seat, Madikeri Fort, Omkareshwara Temple, etc.
---
Santhi is an avid traveler and primary contributor to the blogs at Trawell.in. She has explored most of the states in India and gained vast knowledge on tourist destinations in India and abroad. She also contributes content to other travel websites.