How many beautiful days have you wasted holed up in an office and buried deep in work from nine to five? Don't you wish you could get away from work and just play hard? Maybe you need a bit of "Dubai magic."
Dubai is the largest city in the United Arab Emirates (UAE). The sprawling city has been branded the "Entertainment Capital of the Middle East," a well-deserved name with majestic malls, glorious man-made islands, and thrilling desert safaris sprinkled across the emirate. Whether it's your first trip to Dubai or your tenth, there's no shortage of must-see places.
 Watch Video - Dubai Tourist Places 

The city is also entrenched in culture and tradition. It observes Muslim traditions such as Ramadan, during which many restaurants close to respect the month-long fast. Though some may consider the culture conservative, Dubai never fails to entertain each and every one of its visitors with its wide selection of great spots and unique experiences. See what Dubai has in store for you!
Relax in luxurious hotels
Dubai is famous for its man-made archipelagos, like the Palm Islands: a palm-shaped set of man-made islands located in the Persian Gulf. The development effectively adds over 300 miles to the United Arab Emirates' shoreline. One of its islands, Palm Jumeirah, is home to some of the most luxurious beaches, hotels, and resorts in the city.
Spend your weekend relaxing at one of Dubai's luxury hotels and islands, such as Atlantis: The Palm, a resort located in Palm Jumeirah. Restaurants by celebrity chefs such as Gordon Ramsay, Giorgio Locatelli, and Nobu Matsuhisa grace the selections at Atlantis: The Palm. This luxury resort, based on the mythological continent Atlantis, also features different water-based activities. Animal lovers can walk among different sea creatures underwater or play with dolphins and sea lions through Atlantis' special experience packages.
You may buy a one-day ticket to the waterpark and aquarium or book a room at Atlantis and gain free, unlimited access to the sites. You can choose from guest rooms, club suites, and signature suites, with rates ranging from around $300 USD to almost $7,000 USD.
Another gorgeous place to stay would be Bvlgari Resort Dubai in Jumeira Bay. The resort is part of the Bvlgari Hotels and Resorts that also boasts of luxury residentials and a Marina and Yacht club.
With beautiful Italian architecture and Mediterranean landscaping, Bvlgari Resort Dubai is perfect for those looking for weekends filled with class and taste. Famously designed by Italian architectural firm Antonio Citterio Patricia Viel, the resort is fitted with facilities for the rich and fabulous.
The resort features different amenities such as an exclusive private beach, outdoor and indoor pools, and a spa that spans 1,700 square meters. This spacious spa features the following:
• Hammam, an Arabian body treatment
• 24-hour fitness center
• Heated indoor pool
• Authentic Italian barbershop
• Aromatic steam rooms
You can choose from 101 rooms and suites and 20 villas. Rates at Bvlgari Resort Dubai range from $400 to $3,000 USD, so there are various levels of luxury.
Enjoy virtual and physical theme parks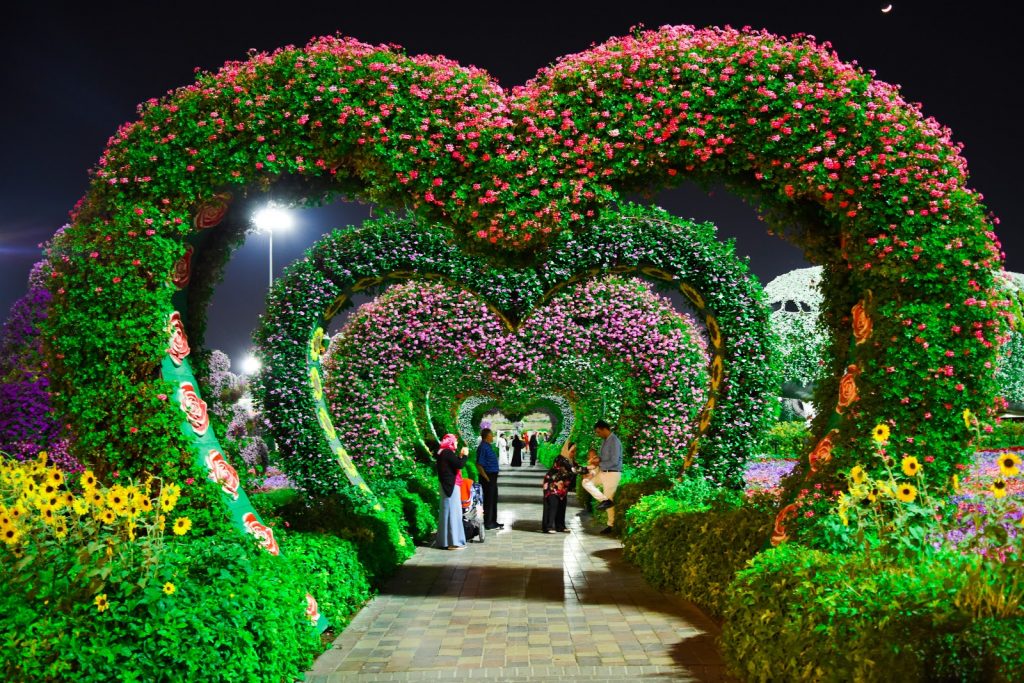 Rich and ripe with top-of-the-line technology, the city is filled with attractions that boast of unique virtual reality experiences. From movies to live stage shows to rides, IMG Worlds of Adventure will have non-stop fun for visitors of any age. The theme park features rides inspired by Marvel and Cartoon Network shows and characters. Some famous adventure zones include the Haunted Hotel, Ben 10 5D Hero Time, The Amazing Ride of Gumball, Avengers Battle of Ultron, Spider-Man Doc Ock's Revenge, Hulk Epsilon Base 3D, and LazyTown.
Guests can eat at character-inspired restaurants such as Tony's Skydeck, an outstanding recreation of the topmost floor of the Avengers Tower, Finn & Jake's – Everything Burrito, inspired by the treehouse in Cartoon Network's Adventure Time, and CN Feast, which features different characters from Cartoon Network shows.
There's also the Novo Cinemas, with a 4K IMAX theater and private lounge complete with fine dining and a personal butler service.
A one-day ticket to IMG Worlds of Adventure costs around $80 for adults and $70 for children under 1.2 meters. The park offers an annual pass that costs around $100.
On the other hand, Hub Zero is an indoor theme park near Downtown Dubai. This park offers a Mega Pass that grants you access to its various amenities. The Virtual Arena offers a wireless virtual reality experience, while Hyperdrive allows you to race to the extreme with a simulator that features six degrees of movement. Swing from rope to rope and test your strength at Hub Zero's Hero Zone, an indoor vertical adventure and climbing zone. You can even test out your spy dreams by playing an elaborate laser maze called Double Agent. Other amenities include a pool hall, karaoke, themed arcades, and in-house restaurants and food stalls. A Mega Pass at Hub Zero costs around $75.
Go for extreme sports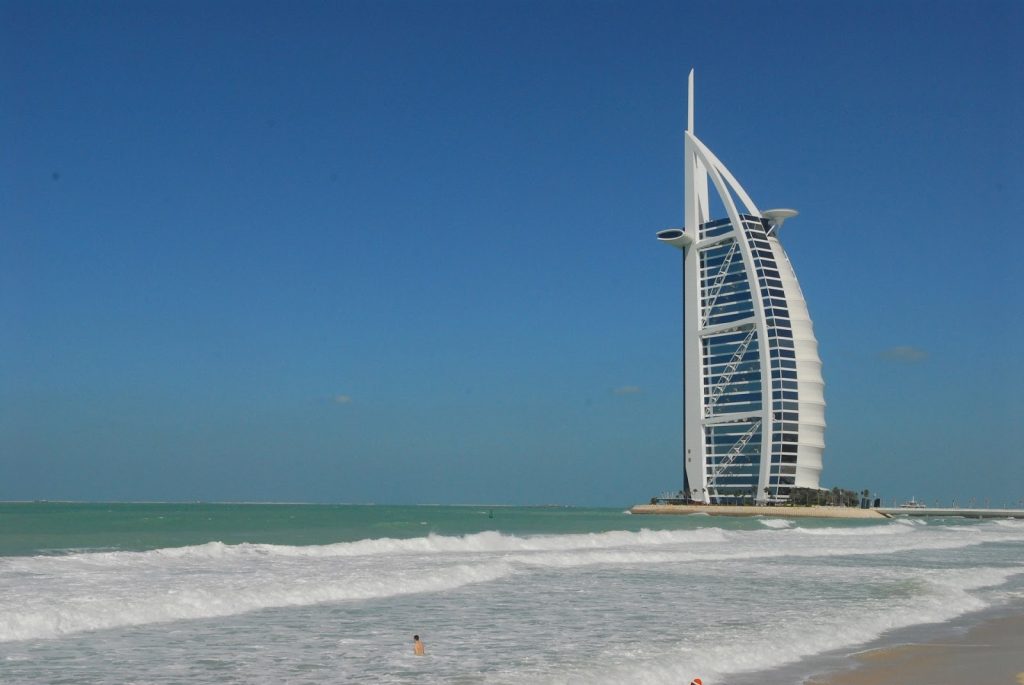 As a land filled with deserts and beaches, Dubai offers many adventures to tourists looking for thrills.
Experience the deserts of Hatta in Dubai by booking with Arabian Adventures. The touring company offers desert safari packages such as the Sundowner Dune Dinner Safari, which includes a dune drive at the Dubai Desert Conservation Reserve, camel rides, mini-sandboarding, henna, Bedouin-style camp, belly-dancing performances, and an Arabic, three-course buffet. It even includes unlimited beer and wine, all for US$107.
Skydive Dubai offers skydiving, yet another extreme experience to take on in Dubai. You can choose to skydive either at the Desert Campus or at the Palm. Packages are available for complete beginners or more advanced skydivers. You can choose tandem skydiving, where you're strapped to an instructor to ensure your safety through the dive. You may also choose to skydive solo, and Skydive Dubai even offers courses in their flight school to teach you the ropes. Rates start at $460 USD.
Explore the city with a very distinct thrill by going on XLine Dubai, the world's longest urban zipline. This one-of-a-kind ride goes across Downtown Dubai from Amwaj Towers down to Dubai Marina Mall. You can ride with friends and family or brave the winds and zip across Dubai solo. Ticket prices range from $180 to $330, and XLine is open Thursday to Tuesday.
For a quick break from the Arabian heat, visit Ski Dubai. Found in the Mall of the Emirates, this indoor ski resort offers activities with real snow and winter conditions. Aside from slopes for skiing, Ski Dubai also has the Snow Park, with various winter-themed rides. You can also meet and great real penguins right within the comforts of the mall!
A full-day slope pass includes skiing apparel and gear for the price of just $85 USD. Ski Dubai also offers a special SkiFLY-Slope package that grants you two hours of skiing and two flights at iFLY Dubai for around $80 USD.
Cruise through Dubai in comfort and style
Explore the city by taking a cruise through Dubai and visit magnificent sites such as the Dubai Museum, Jumeirah Mosque, Palm Islands, and more. Go on shore excursions such as a four-course dinner at Al Muntaha, Burj Al Arab, Bedouin-style desert camping, a helicopter tour, an interactive live show La Perle by Dragone, and many more.
What are you waiting for? Book your dream weekend in Dubai now!