Considered to be an eighth wonder of the modern world, the Palm Jumeirah is an artificial archipelago located on the Jumeirah coastal area of Dubai in the United Arab Emirates. Stretching 5 km into the Arabian Gulf and shaped like a date palm, Palm Jumeirah is created using land reclamation by Nakheel Group and is part of a larger series of developments called the Palm Islands. This artificial island has expanded Dubai's shoreline by over 320 miles together with Palm Jebel Ali and Palm Deira. Palm Jumeirah is one of the world's most famous man-made islands and also one of the most daring engineering projects ever undertaken.
The first among the Palm Islands, Palm Jumeirah is one of the city's most ambitious projects and among the top places to visit in Dubai. This colossal man- made island consisting of a trunk and 17 fronds which is visible from the space. It is home to peaceful beaches, lavish villas, elegant apartments, and a string of luxury hotels which includes the world-famous Atlantis the Palm, Dubai.
Here are a few mind-blowing facts about this architectural masterpiece that will leave you speechless while visiting as part of Dubai Tour Packages.
Watch Video - Tourist Places in Dubai 
1. Made from Millions of tons of Rock and Sand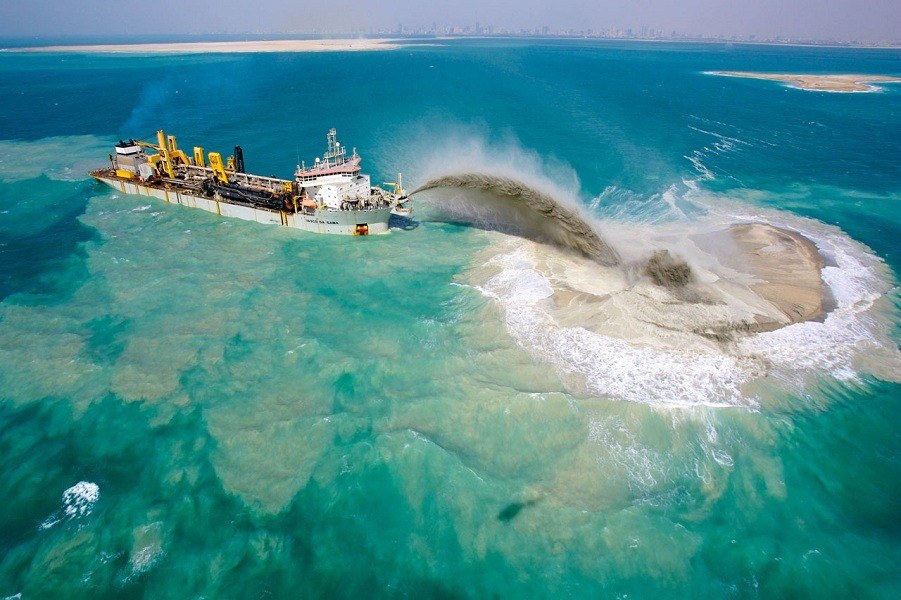 Launched in 2001, Palm Jumeirah, an artificial island of Dubai, was the flagship project of the Dubai-based Nakheel group, a government based developer in the city. In order to build the island, millions of cubic meters of sand dredged out from the bottom of the Persian Gulf by the Belgian company, Jan De Nul and Dutch company, Van Oord and sprayed on the sea. They used 94 cubic meters of sand to build Palm Jumeirah, which is the 2.5 times to fill New York's Empire State Building. In order to ensure that the sand will firmly hold its location after having dropped, Rainbowing process was used. Besides, a total of 5.5 million cubic meters of rock which were extracted from inland quarries are used to construct the base of this island.
Also Read: 5 Tips to Save Money in Dubai while Shopping
---
2. Satellites were used to Plot the Shape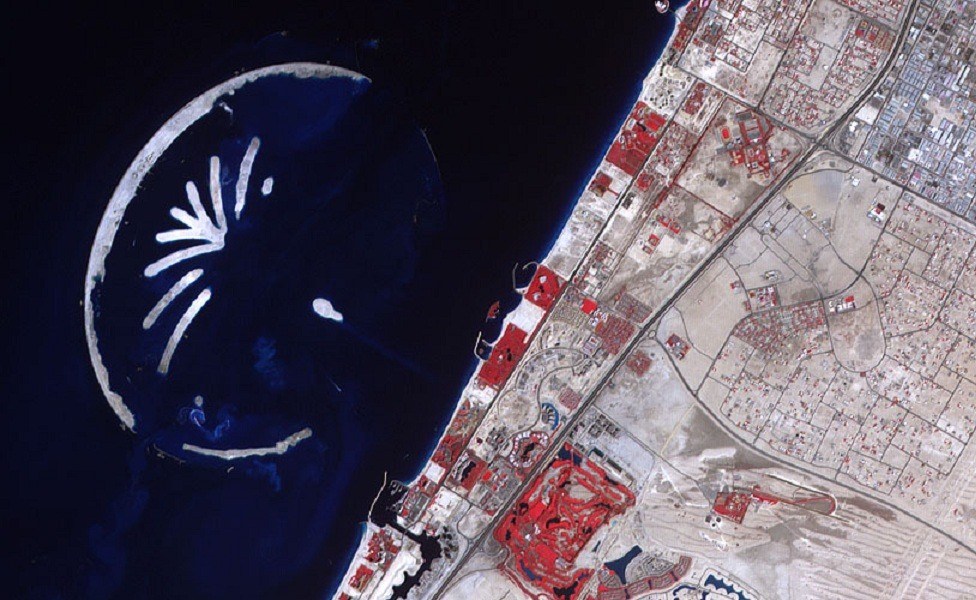 To insure that the island is in its required Palm shape, a private satellite and GPS (Global Positioning System) were used while pouring sand into the sea as the shape of island is nearly curved everywhere and it required pin point accuracy to shape it. The satellite gave coordinates of the point where sand was to be put while the mobile receivers were used as a grid reference for the island. The dredgers would then fill the area of the sea which they were commanded by the satellite. Vibro-compaction technology was used for land reclamation.
Must Read: Dubai Visa Guide for Indian Tourists
---
Most Popular Dubai Tour Packages
---
3. A Crescent Shaped Breakwater protects the Island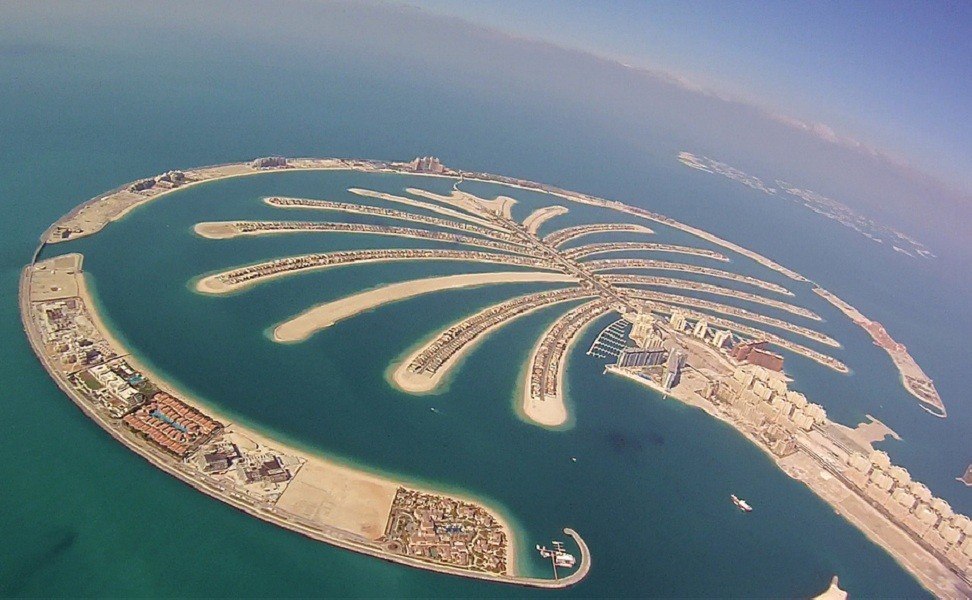 What make this island an iconic attraction of Dubai is its unique Palm Tree shape with crescent on its top. This 11 km crescent island was the first section of The Palm to be built which acts as a breakwater to protect the island from strong currents in case of storms or typhoons. In order to make this breakwater durable, a geotextile membrane, which stops the sand from washing away, was topped by a layer of one-ton rocks, followed by two more layers of rocks weighing up to six tons each.
After the construction of breakwater, engineers realized that fresh water was not circulating properly inside the island branches and the water was becoming stagnant. Engineers of the Palm Island in Dubai came up with the solution that a 100 m wide opening was added on each side of the crescent to allow water to circulate and prevent it becoming stagnant. A 6 m-wide boardwalk stretches the length of the crescent and is a top spot for a sunset stroll and must things to do in Dubai on your honeymoon trip.
Also Read: 7 Best Beach Destinations in Asia
---
4. A Monorail connects Palm Jumeirah to the Mainland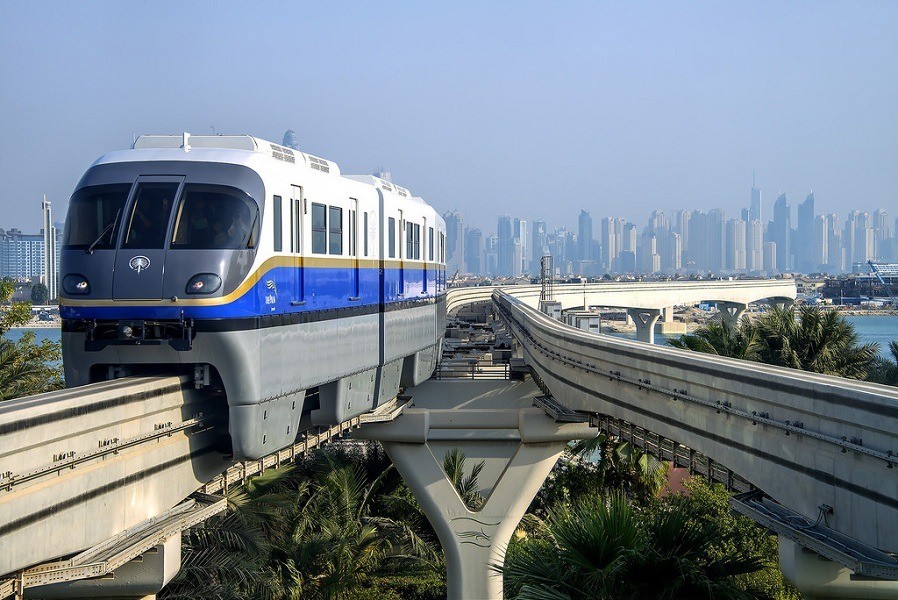 There is a monorail which connects the Palm Jumeirah to the mainland through a 300 m bridge. This is considered as the first monorail in the Middle East. Besides, there is a 6 lane underwater tunnel which connects the crescent to the top of the palm. The underwater tunnel was built by using 200,000 cubic metres of reinforced concrete, 30,000 tons of reinforcing steel and 110,000 tons of rock. In order to build the tunnel, a temporary dam was built with two 1.2 km-long dykes, which were later used as temporary roads for construction vehicles. More than 5.5 million cubic metres of seawater was pumped out in just 45 days.
---
5. Built in just Six Years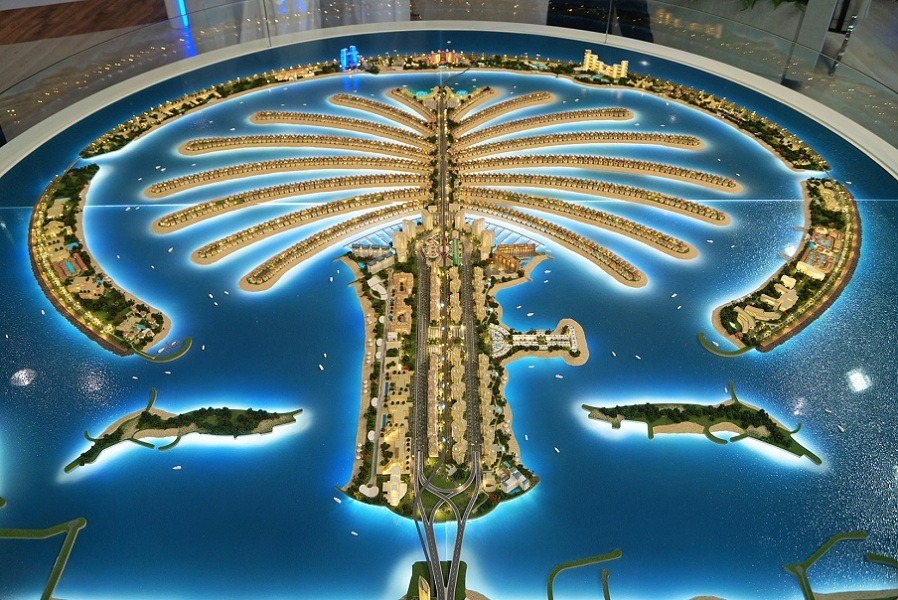 The construction of Palm Jumeirah began in August 2001 and was completed after six years. Today, it is one among the must include places in Dubai Packages as it is home to peaceful beaches, lavish villas and elegant apartments on its 17 fronds. The Palm Jumeirah boasts of Dubai's prestigious hotels and resorts, such as Atlantis Hotel that literally grace the Palm Jumeirah's crescent, Trump International – a luxurious 300-room hotel at the trunk of the island, Oceana Resort, Kingdom of Sheba, and Exotica Resort & Spa.
---
Top International Tour Packages
---
Most Popular Dubai Tour Packages
---
Santhi is an avid traveler and primary contributor to the blogs at Trawell.in. She has explored most of the states in India and gained vast knowledge on tourist destinations in India and abroad. She also contributes content to other travel websites.