With nearly 40 million foreigners flying to the country each year, Thailand is one of the top tourist destinations in the world and among the most affordable destinations for Indians. Located at the center of the Indochina peninsula in Southeast Asia, Thailand has become a very popular destination for Indians as it offered beautiful pristine beaches, nature reserves, rustic countryside, misty hill stations, fascinating cities with stunning temples, delicious food, exciting nightlife, and high-quality accommodation, all at very affordable prices. Tourist arrivals have been boosted by the availability of cheap flights from several Indian cities. With 1 million visitors, India was the second largest source of tourists to Thailand after Malaysia. Whether you are a foodie, a temple hopper, an adventure seeker, a beach bum, or a cultural lover, Thailand offers something for every traveler and there are endless reasons to visit the country as part of Thailand Tour Packages.
Here are some reasons why Indian tourists love to visit Thailand.
Easy Accessibility
Due to its proximity to India, Thailand has become one of the most favorite as well as affordable international destinations for Indians. A minimum of around 1500 km, roughly 4-hour travel by air, most airlines (including low-cost carriers) run daily direct flights to and fro Thailand, and an average flight costs around Rs. 4000 to Rs. 5000. If you are a budget traveler and want to fly for a short international trip, then Thailand is one of the best places to visit than other international destinations. Bangkok, Phuket, Pattaya, Kanchanaburi, Ayutthaya, Koh Phi Phi, etc., are some of the popular places to visit in Thailand.
---
Hassle Free Visa
Many people get discouraged from travelling because of the long list of requirements and the application for a visa. Even if you decide to go to Thailand at the last minute, you need not worry about getting the formalities for the Thailand Visa done as Indian passport holders who are visiting Thailand for tourism can avail of the Visa on Arrival service from the 32 designated channels of Immigration checkpoints. All you need to do is take note of the required documents and carry the original and photocopies along with photographs. Depending on the passenger traffic, the process can take anywhere between 10 minutes to an hour. The Thailand visa-on-arrival fee for Indian citizens is 2000 THB per entry which should be paid in cash and in the local currency of Thailand. This facility is another added reason for Indians to visit Thailand. It is ideal for Indian tourists who wish to explore the country within 15 days.
---
Affordable International Destination
Fondly called the 'Land of Smiles, Thailand is one of the countries with a lower currency, and the Indian tourist does not mind indulging. The Thailand trip may cost a little more there, but when converted to rupees, you will spend nearly half the money. One can splurge on luxurious resorts and lodging without constantly worrying about money because the conversion rate is lower. Along with the tourism campaigns, it is also worth pointing out that Indian travel companies have brought down the cost of the trip packages to Thailand for prospective travelers who would be interested in going on a budget trip abroad.
---
Customized Tour Packages
Blessed with rich culture, stunning beaches, glittering temples, adventure sports, mesmerizing nature, and buzzing nightlife, Thailand Tourism has created a space in the travel industry as a budget international tourist destination. Several tour agencies offer customized all-inclusive packages at affordable cost which is attracting millions of tourists every year from all over the globe. A basic tour package would cost you no more than 25,000 rupees (all-inclusive of return flights, accommodation, meals, and sightseeing).
---
Stunning Attractions
Thailand possesses an eclectic mix of cultures, traditions, landscapes, and history. From high limestone cliffs to structures sitting on extinct volcanoes and from the white sand beaches to exotic wildlife reserves, Thailand's attractions are diverse and is a complete destination for family holidays, a break with friends, a romantic getaway, and also the perfect setting for a wedding and honeymoons. Bangkok, Phuket, Pattaya, Kanchanaburi, Ayutthaya, Chiangmai, Khao Lak, etc., are some of the popular destinations to visit in Thailand. Thailand is also one of the best beach destinations in Asia. In addition to these, the bustling night markets with unending music draw a large number of tourists. Besides, this South Asian country also offers adventures like canoeing, kayaking, biking, diving, etc.
---
Shopping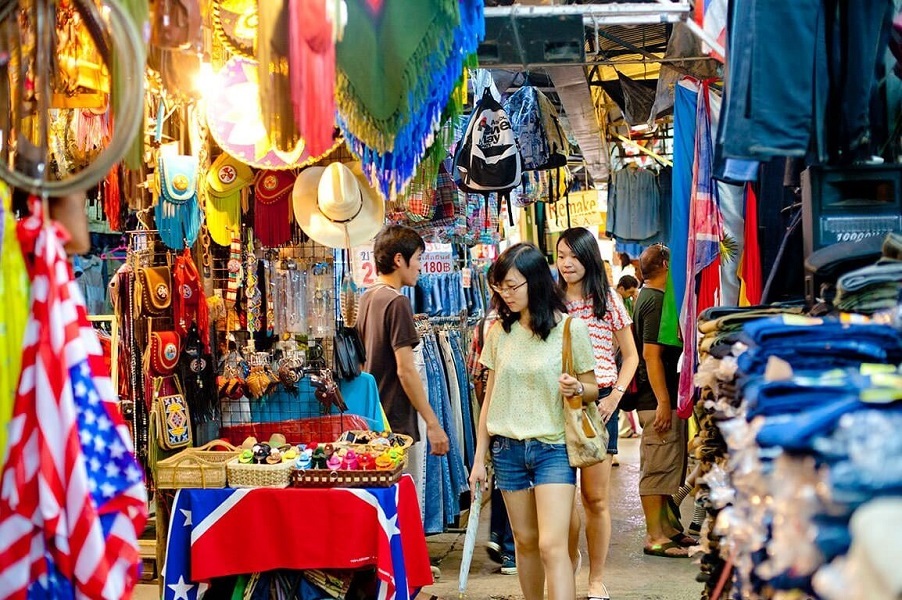 Thailand is a haven for shopaholics. Starting from markets that sell flowers, clothes, and accessories, to innumerable street food kiosks, there is nothing you cannot get in Thailand. The day simply does not end, and you can visit the walking streets or flea markets and go hunting for what you want for your house even at night. One can get cheaper knock-offs of designer products, electronics, shoes, and many things at these bustling night markets of Bangkok. If you are looking for souvenirs to take back, you can pick up these at markets, and don't forget to bargain! Besides, the street food in Thailand is mouth-wateringly delicious and shoppers can practically splurge without overspending in Bangkok.
---
Santhi is an avid traveler and primary contributor to the blogs at Trawell.in. She has explored most of the states in India and gained vast knowledge on tourist destinations in India and abroad. She also contributes content to other travel websites.