Are you ready for a sneak peek into India's varied and colorful culture? If yes, September month is the most preferable time as it marks the season of great liveliness in the form of spiritual festivals. Ganesh Chaturthi and Navaratri are the two major festivals celebrated throughout the country with great enthusiasm in this month. Also, there are several other festivals being celebrated across the length and breadth of the country where people perform the rituals wholeheartedly to get blessings from the Gods and Goddesses. With stimulating moderate weather and a wide assortment of significant festivals, your India Tour in September will be the most memorable one.
Here are the few spectacular festivals to enjoy in the month of September in India.
Onam Festival, Kerala
Onam is a religious, cultural festival that is celebrated by the Malayali community around India in September. Referred as one of the biggest festivals of Kerala, Onam is a traditional 10-day harvest festival falls during the Malayalam month of Chingam (which usually falls in August or September) and marks the annual homecoming of the mythical King Mahabali. Observed this year on 11th September, this festival is famous for flower decorations, elephant procession, snake boat races, tiger dance, traditional music performances, and many others. Also, people wear traditional attire and cook elaborate local cuisines to enhance the spirit of this festival. Thousands of domestic and foreign tourists visit Kerala during Onam as part of Kerala tour packages.
---
Ganesh Chaturthi
Observed on the fourth day of the Hindu month of Bhadrapada, Ganesh Chaturthi, also known as Vinayaka Chaturthi or Vinayaka Chavithi, is one of the widely celebrated Hindu festivals in honor of the elephant-headed god Ganesh. Held on 2nd September this year, the festival is celebrated throughout India with great devotion. It is celebrated by families at home, by people at their places of work and in public. The public celebration involves installing clay images of Ganesh in public pandals and group worship. The seven to ten days long festival ends with the 'Ganesh Visarjan' where the idols are immersed in the water. It is done as a procession with millions of people accompanying the idol along with music and dance. Though it is celebrated all over India, the maximum grandeur is witnessed in Mumbai, Hyderabad, and Pune. Plan your Mumbai Tour this September in order to experience the grand festivities of Ganesh Chaturthi.
---
Ziro Festival, Arunachal Pradesh
Ziro music festival is one of the renowned events held every year in Ziro Valley of Arunachal Pradesh. Celebrated this year from 26th to 29th September, it is a 4-day open-air concert that features a combination of 30 indie bands from across the world and top folk acts from across northeast India. Visitors get to stay in small tents, which are arranged by the festival organizers. Apart from music celebration, people love to hike around the Alpine area, learn about their culture and get closer to nature as part of Arunachal Pradesh Tour Packages.
---
Ladakh Festival
Ladakh Festival is one of the most vibrant events celebrated every year in the month of September in India. Initiated by the state government of Himachal Pradesh, the primary objective of the festival is to highlight the lifestyle and culture of the people of Ladakh. Held this year from 25th to 28th September in Leh, it is a 4-day festival that features with polo-matches, music concerts, mask dances from the monasteries, archery, river rafting, photo exhibitions, and folk performances that attract both domestic and international tourists as part of Ladakh Tour. Local people wear colorful traditional attires and rejoice every bit of this gala celebration with intense joy. The highlight of the ceremony is a grand procession that sees active participation from various cultural troupes that moves from Leh market and comes to an end at the polo grounds which showcases various sub-cultures of the region as well as their art, music, and dances.
---
Payippad Snake Boat Race
Payippad Boat Race or Jalotsavom is a traditional snake boat race of Kerala held every year on the Payippad River at Payippad village in Alappuzha. It is one of the oldest snake boat races in Kerala and has the largest participation after the important Nehru Trophy boat race. Observed this year on 13th September, this is a 3-day long annual event held during Onam festival in commemoration of the installation of the idol of Lord Subramanian at Haripad Subramanya Temple. During this event, long snake boats are driven by local people with absolute zeal & fervor. The breathtaking sight of the racing snake boats, trying their best to finish first is an exciting sight to watch as part of your Alleppey Tour Packages.
---
Pune International Literary Festival
Pune International Literary Festival is an English literary festival, aimed to create an interactive platform for writers, publishers, and readers of Pune. Commenced on 20th September, this 3-day-long event is one of the most important annual literary events held in September and receives a massive number of bookworms as part of Pune Tour Packages. More than 100 acclaimed authors and creative personalities from India and abroad will speak at the festival, which also includes panel discussions, workshops, and book launches. Besides, Speakers from around the world like Ciler Ilhan, Alexander Buchler, Clara Macedo Cabral, Bahar Dutt, and others will participate in this festival.
---
Muharram
One of the major festivals of the Muslims, Muharram becomes the first month of the Islamic Calendar and considered as the sacred month of the year according to the Muslims. Observed on 10th September this year, Muharram is celebrated throughout India, in remembrance of the martyrdom of Imam Hussain- the grandson of Prophet Mohammad. On the tenth and last day of the festival, known as Ashura, Muslims take taziyas taken out in procession accompanied by men who beat their breasts, recite mourning verses and sometimes hurt themselves to express their sorrow. Udaipur is the best place to witness this religious festival in India. If you want to witness the grand Muharram festivities during your Udaipur Tour, Lake Pichola is the best place where the procession ends and the taziyas will be immersed in the water.
---
Abhaneri Festival, Rajasthan
Abhaneri Festival is an annual two-day event held to promote rural tourism in Rajasthan. Celebrated this year on 29th and 30th September in Abhaneri, the festival features with Kalbelia dance performances, Langa singing, Kachhi Ghodi dance, Bhawai dance, puppet shows, an exhibition for crafts and art-works and many others that draws huge number of people from all over the globe as part of Rajasthan Tour Packages. Held at backdrops of the Harshat Mata Temple and ancient Chand Baori (stepwell), tourists can reach Abhaneri from any part of Rajasthan as there are numerous public and private transportation available.
---
Navaratri / Dussehra
Don't you love the festive vibe that has taken over the country again? So are we. India is celebrating Dussehra or Vijayadashami with much fervor and enthusiasm as it is one of the major festivals celebrated across India. Observed in the lunar month Ashwin or Ashwayuja, Navaratri is a nine-night festival celebrated in honor of Mother Goddess or Shakti in all her manifestations, including Durga, Lakshmi, and Saraswathi. Held this year from 29th to 8th October, the festival culminates with Dussehra, the victory of good over evil, on the tenth day. Worship and fasting take place in the daytime, while the nights are reserved for feasting and dancing. It is known as Ramlila in Delhi, Durga Puja in West Bengal, Dassara in Mysore, and Navratri in Gujarat. Don't miss to watch the famous Garba dance during Navratri as part of Gujarat Tour Packages.
---
Chakradhar Samaroh, Chhattisgarh
Chakradhar Samaroh is one of the most popular musical events celebrated in September in India. Observed this year from 2nd to 12th September in Raigarh, this 10-day classical music and dance festival is held during the Ganesh Chaturthi every year, in honor of the erstwhile king and musician Chakradhar Singh of Chhattisgarh, who wrote many books on music and dance, as well as developed a new form of Kathak dance. Many celebrities and talented artists from all over India come to perform at the festival. Starting from Bharatanatyam to Sufi performance, one can find all classical dance and music performances of the country in this festival. Also, visitors can enjoy light and sound show during this festival as part of Chhattisgarh Tour.
---
Tarnetar Fair, Saurashtra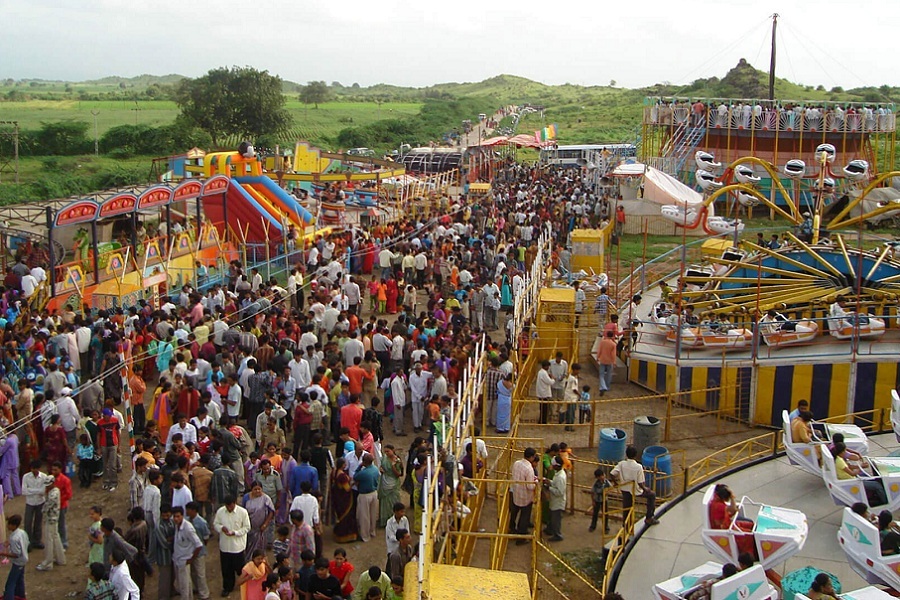 Based on the legend of Draupadi's swayamvara, Tarnetar Fair is a celebration of ethnic Gujarat's folk-dance, music, costumes, and the arts, centered around young tribal men and women who are looking for their marriage partners. Held this year on 1st to 4th September, the Tarnetar Fair is celebrated around the temple of Triniteshwar Mahadev and is commonly referred to as Trinetreshwar Mahadev Mela. Spans for 3 days, the major highlights during this festival are traditional music, dance, costumes and arts of Gujarat. Besides, the fair has been gaining popularity over the years and attracts thousands of tourists from Gujarat, elsewhere in India, and even abroad every year as part of Gujarat Packages.
---
Neelamperoor Festival, Kerala
Neelamperoor Padayani Festival is the most vibrant annual festivals held at Neelamperoor Palli Bhagavathy Temple, among the top places to visit in Alappuzha. Celebrated in the Malayalam month of Chingam (usually August/September), it is among the rarest Padayani displays in all of Kerala. Its uniqueness lies in its special tradition of Kettukazhcha, which is the display of beautifully decorated effigies. Observed this year on 27th September, the festival lasts 16 nights and culminates in a procession of huge effigies of mythological characters like Bhima, Ravana, etc. and swans that devotees offer to the goddess in the hope of getting their wishes fulfilled. The aura and mystique surrounding this site and its traditions have amazed and attract visitors throughout the country for many centuries.