Renowned as one of the gorgeous islands in the world, Bali is an island and province of Indonesia situated at the westernmost end of the Lesser Sunda Islands with Java to the west and Lombok to the east. The island is home to an ancient culture that makes the island different from other destinations. Exotic temples and palaces set against stunning natural backdrops made Bali one of the top tourist destinations in Asia and among the best places to visit in Indonesia.
Watch Video - Bali Tourist Places
Known as the Land of Gods, Bali is known for its striking beaches, ancient temples, UNESCO heritage sites, volcanic mountains, iconic rice paddies, a vibrant shopping culture and some thrilling adventure sports activities. Bali is home to the Indonesian International Film Festival. This Indonesian island also offers endless choices of local or far-flung cuisine for food lovers.
Here is the list of 10 beautiful places to visit as part of your Bali Tour Packages.
Pura Tanah Lot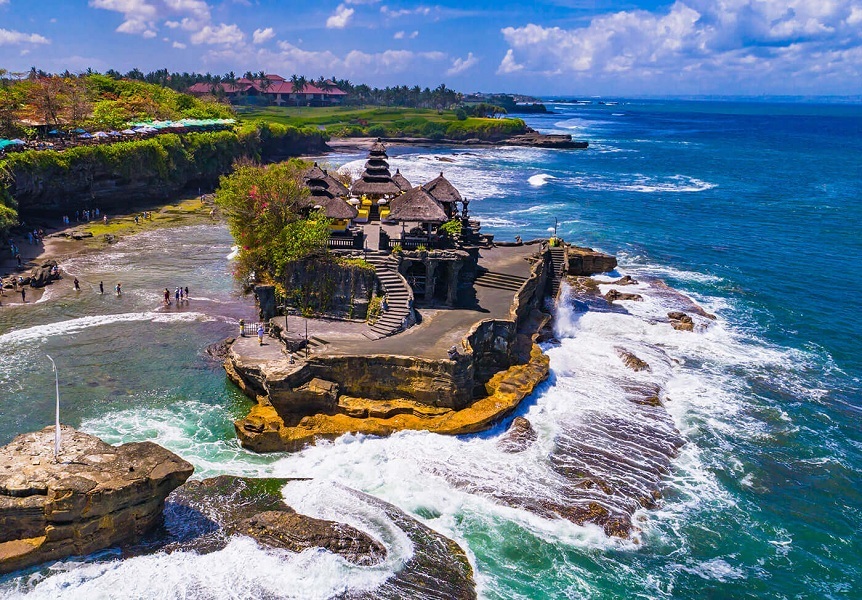 Regarded as one of the Bali's prime attractions, Pura Tanah Lot is an ancient Hindu Temple situated in the southern part of Bali. Built during the 15th century by Dang Hyang Nirartha, the temple sits on an outcrop amidst constantly crashing waves. There are caves underneath the rock that are inhabited by sea snakes, believed to be the guardians of the temples. Because of its unique offshore settings, Tanah Lot is considered as the most frequently featured temple on Bali's postcards. It is among the must visit attractions during your Bali Trip.
Tanah Lot Temple is one of seven sea temples situated on the Balinese coast. The temple can only be visited during the low tide where as it is submerged during the high tide. Many tourists come here in the evening to witness the mesmerizing sunset and to watch the Kecak Dance.
Must Read: Bali Visa Guide for Indian Tourists
---
Kuta

Kuta is a famous beach destination situated in Southern Bali. With its long sandy beach, great waves for surfing as well as its swinging nightlife, plethora of bars & nightclubs. Kuta is considered as the center of tourism in Bali and attracts large number of travelers from all over the world. Also called as Sunset Beach, Kuta Beach is known for its soft golden sand and panoramic sunset views. The long promenade of the beach is lined with cafes and myriad restaurants. Besides Kuta Beach, this resort town also home to culturally rich markets, museums, restaurants, and swinging nightlife scene that keeps going into the wee hours.
---
Mount Batur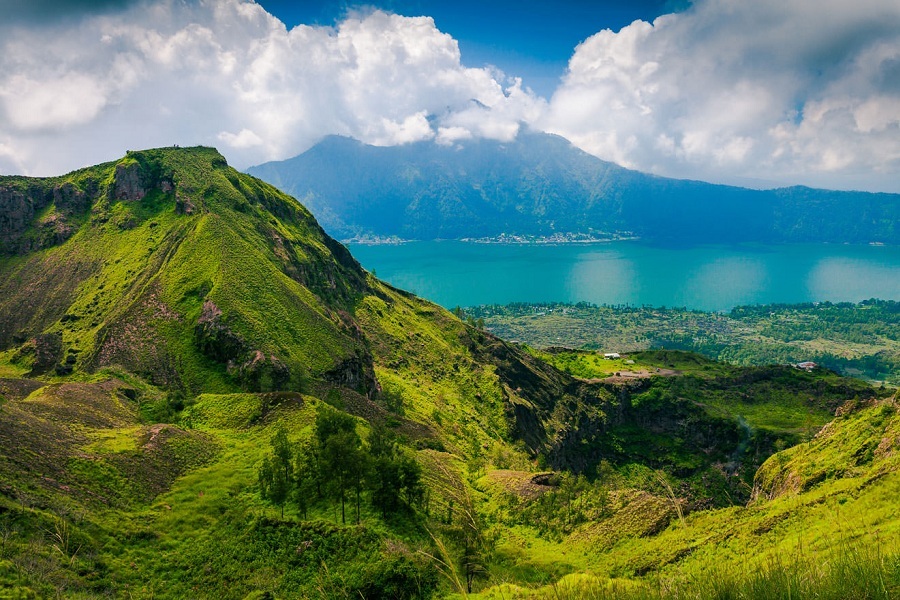 Also known as Gunung Batur, Mount Batur is an active volcano positioned to the north west of Mount Agung in Kintamani district of Bali, Indonesia. At an altitude of 1717 m, this captivating volcano is surrounded by Batur Lake, which spreads over an area of about the 13 Sq. km. The sunrise trek to Mount Batur is one of the most popular things to do in Bali as part of honeymoon packages. It also offers a rare opportunity to enjoy an unforgettable sunrise from the top of an active volcano and also the stunning views of Lake Batur as well as Bali. Besides, one can also visit Toya Bungkah hot springs, Pancering Jagat Temple and the secluded old Balinese village of Trunyan which is known for its ancient burial traditions using an open graveyard.
---
Uluwatu Temple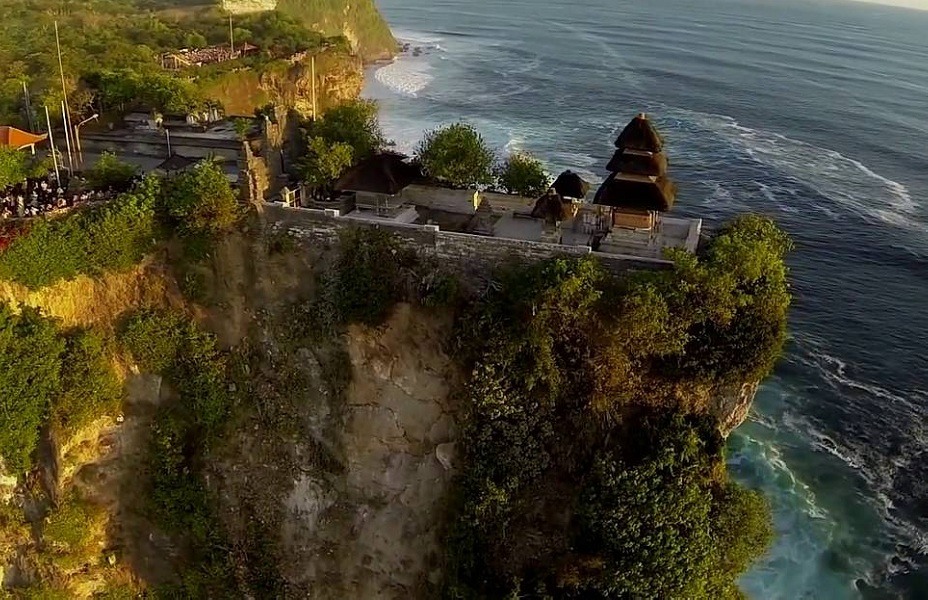 Uluwatu Temple or Pura Luhur Uluwatu is a well-known Balinese Hindu sea temple situated in Bali. Dedicated to Sang Hyang Widhi Wasa, the temple is regarded as one of the sad kahyangan or six directional temples of Bali. Perched at the edge of a 70 meter high cliff projecting into the Indian Ocean. The temple was built in traditional Balinese architectural style. Besides its pilgrimage, Uluwatu Temple is also a famous place to see the sunset like as the sunset view at Tanah Lot temple. So if you want to see a mesmerizing sunset over the Indian Ocean, magnificent Balinese architecture and traditional Kecak & fire dance performances in Bali then Uluwatu Temple is the best place for you.
---
Ubud Monkey Forest

Officially named as Sacred Monkey Forest, Ubud Monkey Forest is a nature reserve and a Hindu temple complex situated near Ubud in Bali. Spread over an area of 27 acres, this is another popular tourist attraction in Bali and a must-see for animal lovers as it is home to huge number of long-tailed Balinese macaques. Besides watching playful monkeys in their natural habitat, the site offers cool walks along paved pathways through thick forests of banyan trees and nutmeg. It is also home to three Hindu temples- the Pura Dalem Agung Padangtegal Temple, the Pura Beji Temple and the Pura Prajapati Temple. The forest is intended to represent the harmonious relationship between humans and animals.
---
Pura Ulun Danu Bratan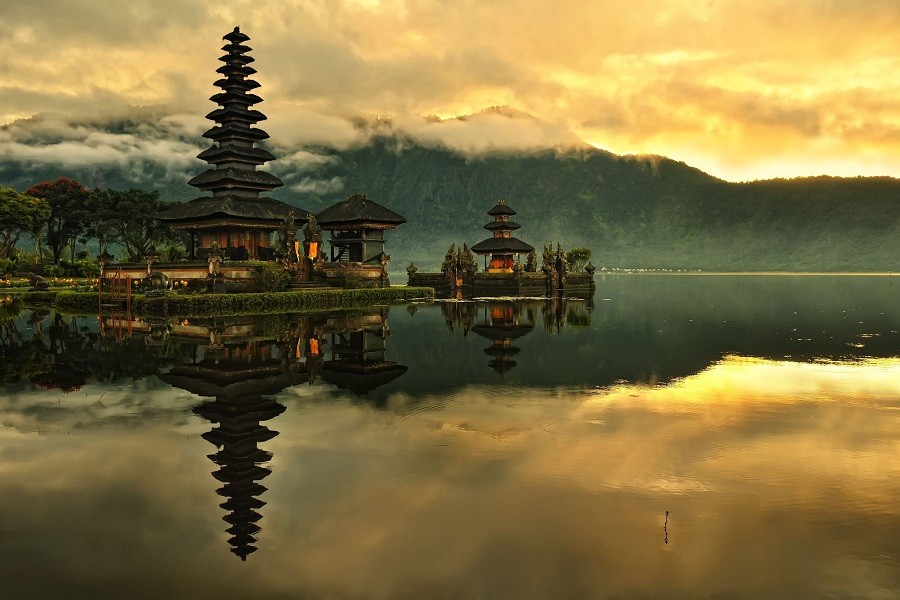 Situated on the shores of Lake Bratan, Ulun Danu Beratan Temple or Pura Bratan is a major Shaivite water temple in Bali. Built by the King of Mengwi in 1633 CE, Pura Ulun Danu is dedicated to Dewi Danu, the goddess of water, lakes and rivers along with Hindu trinity, Brahma-Vishnu-Shiva. Set against the imposing backdrop of Gunung Bratan, Pura Ulun Danu Bratan is the most photographed temple on the whole island and among the must visit places while in Bali Tour.
The temple complex consists of four sacred buildings named Linga Pura, Pura Puncak Mangu, PuraTeratai Bang, and Pura Dalem Purwa. The PuraTeratai Bang is the main temple and the architecture is truly awe-inspiring. There is also a Buddhist Stupa in the complex which reflects the adoption of Buddhist beliefs by Balinese Hindus. The sheer beauty of this magnificent structure can be best seen in the pleasant morning light amidst the calm waters of the lake and backdrop of misty mountains. One can also hire a canoe and paddle out on the lake to explore the shrines at close range.
---
Nusa Dua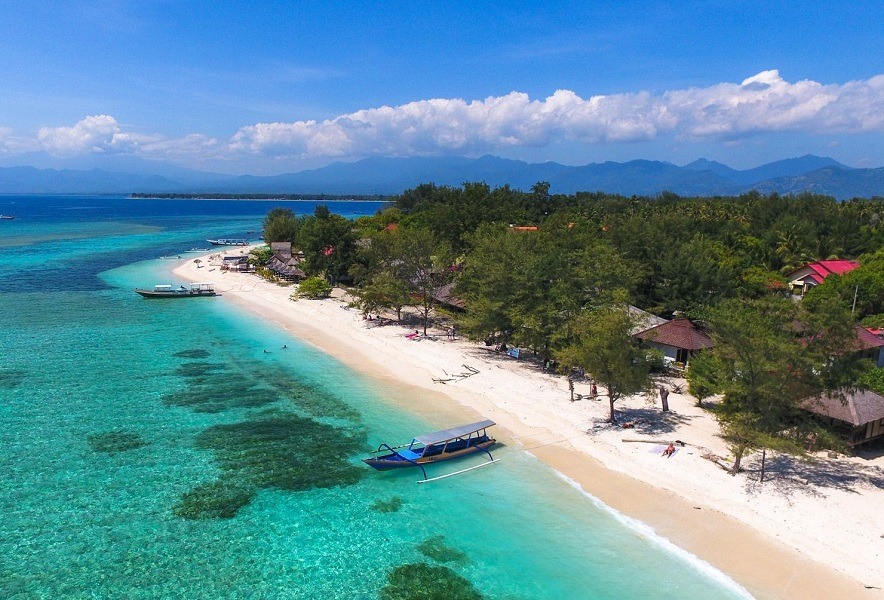 Nusa Dua is a beautiful upscale beach resort town in Southern Bali, Indonesia. Long stretches of white sands, clean beach fronts and serene surroundings make Nusa Dua a hot favourite Bali destination and among the must visit places in Bali. Covers an area of 350 hectares, it has an incredible collection of world-class, international-chain hotels facing a pristine beachfront. Although Nusa Dua is Bali's most developed beach town but it is suitable for a relaxing family beach holiday, particularly with very young children, as there are fewer crowds, less traffic and calm beaches. Besides, one can also find temples, a museum, a golf course and a convention centre here.
Nusa Lembongan and Nusa Penida are also visited from Nusa Dua as they are a quick boat ride away. Nusa Lembongan comprises of pristine beaches with coarse white sand, crystal clear water, soaring cliff viewpoints, and sea views that can get very idyllic at sunset, overlooking the outline of Bali's highest peak, Mount Agung on the horizon. The island offers many water sports activities like surfing, diving and snorkeling.
Also Read: Best Beaches in Asia
---
Tegallalang Rice Terraces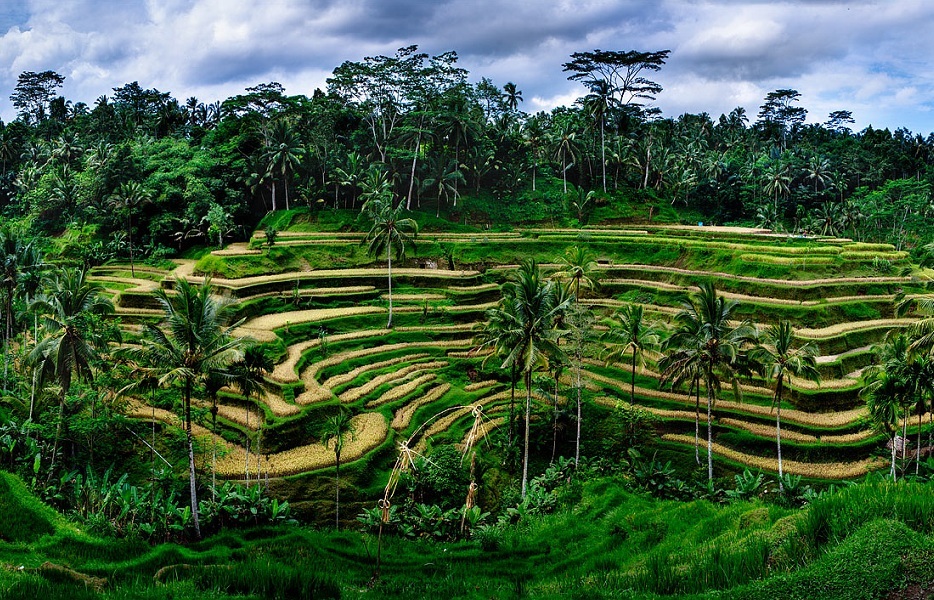 Tegallalang Rice Terraces in Ubud is famous for its beautiful rice paddies across the valley which alone offers a splendid sight of nature and a valuable insight on the local culture and customs. These are called subak, a traditional Balinese irrigation system dating back to the 8th century. Tegallalang frames the three most stunning terraced scenes in Ubud region, with the others being in the villages of Pejeng and Campuhan. The early hours of the morning is the perfect time to visit these rice terraces where tourists are allowed to visit the intricately designed rice terraces and take some photos. This is the paradise for painters and nature lovers as it offers some amazing scenic views.
---
Seminyak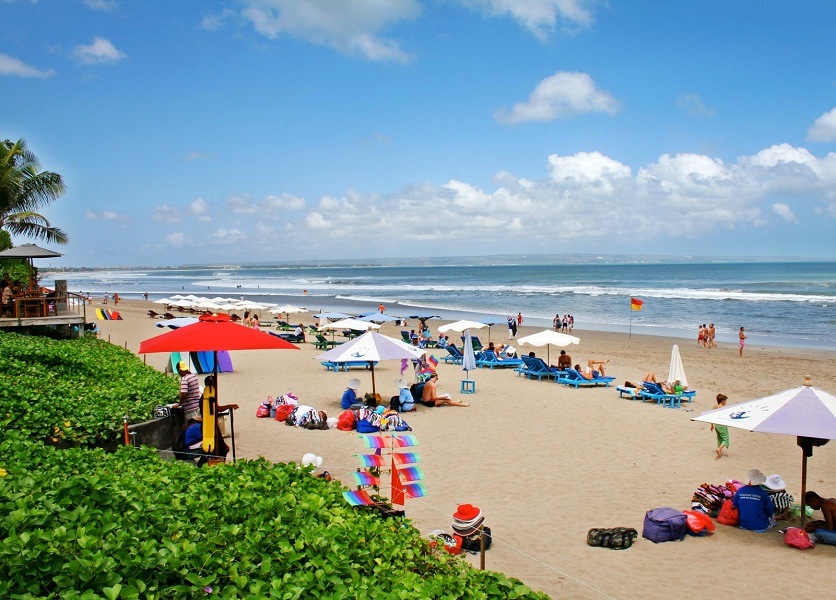 Positioned just to the north of Kuta, Seminyak is Bali's most stylish and upscale beach resort area as it is home to number of luxury hotels, high-end boutiques and fancy restaurants. With a length of 3 km, the white sandy beach of Seminyak offers a more secluded ambiance than its neighboring Kuta beach. However, after sunset a livelier nightlife scene takes over which draws huge crowds. Although the surf is too unsafe for most swimmers, Seminyak Beach attracts professional surfers to ride the big waves too. Seminyak streets are lined with fashion stores and top eat outs where the international chefs cooking up world-class cuisine.
---
Besakih Temple
Often called as the Mother Temple of Bali, Besakih Temple is a Hindu temple complex located in eastern Bali, Indonesia. Dedicated to Lord Shiva, it is one of the largest temples in Bali and among the must visit places during your Bali Trip. Surrounded by scenic rice paddies, hills and streams, Pura Besakih was built on the slopes of Mount Agung, the principal volcano of Bali. It is an extensive complex of 23 separate temples. Of these, Pura Penataran Agung is the main one. Built in six levels, the entrance of the temple is marked by a candi bentar (split gateway). Visitors need to ascend a giant stairway, decorated by carved figures from the Ramayana and Mahabharata, in order to reach the temple. One can also found Pura Batu Madeg, devoted to Vishnu to the northwest of the main temple and Pura Kiduling Kreteg, devoted to Brahma here.
Top International Tour Packages