As Char Dham temples are opened for pilgrims on Akshaya Tritiya day (April 18th, 2018), here is complete travel guide for Char Dham Yatra (Uttarakhand) along with detailed Itinerary. Also, explore the Char Dham tour package offered by Trawell.in for costing and a detailed tour plan.
Char Dham is referred to the four holiest pilgrimage sites in India that are widely revered by Hindus. These holy sites are Badrinath, Dwarka, Puri and Rameswaram situated in four different directions of India. The Char Dham defined by Adi Shankaracharya consists of three Vaishnavite and one Shaivite pilgrimage centers. The pilgrimage sites of Yamunotri, Gangotri, Kedarnath, and Badrinath in Uttarakhand were known as Chota Char Dham to differentiate them from the bigger circuit of Char Dham sites, but after the mid-20th century they have been also referred to as the Char Dham. Among four scared sites Kedarnath is dedicated to Lord Shiva while Badrinath is dedicated to Lord Vishnu. On the other hand, Yamunotri and Gangotri are dedicated to Goddess Ganga and Yamuna rivers respectively. It is considered highly sacred by Hindus to visit Char Dham during one's lifetime. These four ancient temples also marks the spiritual source of four sacred rivers – Ganga(Gangotri), Yamuna (Yamunotri), Mandakini (Kedarnath) and Alaknanda (Badrinath).
Char Dham Yatra is one of the most popular pilgrimage routes, with millions of devotees paying a visit to all these religious places in aspiration of eliminating all sins and to attain salvation by the blessings of the Lord. The Char Dham must be visited from left to right – beginning with Yamunotri, going on to Gangotri, then Kedarnath and culminating the journey at Badrinath. This route follows the Hindu tradition of parikrama. Every year more than 250,000 pilgrims visit Char Dham from various parts of India. Char Dham – the four pilgrimages are open from May till October every year. All four sites can be covered in one stretch in 10-­11 days. Nowadays, one can also get helicopter services to visit Char Dham sites in just 2 days.
Yamunotri
Yamunotri is one of the four sites of Char Dham pilgrimage situated in Uttarkashi district of Uttarakhand. Yamunotri is the source of River Yamuna and is regarded as the seat of Goddess Yamuna. This is the western most shrine in the Garhwal Himalayas, situated at an altitude of 3293 m atop Bandar punch parvat.
The chief attraction at Yamunotri is the temple devoted to the Goddess Yamuna. It is surrounded by mountains on all sides. The temple was first built by Maharani Gularia of Jaipur in the early 19th century. The temple was damaged in the earth quakes of 1923 and 1982. But it was subsequently rebuilt by Maharaja Pratap Shah of Tehri Garhwal, who was the ruler of this region. Yamunotri Temple can be reached by 5 km trek from Janki Chatti which is the nearest road point. Janki Chatti, Kharsali, Saptarishi Kund, Barkot and Hanuman Chatti are the other attractions in Yamunotri. Yamunotri also has famous trekking routes, such as Hanuman Chatti – Yamunotri route, Dodi Tal and Janki Chatti.
The temple opens every year on the auspicious day of the Akshaya Tritiya, which generally falls during the last week of April, or early May. The temple closes on the sacred day of Diwali in October / November. Kharsali is the winter home to the idol of goddess Yamuna. The best time to visit Yamunotri is from May to June and September to October.
Distance from Rishikesh: 209 km
More Details: Yamunotri Travel Guide
Gangotri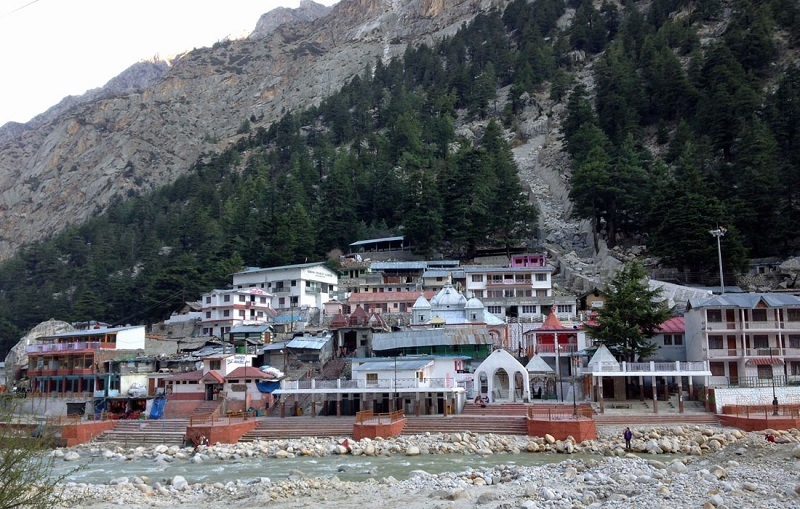 Gangotri, the origin of the River Ganges, is one of the four sites in the Char Dham pilgrimage circuit in Uttarakhand along with Badrinath, Kedarnath and Yamunotri. It is situated at an altitude of 3100 m in the Garhwal Himalayan Range on the banks of the holy Bhagirathi River. River Ganges originates at Gaumukh in Gangotri Glacier, which is located about 19 km away from Gangotri town. As per legends, Goddess Ganges took the form of a river in order to absolve the sins of King Bhagiratha's ancestors, after his severe penance. Lord Shiva received River Ganges in his thick hair locks, to reduce the impact of her fierce flow.
Gangotri is famous for its ancient temples and religious significance. The present Ganga Temple at Gangotri was built by a Gorkha General Amar Singh Thapa in the early 18th century. Near the temple is located a sacred stone where King Bhagiratha is said to have worshipped Lord Shiva. Surya Kund, Pandava Gufa, Bhaironghati and Gaumukh are the other religious attractions in Gangotri. Gangotri town is the starting point of the Gaumukh, Tapovan, Nandanvan, Vasuki Tal and Gangotri-Kedartal trekking.
Gangotri temple is opened from May and gets closed on the occasion of Diwali festival in Oct / Nov. Gangotri temple remains closed during winters as the region is prone to heavy snowfall. The idol is shifted to Mukhyamath Temple in Mukhba village, 20 km downstream.
Distance from Rishikesh: 264 km
More Details: Gangotri Travel Guide
Kedarnath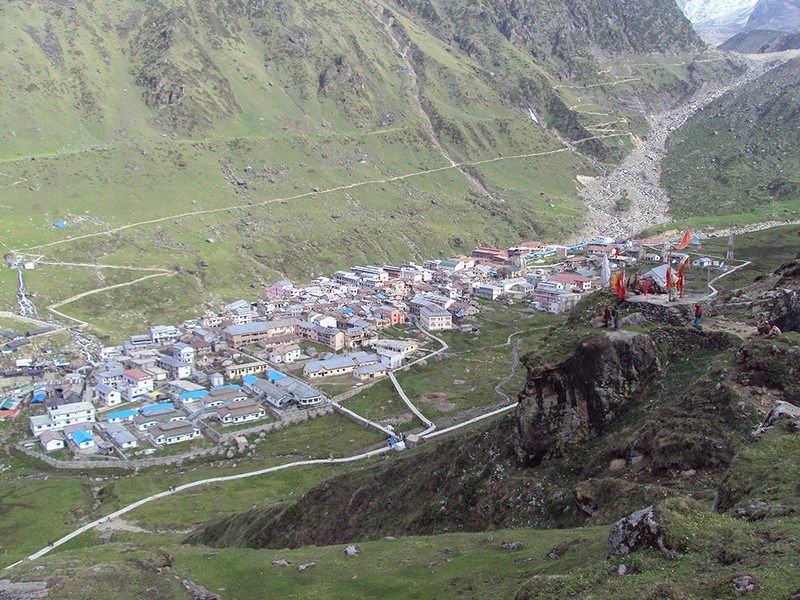 Kedarnath is a popular destination for Hindu pilgrims and is one of the four major sites in Uttarakhand known as Chota Char Dham pilgrimage. It lies at an altitude of 3584 m near Chorabari Glacier, the head of river Mandakini. It is the most remote of the four Char Dham sites and is flanked by breathtaking snow-clad peaks. The famous Kedarnath temple is one of the twelve Jyotirlingas and is thronged by thousands of tourists each year. Other than Kedarnath temple, Bhairavnath temple, Chorabari Tal, Shankaracharya Samadhi, Vasuki Tal, Deoria Tal and Ukhimath are the some other religious places near Kedarnath.
Kedarnath can be reached by 14 km steep climb from Gaurikund to the temple of Kedarnath and can be done on foot or on ponies. Ponies or horses are available on rent from Gaurikund. After the flash floods of 2013 which greatly affected the Kedarnath region, the route has been modified. The 14 km trek is now of 21 km which starts from Sonprayag. A general health check-up is done to ensure the safety of the tourists before allowing them to go further after registration. From here a trek of 7 km takes place up to Bhim Bali, while the next halt is at Linchauli at another 7 km. The last halt is the Kedarnath temple after a trek of another 7 km. The original route from Gaurikund runs through Rambara (7 km) – Linchauli (4 km) – Kedarnath (3 km).
The extreme weather condition of Kedarnath prompts the temple to be open only for 6 months from the end of April to the beginning of November. The town receives heavy snowfall during the winter months which makes it uninhabitable. The residents of Kedarnath shift to villages lying at lower altitudes during the winter months while Lord Kedarnath's Palki is transferred to Ukhimath.
Distance from Rishikesh: 224 km
More Details: Kadarnath Travel Guide
Badrinath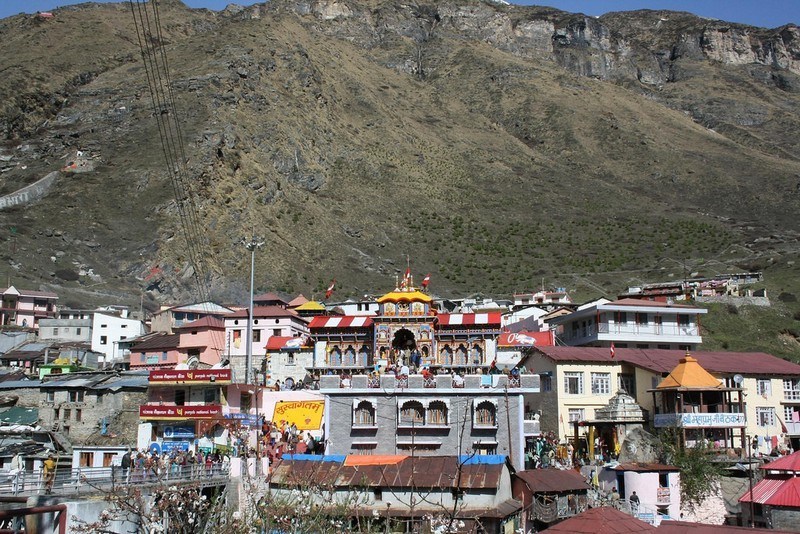 Badrinath is the most important of the four sites of famous Char Dham pilgrimage; the other three being Puri, Dwarka and Rameswaram. It is also visited as part of Chota Char Dham Pilgrimage along with Kedarnath, Yamunotri and Gangotri in Himalayan region of Uttarakhand. According to the epic Mahabharata, Badrinath is the site where Nara and Narayana, the dual forms of Vishnu, did meditation. It is also believed that the Pandavas passed through Badrinath on their way to heaven. Legend has it that Sage Vyasa authored Mahabharata at a cave in Mana, which is about 4 km from Badrinath.
Badrinath is famous for its Badrinath Temple that houses Lord Badrinarayan, an incarnation of Lord Vishnu. The present temple is believed to have been established by saint-philosopher Adi Shankaracharya in the 8th century. Adi Shankara discovered a Saligram idol of Lord Badrinarayan in the river bed of Alaknanda. He installed this idol in a cave nearby Tapt Kund. It was later shifted to the present temple by the King of Garhwal in the 16th century. Badrinath is also famous for Panch Badri temples, which are Yog Dhyan Badri, Bhavishtya Badri, Adi Badri and Vriddha Badri, along with Badrinath temple. Some of the other attraction of Badrinath includes Tapt Kund, Brahma Kapal, Sheshanetra, Vasudhara Falls, Charan Paduka, Satopanth Lake, Neelkanth and Mana Village. Devprayag, Rudraprayag, Karnaprayag, Nandaprayag, Vishnuprayag and Pandukeswar are among the other pilgrimage sites on the route to Badarinath.
The best time to visit Badrinath is from May to June and again from September to October. The monsoon months must be avoided as the region is prone to landslides. Tourists are advised not to visit during winters as the region receives heavy snowfall and harsh cold conditions. The Badrinath temple is closed from November to April.
Distance from Rishikesh: 293 km
More Details: Badrinath Travel Guide
Char Dham Yatra Itinerary
Day 1:
Reach Barkot from Rishikesh / Haridwar
Overnight stay in Barkot
Day 2:
Travel from Barkot to Janki Chatti by road (45 km)
Trek from Janki Chatti to Yamunotri (5 km trek / pony)
Visit Yamunotri Temple and near by places
Trek from Yamunotri to Janki Chatti (5 Km trek / Pony)
Travel from Janki Chatti to Barkot
Overnight stay in Barkot
Day 3:
Travel from Barkot to Uttarkashi
Day leisure at Uttarkashi
Overnight stay in Uttarkashi
Day 4:
Travel from Uttarkashi to Gangotri by road (100 km)
Visit Gangotri Temple and near by places
Travel from Gangotri to Uttarkashi by road (100 km)
Overnight stay in Uttarkashi
Day 5:
Travel from Uttarkashi to Guptkashi by road (192 Km)
Overnight stay in Guptkashi
Day 6:
Travel from Guptkashi to Sonprayag by road (30 km)
Trek from Sonprayag / Gaurikund to Kedarnath (21 Km trek from Sonprayag or 14 km trek from Gaurikund / Pony)
Visit Kedarnath Temple and near by places
Overnight stay in Kedarnath
Day 7:
Trek from Kedarnath to Sonprayag / Gaurikund (21 Km trek to Sonprayag or 14 km trek to Gaurikund / Pony)
Visit important places in Sonprayag
Travel from Sonprayag to Pipalkot
Overnight stay in Pipalkot
Day 8:
Day 9:
Travel from Badrinath to Srinagar (Uttarakhand)
Visit Rudraprayag & Karanprayag on the way
Overnight stay in Srinagar
Day 10:
Travel from Srinagar to Rishikesh / Haridwar
Santhi is an avid traveler and primary contributor to the blogs at Trawell.in. She has explored most of the states in India and gained vast knowledge on tourist destinations in India and abroad. She also contributes content to other travel websites.