Monsoon is the best season to experience the nature and explore gorgeous waterfalls around India. After the burning heat of summer, the rains bring much needed relief to the human life and also the nature. Trawell.in presents 20 best monsoon destinations in India that offer breathtaking views of nature and full flowing streams that come alive in rainy season.
Mahabaleshwar, Maharashtra
Mahabaleshwar is one of the popular hill stations of Maharashtra. Situated at an altitude of 1,353 m in the Western Ghats range, Mahabaleshwar is one of the top monsoon destinations in India and also the best places to visit near Pune. This is the source of the Krishna River that flows across Maharashtra, Karnataka, Telangana and Andhra Pradesh. This pretty hill station is often referred as the queen of hill stations in Maharashtra and is used to promote Maharashtra Tourism. It offers panoramic view of the plains with the imposing sloppy peaks and surrounding woods.
Mahabaleshwar attracts large number of tourists for its lovely views, beautiful landscapes and pleasant temperatures. There are many tourist attractions in Mahabaleshwar like forts, temples, lakes, and many more. Pratapgarh Fort, Venna Lake, Mahabaleshwar Temple, Krishnabai Temple, Lingamala Falls, Tapola, Panchgani are some important tourist attractions to visit as part of Mahabaleshwar Tours. There are several viewpoints that are strategically located to capture the panoramic views created by the majestic Sahyadri Mountains and deep valleys. Arthur's Seat, Wilson Point, Kate's Point & Elephant head Point, Connaught Peak and Bombay Point are popular viewpoints. Mahabaleshwar is famous for cultivation of strawberries and mulberries.
Nearest City: Pune (123 Km)
Also Read: 5 Scenic Mahabaleshwar Viewpoints you must visit in Monsoon
---
Lahaul-Spiti Valley, Himachal Pradesh
Lahaul & Spiti are two beautiful valleys situated in Lahaul-Spiti district of Himachal Pradesh. Rohtang Pass connects Lahaul-Spiti to Manali, the famous hill stations in Himachal. It is one of the least populated areas and is one of the best monsoon getaways in India. Lahaul is blessed by nature and nurtured by Chandra and Bhaga rivers while Spiti at an average elevation of 4270 m is a barren land too difficult to cross. The Spiti Valley is surrounded by lofty mountain ranges and the Spiti River rushes through southeast of this valley in order to meet River Sutlej. The valleys are characteristic desert mountainous area and the average rainfall recorded here is 6.7 inches or 170 mm.
The important tourist attractions in Lahaul-Spiti valley are Kaza Monastery, Tabo monastery, Nako, Keylong, Jhanskar, Pin Valley National Park, Chandra Tal and Kunzum La. Kunzum la or the Kunzum Pass is the entrance pass to the Spiti Valley from Lahaul. It also offers a lot of adventure activities such as skiing along with Yak safari and exciting wildlife trails. Leh-Spiti valleys are not accessible during winters for most of the people as the Manali-Leh route is closed and the other route from Shimla via Kinnaur also sees lots of disturbances due to landslides and heavy snowfall. June – October is the best time to visit Lahaul-Spiti when the roads are free from any snow and the weather is pleasant.
Nearest City: Shimla (451 Km)
---
Most Popular Tours
---
Cherrapunji, Meghalaya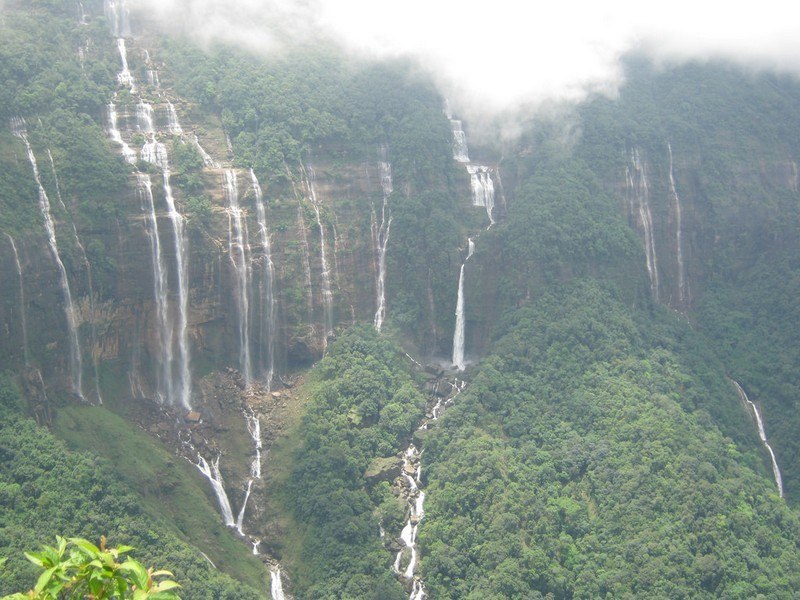 Meghalaya is a hill state located in the north – east India. Also known as the Abode of Clouds, it is one of the smallest states in India. Shillong is the capital city of the state and is situated at an average altitude of 1,496 m. Meghalaya receives heaviest rainfall during the monsoon season and rains usually last longer than rest of India. Cherrapunji and Mawsynram are the two wettest places on Earth with an annual rainfall of 11872 mm. The abundant natural beauty of Cherrapunji makes it one of the best places to visit in monsoon in India.
Rainy season (July, August & September) is the best time to visit the waterfalls and enjoy the gorgeous rain washed vistas of the region. There are several interesting places to visit in Cherrapunji including Umiam Lake in Barapani, Shillong Golf Club, Bara Bazaar, Botanical Survey of India Orchidarium, Wards Lake, Lady Hydari Park and Zoo, Meghalaya State Museum, Cathedral of Mary Help of Christians, Grotto Church, All Saints Church and Butterfly Museum. Meghalaya also houses several waterfalls, the prominent ones being Nohkalikai Falls, Spread Eagle Falls, Crinoline Falls, Elephant Falls, Beadon Falls and Bishop's fall.
Nearest Airport: Shillong Airport (30 Km)
---
Leh – Ladakh, Jammu & Kashmir
Leh is the former capital of the kingdom of Ladakh and now known as Leh district in the state of Jammu and Kashmir. It lies at an altitude of 3542 m in the lap of the Himalayas and is the second largest district in the republic of India. Due to the strong influence of Tibetan Buddhism, Leh is also known as Little Tibet or the Land of Lamas. Leh is known for its stunning scenic locales, Buddhist temples and pristine environment. Leh Palace, Shanti Stupa, Sankar Gompa, Pangong Lake, Hemis Monastery, Namgyal Tsempo Monastery, Hall of Fame Museum, Khardung La, Gurudwara Patthar Sahib, Shey Monastery, Zanskar the Virgin Valley, and Likir Monastery are some of the popular attractions in Leh. The landscape of Leh also provides lot of adventure activities including mountaineering, white-water rafting and trekking along the Markha Valley.
Leh is one of the top monsoon destinations in India. White-water rafting on the Indus and the Zanskar rivers is best experienced during the monsoons since water levels remain high. Many of the monastery festivals happens during June to September, the most famous of them being the Hemis Festival (June).
Nearest Airport: Leh Kushok Bakula Rimpochee Airport (4 Km)
---
Agumbe, Karnataka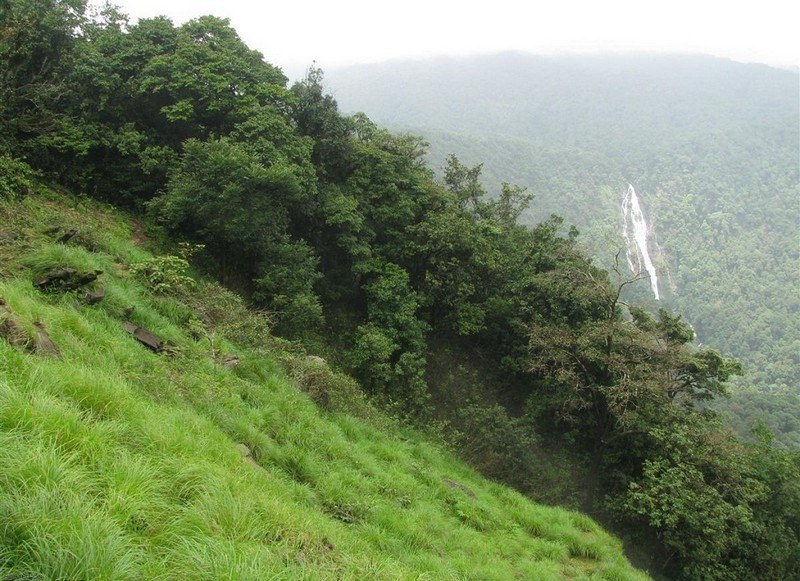 Agumbe is a cute hill station located in Shimoga district in the Malnad region of Karnataka. Situated at an altitude of over 2100 feet, Agumbe is also known as the Cherrapunji of South India as it receives the highest amount of rainfall in Southern India. It is also called Hasiru Honnu means green gold as it is home to several rare species of medicinal plants. Agumbe hill is one of the four peaks in the Western Ghats that borders the mainland and divides it from the coast of the Arabian Sea. Agumbe is one of the most popular places to visit near Mangalore in monsoon. It is also one of the popular hill resorts in Karnataka and also one of the top tourist attractions not to miss in Karnataka tour packages.
Agumbe is surrounded by a rich biodiversity, and adjacent to one of the last surviving lowland rain forests. Many streams and waterfalls are hidden within the deep forests and slopes in and around Agumbe which come alive in the monsoon season. Sunset View Point, Udipi, Jomlu Theertha Falls, Barkana Falls, Onake Abbi Falls, Jogi Gundi Falls, Kudlu Theertha Falls, and Kunchikal Falls are some tourist places in Agumbe. It is the place where RK Narayan has filmed his novel Malgudi Days. Agumbe is also base station to several trekking trails including Narasimha Parvatha Trek.
Nearest City: Mangalore (100 Km)
Also Read: Must Visit Places near Bangalore
---
Athirapally, Kerala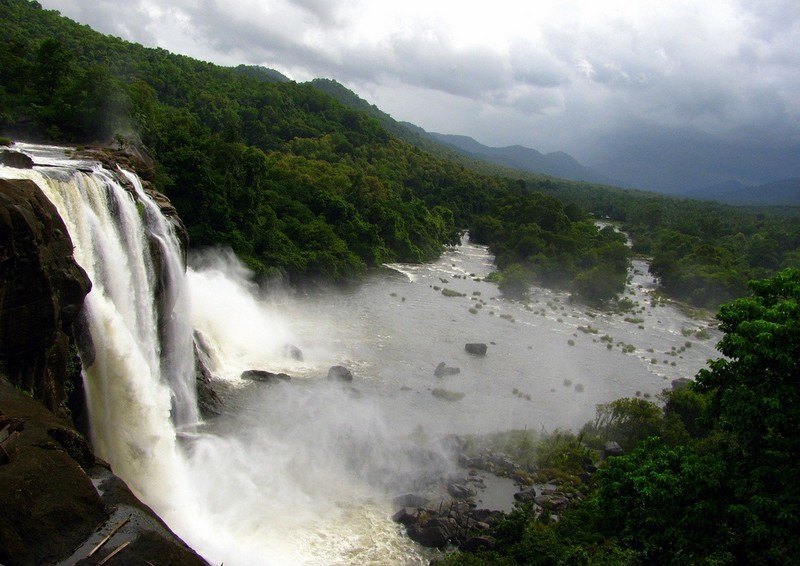 Athirapally Waterfalls are one of the best waterfalls in India and one of the top tourist places in Kerala state. Athirapally Falls are magnificent waterfalls formed on Chalakudy River located at the entrance to Sholayar hill range in Thrissur district. This waterfall drops from a height of 80 feet through several parallel streams offering a great scenic beauty. In monsoon season, the water gets strength and all the streams join together and appear like Niagara Falls. This is the biggest waterfalls in Kerala and one of the top places to visit in rainy season in the months of June, July & August as part of Kerala Tour Packages.
One can reach top of the falls with about 15 minutes' walk from the falls entrance. It offers spectacular views of the Sholayar hills and a unique view of the waterfalls from this spot. About 10-15 minutes trek down from top of the falls will take you to bottom of the falls where the greatest beauty of the falls can be experienced. Swimming is possible in the stream at bottom of the falls. The Vazhachal Waterfalls, Chapra Falls, Anakkayam, Sholayar Dam, Valparai and Malayattur Wildlife Sanctuary are the nearest attractions to Athirapally. Among the scenic places to visit near Kochi, it also offers adventure activities like river rafting, trekking, etc.
Nearest City: Kochi (73 Km)
---
Lonavala, Maharashtra
Lonavala is a beautiful hill station in Pune district of Maharashtra. It lies 622 m above sea level in the Sahyadri Ranges which separate the Deccan Plateau and the Konkan Coast. Lonavala and Khandala are the twin hill stations located near to each other and are very popular monsoon getaways in India. It is one of the top summer getaways in Maharashtra annd also one of the best places to visit near Mumbai. Lord Elphinstone, who was the Governor of the Bombay Presidency, developed Lonavala along with Khandala in 1871.
Lohagad Fort, Rajmachi Point, Karla Caves, Valvan Dam, Lonavala Lake, Tiger's Leap, Tungarli Lake and Dam, Bhaja Caves, Rajmachi Fort, Bhushi Dam, Korigad Fort, Kune Waterfalls, Tikona Fort, Bedsa Caves, Visapur Fort and Tung Fort are among the must include places in your Lonavala Tour Packages. The best time to visit Lonavala and Khandala is during the monsoon, between July – October, when the scenic spots become lush green and the waterfalls are in full flow.
Nearest City: Pune (67 Km)
Also Read: 10 Charming Summer Getaways near Mumbai & Pune
---
Mussoorie, Uttarakhand

Mussoorie is a popular hill station in Dehradun district of Uttarakhand. It is situated atop a horseshoe crest on the mountains of Garhwal at an average altitude of 1880 m. Mussoorie offers commanding views of the underlying Doon Valley and the magnificent Himalayas. The highest peak in the region is Lal Tibba in Landour, at an elevation of over 2,275 m. Mussoorie is called the gateway to the Yamunotri and Gangotri. This is one of the top hill stations in India and also one of the most popular Hill Stations near Delhi. The famous Kempty Falls can be experienced at full flow in the rainy season in July & August and it attracts large crowd in this season. Mussoorie is also one of the popular tourist places in Uttarakhand.
Camel's Back Rock, Mall Road, Cloud's End and Bhatta Falls are the popular places to visit as part of Mussoorie tour packages. Mussoorie also offers adventure and shopping opportunities. Tourists can enjoy horse riding or a leisurely walk across Camel's Back Road and a rope-way ride to the top of Gun Hills. Snow Adventure Zone offers adventure activities like Sky Ride, Valley Crossing, Zip Swing, Paragliding, Night Camping & Safari.
Distance from New Delhi : 278 Km
---
Jog Falls, Karnataka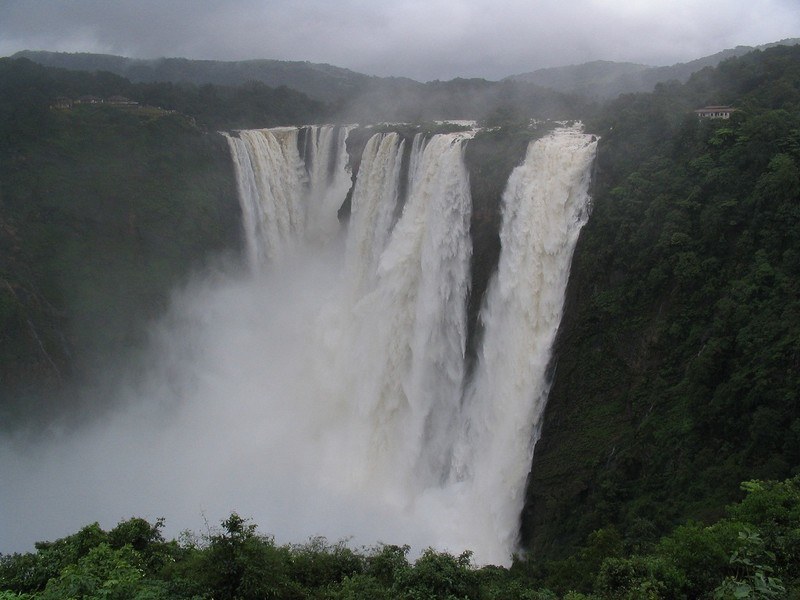 Jog Falls is the one of the highest plunge waterfall and also among the best waterfalls in India. It is situated in Shimoga district of Karnataka and is locally known as Geruoppe Falls, Gersoppa Falls and Jogada Gundi. This is formed over the Sharavathi River falling from a height of 253 m (830 feet). The Sharavathi River flowing over a very rocky bed about 250 yards wide, 253 m deep and the water comes down in four distinct falls known as Raja, Rani, Rover and Rocket. The four cascades merge to form the huge waterfall. The Raja Fall pours in one unbroken column sheer to the depth of 830 ft. Jog Falls can be seen in gorgeous form in rainy season in July, August & September and it is one of the best waterfalls near Bangalore.
Jog falls is one of the most beautiful waterfalls in Karnataka and one of the important tourist places in Karnataka. There is a viewpoint near parking area which also has few shops available. A narrow path from viewpoint leads to bottom of the falls. The walk is steep & little difficult and takes about 45 minutes one way. The view is amazing from the bottom and the showering sizzles of the falls at bottom are really worth the effort. However, the path is slippery and little dangerous during peak monsoons. Kudumari Waterfalls, Unchalli Falls, Koosalli Waterfalls, Bennehole Falls and Murudeshwar are some major attractions near Jog Falls.
Nearest City: Bangalore (400 Km)
---
Wayanad, Kerala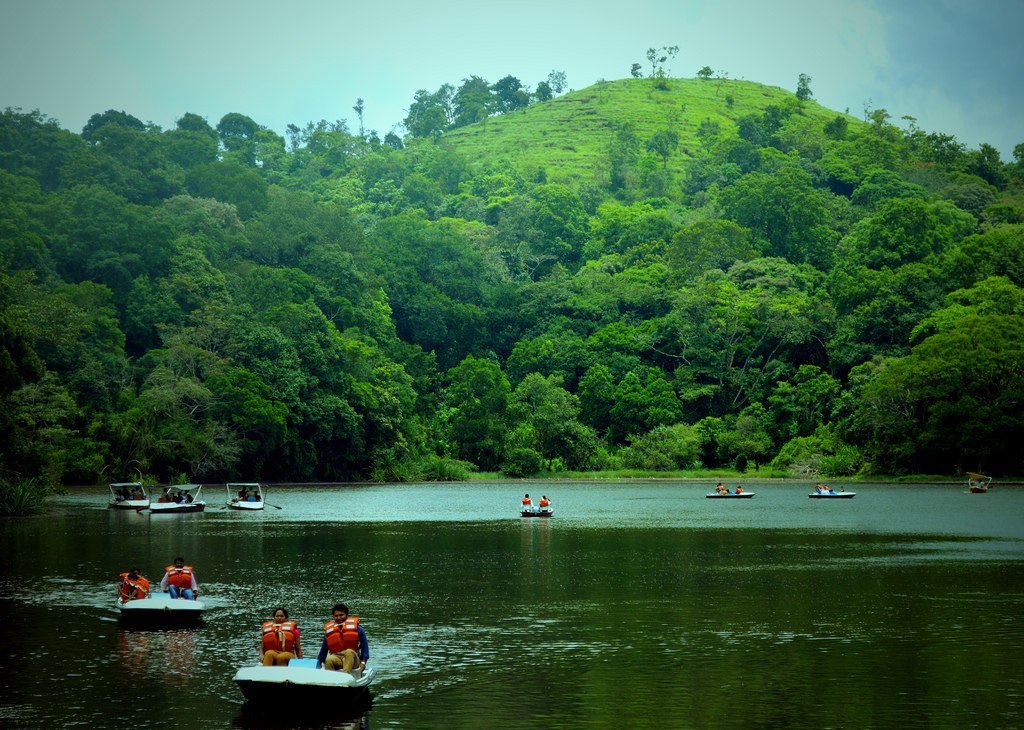 Wayanad is one of the fabulous hill stations in Kerala , and among the most scenic places to visit near Mysore. At an altitude ranging between 700m to 2100m, Wayanad is the biggest foreign exchange earners of Kerala with its production of cash crops like pepper, cardamom, coffee, tea, spices and other condiments. Wayanad is one of the popular tourist places to visit in Kerala and is also famous for Tea and Coffee plantations. Kalpetta, Sulthan Bathery and Mananthavady are the largest towns in Wayanad and are the base stations to visit different parts of the Wayanad district. Wayanad is not as crowded as it's peers like Munnar and it's one of the cheapest summer destinations in India. With several rain forests like Lakkidi, Wayanad is also one of the best places to visit in monsoon in India.
Wayanad has a rich history and the hills of Wayanad have several evidences of the New Stone Age civilization. There are pictures and pictorial writings on the walls of Edakkal Caves. It has several Waterfalls (Meenmutty Falls, Soochipara Falls, Thusharagiri Falls), Dams / Lakes (Pookote Lake, Banasura Sagar Dam, Karappuzha Dam), Wildlife Sanctuaries (famous Wayanad WLS), Peaks / Trekking Destinations (Brahmagiri Peak, Chembra Peak). Wayanad is one of the top attraction you must visit along with your Ooty tour packages.
Nearest City: Kozhikode (73 Km)
Also Read: 7 Best Places for Tea Plantation Trails in India
---
Valley of Flowers, Uttarakhand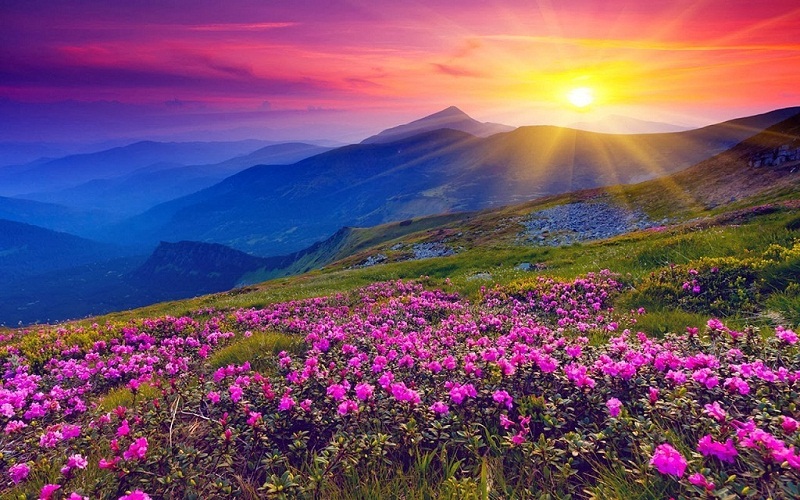 Valley of Flowers National Park is one of the most scenic places in India, situated in Chamoli district of Uttarakhand. It was declared a National Park in 1982 and was included in the list of UNESCO World Heritage Sites in 2004. Initially known as Bhyundar Valley, the Park was discovered and renamed in 1931 by British mountaineer Frank Smith. It is perched at an altitude of 3600 m and is known for its meadows of endemic alpine flowers and the variety of flora. Valley of Flowers and Nanda Devi National Park, together, constitute the Nanda Devi Biosphere Reserve. Valley of flowers opens from 1st June every year and is one of best monsoon getaways in India. It is closed between November to April due to harsh weather condition in winter.
The Park is known for its scenic beauty comprising alpine shrubs and different colorful flowers, milky white streams, snow-clad peaks and pristine air. More than 650 species of flowers including Brahma Kamal, Blue Poppy and Cobra Lily can be found in the Park. This richly diverse area is also home to rare and endangered animals, including the Asiatic black bear, snow leopard, musk deer, brown bear, red fox, and blue sheep. Birds found in the park include Himalayan monal pheasant and other high altitude birds.
Nearest Airport: Jolly Grant Airport, Dehradun (294 Km)
---
Dudhsagar, Goa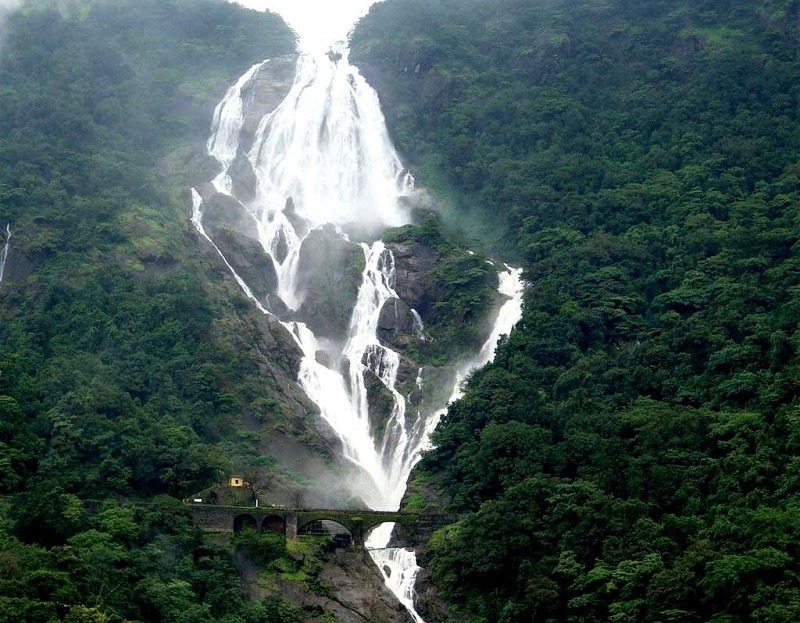 Source: Flickr
Dudhsagar Falls is the largest and highest waterfall in Goa. This is a four tiered waterfall formed by the Mandovi River in Goa. This waterfall is among tallest waterfalls in India with a height of 310 m (1017 feet) and an average width of 30 m (100 feet) at its peak. This fall is located inside the Bhagwan Mahavir Sanctuary, at the border between Karnataka and Goa states. It is one of the best places to visit in Goa as part of Goa trip and also one of the best places to visit in monsoon in India.
Trekking to the waterfall is also a popular activity. There are three trekking routes which start from Kuveshi village, Castle Rock railway station and Kulem railway station. Another, more popular approach is to reach the middle of the Dudhsagar waterfalls through the railway tracks. One can travel in a passenger train from Margao to Kulem to reach the tracks in middle of the waterfall. Own vehicles are not allowed into the sanctuary to reach the waterfall. The most common and easiest way to reach the waterfall is to take forest department jeeps from the forest entrance and hike one km distance from the dropping point. This service is closed during monsoon (June – mid October).
Nearest City: Panjim (71 Km)
---
Mount Abu, Rajasthan

Mount Abu is a popular hill station in the Aravalli Range in Sirohi district of Rajasthan state near the border with Gujarat. Situated at an altitude of 1220 m, this is the only hill station in the deserts of Rajasthan and also one of the popular Tourist Places in Rajasthan. The ancient name of Mount Abu is Arbudaanchal. In the Puranas, the region has been referred to as Arbudaranya (forest of Arbhuda). Mount Abu is also one of the top visited hill stations in North India and also one of the best places to visit in India.
It has been a popular retreat from the heat of Rajasthan and neighbouring Gujarat for centuries. Among the top places to visit near Jaipur, Mount Abu has many tourist attractions in the form of temples, lakes and forts. Dilwara Jain Temples, Guru Shikhar Peak, Adhar Devi Temple, Sri Raghunathji Temple, Achalgarh Fort, Nakki Lake, Durga Temple, Gaumukh Temple, and Mount Abu wildlife Sanctuary are the top most tourist attraction of Mount Abu. Mount Abu has the World Spiritual University and head quarter of the Bhrama Kumaris, a well known sect.
Nearest City: Ahmedabad (226 Km)
---
Coorg, Karnataka
Source: Flickr
Coorg or Kodagu is a district in Karnataka and Madikeri is the district headquarters. At an altitude of 1525 meters on Western Ghats, it is also known as the Scotland of India. Coorg is one of the most famous hill stations around Bangalore and also one of the best Karnataka tourist places to visit as part of Bangalore 2 day trip. The beautiful nature and gorgeous waterfalls of Coorg come alive in rainy season, between June and September. Abbey Falls, Iruppu Falls & Mallali Falls are the must visit attractions to include in Coorg tour packages. The famous trekking trails of Coorg like Tadiyandamol, Brahmagiri and Pushpagiri are at their best in monsoons.
Coorg is one of the places with highest rainfall in India. Places like Raja's seat, Golden Temple at Bylakuppe, Bagamandala and Dubare are the major attractions. The famous Cauvery River is originated in the hills of Coorg at Talacauvery. It has three wildlife sanctuaries – the Talacauvery, Pushpagiri and Brahmagiri Sanctuaries, and one national park, the Nagarhole National Park. Elephant rides at Dubare Elephant camp and white water rafting in Upper Barapole River are other interesting things to do in Madikeri.
Nearest City: Bangalore (265 Km)
Book Here: Top Resorts in Coorg
---
Gangtok, Sikkim
Gangtok, the capital of Sikkim, is a hill town and one of the most popular places in north-east India. It is situated on the lower slopes of the Himalayan range at an elevation of 1,650 m. Once an important trade route between Tibet and India, today Gangtok is a busy administrative and business center. It rose to prominence after the construction of Enchey Monastery in the year 1840, and became a popular pilgrimage for followers of Buddhism. Gangtok is one of the top monsoon destinations in India and also one of the least expensive hill resorts in India.
Gangtok is known for its scenic beauty and striking views of Mount Kanchenjunga, the third highest peak in the world. Seven Sisters Waterfalls is a must experience place in rainy season. There are many tourist places in Gangtok and is well-known as the land of monasteries. Himalayan Zoological Park, Kanchenjunga National Park, Tsomgo Lake, Saramsa Garden, Ganesh Tok Viewpoint, Tashi Viewpoint, Shingba Rhododendron Sanctuary, Nathula Pass, Changu Lake, Enchey Monastery, Rumtek Monastery, Hanuman Tok, and Yumthang valley are some tourist Places to visit in Gangtok.
Nearest Airport: Bagdogra Airport (126 Km)
---
Udaipur, Rajasthan
Udaipur is a major city in the state of Rajasthan. It is the historic capital of Mewar kingdom in the Rajputana Agency. Maharana Udai Singh of the Sisodia clan of Rajput founded the city 1553 and shifted his capital from the city of Chittorgarh to Udaipur. In the year 1818, it became a Princely State under the British Empire and later became a part of India after Independence. Udaipur is one of the top attractions you must include in Rajasthan packages.
Udaipur, one of the popular tourist places to visit near Delhi, is known for its history, culture, scenic locations, lakes and the Rajput-era palaces. The City Palace, the Lake Palace, Bagore Ki Haveli, Jagdish Temple, the Garden of the Maidens or Saheliyon Ki Bari, Sajjan Garh Palace, Kumbhalgarh Fort, Lake Pichola, Fateh Sagar Lake, and Jag Mandir Palace are some of the top  Udaipur Tourist Places. With lush greenery and enchanting lakes, the occasional rainfalls enhance the beauty of the city, making it one of the top monsoon destinations in India.
Nearest Airport: Maharana Pratap Airport (21 Km)
Must Read: 8 Largest Forts in Rajasthan You Must Visit
---
Khajuraho, Madhya Pradesh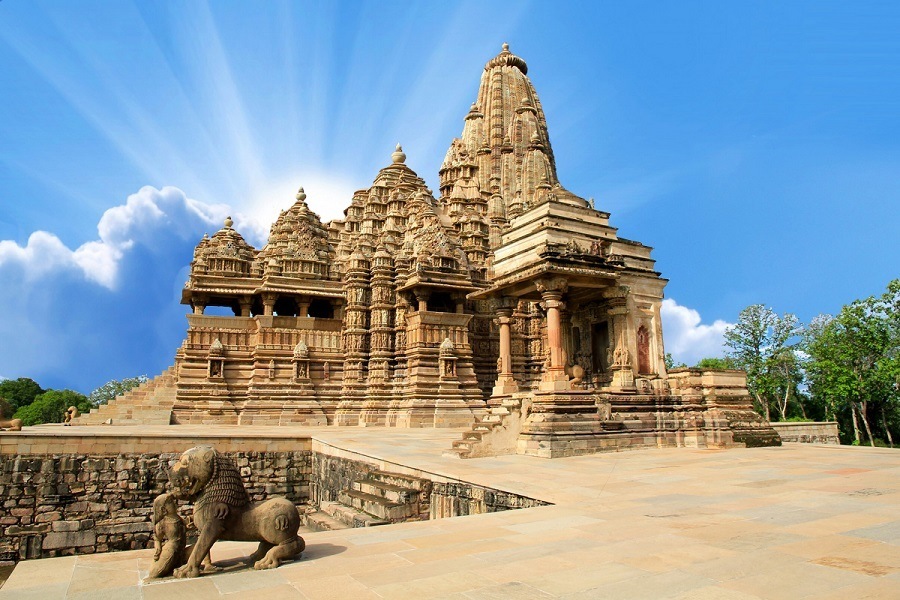 Khajuraho is an ancient city located in Chhatarpur district of Madhya Pradesh and is known all over the world for its beautiful temples. The Khajuraho group is one of the best UNESCO World heritage sites in India, and is considered to be one of the best places to visit near Bhopal. The Khajuraho temples were built over a span of 200 years, from 950 AD to 1150 AD by Chandela Rajputs. The Khajuraho group of temples were built together but were dedicated to two religions, Hinduism and Jainism. It is one of the wonderful places to visit in Monsoon season in India, as the monuments of Khajuraho look fresh and wear beautiful texture of nature in the rainy season.
Khajuraho initially had 85 temples by 12th century, spread over 20 sq. km. Of these, only about 20 temples have survived, spread over 6 sq. km. The temples are famous for their nagara-style architectural, grand structures and their erotic sculptures. Temples in Khajuraho are divided into various groups such as the Western group and Southern group. The most famous temples are Chausth Yogini, Brahma, Lalgun Mahadev, Matangeshwar, Varaha, Lakshman, Parshwanath, ChaturBhuja, Ghantai, Vishwanath, Devi Jagdambi, Chitragupta, Kandriya Mahadevi, Vaman, Adinath and Duladev. Today, the temples serve as fine examples of Indian architectural style that have gained popularity due to their explicit depiction of the traditional way of sexual life during medieval times. Apart from the temples, tourists can also visit the Dhubela Museum, Jain Museum, Ajaigarh Fort and the Beni Sagar Dam in Khajuraho.
Nearest City: Allahabad (265 Km), Lucknow (297 Km)
Full Details: places to visit in Khajuraho
---
Rann of Kutch, Gujarat
Kutch, the largest district in India, is situated in the state of Gujarat. It derives its name from katchua or kachbo, meaning a tortoise and is surrounded by sea water. Rann of Kutch is situated on the Gulf of Kutch, leading to the Arabian Sea. It is a unique landscape with salty marshlands and no vegetation. The Rann of Kutch is even more beautiful during the monsoon as it gets submerged in the water. For rest of the year, it's an enormous stretch of white salt appearing to give the look of a white desert.
Among the top places to visit near Ahmedabad, Kutch has several important tourist attractions. Mandvi Beach, Kala Dungar, Desh Devi Maa Ashapura, Roha Fort, Dholavira, Narayan Sarovar, Kutch Great Indian Bustard Sanctuary, Aina Mahal, and Kutch Museum are some tourist places in Kutch. Tourism activities here involve desert safaris by jeep, camel rides, shopping for the unique local handicrafts, and sighting the rare wild ass found in the Little Rann of Kutch sanctuary. Kutch also hosts a three-month long annual festival called Rann Utsav which attracts thousands of people to the beautiful White Desert. On the full moon nights, cultural programs are organized at Dhordo to celebrate Gujarat's rich culture and traditions.
Nearest City: Ahmedabad (400 Km)
---
Courtallam, Tamilnadu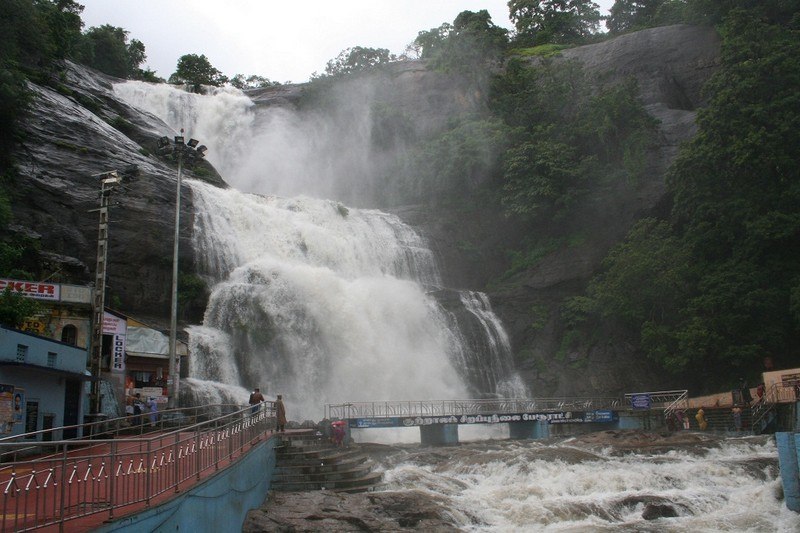 Courtallam is a small township located in the district of Tirunelveli in Tamil Nadu. Also known as Kutralam, this is one of the most famous waterfalls in Tamilnadu and also one of the best places to experience Tamilnadu Tourism during monsoon. The waters of Courtallam are believed to have medicinal qualities as it flows through forests of herbs. There are nine waterfalls at Courtallam where the River Chittar cascades over 92 meters at varying volumes. Courtallam is the one of the best places to visit to near Madurai during monsoon.
The Main falls or Peraruvi is the most popular and the biggest among the nine falls, at a distance of about 300 meters from Courtallam Bus Stand. Falling from a height of 60 m, it is located right inside Courtallam town. The flow of water is interrupted by the Pongumakadal rock and comes down gently making it a safe place to bath. The Kutralanathar Temple, dedicated to Lord Shiva is located near this falls. Road access is available close to the falls. Chitraruvi or Small falls is situated just above the Main falls. Shenbagadevi falls, Thenaruvi, Five Falls, Palaruvi Falls, Thirumalapuram Rock Cut Cave Temples and Thenmala Dam are the important tourist attractions in and around Courtallam.
Nearest City: Madurai (160 Km)
Also Read: Places to visit near Chennai
---
Chitrakote Falls, Chhattisgarh
The Chitrakote Falls is a magnificent waterfall located to the west of Jagdalpur in Bastar district of Chhattisgarh. The waterfall is formed over Indravati River and it has a height of around 96 feet. It is the broadest waterfall in India and is considered to be the Niagara Falls of India, owing to its horse-shoe shape. It is the one of best places to visit in monsoon season in India.
During rainy season the falls cover the entire stretch of the horseshoe covering a width of about 300 meters and it looks like Niagara Falls. The area around the Chitrakot Falls is highly dense and forested. During the rainy season, in the months of July, August & September, rainbows are created with sun rays reflecting on mist from the waterfall. Adventure sports enthusiasts use boats in the pond below the falls. In the pool below the falls, swimming is permitted and peddle boats are permitted. On the left bank of the Chitrakot Falls, a small Hindu shrine dedicated to the god Shiva and several naturally created grottos named Parvati caves are located. Thirthgarh Waterfalls is another popular tourist attraction near Chitrakote Falls.
Nearest City: Raipur (275 Km)
---
---
Most Popular Tours
---
Santhi is an avid traveler and primary contributor to the blogs at Trawell.in. She has explored most of the states in India and gained vast knowledge on tourist destinations in India and abroad. She also contributes content to other travel websites.