If you are an adventure enthusiast seeking an extremely challenging yet fun-filled activity then rafting is the perfect one for you. Plunging into soaring rapids, steering through unstoppable water, floating on the waves, bouncing over stubby rocks, drenching in icy-cold waters, relishing both the tranquility and exuberance of the river and finally reaching the target point, River Rafting in India gives you a lifetime and memorable experience. Additionally, there are no major permit requirements for river rafting in India and it allows almost everyone to participate in this stimulating expedition from a non-swimmer, an amateur, or a new kid on the block as part of India tour packages. Just follow the safety tips of the instructor and use appropriate equipment. So, here let's embark on a virtual tour of some best places for river rafting in India.
Ganges River – Rishikesh
With up to three grades of rapids and numerous rafting camps on the white sand beaches of River Ganga, Rishikesh in Uttarakhand is undoubtedly the hub of river rafting in India, and among the must-include places in Uttarakhand tour packages. The fast-pacing Ganges River is surrounded by the mighty Garhwal Himalayas making river rafting here a fun-filled yet thrilling experience.  There are four stretches – Brahmapuri to Rishikesh (9 km), Shivpuri to Rishikesh (16 km), Marine Drive to Rishikesh (24 km), and Kaudiyala to Rishikesh (36 km). Adventure enthusiasts can enjoy river rafting down rapids ranging from grade 1 to grade 4 which come with queer names such as Three Blind Mice, Golf Course, Roller Coaster, Tee Off, Return to Sender, Double Trouble, and The Wall, the most challenging among all. Besides, one can also visit some popular places to visit in Rishikesh like Triveni Ghat, Neel Kanth Mahadev Temple, Swarganiwas Temple, and Bharat Mandir. June to September is the best time to indulge in white water rafting in Rishikesh, among the best places to visit near Delhi for adventure lovers.
                                     Book Here : Rishikesh Tour Packages
---
Beas River – Manali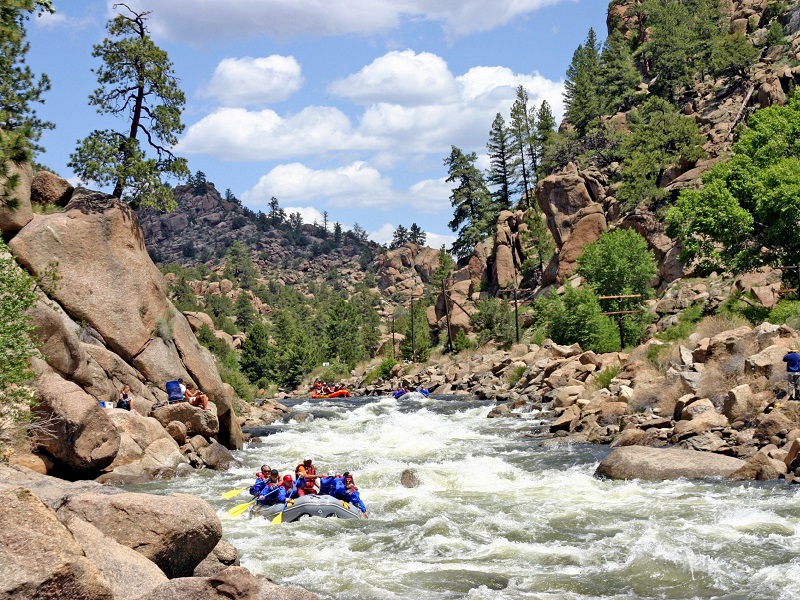 The Beas River in Kullu Manali is another prominent destination in India for white water rafting as it offers a scenic, sometimes idyllic, and sometimes exhilarating experience to its rafters. From experienced rafters to novice beginners, the bubbling waters of river Beas are ideal for rafting lovers. With challenging rapids between 1 to 4, the river rafting in the Kullu Valley commences from Pirdi and covers areas like Bhuntar, Katrain, Mohal, Bajaura, and ends at Jhiri covering a stretch of about 14 km witnessing the scenic beauty of Pir Panjal Range, that covers the entire region of Kullu-Manali, among the, must include places in Himachal tour packages. The best time to enjoy this thrilling activity here is from June to July. Besides, one can also visit some of the best Manali tourist places like Solang Valley, Rohtang Pass, Hidimba Temple, Bhrigu Lake, Vashist Temple, Manu Temple, etc. Manali is one of the most famous places to visit near Chandigarh.
                                    Book Here : Manali Tour Packages
---
Zanskar River – Ladakh
If you want to experience a pure adrenaline rush in the enigmatic Ladakh region then the Zanskar River is your best bet. Generally frozen through most of the year, rafting through the icy cold waters of the Zanskar river that flows at a height of more than 12, 000 feet is a truly exhilarating experience. With a challenging rapid of Grade 3 and 4, rafting is held between Padum and Nimmo stretch that covers a distance of 120 km in the region of Ladakh, among the top tourist places in India. As you raft in this spectacular river, the landscape of snow-laden peaks, rugged cliffs housing Buddhist monasteries, quaint hamlets, and deep gorges enamors you.
---
Barapole River – Coorg
Known for its fierce turbulence and magnificent white water, Barapole River Rafting in Coorg is one of the most challenging experiences in South India. The raft just covers a distance of around 3-4 km with rapids of various grades ranging from I to V. Flowing through the lush green forests of Brahmagiri Wildlife Sanctuary, rafting at Barapole river is a great way to enjoy the breathtaking beauty of wildlife and nature that lures thousands of tourists every year to coorg, among the most scenic places to visit near Bangalore. The rapids are also called Big Bang, Ramba Samba, Wicked Witch, Morning Coffee, and Grasshopper. Besides, it is suggested to attend white-water rafting classes and mock drills before indulging in this activity. The white frothy river with speedy waters and rapids, flowing through beautiful landscapes, makes the white water rafting in Barapole River one of the most popular things to do in Coorg.
                                     Book Here : Coorg Tour Packages
---
Brahmaputra River – Pasighat, Arunachal Pradesh
If you truly want to enjoy river rafting, you must try it in the mysterious and ferocious Brahmaputra River in Arunachal Pradesh. Rafting in the Brahmaputra is done when the river finds its way in Arunachal Pradesh, down the Tibet region by cutting Greater Himalayas. With the rapid levels of grades 4 – 6, river rafting starts at Tuting and ends at Pasighat covering approximately 180 km. Make sure you have enough time to take the rafting, as it may take a week to cover the stretch. The Zebra Rock, Roaring Rikor, Moving Madness, and Tooth Fairy are the most famous rapids which surely give you jolts of adrenaline. Recommended especially for experienced rafters, the entire expedition makes one well aware of the life, culture, and traditions of Arunachal Pradesh. The best time to indulge in rafting here is from November to March.
---
Kundalika River – Kolad
Located within the depths of the Sahyadri mountain range in the Raigad district, Kolad is a popular destination in Maharashtra, especially for those who want to go river rafting in Western India. Rafting here is done on River Kundalika, the small yet fastest flowing river of the South. The 14 km stretch provides various rapids of intensities varying between 3 and 4. It is one of the best weekend gateways from Mumbai and is the only place in India offering White Water River rafting throughout the year. However, the monsoon is the perfect time to go rafting in Kundalika when the river is flowing in full force, offering an exhilarating session of rafting to adventure seekers. Besides, the scenic beauty of the surroundings is splendid, and the lush green flora around makes it one of the attractive places to visit in Maharashtra.
                                       Book Here : Maharashtra Tour Packages
---
River Kali – Dandeli
Often called the 'Adventure Capital of Karnataka', Dandeli is one of the top places for white water rafting in India, and among the popular places to visit in Karnataka. Flowing through the altitude of 1549 feet in the mighty Western Ghats, rafting in the swift flow of River Kali provides an ultimate dose of adrenaline rush to both the first timers as well as professional rafters. The 12 km rafting stretch that comprises grade 2 and 3 rapids start from Ganeshgudi and ends up in Moulangi. As you raft in the swift flow of River Kali,  you can experience the rapid splashes of River Kali with the serene views of lush green forest, gorges, and valleys as part of the Dandeli tour packages. The best time to raft here is between November and June. Apart from rafting, Dandeli also offers other adventure sports like Kayaking, Zorbing, Jacuzzi, Trekking, Camping, and many more. Dandeli is one of the best places to visit near Mangalore for adventure enthusiasts.
                                    Book Here : Karnataka Tour Packages
---
Teesta River – Bhalkhola, Sikkim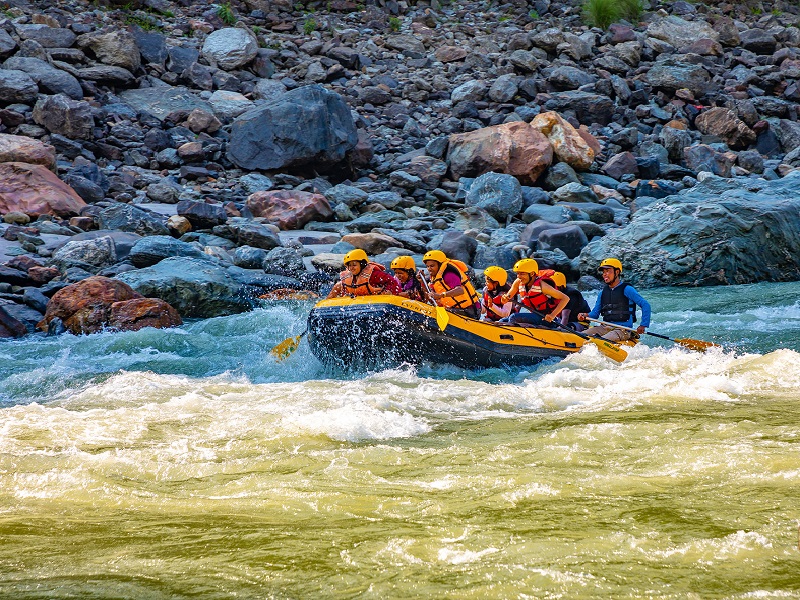 Flowing between the beautiful states of Sikkim and West Bengal, the Teesta River is another famous spot to go white water rafting in India. The stunning landscape of majestic mountains and the spot where the Teesta River meets the Rangit River in Sikkim forms a formidable place for adventure seekers and thrill lovers. Blessed with a string of rapids rated in Grade 2-4, the unruly Teesta river offers the rafters a thrilling experience as part of Sikkim tour packages. The turbulent Rangit, a tributary of the Teesta, has multi-dimensional rapids and is perfect for a challenge to more experienced rafters. Rafting in the Teesta river is confined to the months from October to April. What adds to the fun and adventure is the beautiful surroundings that you'll pass through during your rafting session. Besides, one can also visit some popular tourist places in Kalimpong like Deolo Hill, Zong Dhog Palri FO Brang Monastery or Durpin Monastery, Mangal Dham, Tongsa Gumpha, Tharpa Choling Monastery, etc.
                                     Book Here : North - East India Tour Packages
---
Kameng River – Tawang
Our list of spectacular places for rafting in India is incomplete without mentioning the Kameng River in Arunachal Pradesh. About 264 km long, the river originates from the glacial lake that is located below the Gori-Chen Mountain. The 25 km rafting stretch has Grade III, IV, and V rapids. This turbulent river holds the potential to delight even the veteran thrill and adventure lovers. The best time for rafting here is in the months of February to March, and November to December.
---