Coorg is a breathtaking hill station situated at an altitude of 1525 m on the Western Ghats of Karnataka. Fondly called as 'Scotland of India', it is one of the most popular hill stations in South India, as well as Karnataka. With its misty hills, meandering rivers, gushing waterfalls, intense forest, tea and coffee plantation, breathtaking views, Coorg offers something for everyone as part of Karnataka Tour Packages. Besides, one can also visit many stunning attractions on the way to Coorg from Bangalore which provide scenic vistas that will soothe your eyes and gives you an unforgettable experience.
Srirangapatna
Srirangapatna or Srirangapattana is a historical town located in Mandya district of Karnataka. Owing to its cultural, religious and historic importance, it is one of the popular places of heritage in Karnataka and among the top places to visit near Bangalore. Known for its famous Ranganathaswamy temple which dominates the town, Srirangapatna is one of the most important Vaishnavite centers of pilgrimage in South India. Dedicated to Lord Vishnu, it is one of the largest temples in Karnataka and among the prime attractions in Srirangapatna which draws thousands of tourists every year. Besides, Daria Daulat (Palace of Tipu Sultan), Gumbaz (Mausoleum of Tipu Sultan), Sangama, Ranganathittu Bird Sanctuary, and Brindavan Gardens are the must include places in Srirangapatna tour packages.
           Also Read : Popular Places of pilgrimage in South India
---
Mysore
Originally known as Mysuru, Mysore is the second biggest city in Karnataka, and among the most famous tourist destinations of South India. Popularly known as the 'City of Palaces', it is one of the popular 2-day trips from Bangalore, and among the must-visit tourist places to experience Karnataka Tourism. Noted for its heritage structures and palaces, the highlight is the majestic Mysore Palace, a UNESCO World Heritage Site. Apart from Mysore Palace, Chamundi Hill Temple, Mysore Zoo, Karanji Lake, Jaganmohana Palace, Brindavan Gardens etc. are the most famous places to visit in Mysore as part of Mysore tour packages. Besides, the city is also world famous for its Mysore Dasara which is celebrated every year in the month of September or October for 10 days with great pomp and grandeur that draws millions of tourists from all over the globe.
     Must Read : Best Places to witness Grand Dussehra & Navratri Celebrations
---
Nagarhole National Park
Nagarhole National Park is one of the best wildlife sanctuaries in Karnataka spread across Mysore and Kodagu districts in Karnataka and among the popular places to visit near Mysore. Originally, the place was the private hunting ground for the Maharajas of Mysore and later declared as National Park in 1988. Often called as Rajiv Gandhi National Park, it is a part of the Nilgiri Biosphere Reserve and is surrounded with thick forest, small streams, hills, slopes and valleys. Spread over an area of 258 sq.km, the park is home to a wide range of fauna including tiger, leopard, wild dog, sloth bear, the hyena, spotted deer, sambar, barking deer, four-horned antelope, gaur, wild boar and elephant that lures thousands of tourists every year as part of Nagarhole tour packages. Also, one can spot marsh crocodiles, monitor lizards, rock python, and several other species of birds here. Staying at Kabini River Lodge or JLR Kings Sanctuary operated by Jungle Lodges & Resorts is the best way to explore Nagarhole as they organize guided Jeep Safari into the park.
              Also Read : Best Nationals Parks in India
---
Golden Temple / Tibetan Monastery – Bylakuppe
Popularly called as Golden Temple, Bylakuppe is a Tibetan refugee settlement area located on Mysore – Coorg road and is one of the popular places to visit in Coorg. Established by Drubwang Padma Norbu Rinpoche in 1963, it is a beautiful Buddhist Monasteries in India and the second largest Tibetans settlement in India after Dharamshala. Home to magnificent Namdroling Monastery, the monastery is filled with Colorful murals, 40 feet high gilded images of Guru Padmasambhava in the sanctum, peaceful temple complex and unique Tibetan prayer rituals that attracts a huge number of tourists from all over India and abroad as part of Mysore-Coorg Tour Packages. The main festival celebrated here is Tibetan New Year (Losar) which takes place in the month of February / March over a period of fifteen days with much fervor.
 Must Visit : Stunning Places to visit near Mysore 
---
Cauvery Nisargadhama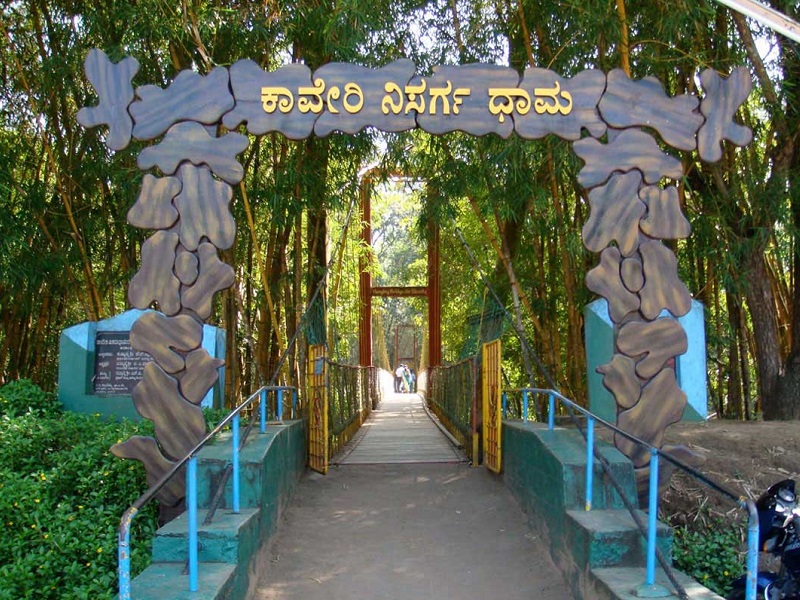 Cauvery Nisargadhama is a beautiful island located in Kodagu district of Karnataka. Formed by River Cauvery, it is one of the popular Coorg tourist places and among the best places to experience Karnataka Tourism. Developed as a tourist spot in 1988 by the Forest Department, the island is filled with thick bamboo groves, sandalwood and teak trees. Spread across an area of 64-acre land, the park features deer park, Rabbit Park, Peacock Park and Orchidarium, that draws thousands of tourists as part of 3-day trip from Mysore. Also, it is a perfect picnic spot for those who love nature and want to spend some quality time with family and friends. Besides, Elephant rides and boating are the other attractions here.
             Must Watch: Top Places to visit in Coorg
---
Dubare Elephant Camp
Sandwiched between Kushalnagara and Coorg, Dubare Elephant Camp is an elephant training center situated on the banks of River Cauvery and among the popular places to visit in Coorg. Dubare Elephant Camp is a project undertaken by forest department and jungle lodges & resorts where plenty of animals are trained under naturalist including the elephants used for Mysore Dussehra, among the top festivals of Karnataka. Also, Visitors can participate in various activities like 45-minute bath in the River Cauvery where tourist can give bath to elephants, feeding them with ragi, jaggery, sugarcane, banana and coconuts that attracts huge number of tourists as part of Mysore – Coorg Packages. Besides, tourists have the opportunities for trekking, elephant rides, coracle rides, bird watching, fishing, and river rafting here.
 Also Read: 12 Best Budget Destinations for Winter in India  
---
Harangi Dam
Built across the River Cauvery, Harangi Dam is built against a small stream, a tributary of Cauvery river situated at Hadgur village. Known for its natural beauty and soothing atmosphere, the dam is 846 meters long with a height of 47 meters which is one of the popular places to visit near Coorg, one of the famous places to visit in Karnataka. During monsoon season, the dam attracts huge number of tourists when the gates are opened, and the water is released. Also, one can spot a small garden and a stone statue of Goddess Cauvery near the dam.
                Also Read : Breathtaking waterfalls in Coorg
---