Flanked by the Western Ghats and the Arabian Sea, Kerala is one of the top places to visit in India where everyone loves to go there at least once in their lifetime as it is a haven of tranquil backwaters, magnificent beaches lined with palm trees, exotic wildlife, and lush mountains. Besides, God's Own Country is also home to its own unique and authentic cuisine that was inspired by a fusion of Malabari, French, and Arabian influences. Especially, the Malabar region is responsible for having provided some of the most delicious and flavourful additions to Kerala's cuisine as it has a wide range of vegetarian and non-vegetarian dishes made with seafood, lamb, and beef. We have listed out a handful of Malabar dishes that one must-try during their Kerala Trip.
Idiyappam with Egg Curry
One of the famous dishes in whole Kerala is Idiyappam which is relished by most of the locals as well as tourists. Also known as Noolappam, this Malabar dish is made out of rice flour, salt, and water. Numerous strands of vermicelli are entwined together to make this versatile version of appam. This famous dish of Kerala tastes good with any kind of curry. However, the classic egg curry is the best one that idiyappam blends with. It is one of the common breakfasts in Kerala found in almost all the street food stalls that one must try as part of Kerala tour packages.
                           Also Read : Best Heritage Sites in Kerala
---
Puttu & Kadala Curry
Want to have a typical Keralan breakfast? Then Puttu and Kadala curry is one of the authentic traditional Kerala dishes that are enjoyed as a breakfast by most of the Kerala people. One of the versions of flavourful idli, Puttu is a cylindrical steamed rice cake that is cooked in a mould with grated coconut. It is usually served with Kadala Curry, a Kerala version of Kala Chana cooked in thick, aromatic coconut gravy. It can also be served with ripe bananas and grated coconut. This is an extremely popular and healthy breakfast item found in every street food stall in Kerala.
                        Must Read : Magical Places to visit in South India in Monsoon
---
Appam with Vegetable Stew
Made from coconut milk and fermented rice, Appam, the staple food of Kerala, is another best dish to try in the Malabar region. This traditional dish of Kerala is essentially a thin pancake with crispy edges. It is an all-time favorite breakfast in many Syrian Christian homes but an anytime meal at most Kerala restaurants. The Appam tastes best with Ishtu, a stew originally derived from Europe. This traditional Kerala stew is made from coconut milk, cinnamon, cloves, and shallots, and sometimes a variety of ingredients like chopped chicken, mutton, or vegetables are also added to make the stew. The aroma of spices with the sweet fragrance of coconut milk is sure enough to lure foodies to the Malabar kitchens!
---
Malabar Biriyani
Malabar Biryani is one of the most exotic dishes in Kerala cuisine and is among the must-try while you are in Kerala. Among the various places in Kerala, Calicut and Thalassery offer the most irresistible varieties of biryani with relishing aroma and taste. The Thalassery Biryani is quite popular for its unique aroma and taste that comes from a unique, fragrant, small-grained, thin rice variety named kaima. This aromatic rice is cooked with authentic masala made of specific spices and dry nuts and stuffed meat which is savored with curd, lime pickle, and salad. This dish is made especially during the celebration of Eid in the Malabar region of Kerala. Aside from the meat versions, the Seer Fish and Prawn Biryanis are both delicious too.
                          Also Visit : Popular Waterfalls in Kerala
---
Malabar Parota & Beef Fry
One of the most traditional and famous dishes in Kerala, Malabar Paratha or Kerala Parotta is a unique and mouth-watering street food known all over the country. This layered flatbread, originating from the Malabar region, is made by kneading maida (plain flour), egg (in some recipes), oil or ghee, and water. The dough is beaten and later shaped into thin layers and roasted with ghee. It has a flaky, crispy, and crumbly texture that melts in your mouth and is an all-time favorite among all age groups! This layered Paratha goes well with beef curry – pieces of beef simmered in a gravy made with tomatoes, onions, garlic, and spices like bay leaves, cinnamon, cardamom, cloves, black peppercorns, and star anise.
                           Must Visit : Places of Wildlife in Kerala
---
Kerala Special Payasam / Ada Pradhaman
A traditional dessert, Ada Pradhaman is considered the king among the desserts in Kerala. It is a simple rice pudding or kheer, prepared in almost all the households across Kerala during the festival of Onam or any other occasion. The most authentic version of this Kerala food dish is made out of rice ada (which is easily available in any Keralite grocery store), jaggery, milk, coconut, and ghee. The soft rice pieces of batter soaked in a thick and silky broth of local jaggery, coconuts, and cardamom makes for an intense ride for one's taste buds.
                          Must Read : All You Need to Know About Onam
---
Nadan Kozhi Varuthathu / Spicy Kerala Chicken Fry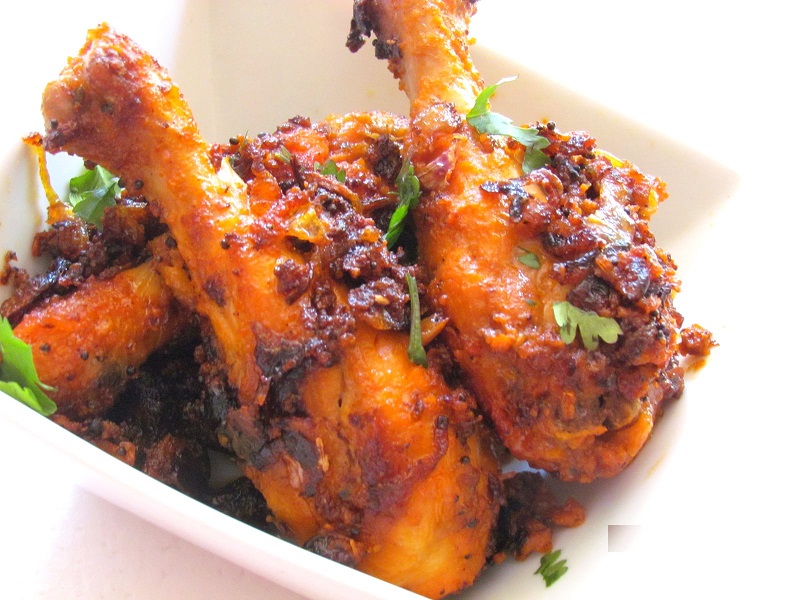 A real treat for hardcore non-vegetarians, Nadan Kozhi Varathathu is a traditional chicken fry famous all over Kerala. Served on a banana leaf, the chicken is fried with onion, garlic, chili, vinegar, and coriander. One can have it with chapattis, Malabar Parota, appam, or rice. It is one of the popular street food items in Kerala. The fiery taste of this popular Kerala food item on your tongue will leave you craving for more!
---
Ethakka Appam (Banana Fritters)
Pazham Pori, also known as Ethakka Appam is a deep-fried golden banana fritters and among the favorite tea-time snacks all over Kerala. A simple recipe made from long slices of ripe plantain bananas coated with plain flour and then deep-fried in oil. The ripeness of the bananas is most crucial for this dish as it determines the perfect taste and satisfaction while relishing it. They're available throughout Kerala so try this delicious snack during your next Kerala Trip.
                          Book Here : Munnar Tour Packages
---
Sadhya
Considered as one of the best and authentic Kerala meals, Sadhya is incorporated in traditional Kerala dishes whose aroma will water your mouth. This traditional Kerala meal is prepared on special occasions and festivals. Served in a fresh banana leaf, this royal lunch comprises dishes like pachadi, kichadi, pulissery, olan, sambar, varavu, thoran, aviyal, payasam, and rice. All the items are served in a specific order to aid in digestion and are extremely healthy to consume. If you never tried having an authentic Kerala Sadhya, don't forget to give it a try next time when you visit Kerala.
                          Must Visit : Hill Stations in Kerala
---
Mussel's Stir fry / Kallumakkaya
There is no end to the varieties of seafood one can have in Kerala. Every seafood dish in Kerala holds a unique touch, thanks to the diversity of Kerala cuisine. Also known as Kallumakkaya Ularthiyathu, Mussels Stir Fry is a spicy dish, and very common in Northern Kerala (Malabar). The mussels are first cleaned out with care and then cooked in shallots, garlic, chillies, turmeric, and garam masala. This authentic and incredibly tasty dish can be eaten along with Kappa or Rice and curries as a side dish. Though Mussels Stir Fry requires a lot of time and effort in its preparation, it is totally worth the wait and will leave you licking the curry off your fingers!
                          Also Read : Things to Know about Kerala Backwaters
---
Kappa with Meen Curry
Kappa is once a staple food of a certain section of Malayalis in Kerala. Cassava or Tapioca is referred to as Kappa in Malayalam. This authentic recipe consists of a starchy substance that's harvested from the cassava plant. A simple comfort food, made by boiling tapioca, smashing it, and then mixing it with coconut paste, red chili peppers, Haldi powder, curry leaves, garlic, green chilies, salt, and cumin. It tastes good with Meen (Fish) Curry but also can be served with various accompaniments such as green chilly chutney, chicken, or beef curry.
                            Also Read : Stunning Beaches in Kerala
---