What is Onam?
Onam is the biggest and the most important festival of Kerala. The festival falls during the Malayalam month of Chingam (Aug – Sep) and marks the commemoration of home-coming of the mythical King Mahabali. It is a harvest festival and is celebrated with joy and enthusiasm all over the state by people of all communities. In Onam 2020, Thiruvonam date is 31st August.
Watch Video - Most Visited Tourist Places in Kerala
Onam is celebrated by the Malayalis all over India and the world. Government of India has taken due notice of this vibrant and colorful festival and started promoting Onam internationally in a big way and celebrates Tourist Week of Kerala during Onam celebrations. Thousands of domestic and foreign tourists visit Kerala during Onam to be a part of Kerala tour packages.
History & Significance of Onam
It is believed that Onam celebrations started during the Sangam Period. Record of celebrations can be found from the time of Kulasekhara Perumal (800 AD). Onam festival used to be celebrated for a month during this period.
Kerala's rice harvest festival and the Festival of Rain Flowers, which fall on the month of Chingam, celebrate the Asura King Mahabali's annual visit from Patala (the underworld). According to the legend, Kerala was ruled by demon king Mahabali (grandson of Prahlada) who was a good ruler. Everyone in the kingdom was happy and prosperous and king was highly regarded by his subjects. Since he was a demon king, Mahabali's growing popularity made Gods jealous & uneasy and they approached Lord Vishnu to eliminate their threat.
It was said that Mahabali was very generous and charitable. Whenever someone approaches him for help or requested for anything, he always granted. Lord Vishnu disguised himself as a dwarf and a poor Brahmin called Vamana. He came to the Kingdom of Mahabali and asked the king to grant him some land covered by his three feet. Being very generous, Mahabali granted the boon without a second thought. Vamana started growing in size and his two feet covered the earth and sky. With no place for the third feet, Mahabali requested Vamana to land the third feet on his head, thus, burying himself into Pathala.
However, for all the good deed done by Mahabali, Lord Vishnu granted him a boon that he could annually visit his people with whom he was so attached. Vamana is also revered during this time by installing a clay figure next to Pookalam. The birthday of Sri Padmanabhan, the presiding Deity of Thiruvananthapuram, is on the Thiruvonam day in the month of Chingam. Thiruonam day is the most important day of Onam.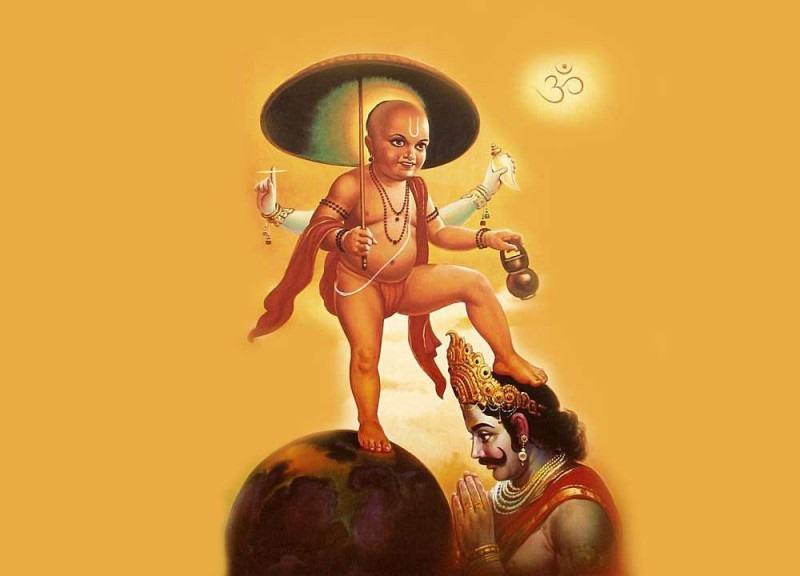 The 10-day Celebrations of Onam
The festival of Onam lasts from four to ten days. First day, Atham and tenth day, Thiruonam are the most important of all. Each day has its own importance in various rituals and traditions.
Atham is the day when mythical King Mahabali is believed to have started preparing to come back and visit his kingdom. People begin the day with an early bath, followed by prayers, and the creation of floral arrangements (Pookalam) on the ground in front of homes to welcome Mahabali. Traditionally, the Pookalams are completed with ten rings, each representing a Hindu god. The colors are chosen to please each god, and only yellow flowers are used on Atham for the first layer of the Pookalam.
Chithira – two more layers are added to the Pookalams, using mostly orange and creamy yellow flowers on this day. People also visit temples to seek blessings on this day.
Chodhi – On the third day of Onam celebrations, the Pookalam starts growing in its size by adding new layers or designs with at least 4 to 5 different flowers. The day also marks the start of shopping activities. Onam is associated with gifting new clothes, hence from this day onwards people start buying new clothes and jewellery.
Vishakam – Markets traditionally used to hold their harvest sale on this day, making it a popular day for shopping. Pookalam design competitions also commence across Kerala on this day. Women, who have to prepare the elaborate meal of Onasadya on Thiruvonam, get engaged in the prior preparations on Vishakam.
Anizham – High point of the day is the grand Snake Boat Race event called Vallamkali, which takes place on the fifth day of the Onam. The hugely popular competition happens on the banks of the river Pamba at Aranmula. A multitude of domestic and international tourists come to witness the colorful spectacle of the race.
Thriketa – Cultural programs and social gatherings are organised by various cultural societies all over the state on this day. People of all religions caste and creed participate in these events as the festival of Onam has come to be seen as a secular festival.
Moolam – On this day, the smaller versions of traditional Onasadya start in many places. Most of the temples offer special sadyas on this day. Festivities include Puli Kali (masked leopard dance) and traditional dance forms like Kaikotti Kali which is performed in various functions. The official Government celebrations start on this day with heavy illuminations in Thiruvananthapuram, Kochi and Kozhikode along with fireworks.
Pooradam – the day starts with the ritual installation of pyramid-style clay statues, known as Onathappan, in the center of Pookalams. They represent king Mahabali and Lord Vamana. By now, the Pookalams have greatly grown in size and complexity of design.
First Onam / Uthradom – King Mahabali is believed to arrive in Kerala on this day. It is a jubilant occasion when people rush to complete their Onam shopping and the cleaning of their homes. It is considered to be an auspicious day for buying fresh fruit and vegetables.
Second Onam / Thiruvonam – the main Onam celebrations occur on this day, when King Mahabali is said to visit people's homes. Activities begin early in the morning. People clean their house, take early bath, wear new clothes and participate in special prayers organised in individual homes and families gather to enjoy an elaborate vegetarian feast known as the Onam Sadya or Onasadya. Various cultural events are organised all over the state to mark the day. Dances, games and get together are the other highlights of the day. Patassu (fire crackers) are also burnt to celebrate the occasion.
Activities & Events
There are a lot of activities that takes place all over Kerala during Onam.
Pookalam refers to making designs with different types of flowers in front of the entrance of house. With each passing day during the Onam festival, a new layer of flowers is added to the Pookalam. Pookalam competitions are held at some places in Kerala.
Onasadya is a grand meal prepared on Thiruonam day. Onasadya meal is served on a Banana leaf and is a nine course meal having at least four to five vegetables. The number of vegetables in the meal varies from house to house but most of the well-off families cook nine to eleven dishes for the Onasadya. Restaurants offer as many as 30 dishes for the Onasadya.
Pulikali performers paint themselves in the guise of a tiger and enact hunting scenes to entertain people.
Kummattikali is a famous and colorful-mask dance. The masked dancers go from house to house performing the colorful Kummattikali.
At Cheruthuruthy, Kathakali artists cast a spell on the audience with the magic of their performance.
The elephant procession is one of the most awaited events of Onam. The majestic animal is decorated with flowers, ornaments and colorful cloths. The elephant is made to take a round of whole Thrissur where this procession is held.
Women perform their graceful traditional clap dance, Kaikotikalli on the day and enthrall the audience.
Vallamkali, the popular snake boat race is also organised in several parts of the state to mark the day.
Number of sports and games events are also organised on the day. These are collectively called Onakalikal. Some of them are rigorous sports like Talappanthukali, Kutukutu and combats like Kayyankali and Attakalam. Archery is also a part of Onakalikal.
Best Places to Celebrate Onam
Thripunithura – Onam is celebrated throughout Kerala with a lot of gaiety and fun but some of the places where masses gather to celebrate the festival include Tripunithura, near Ernakulam. The ten-day Onam festival is considered to be flagged off with Atthachamayam (Royal Parade on Atham Day) in Thripunithura. The parade is colourful and depicts all the elements of Kerala culture with more than 50 floats and 100 tableaux. The main center of festival is at Vamanamoorthy Thrikkakara Temple within Kochi City, believed to be the ancient capital of King Mahabali. The temple is dedicated to Lord Vamana and is directly linked to the mythological background of Onam.
Thrissur – In Thrissur, a vibrant procession with resplendently caparisoned elephants is taken out while at Cheruthuruthy, people gather to watch Kathakali performers enact scenes from epics and folk tales.
Aranmula – Aranmula Vallamkali, also known as the snake boat race, is one of the most entertaining events of the Onam festival. At Aranmula, thousands of people gather on the banks of the river Pampa to witness the exciting snake boat races. Nearly 30 chundan vallams or snake boats participate in the festival. About 100 boatmen compete with each other in a boat riding competition. The boats are decorated beautifully in different patterns. Men and women from across the city come to witness this race.
Kovalam – Hosting the Kathakali dance, the city is well known and acknowledged world wide as the center for the dance in the state. As several people gather to watch the display, performers are well versed in depicting magical mythological stories to the viewers. Kovalam is also known for the Kovalam Beach, local art fairs and other village fairs during this time.
Trivandrum – Kerala Tourism puts on a huge week-long Onam celebration at around 20 venues in the state's capital, Trivandrum. The festivities include stage shows (drama and classical dance), folk art, food stalls, and handicraft fairs. It all culminates in a grand parade on the last day, complete with floats and decorated elephants.
Book Here: Kerala Cab Packages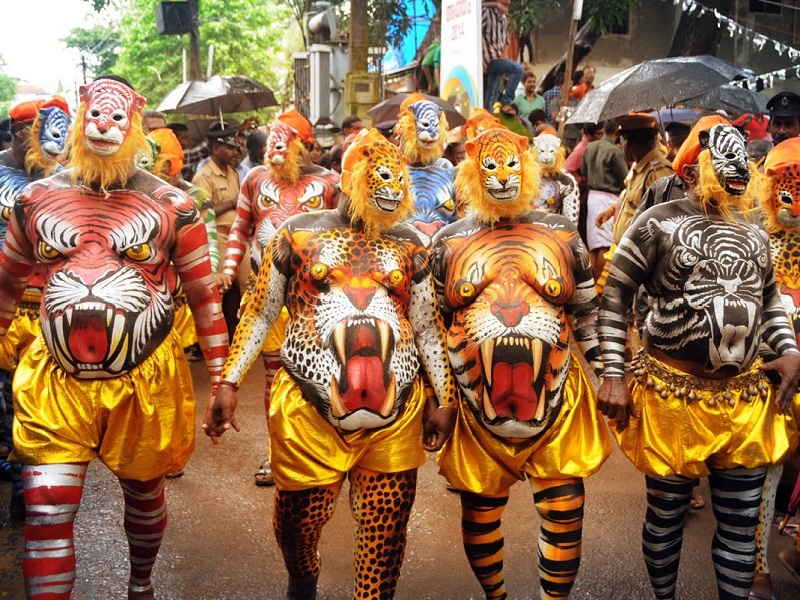 ---
REFERENCE
Santhi is an avid traveler and primary contributor to the blogs at Trawell.in. She has explored most of the states in India and gained vast knowledge on tourist destinations in India and abroad. She also contributes content to other travel websites.