Ganesh Chaturthi, also known as Vinayaka Chaturthi or Vinayaka Chavithi, is a popular Hindu festival celebrated in honour of the elephant-headed god Ganesha. It falls on the fourth day of the Hindu month Bhadrapada, usually in August or September. This year this festival will begin on 2nd September. The festival generally lasts 10 days, ending on the fourteenth day of the fortnight (Anant Chaturdashi).
Ganesh Chaturthi festival is celebrated throughout India with great devotion. The festival is celebrated by families at home, by people at their places of work and in public. The public celebration involves installing clay images of Ganesha in public pandals and group worship. The seven to ten days long festival ends with the 'Ganesh Visarjan' where the idols are immersed in the water; it is done as a procession with millions of people accompanying the idol along with music and dance. Tourists from across the globe come to India to witness the holy celebrations of Ganesh Chaturthi as part of India tour packages.
Here are 6 places to visit to celebrate a wonderful and unforgettable Ganesh Chaturthi festival.
Mumbai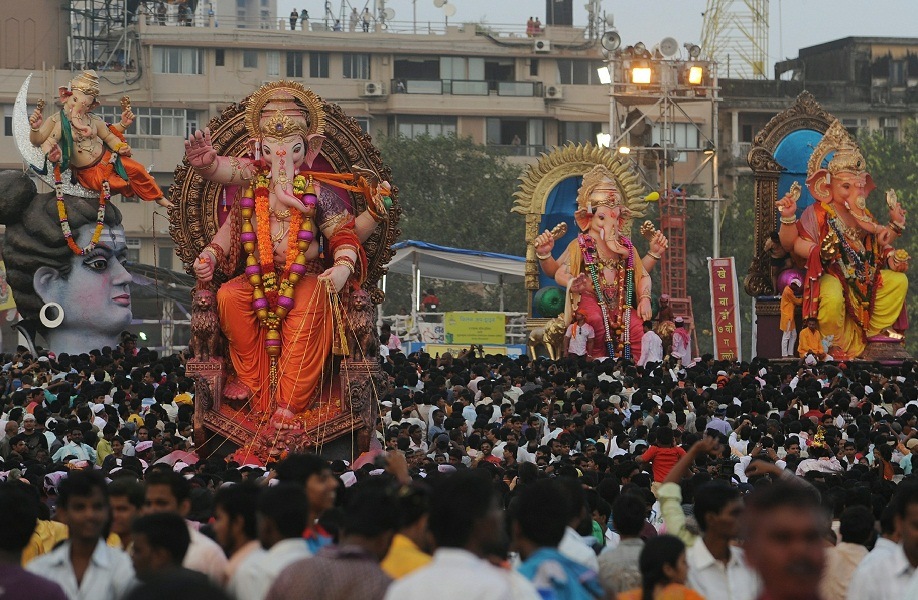 Ganesh Chaturthi, the birth anniversary of Lord Ganesha, is one of the festivals which the people of Mumbai celebrate with great zeal and enthusiasm. Lord Ganesh is regarded as the patron deity of Maharashtra and over 6000 idols are commissioned in Mumbai every year. It is celebrated all over India, but the maximum grandeur is witnessed in Mumbai and across Maharashtra. Mumbai is one of the prime places to visit as part of Maharashtra Tour Packages. The great Maratha ruler Chhatrapati Shivaji Maharaj promoted the celebration Ganesh Chaturthi which was popularizing again by freedom fighter Lokmanya Tilak.
Colourfully decorated idols of Lord Ganesha are installed both at homes and in Sarvajanik Ganesh Pandals. Lalbaugcha Raja, Mumbaicha Raja, Siddivinayak Temple and KhetwadiGanraj are the famous Ganesh Pandals in Mumbai. Ganesh Chaturthi lasts from seven to ten days in Maharashtra. On the first day of the festival, the idol of Lord Ganesh is placed on a podium that symbolizes a throne and is worshipped. The festival ends with the 'Ganesh Visarjan' where the idols are immersed in the water. The most prominent of immersions occurs on Chowpatti Beach. A massive crowd assembles here to witness the event. The processions for Visarjan begin early in the morning and reach mid-night by the time the final rite is performed.
Book Here: Car Rentals in Mumbai
---
Pune
Pune is known to be the cultural capital of Maharashtra and hosts one of the best Ganesh Chaturthi celebrations in India. Though Mumbai is pretty darned famous for their 10-day Ganesh Chaturthi celebrations, Pune isn't too far behind. Ganesh worship is believed to have become widespread in Pune during the reign of the Peshwas, who considered the elephant-headed god as their patron deity. Today this festival is the most colourful and joyful event in the religious, social and cultural life of Pune which has its own tradition of Ganesh Festival. The festival goes for ten days – starts with the installation of idols of Lord Ganesha on the first day to immersion of the Lord's idols on the tenth day.
Kasba Ganpati, Tambdi Jogeshwari Ganpati, Guruji Talim, Tulsi Baug Ganpati and the Kesariwada Ganpati are the top 5 Ganesh idols in Pune. This is the order in which these idols are immersed on the last day. Apart from these, another well-known mandal is the Dagdusheth Halwai Ganpati that creates a replica of the many popular monuments and temples of India. The celebrations in Pune are done traditionally and they try their best to ensure that no citizen is disturbed in these celebrations.
Pune festival is also held during Ganesh Chaturthi and is mainly emphasized on the celebration of art and culture, song and dance, custom and tradition. Classical dance, music recitals, film, drama festival, automobile rallies and traditional sports are held as a part of the festival. Visitors can witness these grand festive celebrations as part of Pune Tour Packages.
Book Here: Car Rentals in Pune
---
Most Popular Tours to visit on Ganesh Chaturthi
---
Hyderabad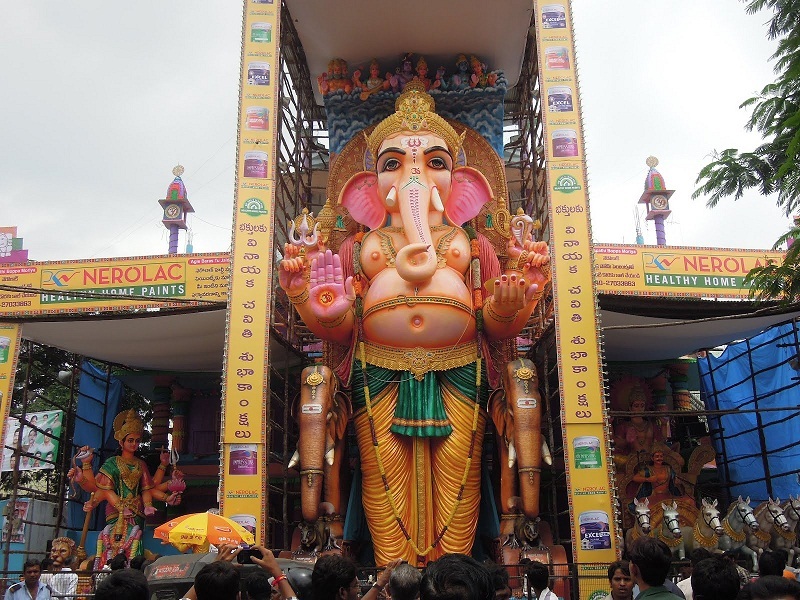 Like Mumbai and Pune, Hyderabad is also one of the famous places in India to witness the grand celebrations of Ganesh Chaturthi. Ganapathi Navaratri utsavams in Hyderabad starts on Vinayaka Chavithi (Ganesh Chaturthi) and ends on Anantha Chaturdashi day with Ganesh Immersion. Hyderabad hosts nearly 75,000+ Ganesh pandals. The famous places where Ganesha idols are erected and decorated fascinatingly are Khairatabad, Balapur, Kamalanagar Chaitanyapuri, Durgam Cheruvu, Old City (Gowlipura) and New Nagole.
Khairatabad in Hyderabad hosts one of the largest Ganesh idols in the country. Khairatabad Ganesh Utsav Committee will be installing 61 feet Ganesha idol this year as it will complete 62 years since it started and named as Sri Sakthi Peeta Shiva Nagendra Maha Ganapathi. The construction of the idol started on 16 June 2019 and will be completed by 4th September 2019. Balapur Ganesha is known for its Laddu auction since 1994 and it was acquired for over Rs. 10 lakhs in 2015. In Old City of Hyderabad, Gowlipura Ganesh Pandal is one of the oldest and very popular Ganesh utsav samithi. Devotees immerse the idols of Lord Ganesh in the Hussain Sagar Lake in Hyderabad. Lakhs of devotees join the procession and fill the whole atmosphere with chanting of Lord Ganesha as part of Hyderabad Tour Packages.
Also Read: 50 Best Places to visit near Hyderabad within 200kms
---
Goa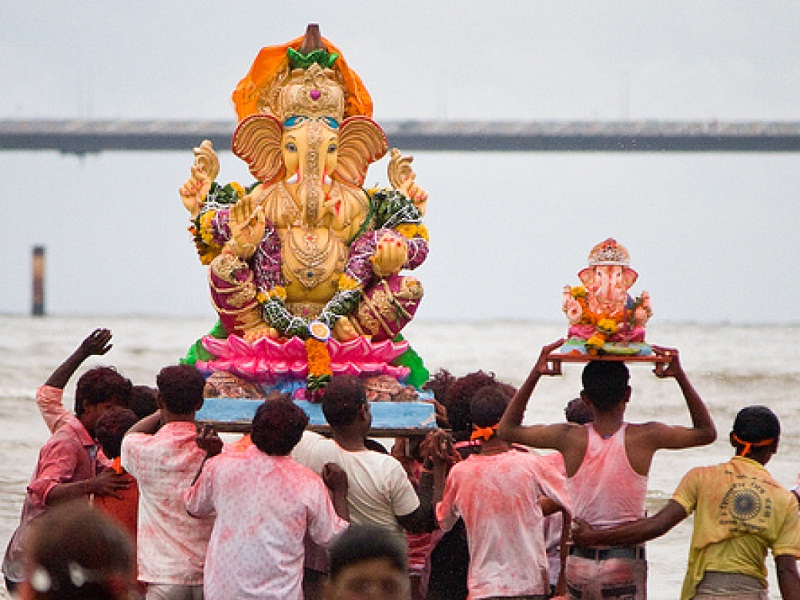 Goa, the smallest state, is one of the most popular tourist destinations of India. Renowned for its beaches, places of worship and world heritage architecture. The Ganesh festival is one of the most widely celebrated Hindu festivals all over India and holds a special place in the hearts of Goan people. It is an occasion of fun and frolic, a time of cleaning and decorating the place of worship of the elephant headed God. More importantly, it brings about a reunion of family and friends, exchanging gifts and overall rejoicing to celebrate the birth of Lord Ganesha.
There are various idols of Lord Ganesh in different shapes and sizes well adorned and installed in heavily decorated pandals by various merchant associations and other groups in different parts of Goa. The festival of Ganesh Chaturthi holds a special significance in Mapusa, which is famous for its Temples at Ganeshpuri and Khandola. Marcela is also one of the villages where this festival is celebrated the most as it is a village known for its wide number of Hindu temples. The artisans from the village are engaged in making many different idols of Lord Ganesh, with varied ideas springing in their creative minds. There are idols made of Arecanut, Coconut, Cane and Bamboo in this village. All over these festival days, there are hordes of devotees from different religions besides Hindus, scurrying at these places to worship and pay obeisance to the most loved God of Wisdom. This is the best time to witness the festivities as part of Goa Tour Packages.
Book Here: Goa Cab Packages
---
Ganpatipule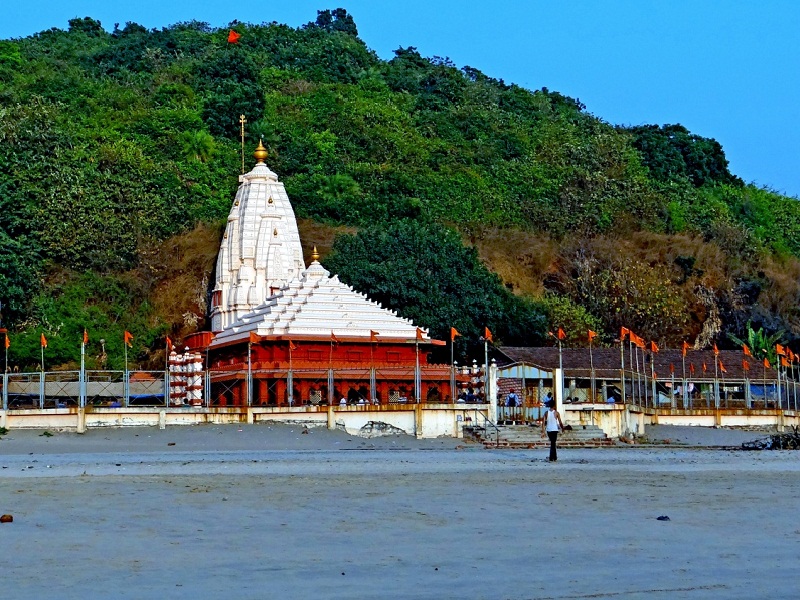 Ganpatipule is a small town located in Ratnagiri district on the Konkan coast of Maharashtra. It has a series of beaches and vantage points offering some stunning views of the sea. The 400 years old Swayambhu Ganpati Temple, on the Ganapatipule beach itself is the primary attraction in Ganapatipule that draws thousands of pilgrims every year and is the must include in Ganpatipule Tour Packages. The Swayambhu Ganapati Temple of Ganapatipule is known for its unique idol of Ganapati built on pule (white sand). It is believed to have originated by itself (swayambhu). It is one of the Ashta Ganapati temples of India and is known as Paschim Dwar Dewata. The idol of Ganapati here is made out of copper and depicts the God astride a lion. It is placed in the Sanctum Sanctorum and at sunrise and sunset a shaft of golden light penetrates and illuminates the idol.
The Temple of Ganapatipule becomes the center of grand activity for the 10 day celebration of Ganesh Chaturthi when villager's and pilgrims join actively in a procession honoring Ganapati. A taller idol is placed in an ornate palanquin and carried on the shoulders of the devotees through the village accompanied by a priest and a drummer. This festival is marked by vibrant celebrations, prayers and feasting.
---
Kanipakam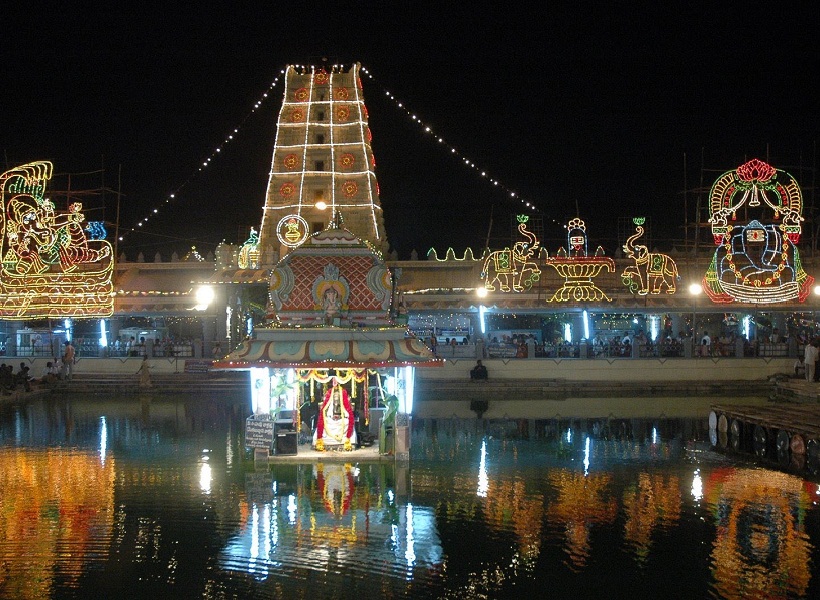 Kanipakam is a village and pilgrimage center located in Chittoor district of Andhra Pradesh. This place is
famous for the Varasiddhi Vinayaka Temple (Kanipakam Temple), which has a beautiful Vinayaka idol that
grows in size. The temple was constructed in the 11th century by Chola king Kulothunga Chola I and was expanded fu
rther in 1336 by Vijayanagara Kings. Kanipakam temple is a rare temple with a self-manifestation (swayambhu) idol of Lord Ganesha.
The Annual Festival (Brahmotsavam) is conducted for 21 day s starting on the Hindu festival Vinayaka Chavithi or Ganesh Chaturthi. Nijaroopa darshanam (without armor and decoration) is offered during early morning poojas. It is celebrated with all traditional pomp and gaiety. The Utsava Murthi (festive idol) is taken out in procession on all the days colourfully decked on different Vahanams (Carriages). The soulful participation of the devotees is praise worthy. There is a rare tradition to worship the Lord with various puja items each day during the festival. Devotees from surrounding villages of Kanipakam throng the temple and offer Abhishekam to Ganesha with water of their villages' wells and lakes. Gramotsavam is the major event in Brahmotsavam festival during which the Lord is taken out in procession to surrounding villages.
---
REFERENCE
---
Most Popular Tours to visit on Ganesh Chaturthi
---
Santhi is an avid traveler and primary contributor to the blogs at Trawell.in. She has explored most of the states in India and gained vast knowledge on tourist destinations in India and abroad. She also contributes content to other travel websites.