Being the last month of the monsoon season, September is one of the best months to plan a vacation in India as the monsoons are starting to recede giving way to autumn. The weather remains cool and pleasant in most parts of the country during this time and ideal for all tourist activities. Also, September is the off-season for most tourist places in India. So, one can even avail heavy price discounts on flights and hotels. There are several destinations in India that can be visited in the month of September for those who want to enjoy the last showers of the year and of course, savour the unparalleled natural beauty as part of India Tour Packages.
Here is the list of some amazing places to visit in September in India.
Ziro, Arunachal Pradesh
Many might not have heard about the place, Ziro, the most beautiful and oldest Eastern Himalayan towns, ranks on the top of our list of best places to visit in September in India. Inhabited by unique Atapani tribe, the quaint town of Arunachal Pradesh is the right place for those who are in search of peace and want to spend some quality time alone or even with friends, as one can breathe the fresh air, witness the beautiful lush green forests, rivulets, and balmy climate. Also, one will get to see and enjoy the Ziro Festival that showcases the indie music and artists of the North East. Talley Valley Wildlife Sanctuary, Meghna Cave Temple, Pine Grove, Siddeshwarnath Temple, Dolo Mando, Kile Pakho ridge and Ziro Puto are the must-visit places as part of Arunachal Tour Packages.
---
Mumbai, Maharashtra
Mumbai, the commercial capital of India, is one of the predominant places to visit in September in India due to Ganesh Chaturthi, which marks the celebration of the birth of Lord Ganesh. Though the festival is celebrated across India, the way it is celebrated in Mumbai is something that would go beyond your imagination. After all, Mumbai is considered to be one of the top places to witness the grand Ganesh Chaturthi celebrations. The statues of Ganesh are installed across the city accompanied by much singing, dancing, and then immersed in the water bodies on the last day called Anant Chaturdasi. Besides, Mumbai is also famous for its luxury attractions, malls, heritage hotels, and others. Marine Drive, Haji Ali Dargah, Siddhivinayak temple, Elephanta Caves, Gateway of India, etc. are must include places in Mumbai Tour Packages.
Book Here: Car Rentals in Mumbai
---
Ladakh, Jammu & Kashmir
With its high rising mountain peaks, stunning lakes, salubrious weather, colorful monasteries, and breathtaking scenery, Ladakh is nothing less than a heaven on earth. The weather becomes pleasant during the day and cold at night making it a perfect place to visit in September for trekking and adventure activities like mountain biking. Pangong Lake, Thiksey Monastery, Hall of Fame, Drass War Memorial, Zanskar Valley, Magnetic Hill, and Shanti Stupa are the top places to visit in Ladakh. Along with its amazing natural beauty, Ladakh is also known for its rich culture and heritage. If you want to experience its culture, then plan a trip to Ladakh now as September is the time to witness the most colorful Ladakh Festival. Held in Leh, Ladakh Festival is a weeklong annual extravaganza including processions, lion dances, yak dances, and sports including archery, rafting, and polo along with mouthwatering local delicacies.
---
Kerala
God's own country, Kerala needs no introduction as it is home to languid backwaters, elegant houseboats, stunning coastlines, sprawling tea gardens, Ayurveda treatments, authentic cuisine, and colorful dance forms. September is the end of monsoon season and thus, the backwaters would look more mesmerizing and the greenery would be very lush. This is the time when all medicinal herbs thrive making Ayurveda massages more famous. Also, it is the time to witnesses the Kerala state festival, Onam that is celebrated all throughout the state with great enthusiasm. Kochi, Trivandrum, Kottayam, Thrissur are some of the major cities where Onam is celebrated with great fervor that lures huge number of tourists from all over the globe as part of Kerala Tour Packages. You can find a lot of local events during Onam like snake boat races, traditional rituals, lavish feasts, spectacular carnivals of elephants, fireworks, music and folk dance performances like Kathakali and Pulikali.
Book Here: Car Rentals in Kerala
---
Ganapatipule, Maharashtra
Situated on the Konkan Coast of Maharashtra, Ganpatipule is a small town which has a series of beaches and vantage points offering some stunning views of the sea. The 400 years old Swayambhu Ganpati Temple on the Ganapatipule beach itself is the primary attraction that draws thousands of pilgrims every year. Also, the temple of Ganapatipule becomes the center of grand activity for the 10-day celebration of Ganesh Chaturthi. One can also visit Ratnagiri, a popular port town as part of your Maharashtra Tour Packages. Ratnadurg Fort, Bhagwati temple, lighthouse, a fish museum and aquarium, Thibaw Palace and Mandavi Beach are the top places to visit in Ratnagiri.
---
Varanasi, Uttar Pradesh
Regarded as the spiritual capital of India, Varanasi is one of the most famous religious and pilgrimage places in India. Situated on the banks of holy Ganges River, the world's oldest continually inhabited city of Varanasi is surely a place for those who want to explore the mystical side of India as it is regarded as one of seven holy cities of Hinduism. The iconic attraction of this holy city is Ganga Aarti. If you want to watch the spectacular Ganga Aarti then plan a trip to Varanasi in September as this is also the time to witness the legendary celebrations of Navratri festival. During Navratri, Varanasi comes alive with an aura of festivity and spirituality in the blend. For ten days from the beginning of the festival till Dussehra, the city remains a favorite haunt of holy sages and devotees where Ram Lila (a dance form) is the main attraction of the festival which is performed to enact the lives of Rama, Sita, and Lakshman in exile, on a makeshift stage. Over a million pilgrims arrive annually for the vast processions and performances of Ram Lila as part of Uttar Pradesh Tour Packages.
---
Manali, Himachal Pradesh
With pleasant weather, jaw-dropping views, lush forests, gushing streams and sprawling meadows carpeted with flowers, Manali ranks one of the best places to visit in September in India. Though won't find any snow, one can enjoy outdoor activities like rafting in Beas River, trekking in the Himalayas, Paragliding, etc. Often called as the Valley of Gods, it is also a great spot for unwinding before continuing the arduous journey into the mountains, as it is the jumping-off point for Ladakh, Lahaul, and Spiti Valley. Solang Valley, Rohtang Pass, Hidimba Temple, Manu Temple, Vashist Hot Springs, Naggar Castle, and Manikaran are the must include places in Manali Tour Packages.
Book Here: Himachal Cab Packages
---
Amritsar, Punjab
The spiritual and cultural center of the Sikh religion, Amritsar in Punjab is one of the top places to visit in September in India. After the heavy downpours of July and August, the place will be enchanting with greenery and fresh natural attractions in September. Amritsar is amongst the most revered sites of the world as it is home to the spectacular Golden Temple, popularly known as the Harmandir Sahib or Darbar Sahib. Besides, Jallianwala Bagh, Mata Temple, Summer Palace of Maharaja Ranjit Singh, Baba Bakala, Goindwal Sahib, Tarn Taran and Baba Sahib and Wagah Check post are the other prominent attractions to visit as part of Amritsar tour Packages. And, one can simply not forget the spectacular parade at the Wagah Border.
Mahabaleshwar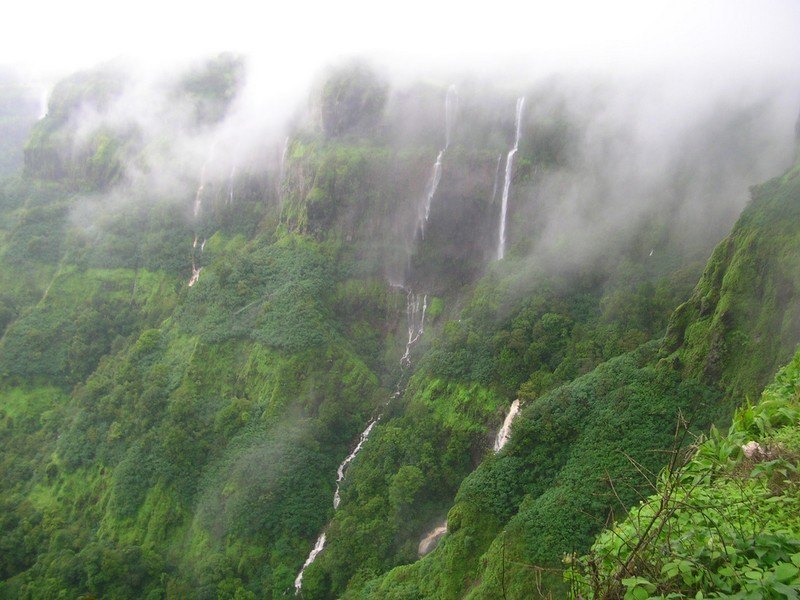 Often referred as Queen of hill stations in Maharashtra, Mahabaleshwar is one of the top monsoon destinations in India. If you want to enjoy the cool, foggy, lush green environment, then head over to Mahabaleshwar in September as the Post-monsoon showers enhance the beauty of this pretty hill station. Visit Arthur's Seat, Wilson Point, Kate's Point & Elephant head Point, Connaught Peak and Bombay Point for stunning views of surrounding hills, gushing waterfalls and meandering rivers through the valleys during your Mahabaleshwar Tour. Besides, one can also visit Panchgani, the Strawberry County of Maharashtra, as part of Mahabaleshwar Tour Packages.
Book Here: Maharashtra Cab Packages
---
Nainital, Uttarakhand
An ideal destination for honeymooners as well as family vacationers, Nainital is a magnificent hill station in Uttarakhand. With its incredible natural scenery, snowcapped mountains, salubrious weather, and tranquil lakes, it stands as a glistening jewel in the Himalayan region and become popular as a health resort. September is the perfect time to visit Nainital when the weather is pleasant and the sky is blue – even the lake is alive in its rich verdant green. Boating in the sparkling Naini Lake waters, a long walk along the charming forest trails in the dense alpine woods and the picturesque sunsets views over the snowcapped Himalayas from the China Peak make your Nainital Tour an unforgettable one during this month. Since it is not a peak season, the town is less crowded and one can get rooms at discounted prices at some of the best hotels in Nainital.
---
Shillong, Meghalaya
Rolling green hills, pleasant weather, and gushing waterfalls make Shillong one of the alluring places to visit in September in India. Often called as the 'Scotland of East', Shillong is one of the splendid hill stations in India and among the lovely places to visit in Meghalaya. Walk hand-in-hand with your partner amidst pine conifers, relaxed on the banks of beautiful lakes, get wet in any of the waterfalls or participate in any local festival are the top things to do in Shillong. Umiam Lake, Botanical Survey of India Orchidarium, Wards Lake, Lady Hydari Park and Zoo, Meghalaya State Museum, Shillong Peak, Spread Eagle Falls, Crinoline Falls, Elephant Falls, All Saints Church, and Butterfly Museum are the must include places in Shillong Tour Packages.
---
Chikmagalur, Karnataka
Positioned at the foothills of Mullayangiri range, Chikmagalur is an ideal pick for those who want to experience the last showers of Indian monsoons in September as the monsoon rains are starting to recede and bring the magic with lush green nature, flower carpet on the hills, stunning waterfalls, awe-inspiring coffee estates, and overflowing rivers as well as lakes. Baba Budangiri, Manikyadhara Falls, Hebbe Falls, Kudremukh, Mullayangiri, Jhari Falls, Hirekolale Lake, and Honnamana Falls are the must include in Chikmagalur Tour Packages. Nothing can be more pleasurable than a monsoon drive in the Western Ghats region of Chikmagalur, among the top places to experience Karnataka Tourism. The Charmadi Ghat near Chikmagalur is one of the beautiful monsoon scenic drives through the Western Ghats as it is dotted with numerous waterfalls. Besides, Chikmagalur often called the Coffee Land of Karnataka, is a perfect place for those who love the aroma of freshly brewed coffee in the mornings as this quaint town has a perpetual fragrance of coffee lingering in the air.
Book Here: Top Resorts in Chikmagalur
---
Hyderabad, Telangana
Popularly known as 'City of Pearls', Hyderabad is famous for its rich history and modernity. It is home to many heritage monuments, lakes and parks, resorts, museums, and mouthwatering cuisine. Besides Mumbai, Hyderabad is one of the top tourist destinations to visit in September in India to witness grand Ganesh Chaturthi celebrations. Lasts for 10 days, Khairatabad, Balapur, Chaitanyapuri, Durgam Cheruvu, Old City (Gowlipura), and New Nagole are some of the famous places in Hyderabad where Ganesh idols are erected and decorated fascinatingly. Hussain Sagar is the most happening place on the last day of the festivities where all the prominent Ganesh idols are immersed. Apart, Charminar, Golconda Fort, Qutb Shahi tombs Mecca Masjid, Birla Temple, Chilukur Temples, NTR Park, Lumbini Park, and Chowmahalla Palace are some of the top places to visit in the city of Nizams as part of Hyderabad Tour Packages.
Book Here: Car Rentals in Hyderabad
Santhi is an avid traveler and primary contributor to the blogs at Trawell.in. She has explored most of the states in India and gained vast knowledge on tourist destinations in India and abroad. She also contributes content to other travel websites.