India is a vast country known for its rich culture and diversity. Besides, the diverse country has a huge variety of indigenous liquor across its states brewed by the locals since ancient times. Made from millets, rice, cashews, and coconuts, these local alcoholic drinks, popularly known as Desi Daru are loaded with probiotics and prebiotics. If you are travelling to a new place, definitely you will think of trying the local cuisine but the people who love their alcohol do not mind sipping a local drink, especially while taking a break from work. These local liquors are extremely soft, relatively mild, and even tasteful. Try and be more adventurous while you are travelling to different places in India, and from next time order the locally brewed alcoholic drinks to boot your senses as part of India tour packages.
Here is the list of the local liquors in India you must try while in India.
Coconut Toddy – Kerala
Coconut Toddy is the most popular local drink that is regionally produced in South India. Collected from the flowers of coconut/ palm trees, the non-alcoholic juice when allowed to ferment produces the toddy. With 4 percent alcohol, the extracts make it a mild and sweet-tasting drink that is popular among villagers in the southern states of Kerala, Tamil Nadu, Karnataka, Telangana, and Andhra Pradesh. The way the sap is extracted is almost art-form and we urge you not to try it, leave it to the professionals. Toddy may not be the most potent but has a sour taste and is versatile in nature. Popular in Kerala, it is consumed by the people after a long tiring day of work as it has qualities to cool and calm one down. One must try this drink as part of South India tour packages.
                              Book Here : Kerala Tour Packages
---
Feni & Urak – Goa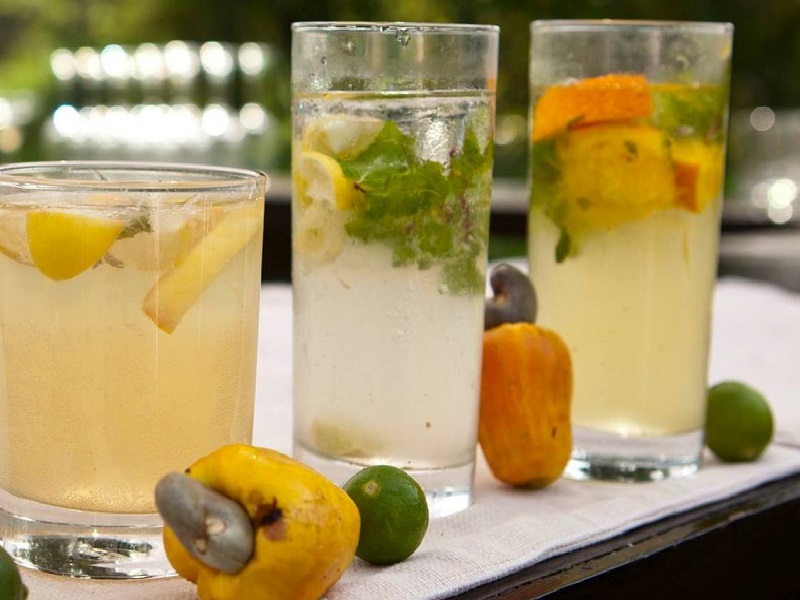 Feni and Urak are the two most popular alcoholic beverages produced in Goa, among the popular destinations for beaches in India. Urak, also known as the Goan jungle juice, is the first distillation from fermented cashew apple juice that tastes especially delicious with Limca and a couple of green chilies. Distilled in the summer months of March to May, Goans drink it throughout the summer months and stop drinking it at the first shower of rain in June. Along, Feni is another popular drink in the streets of Goa which is obtained from the second distillation of the fermented cashew apple juice. Recognized as the "Country Liquor" by its local government, Goa is considered to be a tourist spot because of the availability of Feni in the market. A Goa Trip is incomplete without tasting these local drinks as it is popular both among the locals as well as tourists.
                                Also Read : Top Places to visit in Goa
---
Chhang – Sikkim
Often called the 'Hot Beer', Chhang is one of the popular local drinks of Sikkim. Also known as Tongba, it is an indispensable barley-based alcoholic beverage, prepared and consumed by the people of Sikkim for centuries. Barley or Millet is fermented for a minimum of 7-10 days and can go on for varying periods, depending on how strong of a blend one desires. This drink also forms a part of socio-cultural life and no social activities are complete without this beverage in Sikkim. Served in bamboo tumblers in Sikkim, it is said to quench thirst, give energy and provide nutrition. The people of the Lepcha community use this drink as an offering for their gods and goddesses. It is one of the must-try local alcohol of India as part of Sikkim Tour Packages.
                                Book Here : Gangtok Tour Packages
---
Kesar Kasturi – Rajasthan
Kesar Kasturi is one of the popular local drinks of India and is a royal drink among the locals of Rajasthan, one of the popular tourist places to visit in India. This brilliant drink is made of saffron and 22 other spices. This drink was meant for royalty back then but it is being sold commercially nowadays. During the shoot of Octopussey, Roger Moore had the privilege of tasting this scintillating spirit and made him its fan.
                                Book Here : Rajasthan Tour Packages
---
Zutho – Nagaland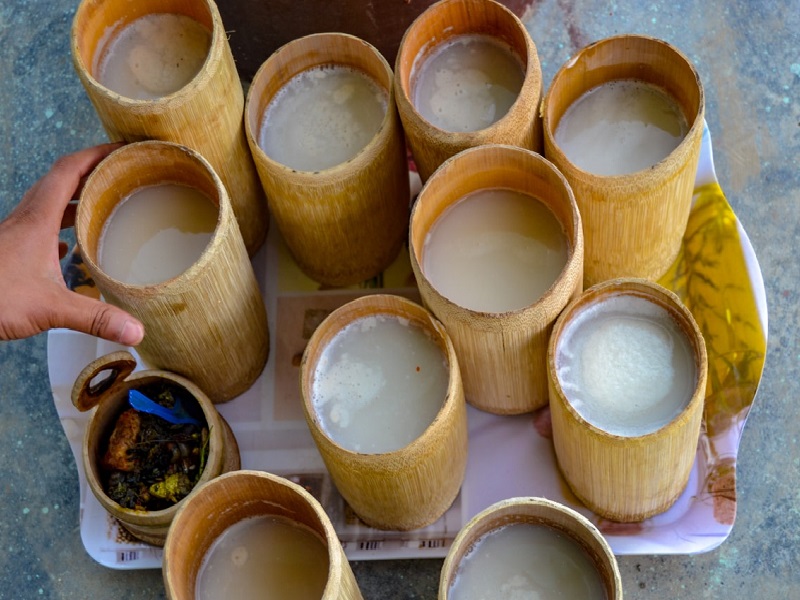 Originated from Nagaland, Zutho is a popular regional beer obtained from rice. It is one of the local alcohols of India that one must try during the Nagaland Trip. Traditionally, Zutho is prepared by allowing starch-rich solutions to be broken down by enzymes into sugars that are fermented by yeast. With whitish porridge-like slurry, it is a drink of the Angami and Chakhesang Nagas and is commonly consumed by all Nagas in both urban and rural regions of Nagaland.
---
Chulli & Lugdi- Himachal Pradesh
Hailing from the stunning mountains of Kinnaur of Himachal Pradesh, Chulli is a sweet and fruity alcoholic drink that's made from apples and apricots. Also known as ghanti, it is a smooth warm drink and is considered as a substitute for Vodka and goes well with spicy dishes. It is a great refreshment drink and is known to have healing properties. It is a must-try drink as part of Himachal Pradesh tour packages. Lugdi is another popular local alcoholic beverage of Himachal that is prepared traditionally from fermented rice or barley. Found exclusively in the snow-clad mountains of the Himalayas, the cooked cereal grains are left out for fermentation with a growth temperature of about 25 to 40 degrees celsius and then consumed without distillation. Usually made during the summer season, it is a strong drink that is necessary to keep you warm in the freezing weather. Don't forget to try this drink while visiting Manali, and Kullu valley, among the top places to visit in Himachal Pradesh.
                              Book Here : Manali Tour Packages
---
Chuwarak – Tripura
Chuwarak is a traditional local whiskey of Tripura. It is used as a substitute for high-end whiskeys and is made with a lot of effort and ingredients like jackfruit, rice, and pineapple along with some local leaves called Thakotor and Tokhiseleng. The whiskey does well for itself amongst the locals and yes it will get you tipsy after a peg or two. It is consumed by the people of Tripura as a ritual on special occasions. It is one of the must-try drinks during your Tripura Tour.
---
Handia – Bihar
Handia is a popular local alcoholic drink consumed by the tribal folks in Jharkhand, Bihar, and Orissa. It is one of the best local drinks in India. It is made out of boiled rice, along with an herb mixture locally known as ranu which is then left to ferment for more than a week to create this creamy beverage. This drink is considered as a refreshing drink that helps them avoid sunstroke as well as a drink of socio-cultural significance for occasions like marriage and festivals in Bihar.
                               Book Here : Bihar Tour Packages
---
Kiad Um – Meghalaya
Exclusively produced in the North East, this alcohol is quite famous and popularly consumed by the Garo, Khasi, and Jaintia tribes in Meghalaya. Jadoh stalls are the prime sellers of Kiad. It is made from a starter of medicinal plants that are combined with a local sticky red rice known as Kho-so. This mixture is fermented inside a tightly-sealed cone-shaped basket for two to three days after which it is boiled. Kiad Um is served in tall bamboo tumblers and locals place a charcoal piece at the bottom to ensure that it retains its flavor and has the desired balance of alcohol. The tart and sweet beverage is practically a necessity for all religious ceremonies. Priests offer the drink to gods in important rituals and babies are fed a few drops of the drink during naming ceremonies.
                                Book Here : Meghalaya Tour Packages
---
Mahua – Jharkhand
Mahua is one of the popular drinks of Jharkhand which is made from the flowers of Mahua trees. Commonly found in several states of India, but it holds a sacred significance in Jharkhand for the tribes due to their medicinal values. Made by fermenting the flowers of Mahua trees, it is usually a clear liquid with a milder taste and a distinct flowery smell. It is stored in colored glass bottles for longevity. It is one of the best local drinks to try in India while holidaying in Jharkhand.
---