Madhya Pradesh is situated in the heart of India with Bundelkhand and Mewar in the North, Gujarat to the West, and Maharashtra to the South. Known for its rich culture and history, Madhya Pradesh is one of the popular places to visit in India. This central Indian state also has many mouthwatering delicacies to offer. The cuisine of Madhya Pradesh varies regionally, and has been influenced by its neighboring states. It is also the state of Maharajas, and Nawabs, so that is why the rich oil and famous Indian spices are used in food. From the famous Seekh Kebab to Bhopali Gosht Korma and Biryani Pilaf to Kesari Jalebi, Madhya Pradesh have plethora of Mouth-watering dishes that one must try as part of Madhya Pradesh tour packages.
Here is a list of some amazing dishes that you cannot afford to miss out while holidaying in MP.
Seekh Kebab
Influenced by Mughal cuisine, Seekh Kebab is a non-vegetarian dish prepared with Keema, onion, and aromatic spices. It is one of the mouth-watering non-vegetarian dishes that one must try while in Madhya Pradesh. It is prepared by wrapping minced meat around a skewer and then cooked on a coal fire that makes it more delicious and melt in your mouth. It is served on special occasions and festivals, well garnished with chutney on Seekh. If you want to taste the best Seekh Kebabs, then head to Bhopal, one of the top places to visit in Madhya Pradesh. Apart, one can also try other Mughal delicacies like Seekh Kebabs, Korma and Keema.
                                      Book Here : Bhopal Tour Packages
---
Mawa Baati
Mawa Baati is a unique and amazing sweet delicacy that is originated in Madhya Pradesh. This is prepared with mawa dough which is mixed with rich dry fruits and then rolled into balls. Then, these balls are deep fried and soaked in sugar syrup and garnished with coconut powder. It looks like large-size gulab jamun, and are served on festive occasions. . If you are a sweet lover and holidaying in Madhya Pradesh, then you must try this mouth-watering delicacy which is found in almost all the restaurants and sweet shops, especially street food stalls in Hawker's Corner, among the top places to visit in Bhopal. Srikhand, Imarti, Faluda, Kaju Katli, Lavang Lata and Rabri are among the few others dishes of Madhya pradesh that can easily satisfy your sweet tooth.
---
Dal Bafla
Dal Bafla is one of the popular dishes of Madhya Pradesh which is similar to the famous Dal Baati of Rajasthan. Almost both are same but the difference is of churma, instead of churma, the bengan ka bharta in desi ghee is served with Dal Bafla. One of the mouthwatering dishes of Madhya Pradesh, Bafla is a tiny ball made of wheat dough, cooked until the outer layer becomes crisp and then dipped in ghee. The dish is well complemented with a bowl of spicy daal and coriander chutney. Along with good taste, this dish is a great option for lunch as it contains multiple vitamins, proteins, carbohydrates and fat in right quantity. It is an important part of the menu for special occasions and social gatherings. The Dal Dafla of Vyas Dal Bhati in Ratlam, Padharo Sa in Habib Ganj, Bhopal and Rajhans in Sarafa market in Indore are very famous.
                                    Book Here : Indore Tour Packages
---
Bhopali Gosht Korma
Mughlai cuisine has had a deep impact on the food of Madhya Pradesh, especially the capital city of Bhopal and one of the most prominent dishes that were born out of this is the Bhopali Gosht Korma. A royal dish of Maharajas and Rajas, it is mostly served in parties, and jashans. This Nawabi dish is made by slow cooking mutton chunks in rich and spicy gravy that will leave you longing for more of it. Bhopal's narrow food market Chatori Gali is famous for its Nawabi delicacies and it's where you should head, if you want a taste of this heavenly meat preparation.
---
Bhutte Ka Kees
Another healthy and yet delicious dish of Madhya Pradesh is Bhutte Ka Kees. As the name suggests, this typical street food of Madhya Pradesh is prepared with bhuttas (corn). Grated corns are well-cooked with spices and skimmed milk which adds a slightly sweet taste to the dish. Mustard seeds and green chilies are added to this authentic delicacy in order to enhance the taste. This spicy, sweet snack is a big treat for corn lovers. If you want to taste the best Bhutte Ka Kees head to Sarafa Bazaar, one of the best places to visit in Indore.
---
Palak Puri
Palak Puri is a perfect combination of health and taste that is fondly eaten as a breakfast meal in Madhya Pradesh. Palak Puri is also a most popular street food dish of Indore. It is prepared with wheat dough mixed with paste of spinach leaves along with some spices to enhance the flavor, which is then deep fried. It is best served with spicy potato curry, raita, or pickle. This traditional dish is cooked in almost every household in Madhya Pradesh as spinach has the essential nutrients required for the growth of the body. The city of Jabalpur is quite famous for Palak Puri. One can find the best Palak Puri in Jabalpur. Don't forget to visit Dhuandhar Falls & Marble Rocks, among the best Jabalpur tourist places.
                                     Book Here : Jabalpur Tour Packages
---
Malpua
Made with wheat flour and sugar, Malpua is the legendary sweet dish of Madhya Pradesh. Fondly called as India's own pancakes, this dish is traditionally prepared during festive occasions especially in Holi and Diwali, and is crispy outside and soft inside. Malpua is majorly prepared with flour, fried in ghee and then dipped in the sugar syrup that will make you crave for the dish again and again. The dressing of some saffron and chopped dry fruits can further enhance the taste of this dish. Malpua is best served with rabdi for a complete treat. The best Malpua will be served in Jabalpur.
---
Biryani Pilaf
Biryani Pilaf, also known as Mutton Palav, is a typical dish of Madhya Pradesh chiefly made of mutton meat, and basmati rice. Bhopal is one of the best places to have this Mughlai biryani in Madhya Pradesh. In Bhopali biryani, mutton is the main meat, but chicken also makes an appearance in some places. This dish is served with Zarda- a sweet dish made out of rice, sugar and milk and is seasoned with raisins, pistachios, almonds, cardamom, and saffron that add even more flavor. One can get some excellent biryani pilaf at Chatori Gali (and it's incredibly cheap too!). This is a must-try when you visit Madhya Pradesh and it will surely make you come back for more.
                            Also Visit : Stunning UNESCO World Heritage Sites in Madhya Pradesh
---
Kesari Jalebi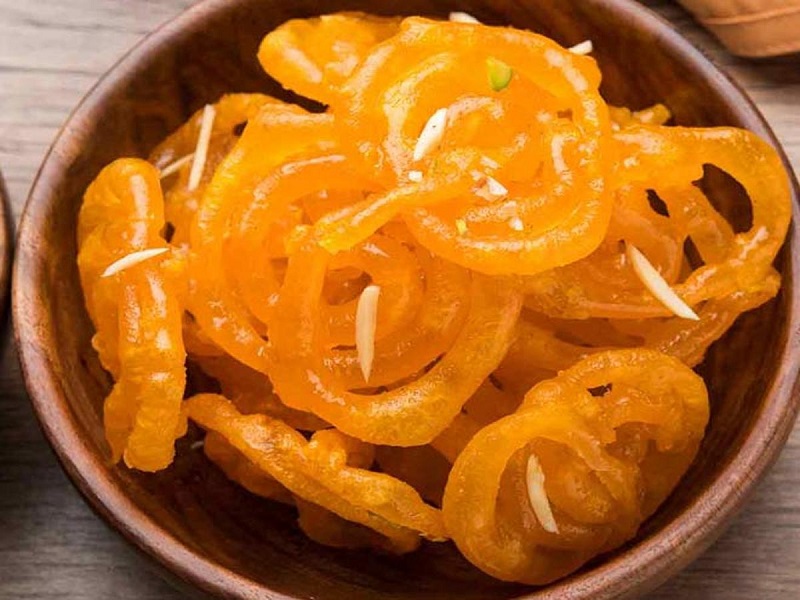 Jalebi is another famous sweet dish savored in Madhya Pradesh. Consumed during breakfast and as an evening snack, it is prepared with wheat flour, and deep fried until it becomes crispy. Then the crispy Jalebis are dipped in the sugar syrup known as chasni to add sweetness to the dish. It is available in different flavors like Kesar Jalebi, Mawa Jalebi and many more. It is very famous in MP and is eaten with many things like poha, samosa. You will find this delicacy in almost every restaurant, but if you want to try the most authentic version, then head to Khandwa, among the top places to visit near Indore.
---
Indori Namkeen
Made of chickpea flour, Namkeen is a delectable snack in Madhya Pradesh and is often served as a garnish on poha, sev puri, bhel puri, etc. Among the best places to visit near Bhopal, Indore is known for its largest variety of Namkeens. Dalmoth, Phalhari Potato Chiwra, Khatta Metha Chiwra and Khasta Kachori are some of the snacks that are delightful in taste.  These fried snacks are made from gram flour and is fried in groundnut oil. Ganesh Namkeen in Sarafa Market in Indore sells a whole range of yummy namkeens, including unique flavours like pineapple sev and pani puri sev. One particular variety that is extremely popular is the khatta meetha Indori namkeen. Besides, there are also a number of variants of Sev in Madhya Pradesh, ranging from Ujjaini Sev to Ratlam Sev.
---
Shahi Shikanji
Shahi Shikanji is one of the Madhya Pradesh famous drinks, especially in the streets of Indore. It is different from normal Shikanji. Unlike Shikanji, Shahi Shikanji is mainly made of milk, dahi and dry fruit instead of lemon. The milk used in this Shikanji is reduced for 12 hours, and then cooled for another 12 before being converted into this famous milkshake. The flavor and taste of creamy drinks are enhanced with saffron, cardamom powder, and dry fruits such as cashew nuts, raisins, almonds, and pistachios. It is available in many flavors like Mango, Gulab, etc.
---
Santhi is an avid traveler and primary contributor to the blogs at Trawell.in. She has explored most of the states in India and gained vast knowledge on tourist destinations in India and abroad. She also contributes content to other travel websites.