Located in Southeast Europe, Greece, officially the Hellenic Republic, is a country with spectacular land of beauty with an endless variety of landscapes. The birthplace of democracy, it is one of the popular destinations in Europe blessed with a plethora of ancient archaeological sites, craggy mountains, quiet islands, whitewashed villages, sand and pebble beaches, and a balmy Mediterranean climate. Apart, Greece is also popular to have some of the best and tastiest cuisines in the world. Influenced by both Eastern and Western cultures, traditional Greek food is packed with fresh local ingredients such as Mediterranean vegetables, olive oil, and cheeses. With variety of dishes, the Greek food provide a rich and fulfilling gastronomic experience to their guests.
Here is the list of some of the popular traditional foods that you must try in Greece.
Moussaka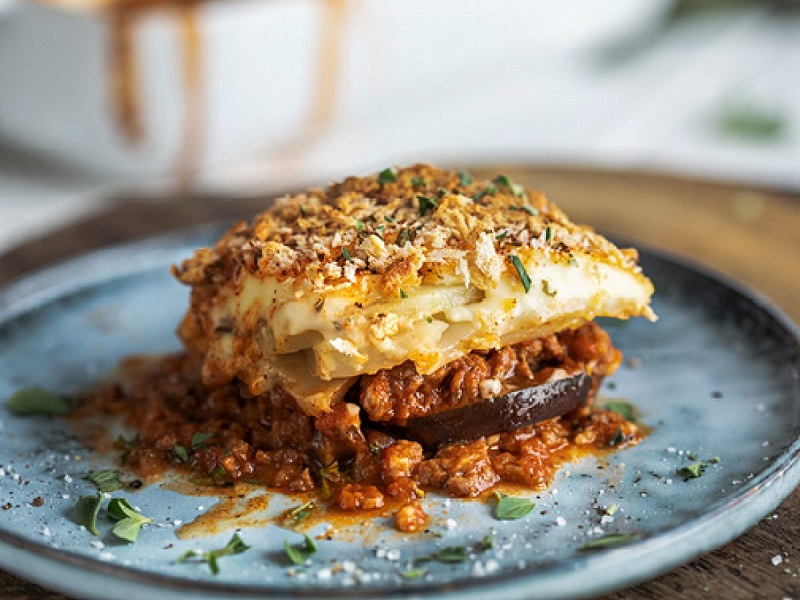 Probably the most famous of Greek dishes, Moussaka is a creamy delicious dish made with minced meat (typically lamb). It is prepared by slow cooking the minced meat in a tomato sauce and layered with aubergines, eggplants, creamy Bechamel sauce, and cheese. This is a traditional dish and is served in almost all tavernas in Greece. Although there are many variations of moussaka found throughout the Mediterranean and the Balkans, the iconic Greek oven-bake made with layers of sautéed aubergine, minced lamb, béchamel sauce and cheese is the must-try while in Greek as part of Europe tour packages. Besides, some Greek restaurants will also serve an equally delectable vegetarian version.
---
Dolmades
Dolmades are a typical Greek side dish popular in the Balkans, the South Caucasus, Central Asia, and the Middle East. Shaped like short cigars, they are made of vine or grape leaves stuffed with a variety of ingredients and folded over to create a small parcel, which is then steamed. The stuffing often consists of minced meat with long-grain rice, or vegetarian versions boast rice flavored with heady combinations of herbs like thyme, dill, fennel, and oregano. Depending on the filling, they can be served hot or cold with or without a dip or sauce.
---
Souvlaki
Souvlaki is one of the most popular Greek dishes and is available in street-side restaurants. Souvlaki means 'little skewers' in Greek. The dish is well cooked with seasoned meat (lamb, beef, chicken, or pork) traditionally (on skewers) and then flavored with tzatziki sauce. Usually, it is served in plated portions with vegetables, fried potatoes, pita, and tzatziki. This dish is quite healthy with protein from the meat and nutrition from the vegetables. Don't forget to try this traditional Greek dish during your Greece Tour.
---
Tomatokeftedes
Tomatokeftedes, or tomato fritters, is another traditional Greek dish that is very much popular in Santorini, among the top places to visit in Greece. In Santorini, a local type of cherry tomato (ntomataki) is produced which led to the invention of this dish. This main course vegetarian dish consists of drained tomatoes that are mixed with mint, onion, and feta cheese which is then deep fried till they form fritters. It is usually served with some tzatziki sauce and pita bread. With a unique combination of flavors, one can enjoy Tomatokeftedes everywhere right from small taverns to the most expensive gourmet restaurants while in Santorini, one of the offbeat places to visit in Europe.
---
Bougatsa
Bougatsa is a traditional Greek breakfast dessert made with semolina, custard, and cheese wrapped in layers of crispy phyllo. It is served by garnishing powdered sugar and cinnamon which add even more scrumptious flavor. The authentic Greek Bougatsa recipe calls for 'galaktos' butter made from cow's milk, which gives a very rich flavor and amazing smell! This dish tastes good and can be eaten at any time of the day as a delightful and wholesome snack or a gratifying dessert. If you have a sweet tooth, then it is a must-try as part of Greece Packages.
---
Paidakia
Paidakia (Green Lamb Chops) are a traditional Greek dish that is usually enjoyed as the main course. Popular throughout the country, Lamb Chops are marinated in various combinations of olive oil, lemon juice, and a variety of fresh herbs which is then slow cooked over an open charcoal pit for extra smokey flavor. It is then paired and served with potatoes, salads, or the creamy and refreshing tzatziki sauce. It is one of the must try dishes in Greece.
---
Feta Me Meli
Feta Me Meli is another traditional and unique Greek sweet dish. This dish is prepared by wrapping some feta cheese in a batter of filo pastry dough before oven baked. Then, it is slightly drizzled over with honey that creates an amazing balance between sweet and savory and gives you a delicious taste. This dish can be eaten both as an appetizer, and as a dessert.
---
Spanikopita
Spanikopita, also known as Greek Spinach Pie, is a traditional and very popular dish in Greece. It is made from flaky phyllo pastry which is filled with a mixture of spinach and feta cheese. It is then brushed with olive oil or melted butter and baked until crispy and golden. It can also made with dill, onions, and eggs (the eggs hold the mixture together) instead of spinach-feta filling. This mouthwatering dish can be eaten any time of the day, breakfast, and dinner, or as a starter or snack.
---
Saganaki
Saganaki is another dish from the traditional Greek cuisine that is being eaten as an appetizer. It is one of the easiest dishes to be prepared using only two ingredients – flour and cheese. A block of cheese is cut into thin slices and is dipped in breadcrumbs which is then deep fried till the cheese turns golden brown. Though the most famed one is Cheese Saganaki, the variations of this dish can be prepared with ingredients like prawns, chicken, and other meats and vegetables. If you are a cheese lover, then definitely you will fall in love with this Greek delicacy.
---
Pastitsio
Pastitsio is another traditional Greek dish that you can enjoy in every season. Also called as 'Greek Lasagna', this dish comprises of baked layers of pasta, juicy minced beef, bechamel and tomato sauce, along with some spices and Greek herbs. I is sometimes topped with grated cheese before being baked in the oven. Finally, it is served with mixed green salad dressed with wine vinegar and virgin olive oil.
---
Santhi is an avid traveler and primary contributor to the blogs at Trawell.in. She has explored most of the states in India and gained vast knowledge on tourist destinations in India and abroad. She also contributes content to other travel websites.