With widespread rains in the coastal region and southern area, the much-awaited southwest monsoon has finally set in Karnataka. These monsoon rains brings the magic with lush green nature, flower carpet on the hills, stunning waterfalls and overflowing rivers. Nestled amidst the dense Western Ghats of Karnataka, Chikmagalur is one of those places that are blessed with lots of attractions which comes alive in monsoon and it is one of the top attractions you must include in Karnataka tour packages. Here are the top 4 reasons to visit Chikmagalur during rainy season.
Book Here: Car Rentals in Bangalore
Scenic Drive through Western Ghats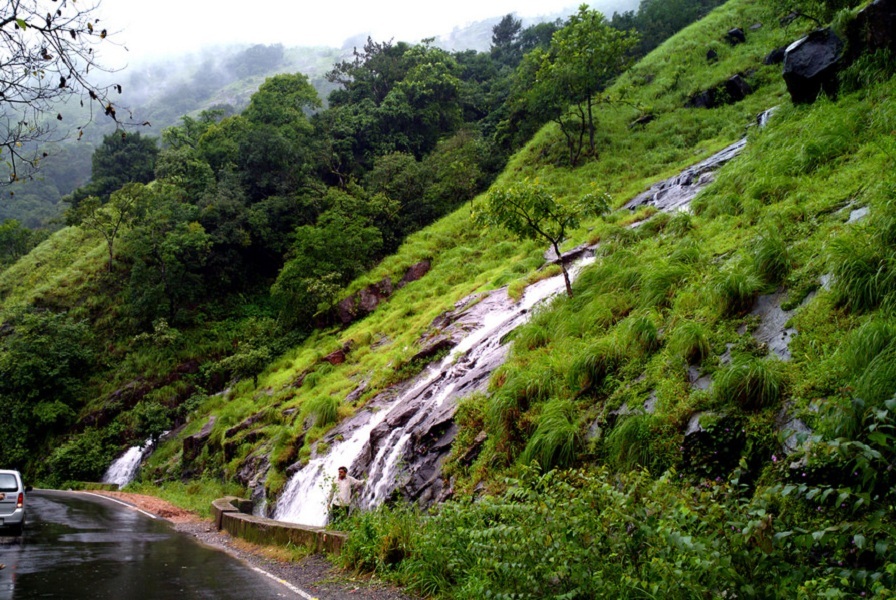 The rains in the Western Ghats create magic all around with green carpeted hills and beautiful cascades. Nothing can be more pleasurable than driving in monsoon in Western Ghats region of Chikmagalur when nature is at its best. The Charmadi Ghat near Chikmagalur is one of the beautiful monsoon scenic drives through Western Ghats as it is dotted with numerous waterfalls with few of them located right next to the highway. The real beauty of Charmadi Ghat lies in its countless spontaneous waterfalls cascading down the green hills in full flow during rainy season. From the top of the Ghat, one can get some stunning views of green hills blanketed in thick covers of mist and fog that leave you spellbound for few moments.
Also Read: Top 5 Reasons to Visit Chikmagalur
---
Gorgeous Waterfalls
Positioned at the foothills of Mullayangiri range, Chikmagalur is an enchanting monsoon destination with full of scenic surprises like misty hills, hidden valleys, meandering streams and snow-white coffee blossoms. Besides, this pristine hill town also known for some spectacular waterfalls that spring to life during the monsoon season. Manikyadhara Falls, Hebbe Falls, Jhari Falls and Honnamana Falls are the popular waterfalls in Chikmagalur, among the top places to visit near Bangalore. The thunderous sound of the gush of the water amidst dense forests will certainly refresh the mind and body.
Book Here: Resorts in Chikmagalur
---
Popular Chikmagalur Tours
---
Mist Clad Peaks & Valleys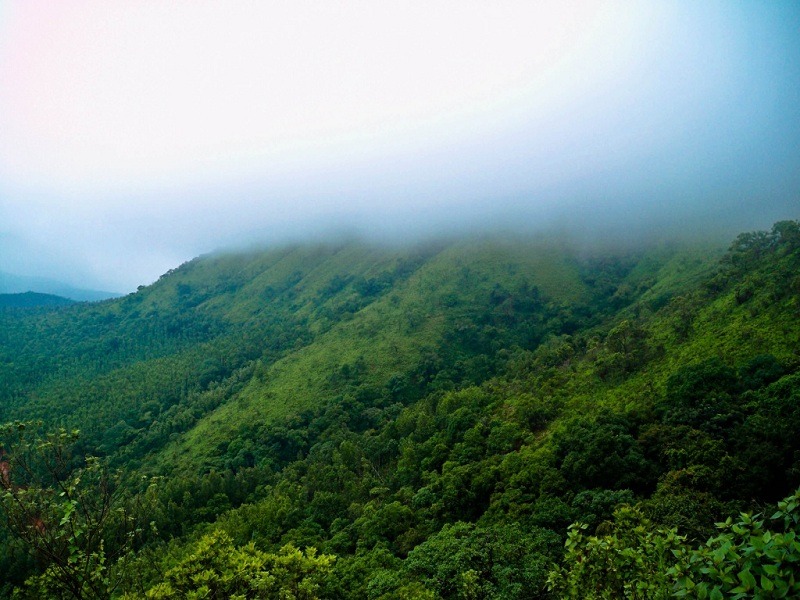 Chikmagalur is famous for its tall mountains and green valleys. Baba Budangiri, Kudremukh, and Mullayangiri are the well-known mountain peaks in Western Ghat region of Karnataka. Standing at 6316 feet, Mullayangiri, Karnataka's highest peak, is located in Chikmagalur and is among the top places to visit in Chikmagalur. During monsoon, these peaks are covered with mist and extremely green terrain around. It is an absolute delight for nature lovers as it has amazing trekking trails, among the best in the country. From the top, visitors have blessed with some astonishing views of nature in the form of hidden valleys, winding rivers and green meadows.
Also Read: 14 Most Romantic Places to visit on Valentine's Day
---
Expansive Lakes & Rivers
Besides its highest peaks, gushing waterfalls and lush coffee plantations, Chikmagalur is also known for its numerous lakes and rivers. Ayyankere Lake, Hirekolale Lake, Yagachi River & Dam and Bhadra Reservoir are some popular water bodies in and around Chikmagalur which can be visited as part of Chikmagalur Tour Packages during monsoon as they look fresh and rejuvenated. Surrounded by high mountains and thick coffee plantations, Hirekolale Lake is a beautiful manmade lake and is one of those places where you can park your car and enjoy nature. One can also spend some peaceful time at Ayyanakere Lake, second largest lake in Karnataka or try some water sport activities at Yagachi Dam.
Santhi is an avid traveler and primary contributor to the blogs at Trawell.in. She has explored most of the states in India and gained vast knowledge on tourist destinations in India and abroad. She also contributes content to other travel websites.