Blessed with the stunning natural beauty of thick forests, majestic mountains, and pristine rivers, India is known as the land of adventures which include trekking, rafting, hiking, paragliding, etc. Most of you must have tried your hands at trekking at several tourist places in India and must be aware of the reasons that make this activity so appealing. Recently, Night treks in India gain popularity as you get enchanted by the blanket of stars covering you on the top which makes the entire experience a lot more magical and worth it. From the winding routes of Dharamshala to the majestic Western Ghats, there are so many enchanting places for night trekking in India. Here is the list of some of the incredible night treks for you to dream with open eyes on the most beautiful hilltops as part of India tour packages.
Dhotrey – Tonglu Trek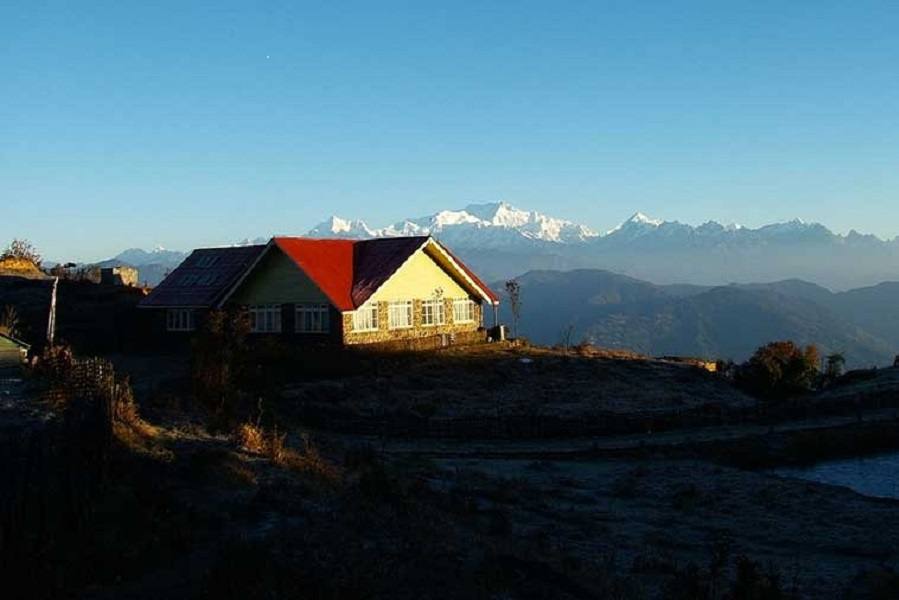 Dhotrey – Tonglu in West Bengal is one of the most exciting night treks in India, and among the best places to visit near Delhi. Situated close to Singalila National Park, the route is ideal for those looking for a night trek through lush green forests with beautiful flowers and wild animals surrounded by snow-capped mountains. It is a 6-hour long trek that goes on through Maneybhanjyang, which is located at a height of 2134 m, and on the way, you will come across enchanting forests of Rhododendron, Birch, Fir, Pine, and Bamboo Glades. The trek also provides breathtaking views of the Mount Kanchendzonga, among the top places to visit in Darjeeling. Once you reach the top, you will get to see one of the most astonishing sunrises in India when the first ray of sunlight falls on the Kanchenjunga. March to May is the best time to go on this trek as the season welcomes a huge variety of rhododendrons that enriches the beauty of the route.
                                    Book Here : Darjeeling Tour Packages
---
Lahesh Cave Trek
Lahesh Cave trek is another wonderful trek that will let you enjoy a 2-night 3 days long hike. Lies at an altitude of 3500 m, Lahesh Cave is the camping ground for shepherds in the summers when they take their sheep to the high-altitude meadows for grazing. This 12 km long trail is an easy to moderate one that can be done either from McLeod Ganj or Dharamkot, among the must-include places in Himachal tour packages. One has to trek 9 km from McLeod Ganj to Triund and halt over there overnight. One can enjoy a spectacular sunrise at Triund, one of the top places to visit in Dharamshala. Later, the trail passes through Ilaka, a flat stretch of land on the Moon Peak Mountain which divides the Kangra Valley and Chamba Valley. From here, it is a 2 km ascent over a rocky ridge to reach Lahesh Cave where tourists can either camp or come back to Ilaka for an overnight stay.
                                  Book Here : Dharamshala Tour Packages
---
Rajmachi Fort Trek
Sandwiched between two popular hill stations Lonavala and Karjat, Rajmachi is an ancient fort and one of the popular places to visit near Mumbai for trekking. The Rajmachi Fort Trek is popular among those who enjoy deep valleys, camping, waterfalls, and all things natural. There are 2 trekking routes to reach Rajmachi Fort, among the best places to visit in Lonavala. The first one is from Lonavala, a roughly 15 km flat walk and the other one is from Karjat, a gradual climb of around 5 km. For beginners, it is recommended to trek from Lonavala as this is a much easier path, and normally takes about 10 – 12 hours to complete. This trek is more beautiful at night as the route passes through a lush green forest lightened with flickering fireflies. The views in the wee hours up there will surely make up for your tiring soul.
                                   Book Here : Lonavala Tour Packages
---
Ranganatha Swamy Betta Night Trek
Bilikal Ranganatha Swamy Betta is a popular and highest hill located near Kanakpura town, Bangalore. It is one of the most preferred places to visit near Bangalore for night trekking. This trek can be enjoyed by both beginners and professionals as the path is moderately difficult to walk on and mostly flat. At the summit, there is a temple dedicated to Lord Ranganatha Swamy which is visited by a large number of devotees throughout the year, especially crowded during the festival of Ranganatha Swamy. The trek starts from Konala Doddi, which is about 6 km from Bilikal Betta. Apart from the trek route from Konala Doddi, there is a jeep track till the peak from Kanakpura, which can also be trekked but it is a little longer route. After reaching the top be prepared for the stunning views of the Savandurge range and Cauvery River. If you are looking for a soulful natural escape as part of Bangalore tour packages, this night trek is strictly what you would like.
                                  Must Visit : Karnataka Hill Stations
---
Anthargange Trek
Located near Bangalore, Anthargange is one of the thrilling and adventurous night treks with religious significance as well. Anthargange literally means Inner Spring, named after a spring, originated in the hill and water flows through the mouth of a bull statue at the temple in the middle of the Anthargange hill. Well-known for its Caves and Temples, the place is ideal for trekking in Karnataka. It is a 3 km trek, and the main highlight here is the cave exploration. The trek commences around midnight and starts by finding a way through maze-like paths and large rocks leading to a cave under the beautiful night sky filled with millions of twinkling stars. The trek include needs all skills such as walking, crawling, and rock climbing to make your way through the volcanic rock formation. The main trek to Temple is by stairs located at a height of 1226 meters from where one can get splendid views of the surrounding mountains.
                                 Book Here : Karnataka Tour Packages
---
Santhi is an avid traveler and primary contributor to the blogs at Trawell.in. She has explored most of the states in India and gained vast knowledge on tourist destinations in India and abroad. She also contributes content to other travel websites.