If you're an avid traveler stuck in the hectic city life of Bangalore and looking for a refreshing break away from the noisy crowds, consider yourself lucky as there are so many alluring places to visit near Bangalore that one can cover on a weekend and return with a rejuvenated and fresh spirit. The verdant hills, the wonderful weather, the beautiful waterfalls, soft sandy beaches, stunning heritage sites or the mesmerizing hill stations, all make for a great choice of weekend getaway from Bangalore where you can unwind and give yourself a 2 to 3-day rest. We have compiled the list of top weekend getaways from Bangalore here. Check these destinations out, pick up the one and head out to that place to quench your thirst for adventure, or just prefer to put your feet up and relax by a beach as part of Karnataka Tours.
Watch Video - Weekend Getaways near Bangalore
1. Lepakshi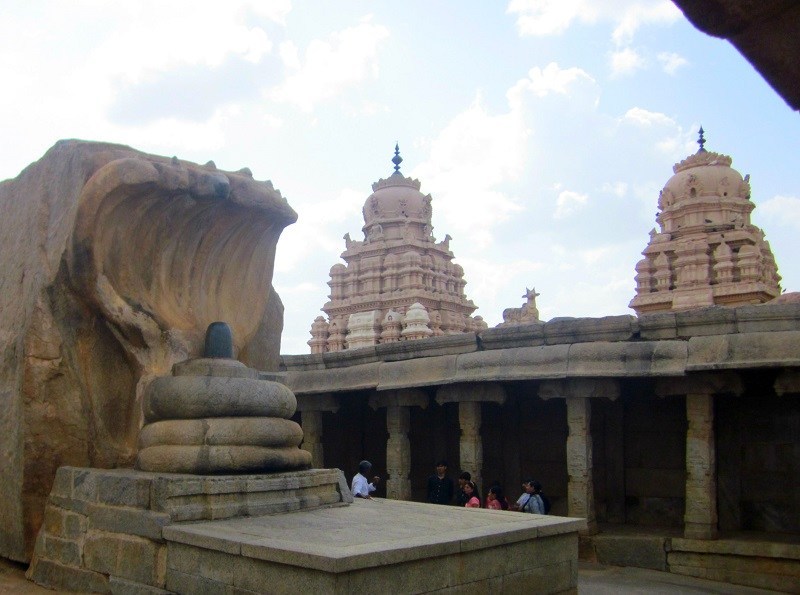 Lepakshi in Andhra Pradesh is one of the important places of heritage near Bangalore and among the famous weekend destinations from Bangalore. Highlighting the legacy of the Vijayanagara dynasty, Lepakshi is an amazing place where all history buffs and photographers can visit for a rendezvous with the past.
Besides Hampi, Lepakshi is the place where you can enjoy the beautiful landscapes and architectural ruins making it one of the best one-day trips from Bangalore. Lepakshi consists of three important shrines dedicated to Shiva, Vishnu, and Veerabhadra, of which Veerabhadra Temple is the most important. The hanging pillar supported from the top is a surprise for the visitors. The monolithic Nandi in Lepakshi village is another remarkable feature.
Distance from Bangalore: 123 Kms
Full Details: Lepakshi Temple
---
2. Srirangapatna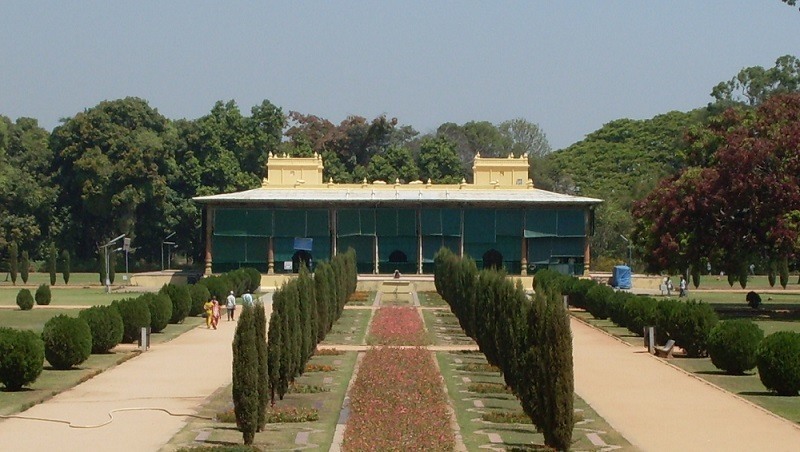 Srirangapatna, a historical town located near Mysore, is frequented by travelers looking for weekend trips from Bangalore. Owing to its cultural, religious, and historic importance, it is one of the top places to visit as part of Karnataka Tour Packages. The entire town is surrounded by the Kaveri river to form a river island. The town takes its name from the celebrated Ranganathaswamy temple which dominates the town, making Srirangapatna. Dedicated to Lord Vishnu, it is one of the largest temples in Karnataka, and one of the most important Vaishnavite centers of pilgrimage in South India.
Daria Daulat (Palace of Tipu Sultan), Gumbaz (Mausoleum of Tipu Sultan), Ranganathittu Bird Sanctuary & Sangama are the top places to visit as part of Srirangapatna Tour Packages. The famous Brindavan Gardens is just about 16 km from Srirangapatna.
Distance from Bangalore: 124 Kms
Full Details: Places to visit in Srirangapatna
---
Most Popular Tour Packages
---
3. Shivanasamudra Falls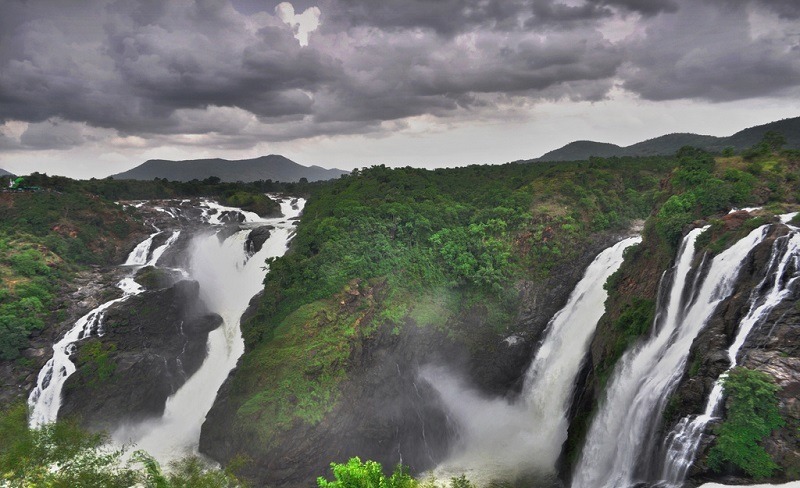 Shivanasamudra is one of the popular waterfalls near Bangalore, and among the top places to visit in Karnataka in monsoon season. Formed over River Kaveri, Shivanasamudra is also called as Bluff. The island of Shivanasamudra divides Kaveri River into two parts that form two waterfalls, one is Gaganachukki and the other is Bharachukki. Gaganachukki and Barachukki Falls are collectively called Shivanasamudra Falls though Gaganachukki is most commonly represented as Shivanasamudra Falls. This place offers breathtaking sight in the peak monsoons.
Bharachukki is situated at a distance of approximately one km from the Gaganachukki (Dargah point). The Gaganachukki waterfalls are best viewed from the Shivanasamudra watchtower. There is another approach to the Gaganachukki falls from the Dargah Hazrath Mardane Gaib which provides the best view of the right branch of the falls. Somnathpur & Talakadu can be visited along with Shivanasamudra Falls as one day trip from Bangalore.
Distance from Bangalore: 130 Kms
Full Details: Shivanasamudra Falls
Book Here: Car Rentals in Bangalore
---
4. Somnathpur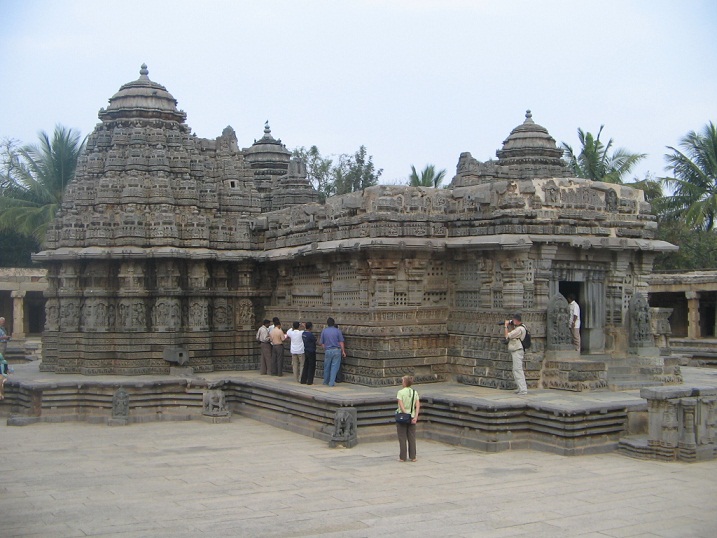 Somnathpur is well known for the breathtaking Prasanna Chennakeshava Temple, one of the three famous & finest representations of Hoysala architecture (other two being temples at Belur & Halebid). This is one of the wonderful weekend getaways from Bangalore and Mysore. It is also one of the popular places to experience Karnataka Tourism. Located on the banks of Cauvery River, this temple was built in 1268 by Somnatha, a general of Hoysala King Narasimha III. The temple comprises three shrines and three wonderfully carved vimanas with a common Mandapa. The three sanctums once housed beautifully carved idols of Keshava, Janardhana and Venugopala.
The most characteristic feature of this temple is its 16 different ceilings, each depicting a different stage of a blooming plantain (banana flower). One of the main highlights of this temple is the central wall space. The best time to visit Somnathpur is from October to March. Usually it takes 2-3 hrs to visit this temple. Talakadu & Shivanasamudra can be visited along with Somnthpur as one day short trip from Bangalore city.
Temple Timings: 9 AM to 5.30 PM
Distance from Bangalore: 137 Kms.
Full Details: Somnathpur Temple
---
5. Shravanabelagola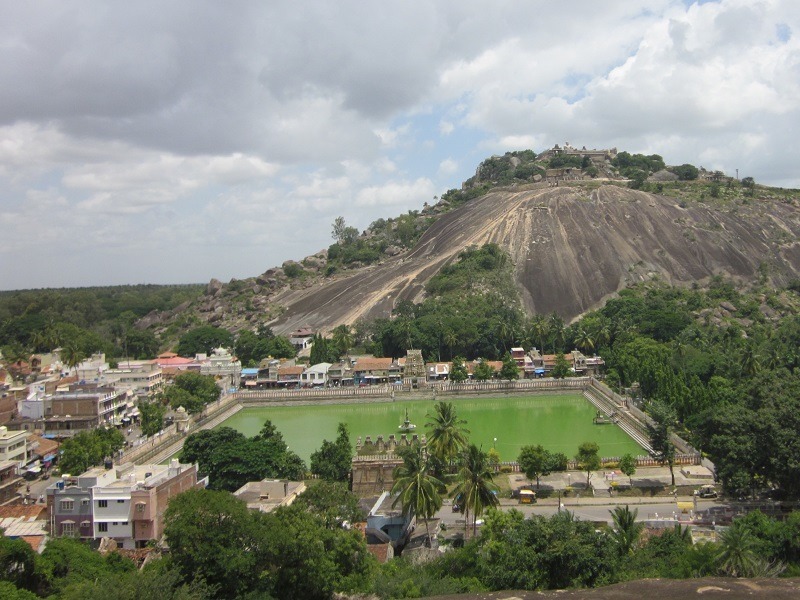 Shravanabelagola is one of the most popular places of pilgrimages in Karnataka, and among the top weekend getaways from Bangalore. Shravanabelagola is famous for the Bahubali Statue which is supposed to be the tallest monolithic stone statue in the world with a height of 58 feet carved out of a single block of granite. The town of Shravanabelagola is famous for several Jain temples and historical sites.
Vindhyagiri and Chandragiri are the must include places in Shravanabelagola Tour Packages. The main temple of Gomateswara is located on Vindhyagiri hill along with Odegal Basadi, Tyagada Kamba, Siddhara Basadi, Chennanna Basadi, Akhanda Bagilu, etc. Chandragiri is home for about 14 shrines among which Chamundaraya Basadi, Chandragupta Basadi, Chandraprabha Basadi, Kattale Basadi, and Parshwanatha Basadi are important. Once in 12 years, Shravanabelagola celebrates the Mahamastakabhisheka festival which attracts thousands of devotees and tourists from all over India.
Distance from Bangalore: 140 Kms
Full Details: Places to visit in Shravanabelagola
---
6. Mysore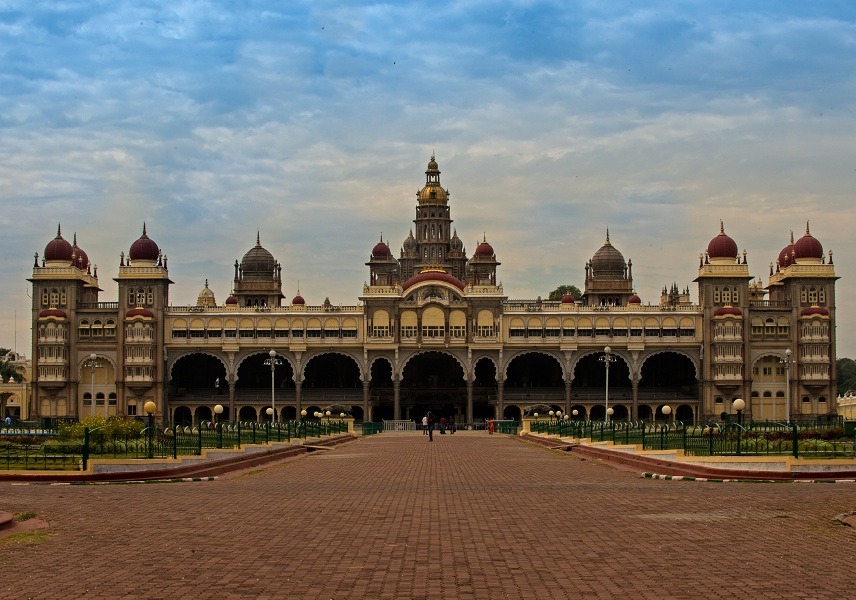 Mysore is the 2nd biggest city in Karnataka and one of the top heritage sites in India. It is the erstwhile capital of the Mysore Maharajas, who ruled the Mysore State between 1399 & 1947. The historic city of Mysore is a wonderful weekend retreat from Bangalore as it boasts several tourist attractions including palaces, museums, temples, gardens, etc.
Mysore is a great place for all history buffs to take a sneak peek into the glorious past. Mysore Palace, Chamundi Hill Temple, Mysore Zoo are the most famous places to visit in Mysore. Srirangapatna and Brindavan Gardens are major attractions to visit as part of Mysore tour packages. The best place time to visit is during Dasara when the people come out in large numbers for a massive procession. Mysore is one of the top destinations for a 2 day trip from Bangalore.
Distance from Bangalore: 139 Kms
Full Details: Places to visit in Mysore
---
7. Hogenakkal Falls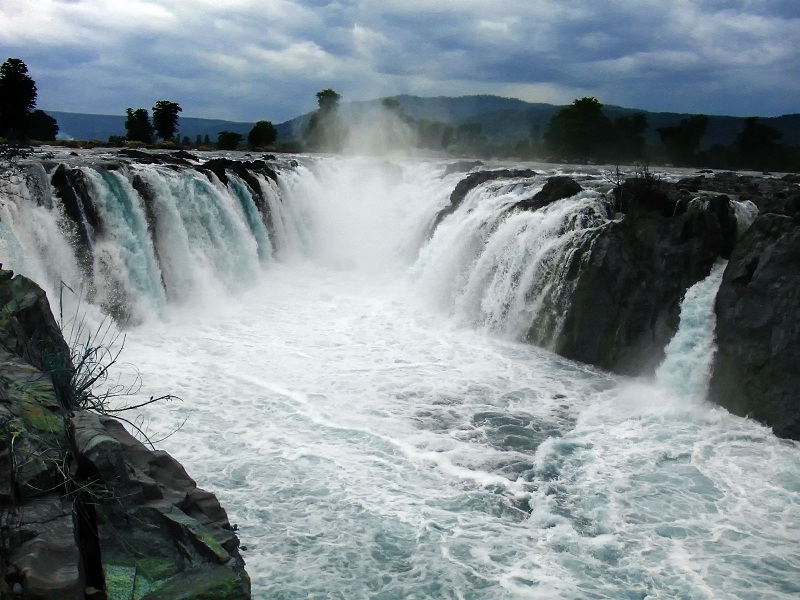 Hogenakkal Falls in Tamil Nadu is a beautiful waterfalls formed over the Kaveri River. Often referred to as the 'Niagara of India', it is one of the best waterfalls in India, and among the best places to visit near Bangalore. When River Kaveri enters the Tamil Nadu border after winding its way through the state of Karnataka, it descends down the lofty landscape forming the Hogenakkal Waterfalls.
Coracle riding is one of the main attractions here which is allowed during the post-monsoon and winter season. Boating is usually stopped in peak monsoons. Tourists can also go for trekking on the nearby hills. The best time to visit Hogenakkal Falls is from August to October. Hogenakkal can be visited as part of the Yercaud Tour Packages.
Distance from Bangalore: 146 Kms
Full Details: Hogenakkal Tour Packages
---
8. Horsley Hills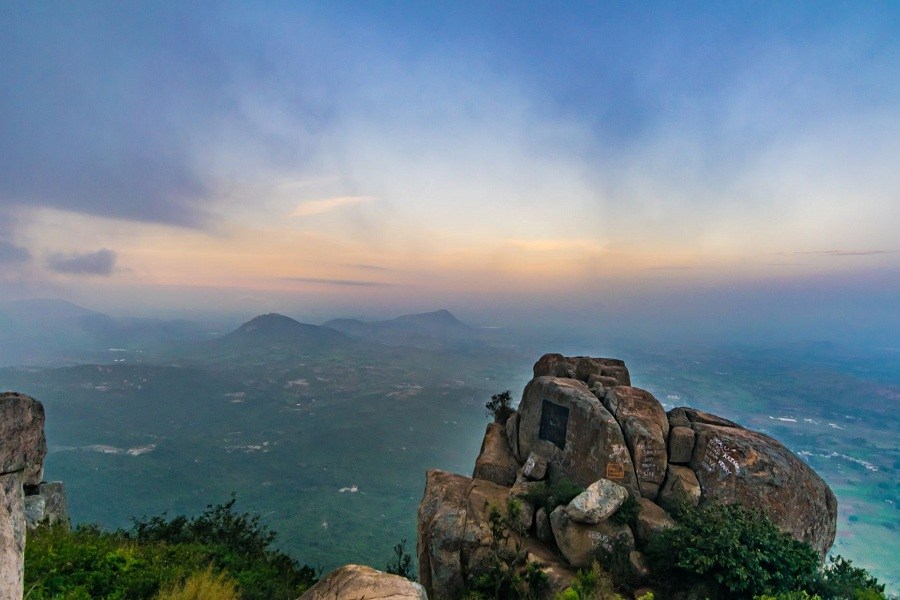 Situated at an altitude of 1265 meters, Horsley Hills is one of the ideal weekend getaways from Bangalore, and among the top place to visit in Andhra Pradesh. Known for its scenic views and pleasant climate, this quaint hill station is a favorite haunt of nature lovers and a perfect place for those who want a relaxing getaway near Bangalore. The major tourist places around Horsley hills are Lake Gangotri, View Point, Gali Bandalu, Environmental Park, and the Horsley Hills Museum. Besides, the hills around shelter a variety of wild animals and birds.
Distance from Bangalore: 166 Kms
Full Details: Horsley Hills Travel Guide
---
9. Yelagiri Hills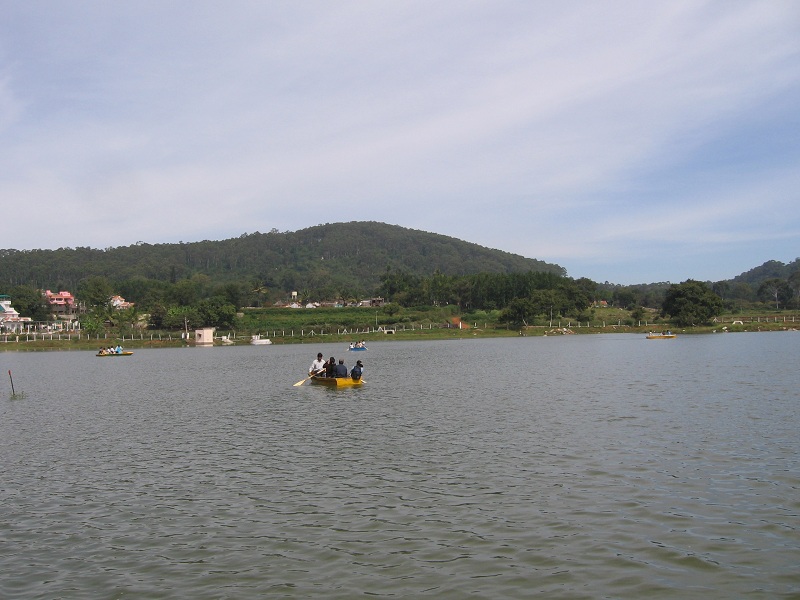 Located in between the towns of Vaniyambadi and Jolarpettai, Yelagiri is one of the best hill stations near Bangalore & Chennai. Located at an altitude of 1,111m, Yelagiri is a cluster of 14 hamlets surrounded by orchards, rose gardens, and green valleys The main town of Yelagiri Hills is Athanavur, which comprises a winding road through the hills with isolated villages.
Considered as one of the best places to visit near Chennai, this quaint hill station is not polluted like the commercial tourist destinations and is rather secluded amidst four mountains. Punganoor Lake Park, Jalagamparai Waterfalls, Nature Park, Telescope Observatory, Jalagandeeswarar Temple, Government Herbal Farm, etc are some of the popular places to visit here as part of Yelagiri Tour Packages. Tourists can also enjoy a trek in Swami Malai, the highest point in Yelagiri that stands tall at 4,338 ft with spectacular views.
Distance from Bangalore: 168 Kms
Full Details: Tourist places in Yelagiri
---
10. Biligiri Ranga Hills
The list of weekend getaways from Bangalore is incomplete without a mention of BR Hills. Set amidst the confluence of the Western Ghats and the Eastern Ghats, BR Hills is one of the sought after places to visit near Bangalore, and among the must include places in Ooty Tour Packages. BR Hills is famous for BRT wildlife sanctuary (Biligiri Rangaswamy Temple Wildlife Sanctuary), which is home to some of the most exotic flora and fauna in the region.
Another attraction of the BR Hills is the 500 years old famous Biligiri Rangaswamy Temple which is situated on the highest peak of the hill range. BR Hills provides ample scope for adventure activities like trekking, Jeep Safari, and Elephant Safari. The best time to visit the Biligiri Ranga Hills and the wildlife sanctuary is between October & May.
Distance from Bangalore: 170 Kms
Full details: Biligiri Ranga Hills Sanctuary
Also Read: 9 Best Wildlife Sanctuaries in India
---
REFERENCE