The culturally rich and diverse country of India is home to 40 UNESCO World heritage sights that spread all across the country in different states. The state of Madhya Pradesh, among the top places to visit in India, is one such place that has been home to an incredible amount of historical places as it was ruled by the Guptas, Rajputs, and Mughals. There are several ancient forts, erotic sculptures, Buddhist relics, and caves that are still alive with the stories and legends of the royals and are still fragrant with the impressions left by them on every nook and corner of Madhya Pradesh. Among them, some of the places are recognized as world heritage sites by UNESCO. Check below the list of UNESCO Heritage Sites in Madhya Pradesh and ensure to visit them as part of India Tour Packages to discover the land.
The Khajuraho Group of Monuments
Khajuraho is an ancient city located in the Chhatarpur district of Madhya Pradesh and is well known all over the world for its beautiful temples. The Khajuraho Group of Monuments has been listed as a UNESCO World Heritage Site and is considered to be one of the best heritage places to visit near Bhopal. Regarded as one of the must include places in Madhya Pradesh tour packages, Khajuraho temples are famous for their nagara-style architecture, grand structures, and their erotic sculptures. Temples in Khajuraho are divided into various groups such as the Western group and the Southern group. It consists of 85 Temples spread across an area of 20 sq. km. Most of these monuments were built between 950 to 1050 CE under the reign of the Chandella dynasty. Among the top places to visit in Khajuraho are the temples of Kandariya Mahadevi, Chausath Yogini, Brahma, Lalgun Mahadev, Matangeshwar, Varaha, Lakshman, Parshwanath, Chaturbhuja, Ghantai, Vishwanath, Devi Jagdambi, Chitragupta, Vaman, Adinath, and Duladev.
                             Book Here : Khajuraho Tour Packages
---
Buddhist Monuments in Sanchi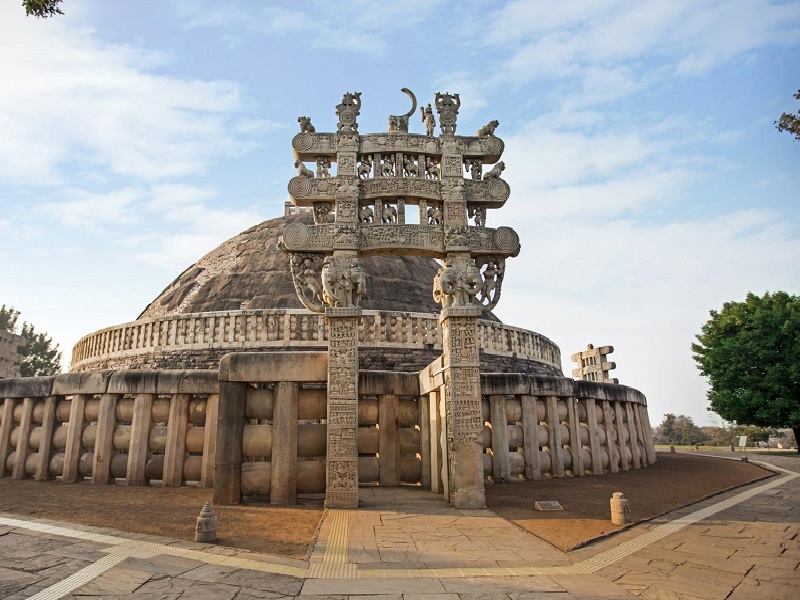 Sanchi is a small historical town in the Raisen district of Madhya Pradesh, India. Famous worldwide for its Buddhist monuments, it is one of the popular places of heritage in India, and among the must-visit places in Madhya Pradesh. Stands as a testimony to the golden Buddhist age of Emperor Ashoka, the town of Sanchi is the center of a region with innumerable age-old stupas, monasteries, temples, monolithic pillars, and other remnants of the rich Buddhist culture that dates back to starting from 3rd century BCE to 12th century CE. The Great Stupa, Ashoka Pillar, the Great Bowl, Sanchi Museum, Gupta Temple, and Udayagiri Caves are some of the famous places to visit in Sanchi.
                              Book Here : Sanchi Tour Packages
---
The Rock Shelters of Bhimbetka
Bhimbetka is an archaeological site located in the Raisen district of Madhya Pradesh, India. It is one of the popular places of heritage in India, and among the best popular weekend getaways from Bhopal. Situated inside the Ratapani Wildlife Sanctuary, it was discovered in the year 1957, and was declared a World Heritage Site in 2003. The site consists of seven hills namely Vinayaka, Bhonrawali, Bhimbetka, Lakha Juar (east and west), Jhondra, and Muni Babaki Pahari, and around 750 rock shelters distributed over 10 km. Out of the 750 rock shelters, only 15 caves are open for visitors. The paintings in the caves are completely diverse. Executed mainly in red and white with the occasional use of green and yellow with themes taken from the everyday events of the people who lived in the caves. Auditorium Cave, Turtle Rock, Zoo Rock Shelter, Bhimbetka Kuldevi Temple, and Bhojpur Temple are some of the prominent Bhimbetka tourist places.
                              Book Here : Bhimbetka Tour Packages
---
Bhedaghat-Lemhetaghat in Narmada Valley
Bhedaghat is a town in the Jabalpur district of Madhya Pradesh which is known for its outstanding beauty of marble rocks and their various morphological glittering forms on either side of the graceful Narmada river which flows through the gorge. Often referred to as the Grand Canyon of India, Bhedaghat is similar to Victoria Fall, Zimbabwe in terms of the deep gorge and fluvial geomorphic processes, it is, however, different in terms of rock type. In Victoria, the fall cuts the basalt rock to give rise to spectacular fall whereas in Bhedaghat the marble rock is cut by the river Narmada. Several dinosaur fossils have been found in the Narmada valley particularly in the Bhedaghat-Lamhetaghat area of Jabalpur. In 1828 the first Dinosaur fossil was collected from Lamheta Bed by William Sleeman. It has been in UNESCO's tentative list of natural world heritage sites. Bhedaghat is also home to the famous Dhaundar Falls, a huge water cascade that falls from a height of 98 feet.
                     Also Read : Best Heritage Places to visit in Madhya Pradesh
---
Satpura Tiger Reserve
Satpura National Park, also known as Satpura Tiger Reserve, is located in the Hoshangabad district of Madhya Pradesh, India. Cradled in the Satpura Range, it is one of the popular national parks in Madhya Pradesh, and among the popular places to visit near Bhopal. Covering an area of about 524 sq. km, Satpura National Park was established in 1981 and has been in the UNESCO"s tentative list of natural world heritage sites. The park is home to Indian Bison, Spotted Dear, Leopards, Tigers, Wild boar, Sloth bear, Blackbuck, Four Horned antelopes, Porcupine, Sambhar, Langurs, and Malabar squirrels. One can also spot beautiful bird species including Malabar whistling Thrush, Paradise Flycatcher, Honey Buzzard, Malabar pied Hornbill, etc. Divided into 4 zones, Jeep Safari is one of the must-experience things to do in Satpura. Apart, one can also indulge in Elephant Joy Rides, nature walks, cycling & night Safari, canoeing & boat safaris here.
                         Book Here : Satpura National Park Tour Packages
---