India is a vast country, with diverse cultures and ancient civilizations. A land of versatility, there are several religious groups residing in India. Predominantly a Hindu country, India lures thousands of Buddhists from all over the world as part of India tour packages as this is the place where Lord Buddha lived, preached, and attained Mahanirvana. Hence, India is home to many important Buddhist sites that are related to Buddha's life incidents right from the Bodhi tree under which he attained enlightenment to the park where he first preached his teachings and ancient Buddhist cave temples to gigantic statues of the Buddha. If you want to get a glimpse of each of these pilgrimage sites in India and revel in the rich knowledge, the way followers of Buddhism try to connect with their Creator, then follow our list of famous Buddhist pilgrimage sites in India.
Bodh Gaya, Bihar
Bodhgaya in Bihar is the holiest of all Buddhist sites in India as this is where Lord Gautama Buddha attained enlightenment under a Bodhi Tree. It is one of the earliest Buddhist pilgrimage sites in India and among the UNESCO World Heritage sites in India. Famous for its Mahabodhi Temple complex, it was established during the reign of Ashoka the Great in the 3rd century BC. Besides the temple, Thai Monastery, Muchalinda Lake, Dungeshwari Hills, Wat Thai Buddhagaya, Japanese Temple, Sujatha Temple, Vishnupad Temple, etc., are some of the other prominent places to visit in Bodhgaya that draws thousands of tourists throughout the year as part of Bodh Gaya Tour Packages.
                              Also Read : UNESCO Heritage Sites in India
---
Sarnath, Uttar Pradesh
Situated at the confluence of Ganga and Varuna Rivers, Sarnath is a revered Buddhist pilgrimage center located in the Varanasi district of Uttar Pradesh. Also known as Ishipatna, and Mrigadaya, Sarnath is one of the four most important Buddhist pilgrimage centers of India, the other three being Lumbini, Bodh Gaya, and Kushinagar. This is the place where Buddha delivered his first sermon to his five disciples after attaining enlightenment at Bodh Gaya. It is one of the must include places in Varanasi Tour Packages. Dhamek Stupa, the Chaukhandi Stupa, Ashoka Pillar, Mulagandha Kuti Vihar, Deer Park, Archaeological Museum, Tibetan Temple, Thai Monastery, Japanese Temple, and Chinese Temple are some of the prominent places to visit in Sarnath.
                            Book Here : Sarnath Tour Packages
---
Nalanda, Bihar
Nalanda is an ancient city situated in the northeast Indian state of Bihar. It is one of the popular places to visit in Bihar and among the must include places in the Buddhist Circuit of India. Built in the 5th century AD, Nalanda is said to be one of the world's oldest universities that attracted students from far and wide. Today, it is the second world heritage site recognized by UNESCO in Bihar after Bodhgaya. Gautama Buddha is said to have delivered lectures in this area and one of his two chief disciples, Sariputra, was born in the area. Spread over an area of 14 hectares, the ruins of Nalanda consist of numerous monuments like Stupa of Sariputta, Surya Temple, Nalanda Museum, and Nav Nalanda Vihar that are the prominent places to visit in Nalanda.
                             Must Visit : Places of Heritage in Bihar
---
Kushinagar, Uttar Pradesh
Also known as Kasia, Kushinagar is one of the popular places of Buddhist Pilgrimage in India, and among the top places to visit in Uttar Pradesh. It is an international Buddhist pilgrimage center, and the followers of Buddhism, especially from Asian countries, wish to visit this place at least once in their lifetime as Kushinagar is the place where Gautama Buddha attained Mahaparinirvana (salvation) in 483 BC and was cremated at Rambhar Stupa. It is believed that after Lord Buddha's parinirvana, emperor Ashoka built a stupa here to mark the parinirvana site. Some of the top places to visit in Kushinagar are the Japanese Temple, Ramabhar Stupa, Buddha Museum, Wat Thai Temple, Matha Kuar Shrine, Kushinagar Museum, etc.
                            Book Here : Uttar Pradesh Tour Packages
---
Rajgir, Bihar
Another popular pilgrimage place for Buddhists in India is the ancient city of Rajgir in Bihar. Rajgir is closely associated with Jainism and Buddhism as it was the place where Lord Mahavira and Lord Buddha taught their beliefs during the 6th and 5th centuries BC. After Buddha's death, his disciples held their first Buddhist Council in the cave of Saptparni. Set in a green valley and surrounded by rocky hills, Rajgir is a spiritual town with natural serenity in the form of dense forests, mysterious caves, and springs. Vishwa Shanti Stupa, Griddhakuta Peak, Rajgir Hot Springs, Venu Van, Ghora Katora Lake, Veerayatan Museum, Swarna Bhandar, Bimbisar Jail, The Cyclopean Wall, Ajatshatru Fort, etc., are some of the prominent places to visit in Rajgir.
---
Shravasti, Uttar Pradesh
Situated on the banks of the West Rapti River, Shravasti is an ancient and historical city located in the northeastern state of Uttar Pradesh. Shravasti was one of the six largest cities in ancient India and is closely associated with the life of Gautama Buddha, who is believed to have spent 25 rainy seasons here. It is also an important center for the believers of Jainism since the Sobhanath temple is believed to be the birthplace of Tirthankara Sambhavanath of Jainism. Some of the top places to visit in Shravasti are Anathapindika Stupa, Angulimala Stupa, Jetavana Monastery, Shobnath Temple, Vibhuti Nath Temple, etc. Besides, one can also visit Buddhist monasteries built by Thailand, South Korea, Sri Lanka, Myanmar, Tibet, and China here.
---
Vaishali, Bihar
Vaishali in Bihar is another sacred place for Buddhists in India as this is the place where Gautama Buddha preached his last sermon before his death in c. 483 BC. Then in 383 BC, the Second Buddhist council was convened here by King Kalasoka, making it an important place in both Jain and Buddhist religions. Vaishali is also revered as a holy place by Jains as it is the city where Lord Mahavir was born. Ashoka Pillar, Vishwa Shanti Stupa, Chaumukhi Mahadev, Ramchaura Temple, Bawan Pokhar Temple, Vaishali Museum, etc., are some of the prominent places to visit in Vaishali. Also, Vaishali is famous as the land of Amrapali, the great Indian dancer who is related to many folktales.
                         Also Read : Must Visit Pilgrimage Sites in Bihar
---
Sanchi, Madhya Pradesh
Sanchi is a small historical town located in the Raisen district of Madhya Pradesh. It is one of the popular places of heritage in India, and among the must include places in Madhya Pradesh tour packages. Famous worldwide for its Buddhist monuments, Sanchi is famous for stupas, temples, monasteries, and sculptural wealth. Recognized as UNESCO World Heritage Site, the Great Stupa at Sanchi is the oldest stone structure in India and was originally commissioned by Emperor Ashoka in the 3rd century BCE. Various styles, stone carvings, and narrative art depiction through stories are the highlights of Sanchi Stupa. The other places to visit in Sanchi are Ashoka Pillar, the Great Bowl, Sanchi Museum, Gupta Temple, and Udayagiri Caves.
                           Book Here : Sanchi Tour Packages
---
Dharamshala, Himachal Pradesh
Dharamshala is a beautiful hill station in the Kangra district of Himachal Pradesh. Situated at an average altitude of 1,475 m, this is the seat of Buddhism in India, and among the most visited hill stations in Himachal. In the year 1960, Dharamshala became a temporary headquarters to His Holiness Dalai Lama. Today, it is known as Little Lhasa or Dhasa, because of its large population of Tibetans and Buddhist Monasteries. The ancient Chamunda Temple, Dalai Lama Temple, Namgyalma Stupa, Bhagsunath Temple, Norbulingka Institute, Gyuto Monastery, and Indru Nag are some of the prime places to visit in Dharmashala.
                             Book Here : Dharamshala Tour Packages
---
Leh – Ladakh, Jammu & Kashmir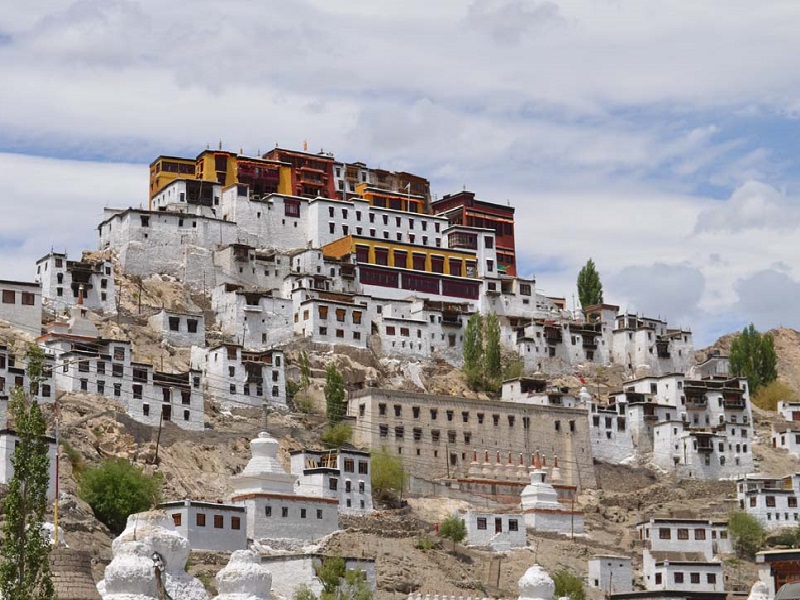 Often called the Land of High Passes, Ladakh in Jammu & Kashmir is one of the top places to visit in India due to its dramatic landscapes, crystal clear lakes, age-old monasteries, barren valleys, amazing people, and culture. Leh is also known as Little Tibet or the Land of Lamas as it is home to some of the prominent Buddhist Monasteries in India. Leh Palace, Shanti Stupa, Sankar Gompa, Pangong Lake, Hemis Monastery, Namgyal Tsempo Monastery, Hall of Fame Museum, Khardung La, Gurudwara Patthar Sahib, Shey Monastery, Zanskar the Virgin Valley, and Likir Monastery are some of the popular attractions in Leh.
                        Must Read : Top Places to visit in May in India
---
Spiti Valley, Himachal Pradesh
Perched at an altitude of 3000 m in the Himalayas, Spiti is a breathtaking valley located in between the stunning regions of Ladakh and Tibet. Known as the middle land, it is one of the popular places of pilgrimage in Himachal and among the stunning valleys in India. Though the Spiti Valley is rough, barren, and rugged, it is yet beautiful with snow-capped mountains, crystal clear rivers, picturesque hamlets, ancient monasteries, and splendid lakes. The monastery tour is one of the popular things to do in Spiti, as it is home to the famous Tabo Monastery, Key Monastery, Lhalung Monastery, and Gandhola Monastery. Besides, one can also visit Chandratal, Suraj Tal, Dhankar Lake, Kunzum Pass, and Baralacha Pass while in Spiti, among the top places to visit in Himachal.
                             Book Here : Himachal Tour Packages
---
Tawang, Arunachal Pradesh
Tawang is a picturesque Buddhist town located in the extreme northwest corner of Arunachal Pradesh. With Colorful monasteries, beautiful alpine lakes, deep valleys, and unique culture, it is one of the must-visit Buddhist pilgrimage sites in India and among the top places to visit in Arunachal Pradesh. Tawang Monastery is one of the most popular places in that is visited equally by tourists, monks, and followers. Taktsang Gompa, Gorichen Peak, Sela Pass, Nuranang Waterfalls, Shonga-Tser Lake, Tawang Monastery, Jaswant Garh, etc. are the few notable places to visit in Tawang.
---
Rumtek Monastery, Sikkim
Rumtek Monastery is a beautiful Buddhist gompa situated near Gangtok, the capital city of Sikkim. Also called Dharma Chakra Centre, it is one of the largest monasteries in Sikkim and among the best places to visit in Gangtok. Perched on a hill overlooking Gangtok, the Monastery was originally built in mid-17th century under the supervision of Changchub Dorje, the 12th Karmapa Lama (the third highest monk in Tibetan Buddhism). Belongs to the Kargyu sect of Buddhism, the monastery contains large hand paintings, intricate wall murals, thankas, silk paintings, and statues. The monastery also houses other precious items like the Black Hat (known as the Vajra Mukut) which is studded with gold, diamond, ruby, and many other precious stones. Besides, the monastery hosts several Tibetan festivals organized throughout the year, which include Tse-Chu Chaam and Kagyat Dance.
                            Book Here : North-East India Tour Packages
---
Santhi is an avid traveler and primary contributor to the blogs at Trawell.in. She has explored most of the states in India and gained vast knowledge on tourist destinations in India and abroad. She also contributes content to other travel websites.