Often referred to as the God's own country, Kerala is bestowed with scenic hill stations, enchanting backwaters, cascading waterfalls, sandy beaches and exotic wildlife. It has been one of the top honeymoon destinations in India for a long time. The scenic Kerala Backwaters comprise tranquil stretches of lakes, canals and lagoons located parallel to the coast of the Arabian Sea. Alappuzha, Kumarakom, Kochi and Kollam are the popular backwater regions of Kerala and are especially popular for its houseboat cruises where you can soak in nature at its finest form. If you are planning a backwater tour far away from the maddening crowd, Kerala also has some stunning lesser known backwater destinations where tourists unwind and recharge.
Watch Video - Most Visited Tourist Places in Kerala - Video
Trawell.in listed 5 unexplored backwater destinations in Kerala here.
Vaikom Backwaters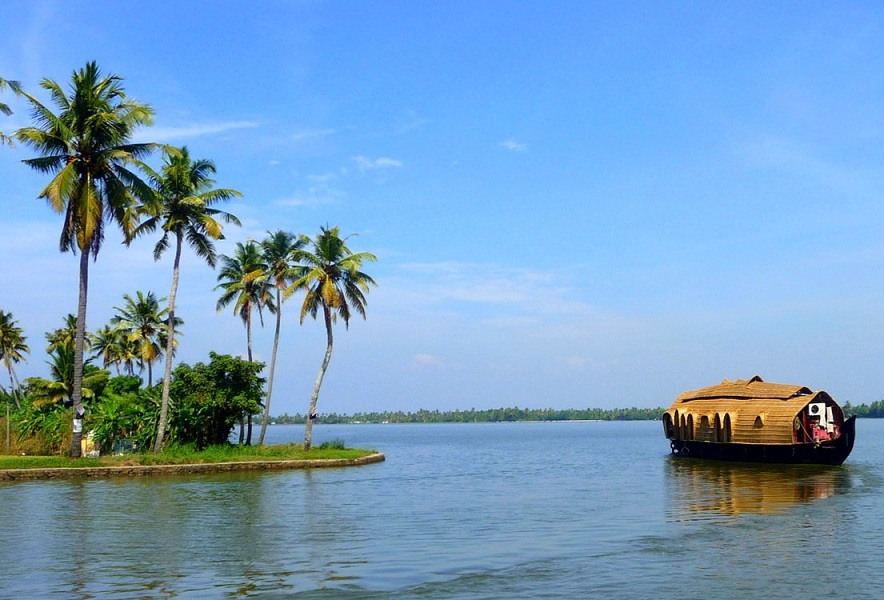 Bounded by the enchanting Vembanad Lake, Vaikom is one of the oldest townships in Kerala and has many beautiful tourist places which are still untouched by modernity. It has a vast network of rivers and canals which merge into the great expanse of Vembanad Lake. Considered as a launch pad to the backwaters of Kerala, Vaikom is one of the lesser known getaways to experience enchanting Kerala backwaters and also among the top Tourist Places in Kerala. The houseboat trip in Vaikom backwaters is a famous activity for tourists. One can enjoy bird watching, angling, fishing and the rural village life while cruising at Vaikom.
The houseboat cruise along the narrow canals is beautiful, serene and less touristy. Backwater trips usually start from Vaikom Boat Jetty & KTDC Jetty. Vaikom is also known for the ancient Mahadeva Temple dedicated to Lord Shiva and is believed to be built by Parasurama. This Shiva temple is one of the popular places of pilgrimage in Kerala which attracts a lot of visitors with its divine charm. One can also visit nearby Kumarakom, Kottayam and Alappuzha along with Vaikom as part of 5 – 6 day Kerala Tour Packages.
Must Read: 7 Most Spectacular Boat Races in Kerala
---
Poovar Backwaters

Poovar is a gorgeous island paradise situated near Kovalam, the famous beach destination in Kerala. With unexplored beaches, scenic backwaters, long expanses of glowing sand and swaying coconut palms, Poovar is a beautiful backwater destination in Kerala but not many people aware of this little paradise. Located at the entrance of Neyyar River, Poovar is a rare location find in Kerala by the most tranquil backwaters and opening out to the Arabian Sea and a dream golden sand beach.
The Poovar Island is surrounded by small canals and Neyyar River. While cruising though the Poovar backwaters one can easily spot water birds like Kingfisher, Brahminy Kite, Night Heron, Sea Egret, Black Darter, Indian Cormorant eagle and many more. Apart from the backwaters, Poovar is widely identified for its lovely beach which is an ideal destination for relaxing. Poovar Beach is situated at a short distance from Kovalam Beach separating the River Neyyar from the Arabian Sea and is quite breathtaking. Explore Kovalam tour packages offered by Trawell.in.
Book Here: Kerala Cab Packages
---
Most Popular Kerala Backwater Tours
---
Kavvayi Backwaters at Payyanur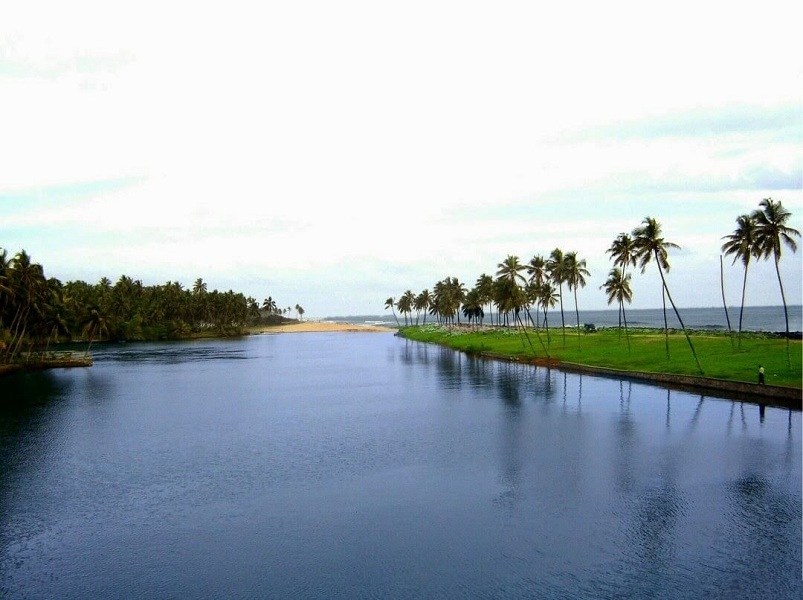 Kavvayi Backwaters at Payyanur are formed by the cluster of islands on River Kavvayi in Kerala. Stretches from Kavvayi to Neeleshwar, this lesser known fascinating backwater destinations is the third largest backwaters in Kerala and the largest one in the whole North Kerala region. This is dotted with several small and large islands with eye-catching surroundings perfect to enjoy the beauty of backwaters during Kerala Tour. Of these, Valiyaparamba Island is the largest one. These backwaters are fed by four rivers.
Like Alleppey, Kollam & Kumarakom, Kavvayi also has its own charm that can literally make you fall in love with the place. No Cruises are available here but visitors can relax by taking a quiet walk along the stunning backwaters or step in one of the country boats and explore the vast diversity of scenery around. An expedition on boat, from Kotti to Kottapuram is just incredible. The backwater and the wetlands are home to a variety of fauna and flora. One can also attend the theyyams and temple festivals in Payyanur.
---
Thiruvallam Backwaters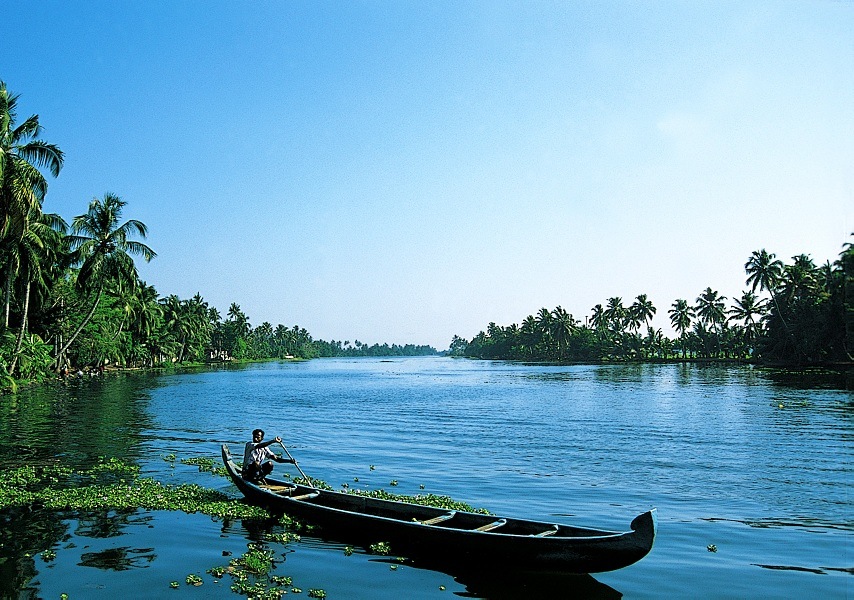 Situated near Thiruvanthapuram, the Thiruvallam backwaters is the most stunning backwater destination in Kerala. Karamana and Killi are the two rivers that merge at Thiruvallam, which leads to the formation of these backwaters. En-route to Kovalam, this scenic backwater stretch of Thiruvallam is famous for its canoe rides. These backwaters are blessed with lush vegetation, water birds and scenic beauty. The short village cruises using the country boats are perfectly pleasant ways to enjoy the backwaters of Thiruvallam in Kerala.
The cruise route passing through several fishing villages where one can notice local traditions and old practices. There is also a temple dedicated to Parashurama, the legendary founder of Kerala, at Thiruvallam. Another famous backwater area at Thiruvallam is "Veli Tourist Village" which is encircled by Veli Lagoon and the Arabian Sea divided by a thin sand bar. It is an 18-acre waterfront park with a climbing bridge and it offers various water sport facilities.
---
Padanna Backwaters, Kasaragod
Located in Kasaragod district, Padanna Backwaters is the most serene backwaters in Kerala as coconut trees and palm trees cover this place beautifully. Far from the tourist hubs, Padanna offers secluded backwater facilities and is a perfect place for peaceful boat rides. The backwaters of Padanna are sourced by five big rivers that later flow into the Arabian Sea. The old rustic charm of the rural areas of Padanna is still evident in the backwaters today. This is the hub of oyster farming which provides income to thousands of people today.
A trip on the houseboat, feel the sun and the sand on the Valiyaparamba Beach and estuary or opt for rejuvenation therapy by traditional practitioners of Ayurveda are some of the activities that can be enjoyed here. This backwater haven is not ruined by tourist influx and the local folk offer a stay experience, which is outstanding. One can also visit Bekal Fort and Kareem's forest, a manmade forest owned by a nature enthusiast. The moonlit houseboat cruises along the backwaters is also highly recommended.
Santhi is an avid traveler and primary contributor to the blogs at Trawell.in. She has explored most of the states in India and gained vast knowledge on tourist destinations in India and abroad. She also contributes content to other travel websites.